This 1968-built parking garage on Ford Road in University Circle is to be demolished soon after officials figure out where residential permit holders and other users of its 346 spaces can park their cars. The garage is due to be replaced by a new structure that could be designed to support an overhead development (KJP). CLICK IMAGES TO ENLARGE THEM
Parking deck loss has wider impacts
A proposed demolition of a parking garage at 1980 Ford Rd. in Cleveland's University Circle area is already causing negative impacts in the area — and the garage hasn't been razed yet. But officials at University Circle Inc. (UCI) which owns the 54-year-old garage are hoping that a new parking deck to be built in its place will help boost the neighborhood.
There is no demolition date yet for the garage, also called Lot 54. In fact, applications for a demolition permit haven't even been submitted the city. Nor will they until UCI officials figure out how to compensate for the loss of 346 parking spaces for up to two years during demolition and construction in a densely populated area where residential parking permits are highly sought after. Among those parking there are residents of the recently renovated Commodore Place Apartments, plus multiple apartments and houses on Ford and Hessler roads.
"After 50-plus years, the Ford Road garage has exceeded its useful lifespan and it is necessary to demolish the structure for the safety of the community," said Becky Voldrich, UCI's senior director of communications and events. "The decision to demolish the garage was reached after careful consideration and discussion with multiple professional consultants. UCI is working with its partners to find short-term and long-term parking solutions for any permit holders who would be displaced by the demolition."
According to a source familiar with the situation but who asked not to be named publicly, UCI officials reportedly analyzed the structural ability of the garage to support a vertical development above it. That analysis not only revealed it could not, but that the garage was decaying and needed to be replaced.
Voldrich emphasized the parking deck is not condemned. Indeed, upon personal inspection, the garage was still open today for vehicles to park in it.
A replacement parking facility may be designed with the structural ability, as well as with enough parking spaces to support an air-rights development above it. Whether the new garage includes at the outset an overhead development that produces air-rights revenues to help finance the garage's construction costs has not been decided yet, the source said.
"UCI is not currently in a joint development for the (garage) property," Voldrich confirmed. "Future planning for the site is underway and updates will be provided as available."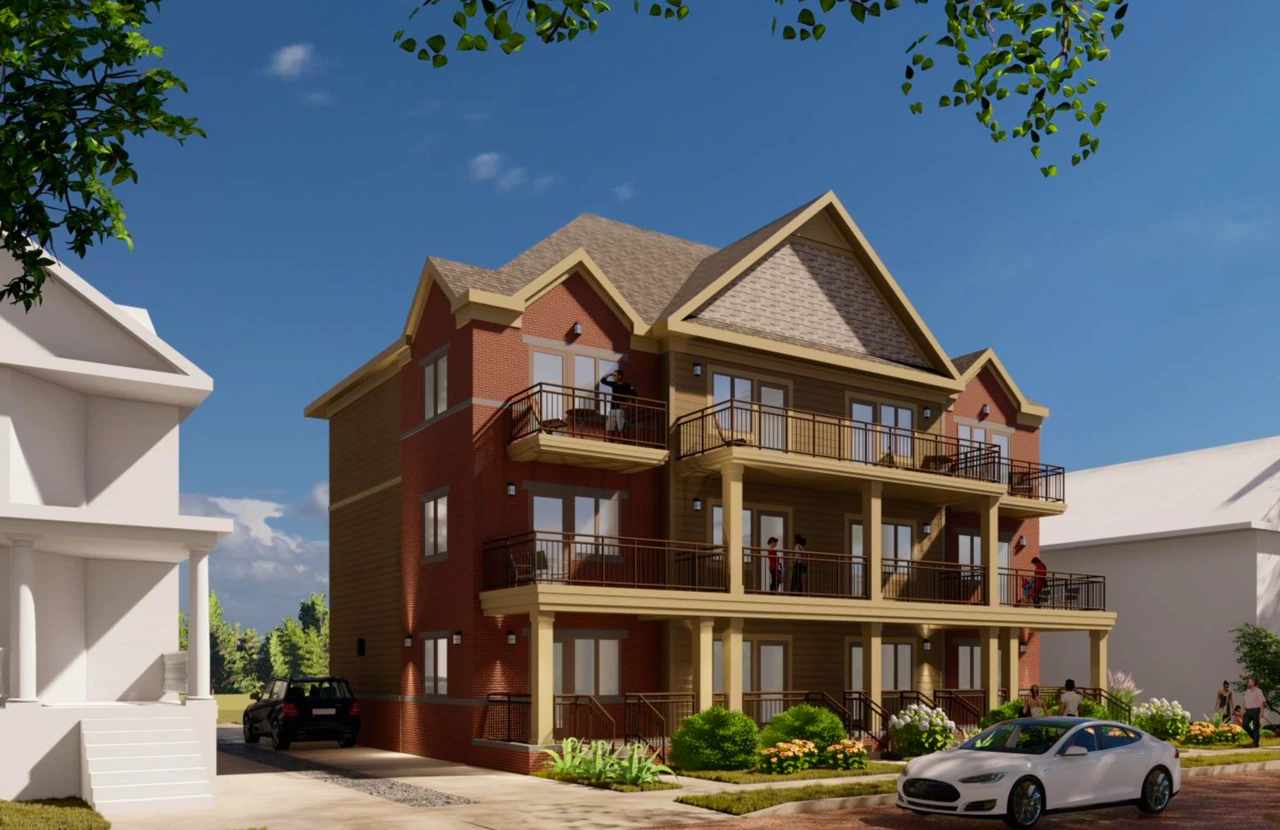 On Hessler Road, this small apartment building approved for construction by developers Russell Berusch and Rick Maron, apparently will not happen because of the loss of the Ford Road parking garage (SA Group).
The impending closure of the garage and the loss of several hundred parking spaces in the neighborhood has already caused an immediate impact. Instead of building new housing on nearby Hessler Road, developer Russell Berusch is selling his portfolio of properties on that historic street where numerous anti-development signs are displayed. The sale listing went active in January.
Berusch Development Partners renovated several historic properties — the five-unit Hessler 113 in 2018, plus the five-unit 1975 Ford and four-unit 1981 Ford last year. The last two properties were acquired by Berusch from UCI in 2021, along with a parcel behind them on which the developer won Landmarks Commission approval to construct 12 micro-unit apartments. That plan, which originally sought 23 apartments in partnership with micro-unit developer Rick Maron, appears dead.
Berusch won a parking variance from the city's Board of Zoning Appeals for the joint development by securing an agreement with UCI that dedicated up to 20 parking spaces in the Ford Road garage to tenants of their Hessler-area properties. Without the parking, the variance cannot be satisfied and the development may not move forward. Berusch opened but otherwise did not respond to an e-mail from NEOtrans seeking comment for this story prior to publication.
END