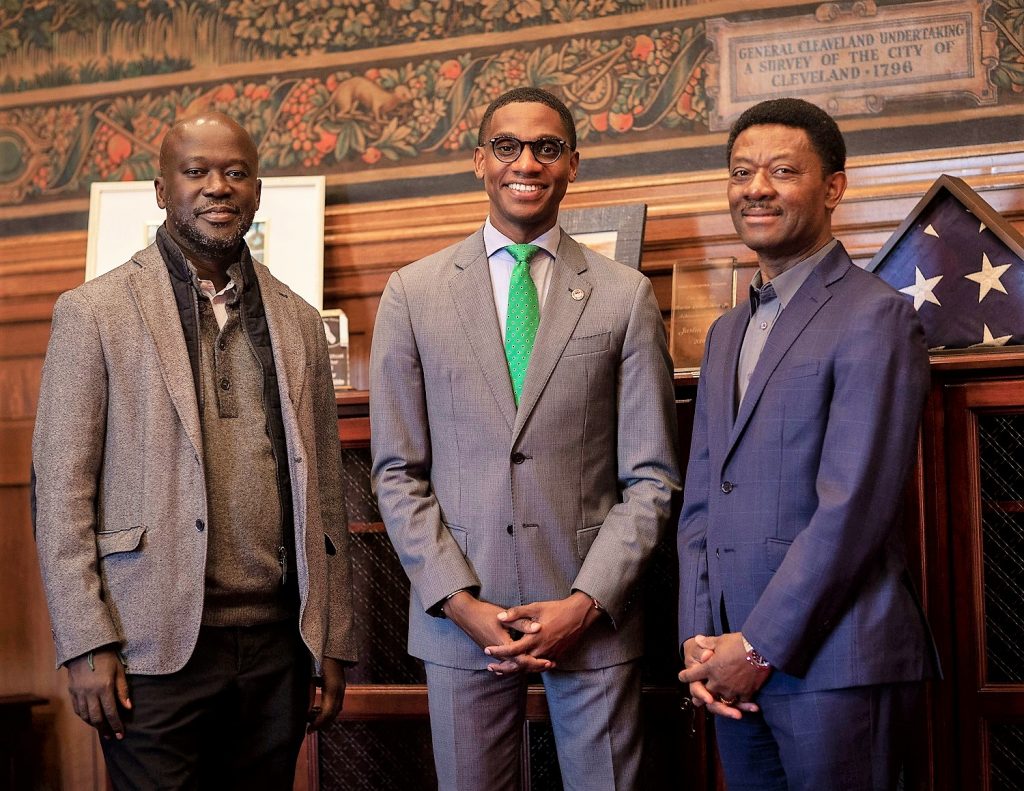 World-renowned architect Sir David Adjaye, left, stands with Cleveland Mayor Justin Bibb and Bedrock CEO Kofi Bonner at Cleveland City Hall to announce further progress on Bedrock Real Estate's plans for redeveloping the Cuyahoga River waterfront below Tower City Center (Bedrock). CLICK IMAGES TO ENLARGE THEM
Adjaye will guide Tower City riverfront development
More evidence emerged today that the riverfront development of Tower City Center in downtown Cleveland isn't some distant-future exercise of Bedrock Real Estate and instead is an active development project. That evidence was found in Detroit-based Bedrock hiring world renowned architect Sir David Adjaye OBE.
In a written statement, Bedrock announced that Adjaye was added to its team of consultants, city officials and civic organizations focused on developing a multi-phase, transformational plan for Cleveland. The collaboration will conceptualize plans to maximize Tower City Center's potential as a destination marketplace and anchor what Bedrock called its catalytic Cuyahoga River waterfront mixed-use neighborhood development project.
"Sir David Adjaye has a unique ability to curate distinctive and memorable places, and we will be working with David and team to carefully design a new riverfront residential community with office, retail, entertainment and other recreational amenities," said Bedrock CEO Kofi Bonner. "David's work will enable us to connect a world-class sustainable riverfront neighborhood to the historic Tower City Center and downtown, while respecting the great work of the community detailed in the Vision for the Valley."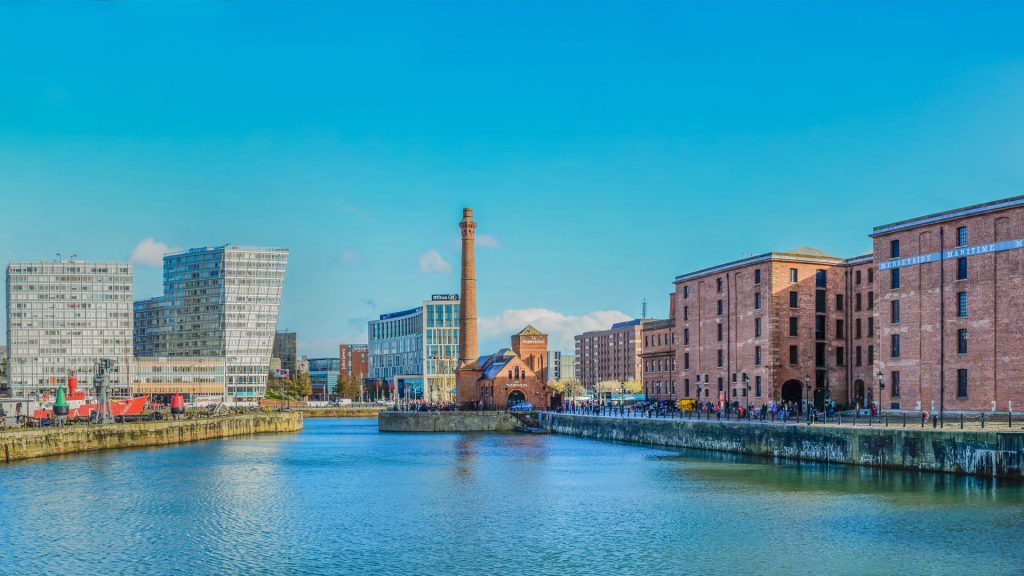 Although Adjaye has many buildings to its credit, it has only a handful of masterplans to its credit. One that is applicable to Cleveland is the Liverpool Waterfront Transformation. The historic English city with a rock-n-roll culture sought to revive its waterfront in the post-industrial era with a mix of housing, offices, heritage tourism, recreation, entertainment, restaurants and shops — much like what is being considered for Cleveland's 200-plus-year-old riverfront (DesignWeek).
"It is a true honor to collaborate with Bedrock and the city of Cleveland on this important initiative to reinvigorate and reimagine the Cuyahoga riverfront," Adjaye said. "As with all of my projects, becoming immersed in what makes a city so dynamic, while also engaging with its people, places and culture will guide the development of our multi-phased proposal."
"Today's announcement by Bedrock reinforces their dedication to working with the public and private sectors for the benefit of all of the residents of Cleveland," said Mayor Justin Bibb. "Reimagining and leveraging our waterfront positions us to deliver on the vision of a 15-minute city. Collaboration is key to our future as we pursue the Vision for the Valley, and the addition of Sir David Adjaye is a profound statement of Bedrock's commitment."
Adjaye is an award-winning Ghanaian-British architect and 2022 TIME100 Impact honoree. Bonner also is a native of Ghana. With a global portfolio of project designs and a design firm with offices in London, New York and Accra, Ghana, Adjaye earned the title "Sir" as an Officer of the Order of the British Empire (OBE). He is recognized for his artistic judgment and infusing local culture into community-driven projects such as the city's Vision for the Valley.
Adjaye's most well-known project to date is the Smithsonian National Museum of African American History & Culture. Also in Washington DC, he designed the Francis A. Gregory Neighborhood Library. Although his firm doesn't have many community masterplans to its credit, a comparable effort to Cleveland's was the Liverpool Waterfront Transformation in that post-industrial English city. A few of Adjaye's many other credits include Denver's Museum of Contemporary Art, Rivington Place in London and the Nobel Peace Centre in Oslo, Norway.
Bedrock refers to Cleveland's Vision of the Valley as a 20- to 30-year proposal to transform the riverfront into a setting that prioritizes sustainability, equity and accessibility. There is increasing evidence that Bedrock is ready to pursue some aspects of the Vision for the Valley in the near term, however. That includes crews conducting boundary and topo surveying last week of Bedrock and Sherwin-Williams properties from Prospect Avenue to the river, and from Ontario Street to Superior Avenue. That work is suggestive of planned construction activity.
Also, Bedrock reportedly has a purchase agreement with Sherwin-Williams to acquire its 9-acre Breen Technology Center, 601 Canal Rd. The real estate arm of Dan Gilbert's Rock Ventures is talking with general contractors about rebuilding its parking decks under Tower City, real estate sources said. Furthermore, Rock Ventures in December converted the ownership of about 20 acres of land between Huron Road and the riverfront from Rock Ohio Caesar's Cleveland LLC to Huron Holdings LLC, according to a deed transfer filed with the county.
A Cleveland city department head told NEOtrans that the city is already reviewing plans for riverfront buildings and public spaces, describing them as something that will "completely transform the riverfront" and be bigger than anyone is currently imagining." The official said the riverfront project will offer "lots of pedestrian access and public spaces to access the waterfront."
In November, City Council approved a framework for a master development agreement with Bedrock as part of an 18-month due diligence and pre-development period. Bedrock officials said they are looking far into the future, and "focused on providing unprecedented urban infrastructure investments designed for the 22nd century."
Alongside Adjaye, Bedrock said it is growing its team of consultants to accelerate the development of Cleveland's waterfront neighborhood, with a focus on sustainability and resiliency, including new complete streets, digital access, enhanced public spaces and pathways to the riverfront, as well as transit-oriented development in line with the City's Vision of the Valley.
Through a competitive procurement process, Bedrock selected a civil engineering team, led by Osborn Engineering, that has engineered some of Cleveland's most historic public spaces and infrastructure assets. Osborn's technical expertise and breadth of experience will add context for a sustainable and innovative development for all Clevelanders, the Bedrock press statement read.
END