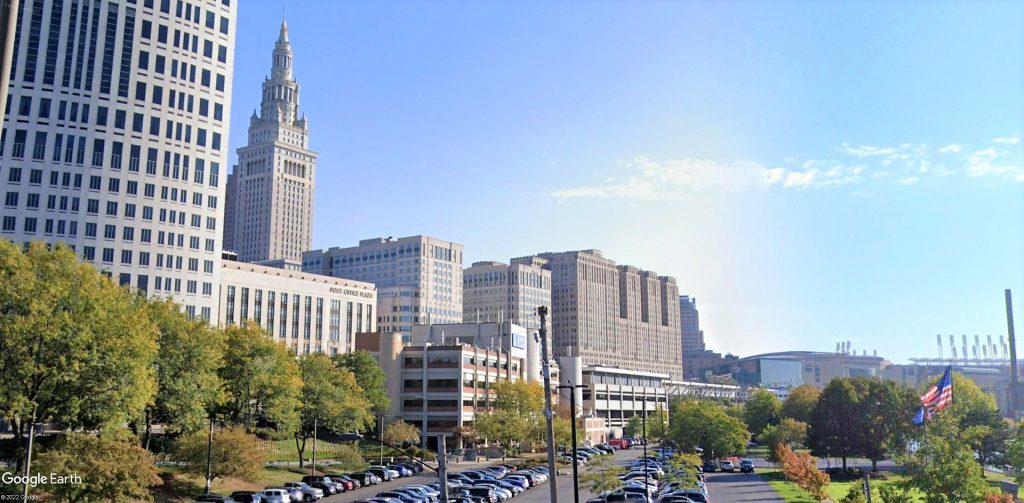 Looking generally east in September 2021 from the Carter Road lift bridge over the Cuyahoga River offers a wide view of Sherwin-Williams' 9-acre Breen Technology Center property downtown. The research center buildings are at the center-bottom of the image, just beyond the parking lot. In the background, behind and to the right of Breen is SHW's headquarters of the last 92 years (Google). CLICK IMAGES TO ENLARGE THEM
Downtown R&D center may be demolished
Detroit-based Bedrock reportedly has a purchase agreement with Sherwin-Williams (SHW) to acquire its soon-to-be-vacated research and development complex along the Cuyahoga River in downtown Cleveland.
If the transaction closes in the coming weeks and months, the 9-acre site including the 140,000-square-foot Breen Technology Center, 601 Canal Rd., would be sold by the global coatings giant. SHW is building a new R&D complex in suburban Brecksville and a new downtown headquarters tower to the west of Public Square.
Two sources familiar with the transaction spoke off the record to NEOtrans, confiding that Bedrock would acquire the SHW R&D facility. The acquisition would allow Bedrock to add to its decades-long-range vision for developing the downtown riverfront that's closest to Tower City Center and Public Square.
Last fall, Bedrock announced a grand, long-term vision to support the city's Vision for the Valley initiative. One of those sources, plus a third source said they expected Bedrock is interested in acquiring the SHW property so it can expand its planned riverfront promenade west toward Canal Basin Park. That would likely mean demolishing the Breen center, they said.
Bedrock has a significant ownership stake in properties in the Tower City complex and near Public Square, including The Avenue shopping center, Tower City parking garage, Ritz Carlton Hotel, The May apartments, plus 20 acres of undeveloped riverfront land. Bedrock apparently has a big appetite for downtown Cleveland properties and is eager to develop more.
One of the sources confirmed reports by others that Bedrock also has a purchase agreement with Stark Enterprises to acquire 2.85 acres of land mostly used as parking lots in downtown's Gateway District. Stark planned to construct its nuCLEus megaproject on that property. Stark officials denied there was a pending transaction despite public records suggesting one was in the works. Bedrock declined to comment on that transaction in the same manner it is declining to comment on the pending purchase of SHW's R&D center.
"If Bedrock has any news on any developments to share, we will let you know," said Lora Brand, vice president of communications at Falls & Co., a Cleveland marketing company. Bedrock is a client of Falls.
"Sherwin-Williams does not comment on rumors or speculation," said Julie Young, SHW's vice president of global corporate communications. "What I can tell you is that no decisions have been made regarding the disposition or redevelopment of the company's current R&D center and headquarters or its facility on Warrensville Center Road."
Although no transaction amount is known at this early stage, for tax purposes Cuyahoga County appraised the Breen Technology Center and the eight parcels on which its buildings, parking lots and employee recreational areas set at $13,735,300. The R&D is comprised of a 1948-built, 92,600-square-foot laboratory building and expansions built in 1998 and 2005 totaling 47,693 square feet.
According to SHW, it expects to vacate those buildings at the end of 2024 when its new 600,000-square-foot, $300 million R&D facility is scheduled to open in Brecksville. Construction of the new complex began last fall. Also at the end of 2024, SHW expects to finish construction work on its new, 618-foot-tall HQ tower west of Public Square. SHW's HQ has been located at 101 W. Prospect Ave. since 1930. Before that, it was located next to its first factory where the Breen Technology Center is located.
SHW has been a fixture on Canal Road since 1873 when it moved its offices and first production facility from 126 W, Superior Ave., just southwest of Public Square where the company was founded in 1866. According to the Encyclopedia of Cleveland History, SHW acquired the Standard Oil Co.'s cooperage (barrel-making) building at 601 Canal Rd.
That plant became the company's first factory for the manufacture of paste paints, oil colors and putty. "At first, Sherwin-Williams continued the practice of selling ingredients that the customer then mixed together, but the company soon began to develop a reliable ready-mixed paint. Introduced to the market in 1875, ready-mixed paint revolutionized the paint industry and soon became the industry standard," the history encyclopedia noted.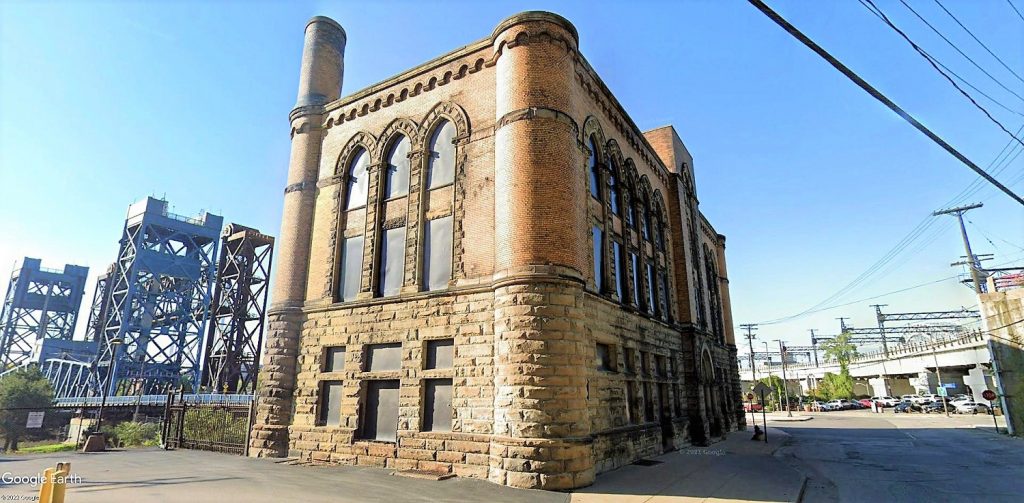 Another structure that's on Sherwin-Williams' Breen Technology Center properties is the 125-year-old Baltimore & Ohio Railroad depot at Carter and Canal roads. It has occasionally been the subject of renovation and repurposing ideas such as a Cleveland immigration museum and other heritage-oriented public venues (Google).
Under President and CEO John G. Breen, SHW closed the aging riverfront plant in 1982, laying off 70 employees. But Breen's tenure from 1979-2000 was marked more so by the company's stunning growth. SHW went from a floundering company that was near bankruptcy and grew its annual sales five-fold to $5 billion and its stock price 30-fold to near $11 per share at the end of the century.
Breen also fought off a hostile takeover attempt of SHW by Gulf & Western Industries that, if successful, might have pulled another corporate headquarters out of Cleveland. Breen passed away in 2019 at the age of 85. The Breen Technology Center is named in his honor.
Part of the SHW property includes the vacant, 125-year-old Cleveland Terminal & Valley Railroad passenger depot, located on the corner of Canal and Carter roads. It was operated as part of the Baltimore & Ohio Railroad system and although its passenger trains were moved in 1934 to Cleveland Union Terminal (Tower City), a freight office remained active in the depot until the 1970s. It has occasionally been the subject of renovation and repurposing ideas such as a Cleveland immigration museum and other heritage-oriented public venues.
END