Representing a million-dollar investment, the new home of Evergreen Podcasts on St. Clair Avenue, just east of downtown, will do more than support this new technology company. It's also home to two other new-start businesses. And the principals hope to turn the neighboring properties in to a creative hub (KJP). CLICK IMAGES TO ENLARGE THEM
Podcast biz principals create start-up settings
When Michael DeAloia shows off the new home of Evergreen Podcasts, there's an air of entrepreneurial energy and optimism in the place. Crafted out of the former radio studios and offices of WZZP/WDOK-FM at 2644 St. Clair Ave., the fresh smell of paint and carpet pushed around by the action of people coming and going makes the building feel reinvigorated. That aura extends to the surrounding area on the east side of downtown.
Not only is this property in Cleveland's Campus District the studios and offices for Evergreen Podcasts as of March 9, it's also the home for two new-start businesses — Graziani Marketing and Cardboard Helicopter Product Design. All three are tenants of the building that was bought in June 2021 by One Radio Way LLC, formed by DeAloia, Evergreen's Chief Creative Officer David Allen Moss and Joan Dolan, their principal investor. She is also founder of Lake Effect Radio LLC which Evergreen's parent company, said DeAloia, CEO of Evergreen Podcasts.
"We have a place now to foster other startups," he said. "Even in this new era of remote working, businesses still need an address to work with others or a place to put their stuff."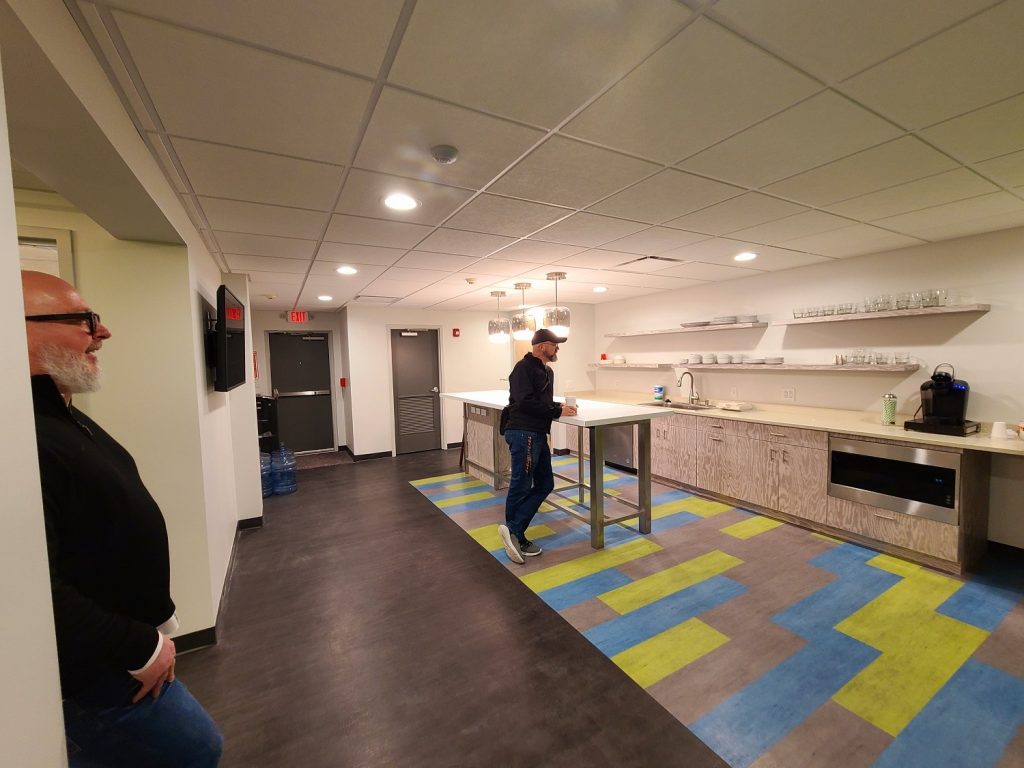 Evergreen Podcasts CEO Michael DeAloia, left, and Chief Creative Officer David Allen Moss discuss what still needs to be added, such as seats, in the break room of the company's month-old offices. Supply chain difficulties means having to stand while chatting over a cup of coffee or lunch, for now (KJP).
And their real estate activity isn't limited to their new address which they acquired for a bargain $350,000 — it had last sold in 1991 for $510,000. They also acquired the property next door and sold it to M&M Companies LLC which in turn leased it to John G. Construction Co. — the same general contractor that renovated Evergreen Podcasts' 8,000-square-foot building for $820,000. They're looking at buying more properties nearby to help develop this part of the Superior Arts District into a hub of creativity.
"We are excited to welcome Evergreen Podcasts to the Superior Arts District," said Campus District Executive Director Mark Lammon. "This represents another maker and creative company wanting to locate in the Campus District."
Evergreen got its start in Lakewood in 2017 producing four shows for customers, resulting in 17,000 downloads. But as the company grew, DeAloia said he started looking for a new space. Unable to find a site in Lakewood, he looked to Cleveland where he worked as Mayor Jane Campbell's "tech czar" in the early 2000s to help boost technology business activity in the city.
Before that he was chief financial officer of data storage company BlueBridge Networks LLC plus a published author, columnist for a large daily newspaper and former host of a syndicated radio program. The mix of media and technology experiences, along with venture capital formation and banking in his background brought him to where he is now, he says.
Moss joined the venture from his own company, Moss Media that was based at the Tyler Village complex in Cleveland's Asiatown. Eighteen months after Evergreen's launch, Moss said they weren't finding their market and the company grew slowly. While they were focusing on family-friendly content, they decided to focus more so on people, not just companies. And they've added more staff and salespeople. DeAloia says a key to a successful business is to hire people who fit the company's culture. The company's fortunes took off.
Today, Evergreen produces 180 shows with more than 13 million downloads in the past year. They have a wide range of customers alike, from small businesses to the likes of Chipotle, MetroHealth Medical System and the nation's largest audio book distributor, Findaway Voices of Solon. The latter was recently bought by Spotify but Findaway remains an Evergreen customer.
The podcast firm is proud of its content and quality, having won 41 different awards. They include the Vega Digitial Award for Frantz Ward LLP's "Shoveling Smoke," a Muse Creative Award for Paul Brandus' and Hannah Rae Leach's "From First Lady to Jackie O.," and a Davey Award for Kim Mitzo Thompson's and Karen Mitzo Hilderbrand's "Storytime Anytime."
When customers call Evergreen to produce a podcast or webinar, they essentially rent one of its studios and the use of an engineer on a per-visit basis. And since the entire building is connected by fiber, any room can be a studio. Although, the former radio station studios are better designed to prevent outside sounds or inside echoes from finding their way into a podcast.
"We're open for business," Moss said. "There won't be a day when we won't have a studio available. We can accommodate you."
END