The Icon, a 147-unit apartment building over ground-floor retail/commercial uses is planned to be developed from the Commerce Park IV office building near Chagrin Boulevard and Green Road. It is the latest of many redevelopments from commercial to multi-family residential uses in Beachwood (RDL). CLICK IMAGES TO ENLARGE THEM
Multiple projects adding 800+ apartments, mixed uses
ARTICLE UPDATED JUNE 17, 2022
While one-third of all apartment demand in Greater Cleveland is downtown, Beachwood appears to be the most active suburb in the development of apartments. And that suburb's activity was added to in a big way just this past week.
Beachwood City Council approved a 30-year, non-school tax-increment financing deal with developer Wangard Partners of Milwaukee to convert the 41-year-old, eight-story office building Commerce Park IV, 23240 Chagrin Blvd., into The Icon apartments. Proposed are 147 market-rate apartments and 19,900 square feet of ground-floor commercial and/or tenant amenity space. The property has an underground garage and a parking lot entrance off of Green Road that leads to 1,005 parking spaces on the site.
Wangard also will be investing in the four-story Commerce Park V office building next door. Since Commerce Park V is newer, built in 1992, and will remain as offices, it will not be part of the TIF agreement. However it will be updated by Wangard which bought both of the properties in March 2021 for $5.3 million, as reported in the Cleveland Jewish News. Combined, Commerce Park IV and V measure 229,625 square feet and were appraised by the county at $4.63 million for tax purposes, according to public records.
The TIF agreement shows The Icon will have 15 studios, 59 one-bedroom units, 59 two-bedroom apartments and 14 three-bedroom suites. A rooftop deck also is planned. Potential uses for the large ground-floor space include offices, business accelerator/co-working space, daycare facilities, restaurant/café, sport simulators, a fitness and business lounge and a common lobby for residents.
"The renovations shall consist of the removal and replacement of the building's façade which shall include the installation of new operable windows along with balconies for some of the units," the TIF agreement reads. "The renovation shall also include a new entry and canopy for drop-off."
"I am very supportive of the redevelopment of Commerce Park IV and the updating of Commerce Park V because it is a highly attractive proposition in terms of the quality of the buildings' construction and the strength of the new developers behind the project," said Mayor Justin Berns in an e-mail to NEOtrans. "We share a vision for quality and longevity, and I believe they will deliver new architectural gems to the city. Beachwood continues to be attractive to developers, business owners and residents for many reasons, including proximity to highways, shopping restaurants, healthcare facilities, along with its overall safety and outstanding schools."
Commerce Park IV and V are next to what was Commerce Park I, II and III. Those three office buildings, located closer to the intersection of Chagrin and Green and built 1969-72 according to LoopNet were bought and demolished a decade ago by Cleveland's NRP Group and Munsell Realty Advisors of Beachwood. Built in place of the office buildings was The Vue, a 348-unit apartment building that opened in 2015 and leased out very quickly at top-of-the-market rents. Its Web site shows only unit available now with two more coming available by the end of the month.
That high demand is not unique for Beachwood or for Greater Cleveland. Marcus & Millichap, one of the top multi-family real estate brokerages and analysis firms in the country, said in its second quarter 2022 market report for Greater Cleveland that nearly 2,000 households will form in Greater Cleveland this year — the highest increase since 2013. Yet demand is outstripping supply, causing rents to grow 11 percent in the first three months of this year compared to the same period last year.
"Class A properties saw the largest rent change at the end of 2021, with a 20.8 percent annual increase," the Greater Cleveland Marcus & Millichap report said. "This is the largest year-over-year rise for upper-tier rates since at least 2000."
Part of the strength of Beachwood's multifamily market is because its office market is the strongest in the metro area. Global real estate firm Newmark said in first quarter 2022 office market report for Greater Cleveland that the eastern suburbs had the greatest leasing activity, the lowest vacancy rate and the second-highest rents that barely trailed downtown Cleveland's.
One of the most ambitious redevelopment plans to hit Beachwood in a while is the redevelopment of a former Double-Tree Hotel site on Park East Drive into a $125 million mixed-use development by My Place Group (Vocon).
Like downtown, Beachwood has some outdated office buildings with low occupancies, such as Commerce Park I to IV, that might do better as multi-family. The same is true of this suburb's hotel market which has been even slower to recover from the pandemic than the office market. Beachwood has a lot of hotels, including some older properties that are having a hard time competing in this post-pandemic market with newer properties in the suburbs and downtown.
That's where My Place Group of Cleveland sees an opportunity. And it found that opportunity next to Interstate 271 on Park East Drive in Beachwood. It started without a hotel, however, in the 2019 closure of the Park East Center nursing home, 3800 Park East. My Place acquired it and hired Marous Brothers Construction to gut the four-story building and redevelop it as The Hiatus, a 146-unit apartment complex with a ground-floor co-working space. Financing for the project, totaling $21 million, came from Peoples Bank of Marietta, OH, according to county records. The building's opening is still one month away and is already 70 percent leased, according to its Web site.
But that was just the tip of the iceberg for My Place. The iceberg was across the street at 3663 Park East in the form of a 10-acre site with a 404-room, 45-year-old DoubleTree Hotel that an investor group led by My Place acquired in November, 2021 for $12.4 million, county records show. My Place Group CEO Chad Kertesz said in a Feb. 28 letter to the city that he intends to invest $125 million into redeveloping and reactivating the property.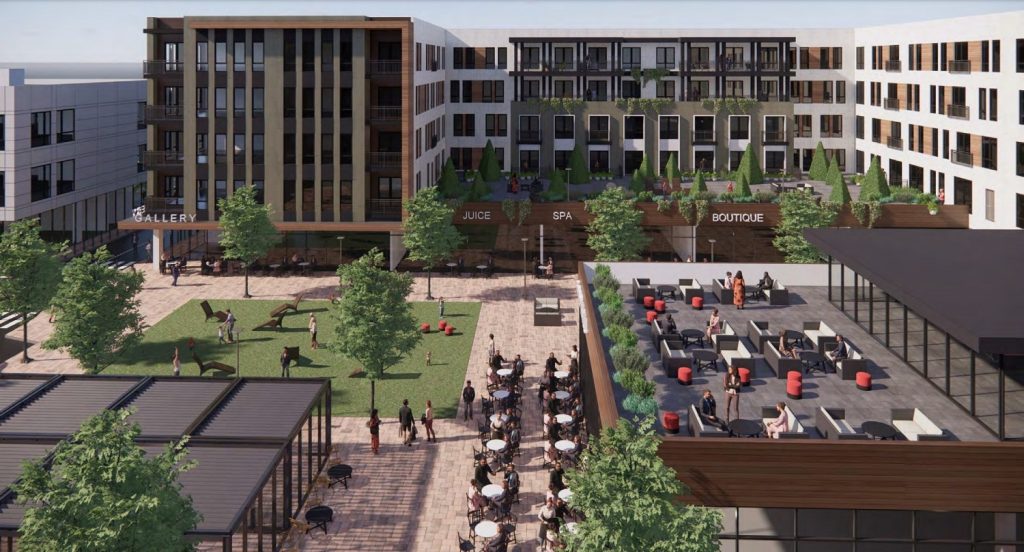 The redevelopment of the Double-Tree Hotel property into a mixed-use complex would be a large, ambitious undertaking and is taking time for city officials to get their heads around it (Vocon).
"We envision a mixed-use development that will enable an adaptive re-use of the existing structure," Kertesz wrote. "Our development will provide a mixed-use, multi-family development consistent with adjacent new multi-family projects."
He referred specifically to his The Hiatus development as well as to The Aster, 3600 Park East. The latter is a four-story, 180-unit apartment complex built by Chicago-based Covington Realty Partners in 2018 on the site of a former Bally's Total Fitness. Cost of developing The Aster was about $36 million. According to its Web site, the Aster is fully leased.
"We propose taking a hotel, which considering the new hotels near Pinecrest and convention facilities downtown, is no longer a viable long term use, and redeveloping it into a beating heart for the Park East area," Kertesz continued. "We will provide food, housing, services and amenities to the Park East/Chagrin/Richmond corridor. We believe our plan will help stabilize the adjacent properties, become a catalyst for adjacent investment, and ensure the Park East corridor's strong future."
Conceptual plans show 181 residential units in 198,534 square feet of existing buildings and 151 units in 184,317-square-feet of proposed buildings. Also to be built is a three-story, 39,000-square-foot office building and a 27,563-square-foot valet parking garage at the back of the site near I-271. The new buildings would be built where a restaurant, banquet center and hotel lobby now stand.
The garage plus numerous surface lots on the site will provide 977 parking spaces whereas 889 spaces are required. Also proposed is 25,935 square feet of retail on the ground floor of the new residential and office buildings plus two new stand-alone retail structures and 10,000 square feet of restaurant/food hall space. To develop the site as proposed, it would require rezoning the property from a Motor Service District to an Integrated Multi-Family Residential Business District. The rezoning and a review of the proposed development plan are still being hashed out between the developer and the city.
END