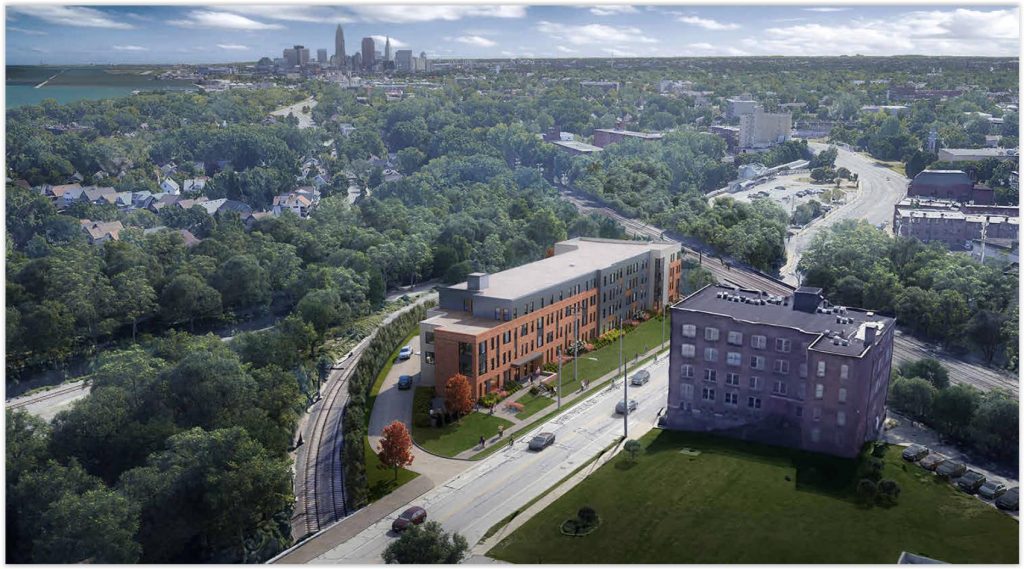 Several miles west of downtown Cleveland, The Depot on Detroit, an apartment building planned for just west of the West Boulevard station, will put 60 affordable apartments a short walk from frequent transit on the Red Line and the 24-hour No. 26 bus, plus the hourly No. 18 bus. That will give residents access to jobs, school, shopping and health care (City Architecture). CLICK IMAGES TO ENLARGE THEM.
60 apartments planned at nexus of busy transit lines
Conceptual plans for a new apartment building to be located just west of the West Boulevard rapid transit station in Cleveland's Cudell neighborhood were submitted to the city this week. Called the Depot on Detroit, it's the latest in a series of new apartment buildings planned, under construction or built recently near stations on Greater Cleveland Regional Transit Authority (GCRTA) rail and bus rapid transit lines. These transit-oriented developments are intended to address poverty by shrinking the spatial disconnect between jobs and job-seekers caused by urban sprawl.
The $18.4 million project at 10300 Detroit Ave. will put within a short walk of the transit hub 60 apartments for families at or below 60 percent of the area median income. The transit-oriented development is being pursued by Flaherty & Collins Development LLC of Indianapolis in partnership with the GCRTA and the Northwest Neighborhoods Community Development Corp. The Depot On Detroit apartments will be constructed on approximately 1.3 acres of land owned by GCRTA. Flaherty & Collins has a purchase agreement with GCRTA which it would execute if the project wins city design and building approvals.
Although still pending a review by city Building Department staff, preliminary plans by City Architecture of Cleveland contend that the project complies with nearly all zoning and building codes, including offering one parking space for each apartment and that those 60 parking spaces will be placed behind the 59,000-square-foot building. But the current code for the site allows only a 29,309-square-foot building, meaning at least one variance from the Board of Zoning Appeals will be needed.
Proposed are 18 one-bedroom units, 33 two-bedroom apartments and nine three-bedroom suites. Most of the three-bedroom apartments are at the east end of the building except for a third-floor handicap-accessible unit which is at the west end, closest to the elevator. There is also a flex-handicap-accessible two-bedroom unit proposed across the hall, but it is not held in reserve for a handicapped tenant like the other one.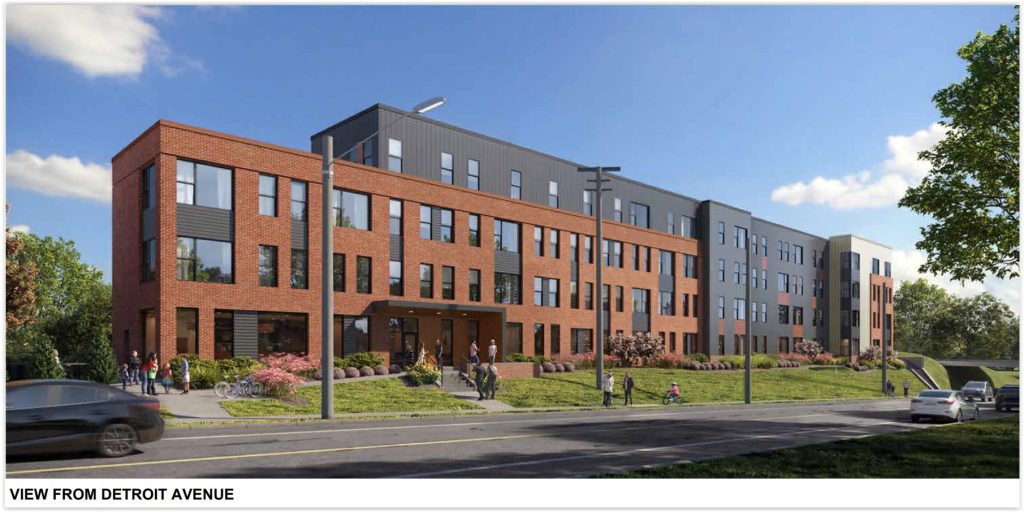 Street-level rendering of The Depot on Detroit showing the street descending from a bridge over the Red Line rail transit tracks just out of view to the left to an underpass of the Norfolk Southern railroad at far right. A community room, leasing office, fitness center and main entrance are on the first floor at the left end of the building (City Architecture).
The driveway into the property and main pedestrian entrance will be at the west end of the site. An outdoor picnic area is proposed on the west side of the four-story building along with multiple parking spaces for bicycles. Inside the west end of the building will be a community room, leasing office and fitness center, all overlooking Detroit Avenue which descends to the east under the busy Norfolk Southern railroad tracks.
NEOtrans broke the story nearly a year ago about Flaherty & Collins' desire to develop the site with apartments. We followed that with news in May that the project won crucial pieces of public financing — $1.25 million in Low Income Housing Tax Credits (LIHTC) and a $1.75 million Housing Development Loan (HDL) from the Ohio Housing Finance Agency (OHFA). Cuyahoga County Council on Sept. 26 approved a $1 million HOME and Emergency Rental Assistance loan to the project. A similar loan will be requested from the city, according to public records.
"Transit passes will be provided to all Depot on Detroit residents free of charge to enhance mobility strategies," Flaherty and Collins said in its financial request to OHFA. "The development will provide a community room with kitchenette, TV, and computers, a fitness center, and on-site parking in a surface lot. The project will be financed with LIHTC, Cleveland and Cuyahoga County HOME funds, 811 vouchers, a primary mortgage, and deferred fees from the development team."
So far, Flaherty and Collins' only official request pending with the city is for the purchase of the city's development air rights above the property for $12,000, which the city says is fair market value. Such air rights would allow the city to build structures or utilities above other current or future structures erected on the site. But the city said it no longer needs the air rights. Acquiring them gives Flaherty and Collins clear title to the property for future development, according to a proposed ordinance filed with City Council yesterday so it can have its first hearing at the next regular council meeting Oct. 16.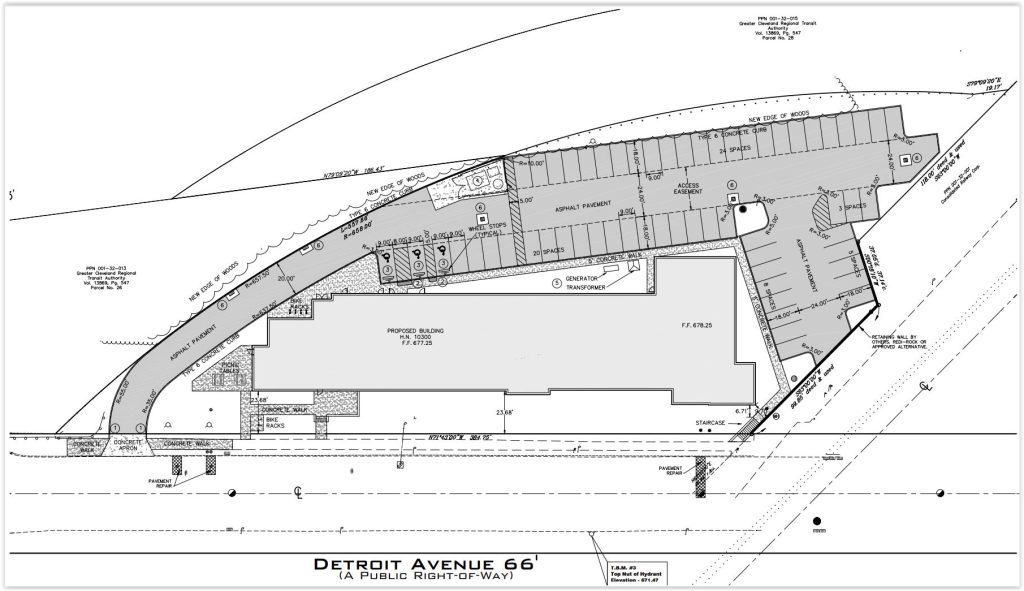 Site plan for The Depot on Detroit, with north at the top. As the development's name suggests, there's a railroad theme to it. It building is planned inside a curve on Greater Cleveland Regional Transit Authority's Airport-Downtown-Windermere Red Line with 160 trains a day. Norfolk Southern's and Amtrak's Chicago-East Coast mainline with 70 daily trains cuts across the southeast side of the image. And Norfolk Southern's B-Line is also just north of the site, adding a half-dozen trains to a railroad lover's future home (City Architecture).
Putting more housing, jobs, education, shopping and health care within a comfortable walk of high-frequency transit services is a goal of Cleveland Mayor Justin Bibb and Cuyahoga County Executive Chris Ronayne. Called the 15-minute city, it means having all the basics of life within a short walk, bike ride or transit trip of home. Those areas, called "The TOD Zone" by the City Planning Commission, have 78 percent of the city's jobs but only 23 percent of its housing. And 70 percent of those households have zero cars or just one car that is often shared among more than one wage earner.
That creates a physical disconnect between jobs and job-seekers, worsening poverty and crime in neighborhoods with infrequent transit and a lack of quality housing within walking distance of basic services. According to the Federal Reserve Bank in Cleveland, that disconnect, worsened by urban sprawl, has pushed two-thirds of all jobs in Greater Cleveland beyond the reach of a 90-minute one-way transit trip. Putting more housing and services near transit also helps employers fill jobs, the Cleveland Fed noted.
Numerous affordable apartment buildings are planned, under construction or were recently built near GCRTA rail and bus stations. They include A Place For Us at the West 117th-Madison Red Line station, Aspen Place at the West 65th-Lorain Red Line station, Greenbridge Commons at the East 79th HealthLine station, Woodhill Station West at the Buckeye–Woodhill Blue/Green Line station, and the Stokes West at the Cedar-University Red Line station. More market-rate apartment buildings are also being built at rail and bus rapid transit stations as well, including those in Ohio City, Downtown, Midtown, Fairfax, University Circle, and Shaker Heights.
END