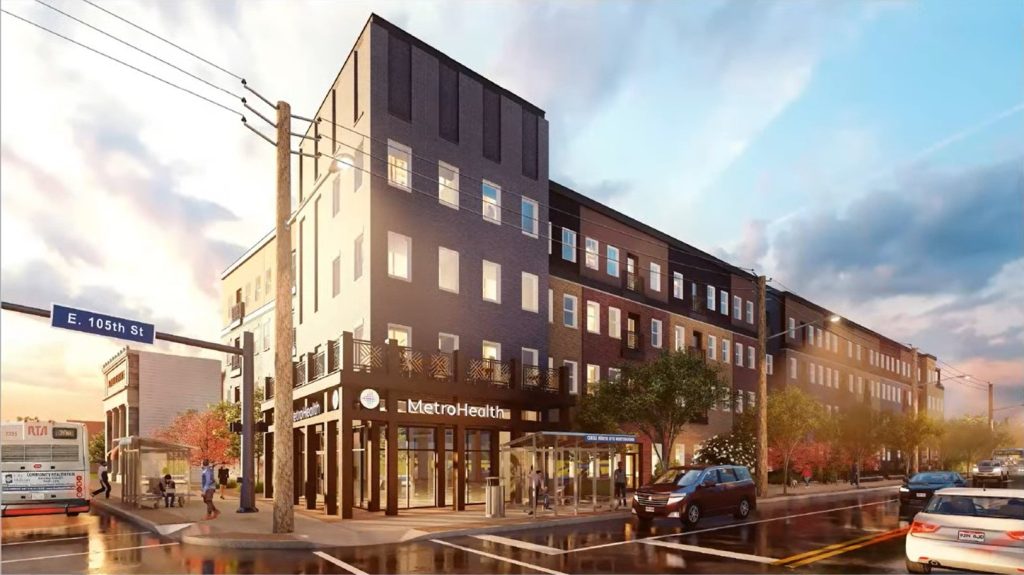 Called the Gold Coast Lofts, this four-story, 71-unit apartment building with ground-floor commercial space at the near corner is proposed to rise at the southeast corner of the intersection of Superior Avenue and East 105th Street in Cleveland's Glenville neighborhood. A former bank branch, now called the Jonell Building, is outlined at far left (RDL). CLICK IMAGES TO ENLARGE THEM
Famicos plans 120 apartments in two buildings
ARTICLE UPDATED JULY 1, 2022
Community development corporation Famicos Foundation proposes to build two buildings comprised mostly of apartments at two locations along Superior Avenue in Cleveland's Glenville neighborhood. The two projects would develop underutilized properties along a once-vibrant street now lined with vacant land and abandoned buildings, to provide quality market-rate, workforce and senior housing and help draw University Circle's energy a little farther north.
The two developments are Gold Coast Lofts and Garrett Square Senior Apartments. Gold Coast Lofts, named after the Gold Coast shopping district that once existed here, is a planned mixed-use building at the largely vacant southeast corner of Superior and East 105th Street. It features 71 apartments and a leasable retail/office space totaling 6,921 square feet at the highly visible street corner with Superior. That project is a partnership with MetroHealth System, the county-based health care provider, which will provide a neighborhood clinic on the ground-level retail/office space at the Superior-East 105th corner.
A small, 105-year-old, 6,300-square-foot warehouse fronting Churchill Avenue will be demolished for Gold Coast Lofts. The neighboring Jonell Building, 10518 Superior, originally constructed in 1918 as a Cleveland Trust Bank branch, is not affected by this development. It is one of the few historic buildings still standing near this once bustling intersection.
The former bank was acquired in April by Solomon Elimimian of Los Angeles who retired last year after playing 10 years as an all-star linebacker for the BC Lions of the Canadian Football League. He was on the Cleveland Browns practice squad for two days in September 2012. No building permit applications are pending for this property. Elimimian could not be reached for comment. Famicos has been acquiring land for future development at the corner since 2012, county property records show.
According to schematic plans that were approved this week by the City Planning Commission's Design Review Committee, the four-story Gold Coast Lofts would have nine walk-up apartments on the first level, featuring front stoops common in urban row houses, especially in East Coast cities. At the south end of the building, at the northeast corner of East 105th Street and Churchill Avenue, will be an outdoor terrace, a fitness center and a conference room behind which will be the building's lobby. The lobby will have entries from East 105th and from a 131-space parking lot on the east side of the building.
The MetroHealth space will not have an entry in back to the parking lot as several building service rooms are between the retail space and the parking lot. That's on purpose so that people will have to walk around the building, putting more feet and eyes on the street. Sidewalks having more people on them provide a greater sense of vibrancy, security and sustainability, according to the City Planning Commission.
In 1949, a Cleveland Transit System streetcar headed west to downtown on Superior Avenue at East 105th Street. The only building from this image that's still standing is the Cleveland Trust Bank branch with the columns — now the Jonell Building — just to the right of the streetcar (Robert Runyan-Cleveland News).
Planned on the 2-acre site is a 72,177-square-foot building with 57 one-bedroom apartments, 11 two-bedroom suites and three studios, plans show. The predominance of one-bedroom apartments suggests that Gold Coast Lofts is geared toward workforce and student housing for people working and studying in nearby University Circle. An e-mail with questions that was sent to Famicos Executive Director John Anoliefo was opened but not responded to prior to publication of this article.
"The project is intended to provide existing residents with neighborhood services and create additional living options for those looking to move to the Circle North area of Glenville," according to a project summary submitted to the city by the Famicos Foundation and its project designer RDL Architects. "A primary goal of the project from the start has been to use best practices in planning and urban design to set a precedent for a human scaled, pedestrian-oriented street face and architecture that promotes connectivity to the street and places for community to be developed."
Just south of this development, across Churchill Avenue, is another Famicos project. Churchill Gateway Apartments are under construction and due to be completed by year's end. Developed in partnership with Cleveland-based NRP Group, a 48-unit apartment building and four townhomes are rising on the site of the former Harry E. Davis Middle School. On the ground floor of the apartment building the city, Cuyahoga Metropolitan Housing Authority, the Cleveland Metropolitan School District and University Hospitals are providing a 2,500-square-foot health education and workforce training center. This building represents the first phase of the Churchill Gateway development. The second phase will add a second apartment building along Churchill.
Famicos' second proposed development on the planning commission's agenda this Friday is the 49-unit Garrett Square Senior Apartments. It will be built at 1282 E. 125th St., basically across the street from East Cleveland. According to plans submitted by Famicos, developer Commonwealth Cos. and its architect Ohio Design Group of Wisconsin, this project will serve seniors aged 55 and older who have incomes between 30 percent and 60 percent of the area's median income. For Cleveland, that's $31,838. For Glenville, it's only $26,434, according to Census data.
At Garrett Square Senior Apartments, residents will be connected to supportive and community-based services through an experienced service coordinator. In addition, the project's team has partnered with St. Martin De Porres Family Center to provide additional health, wellness, and socialization activities, according to a Famicos project summary. On-site amenities include a fitness center with senior-specific equipment, a community room with kitchenette, laundry facilities, plus enhanced site and building security.
In May, the Ohio Housing Finance Agency awarded the Garrett Square Senior Apartments project an allocation of 9 percent Competitive Housing Tax Credits. Additional financing will
include a City of Cleveland Housing Trust Fund (HOME) award, Cuyahoga County Affordable Housing HOME Funding, and a permanent loan. The remaining structure on the site was built in 1990 as a Rite Aid Pharmacy but was converted into a day care center in about 2000. It closed about 15 years later and is due to be demolished. Through an affiliate 9312 Harvard LLC, Mohammad Abuhamdeh of Broadview Heights acquired the property in 2018, county property records show.
"The property has sat vacant for years and has become an eyesore for the neighborhood," according to Famicos' project presentation to the planning commission. "After the daycare center closed its doors, the building turned into a hotbed for drugs and prostitution. The owner regularly secures and boards up the property, however, vandals continue to break in. The construction of Garrett Square will put an end to historical crime at the site and will provide a new start for this important 'Gateway' corner of Cleveland."
Also in Famicos' presentations were historical photographs of Glenville's street scene, especially near the intersection of Superior and East 105th, from the 1930s to the 1970s. Back then, most of the major intersections in Cleveland were like miniature downtowns that had built up during the streetcar era. They were more than just transfer locations between busy streetcar lines. They were also neighborhood shopping districts to which people could walk and shop for their daily needs. But blockbusting, urban decay, suburban sprawl, loss of manufacturing jobs, growing crime and proliferation of drugs since the 1950s pushed out most of Glenville's middle-class residents.
However, in recent years, many new developments have come to Glenville but have been limited to the neighborhood's southern portion closest to University Circle. The city, Famicos Foundation and others have been trying to expand investment northward toward Superior Avenue and beyond, including the CircleNorth Apartments and a ground-floor GlenVillage retail incubator, reinvestment in numerous historic apartment buildings, and more.
END