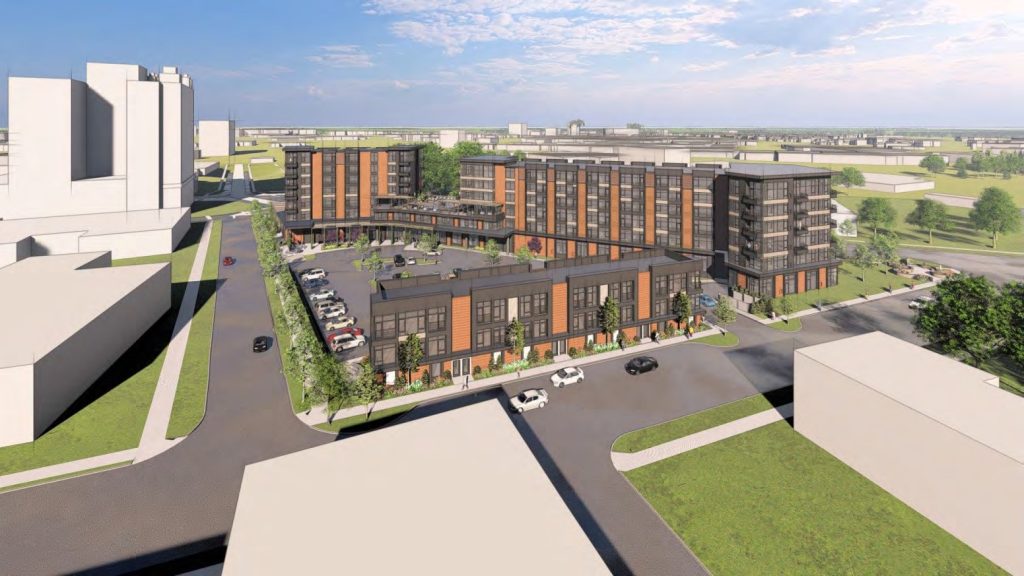 Looking north in this birds-eye view from above the intersection of Cedar Avenue and East 107th Street, one of the most significant additions to the Stokes West development is the construction of six for-rent townhomes. The new townhomes would restore a street presence to Cedar that would otherwise be lost by the demolition of six century-old rowhouses. Beyond them are two connected towers with 255 apartments (LDA). CLICK IMAGES TO ENLARGE THEM
University Circle project adds Cedar townhomes
A largely vacant triangle of land in the southern part of Cleveland's University Circle could see construction of a 261-unit residential development start by year's end. But the part of the triangle that still has a building on it has been a source of debate for the community. That piece is a group of six, century-old, brick rowhouses that was considered obsolete by the developer and deemed a hindrance to the community's revitalization.
Today, backers of the proposed Stokes West mixed-use development won approval from the City Planning Commission to demolish the historic but dilapidated structure. And they won schematic approval for a revised design for their nearly $40 million development that includes the construction of six new for-rent townhomes as well as two public spaces at the north and south ends of the 2.2-acre site in the 2100 block of Stokes Boulevard. While final design approval remains to be won, today's votes were the commission's first actions which strongly suggested that the project would move forward.
NEOtrans broke the story about the proposed Stokes West development in September 2021 when the community development corporation University Circle Inc. agreed to lease the triangular site to a partnership led by Brent Zimmerman Development. That partnership includes equity partner ACRE of Atlanta and New York City which also owns and manages 10,000 housing units nationwide. Other project partners include Cleveland companies Rust Belt Development, LDA Architects and civil engineer Donald Bohning & Associates.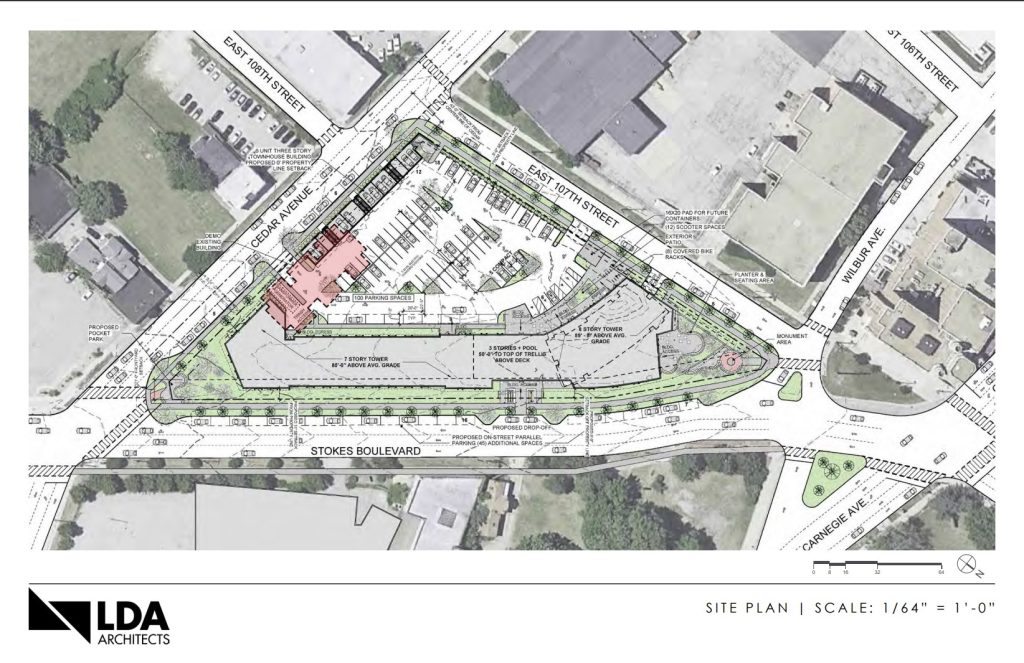 Revised site plan for the Stokes West development showing the location (in pink) of the rowhouses approved for demolition as well as the new for-rent townhomes that will replace them along Cedar Avenue, shown with the two-car garages. Other revisions include the pocket parks at both ends along Stokes Boulevard plus on-street parking around the perimeter of the site. North is at the lower right (LDA).
Stokes West would capitalize on the growth of jobs in University Circle and especially at Cleveland Clinic which plans to invest more than $1 billion into its main campus to add several thousand new jobs in 1.5 million square feet of new buildings. Two-thirds of the apartments at Stokes West would be furnished for new arrivals to Cleveland but ACRE will not make them available to lodging firm Airbnb.
While Stokes West's basic plan remains unchanged — 255 apartments in two connected towers of seven and eight stories with a third-floor swimming pool, ground-floor co-working spaces and a coffee/wine bar — it adds the new townhouses and outdoor public spaces with statues or other features that honor the neighborhood's history. But the development team showed the project could not happen if the historic townhomes were part of it.
The team said the cost of renovating each of the 1,990-square-foot for-rent rowhouses was estimated at $374,199.28 per unit, resulting in rents that would be above the market rate. Even with renovations their floor layouts would be inefficient for today's market. And the rowhouses, if kept, would have required a complete site design to allow the fire department a 26-foot-wide access for ladder trucks to reach the upper floors of the two new apartment buildings. Those and other issues would have compromised the entire project, development team members said.
"One of the things we worked on, specifically with the Fairfax community and (Fairfax Renaissance Development Corp. Executive Director) Denise VanLeer and her team, is her ask of us to replace (the rowhouses) and reactivate Cedar," said ACRE Development Manager Jeff Goldstein. "That was one of the most important pieces of feedback we received."
"I've deliberated many hours and days about the townhomes and the project. I care deeply for them and while I wish I could turn back time and reverse the trajectory of the whole triangle, I think what we are left with is townhomes that have lost its context," said Cleveland Planning Director Joyce Huang. "I believe the benefits of new construction outweigh the costs of demolition first is that aligns with the city's (Connecting Cleveland) 2020 (Citywide) Plan and it abuts with what will soon be the New Economy Neighborhood in Fairfax's masterplan."
Goldstein and other team members touted Stokes West's affordability, compared to competing apartment buildings of similar size built since 2015. They intend to offer average rents of $1,395 for studios, $1,595 for one-bedroom apartments and $2,495 for two-bedroom suites. Those rents are 13 to 21 percent less than their competition. There will also be 12 dedicated low-income-restricted units. Two-thirds of the units will be furnished studios with rents that will be affordable at 80 percent of the area's median income.
"There's not a lot of (development activity in this area," said Ward 6 Councilman Blaine Griffin. "Those rowhouses have been sitting abandoned for a while. I understand that there's a concern about if we're doing demolition by neglect. But I will tell that that's the case for a lot of different rowhouses and properties throughout the city of Cleveland. We do have a significant development going up on (East) 105th and Cedar which is a Meijer supermarket. We're trying to bring more density and really activate that corner with workforce housing, with affordable housing as well as market-rate offerings in that area."
He said the project was improved because of input received at two community meetings about the project. Griffin said he supported the project but expressed concerns about parking which is limited to 100 off-street parking spaces, not including 12 garage spaces for the new townhomes. The developer also plans to work with the city on establishing 45 on-street parking spaces on Stokes, Cedar and East 107th Street. All parking spaces are proposed to have infrastructure to charge electric vehicles. There is also a dozen scooter parking spaces and eight covered bike racks plus more bike storage inside the apartment building, plans show.
Huang said the development is located within one block of an existing, high-frequency transit corridor, the Greater Cleveland Regional Transit Authority's (RTA) HealthLine, and one block of another that's proposed, Thrive 105. That transit corridor will travel on East 105th Street, East 93rd Street and Woodhill Avenue. Plus the Red Line's Cedar-University train and bus station is 10 minutes away.
"I believe a progressive parking plan does make sense here," Huang said. "The city has had discussions with the developers on protecting on-street parking nearby. Street calming on Stokes is planned to slow down traffic."
"It's a very short walk or ride to employment or the RTA," developer Brent Zimmerman recently said in an interview with NEOtrans. "I would do zero (parking spaces) if we could. That's not possible yet."
Despite a majority of commission members supporting the project, two remained opposed — August Fluker and Denise McCray-Scott. Fluker has been particularly vocal in his opposition to the project. He said the rowhouses, which have been vacant for five years, should never had been allowed to be neglected in their maintenance. UCI has owned the rowhouses since 1989.
"No one is refuting that these townhomes have fallen into a state of disrepair," Fluker said. "As a property owner it's your responsibility to maintain a property."
END