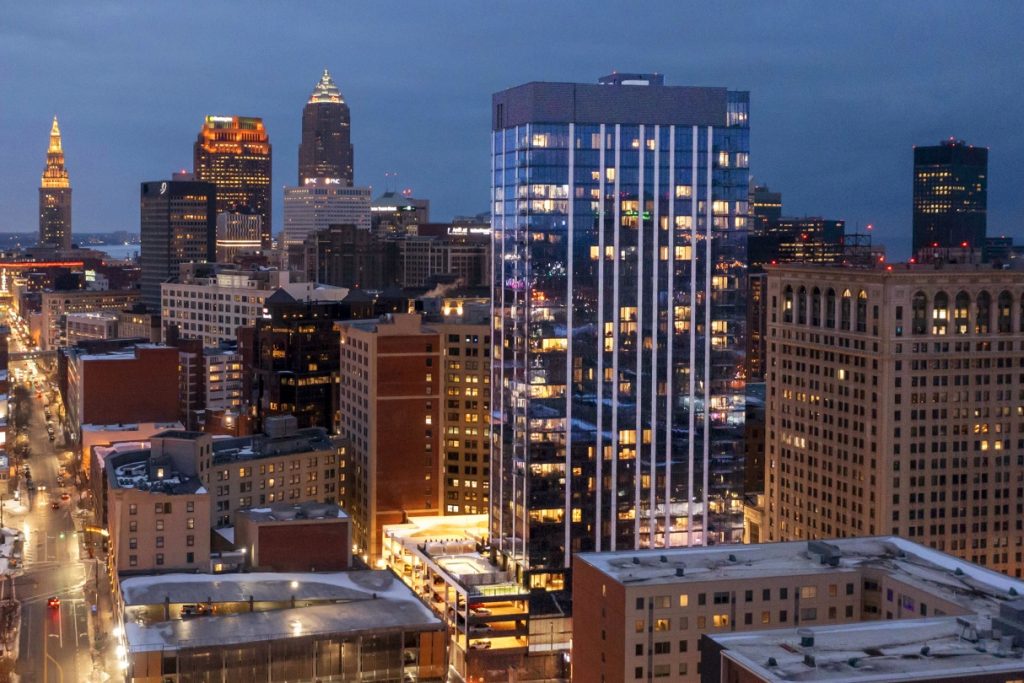 The Lumen, downtown Cleveland's tallest residential building, was 90 percent leased just one year after it opened for occupancy in July 2020, right in the middle of the COVID-19 pandemic. Its owner, the Playhouse Square Foundation, put the building up for sale but reportedly has taken it off the market (JLL). CLICK IMAGES TO ENLARGE THEM
Encore project also not in the program
If you were gathering up spare change in the hopes of buying The Lumen, Cleveland's tallest residential building, you're probably out of luck. The reason is that The Lumen's owner, the Playhouse Square Foundation (PSF), is reportedly taking the 34-story apartment tower off the market. And it wasn't just out of your price range. It was out of everyone's range.
According to two sources, PSF couldn't get offers at amounts anywhere close to what the organization wanted. REJournals reported in February that PSF was seeking about $500,000 per apartment for the property located at 1600 Euclid Ave. The 396-foot-tall skyscraper has 318 apartments. That would put PSF's asking price for the 602,000-square-foot building at $159 million. The nonprofit arts, educational and community development organization built the theater district tower for $135 million to $138 million, depending on which source is quoted and what costs are included in the total. But PSF isn't commenting on whether they're still selling The Lumen or not.
"We don't have anything to share regarding The Lumen at this time," Cindi Szymanski, PSF communications director said in an e-mail to NEOtrans.
Jones Lang LaSalle IP, Inc.'s (JLL) Capital Markets Group was hired to market the property. The Lumen's listing on JLL's Web site is still active for the time being. A Web-based inquiry by NEOtrans to Matthew Lawton, JLL's executive managing director, investment sales and advisory platform leader, was acknowledged and forwarded by Russelia Ferreira, a member of the JLL Concierge team but no other response was received by NEOtrans from the brokerage prior to publication of this article.
Despite top-of-the-market rents of more than $3 per square foot and a global pandemic that shut down the USA several weeks after The Lumen's leasing began, the tower's residential occupancy reached 90 percent in just over one year after tenants were allowed to occupy the building starting July 30, 2020. Nearly half of its residents moved here from out of town.
Its two ground-floor retail spaces have been slower to lease. But, yesterday, a certificate of occupancy was granted by the city to First National Bank of Hermitage, PA after it made $165,000 worth of improvements to build-out an 804-square-foot commercial space for a new bank branch. A second, 1,135-square-foot retail space remains available for lease.
When a newly built, leasable property reaches 90 percent occupancy, the real estate industry considers it stabilized. The owner, typically a developer, often sells it to help raise capital for its next development project. But if the developer tends to own real estate for a source of stable income as PSF does, it may skip the real estate market and refinance the debt portion of its capital stack.
NEOtrans broke the story in January that PSF wanted to sell The Lumen to raise capital for community development projects, according to two sources. One of the two sources said that a community development project would be a follow-on major residential development that some dubbed Act II or The Encore. It would be located on the 106-space Middough Parking Lot at the southeast corner of Chester Avenue and East 13th Street. PSF bought the Middough lot in 2016 while capital was still being accumulated for The Lumen which ultimately erased a 160-space surface parking lot on Euclid.
The rationale, according to that source plus another from back in 2019 when PSF began construction of The Lumen, was that the 550-space parking garage for The Lumen would also offer some public parking. Theatergoers using The Lumen's parking deck, rather than one on Chester behind the theaters, would put more feet on Euclid and increase patronage of the district's restaurants and cafes. And, with fewer cars parking in Chester's deck, spaces would be opened up for up to 200 future residents of a new building constructed at Chester and 13th without having to build another parking garage for Act II/Encore.
However, one of the sources said PSF, acting as developer, doesn't have the appetite for another major construction project at this time. The source said The Lumen, although financially successful, was a large, exhausting project for PSF staff. That doesn't rule out another developer building on PSF's Middough lot, however. The Lumen's property manager, Greystar Real Estate Partners of South Carolina, was reportedly interested in constructing its own residential building in downtown Cleveland, but the source didn't know where and a Greystar spokesperson has yet to respond to NEOtrans' media inquiry. If it does develop in downtown, it doesn't look like it will be on PSF's Middough lot, however.
"(There are) no plans for the parking lot," Szymanski said. That is, there are no plans for the lot other than continuing the status quo, she added. "Many people who work at Playhouse Square park there."
END