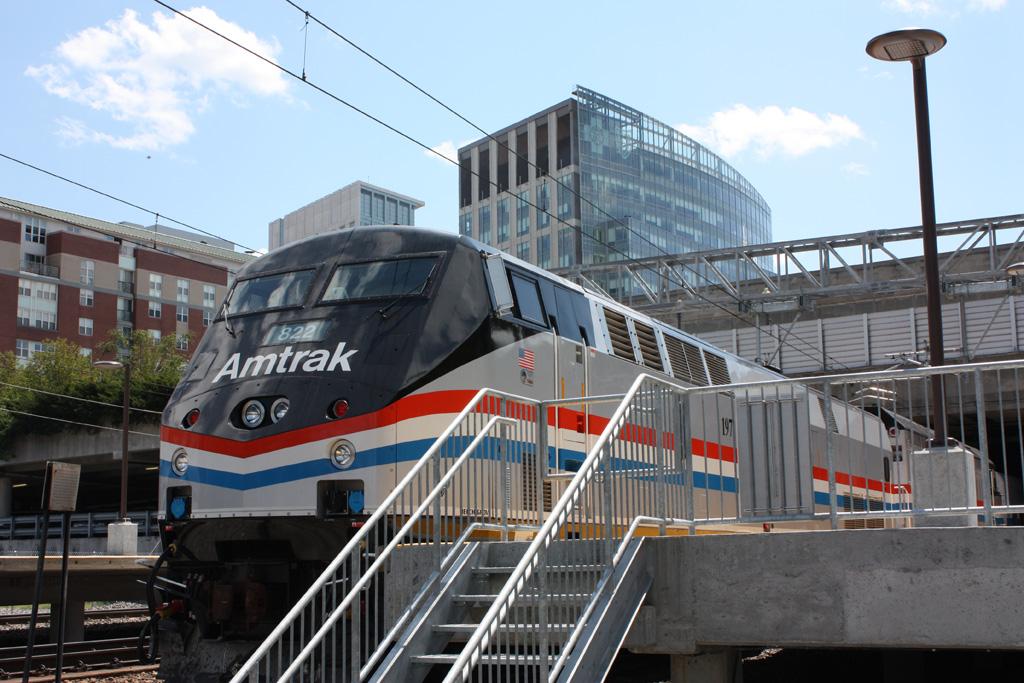 Several business and planning organizations have joined forces to lobby for expanded Amtrak passenger rail service to the railroad's downtown Cleveland station. While the state of Ohio ponders whether it will tap into the largest-ever infusion of federal dollars into passenger rail for service on a new route to Columbus and Cincinnati, Cleveland interests want to expand service on existing east-west Amtrak routes. The above photo is from Providence, RI (Amtrak). CLICK IMAGES TO ENLARGE THEM
Campaign to add daytime east-west service
The Northeast Ohio Areawide Coordinating Agency (NOACA), Downtown Cleveland Alliance (DCA) and Cleveland Neighborhood Progress (CNP) are advocating to expand Cleveland's Amtrak service into a central passenger rail line. As the economic powerhouse of Northeast Ohio, Downtown Cleveland is home to the state's largest jobs hub and residential downtown area, making it central to business, housing and events, and a critical access route within the region and beyond. The organizations are joining forces to seek community input and support for the initiative through a survey, running through the month of August.
"Improving service along existing east-­west corridors is the most cost-effective way to get started, to demonstrate passenger rail's potential for creating economic growth, attracting new business, tourism and new talent to Ohio," said NOACA Executive Director and CEO Grace Gallucci, in a written statement. "The freedom to travel more frequently during the day – providing intercity and interstate connections – more safely and efficiently will enhance quality of life for our residents while also advancing regional and state efforts."
The campaign launches to urge support from Gov. Mike DeWine and the Ohio General Assembly. Given Ohio's – and Cleveland's – central location, NOACA, DCA and CNP are pushing for improved passenger rail service to underserved corridors: Chicago and Detroit to the west, and Buffalo, Pittsburgh, Philadelphia, New York, and Washington, D.C. to the east. The expansion would leverage the current infrastructure on the east-west corridors as well as financial investments from Amtrak, making it an easy and relatively low-cost opportunity for outsized improvements to Ohio's transportation network, NOACA says.
NOACA in May has asked the Federal Railroad Administration to include those routes for inclusion in President Joe Biden's multi-billion-dollar passenger rail development program. Meanwhile, Amtrak has proposed expanding service to Cleveland on its existing east-west routes and on a new route to Columbus, Dayton and Cincinnati. The latter is the subject of a year-long cost and feasibility study being undertaken by the Ohio Rail Development Commission, which is a part of the Ohio Department of Transportation.
NOACA says "Cleveland is critical to America's passenger rail network", seeing close to 50,000 riders annually, despite having only four trains each night between the hours of 2-6 a.m. According to Amtrak data, those trains carried more than 600,000 riders per year before the pandemic, equivalent to a dozen fully loaded Boeing 737 airliners each day coming through downtown Cleveland. Ridership is returning to pre-pandemic levels, Amtrak says. The expansion of Downtown Cleveland's rail service to include daytime trips would lead to higher ridership and the ability to align increased service with federal requests presents a once in a generation opportunity.
Neighboring states like Michigan, New York and Pennsylvania have daytime services and have sponsored infrastructure improvements that allow trains to routinely travel at speeds of up to 110 mph. Amtrak is proposing to extend to Cleveland trains serving Chicago-Detroit, New York City-Albany-Buffalo and New York City-Philadelphia-Pittsburgh. Pennsylvania Gov. Tom Wolf in late June announced a partnership with track-owning freight railroad Norfolk Southern to invest more than $200 million to double Amtrak service west of Harrisburg to Pittsburgh. The expansion could allow one of the trains to be extended west to Cleveland.
"This is an excellent example of the positive solutions that government and business can engineer by working side-by-side toward the same goal. Together, we are able to expand passenger rail access, while preserving a critical artery of our nation's supply chain. This truly is a model for future public-private rail agreements," said Norfolk Southern Chief Strategy Officer Mike McClellan.
While federal transportation law requires states to take the initiative on Amtrak expansion, the law also authorized metropolitan planning organizations like NOACA to apply for and received Federal Railroad Administration funds that can be used to improve railroad infrastructure and stations. Those kinds of improvements will be necessary to expand passenger rail service to Cleveland, just as it was for neighboring states, said Stu Nicholson, executive director of the nonprofit advocacy group All Aboard Ohio.
"The thing that strikes me the most about this is for the first time is we have metropolitan planning organizations around Ohio getting involved in passenger rail development," Nicholson said. "And they have literally joined arm-in-arm with major private sector business organizations who have got their legislators on speed-dial. I think the partnerships NOACA has formed are very encouraging. They see this is an economic development and job force creation tool."
Nicholson noted that NOACA's counterpart in Central Ohio, the Mid-Ohio Regional Planning Commission, has joined forces with the Columbus Partnership to advocate for rail service expansion. In Sandusky, the city has joined with the Erie County Community Foundation to pursue improvements to its station to support more Amtrak and Greyhound bus services. NOACA is seeking a multi-modal transportation center in downtown Cleveland that unites Amtrak, Greyhound and Greater Cleveland Regional Transit Authority rail and bus services.
NOACA, DCA, and CNP are encouraging Northeast Ohioans to take the survey to share feedback on how expanded passenger rail service could enhance life in Northeast Ohio. NOACA is the transportation and environmental planning agency representing five counties in Northeast Ohio, focused on sustainable, multimodal transportation that enhances quality of life in the region.
DCA is a nonprofit economic development organization representing more than $3.75 billion of real estate, Ohio's largest jobs hub, and the largest residential downtown in Ohio. CNP is a local community development intermediary dedicated to equitable revitalization throughout Cleveland's neighborhoods.
END