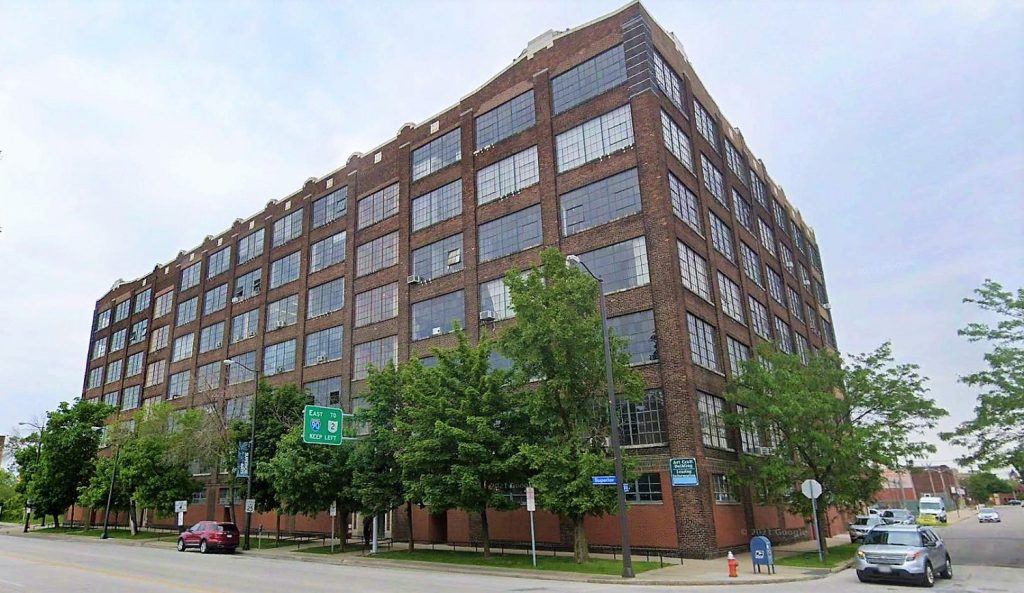 The largest building in Cleveland's former garment district, now the Superior Arts District, is the Artcraft Building. There have been several attempts at renovating the building with new offices or new apartments. The building now has a mystery suitor with an equally mysterious redevelopment goal for the property (Google). CLICK IMAGES TO ENLARGE THEM
K&D ends pursuit of Superior Arts District building
Often the biggest domino is the last one to fall. That's the case in the Superior Arts District where one former warehouse/textile building after another is falling under the redevelopment knife and coming out with a new lease on life. The biggest of those old buildings is the Artcraft Building, 2530-2570 Superior Ave. and is proving to be the most difficult to get rehabilitated.
Recently, the K&D Group of Willoughby expressed an interested in acquiring and renovating the 259,847-square-foot, seven-story Artcraft Building into 159 live-work apartments. According to state records, K&D created a company KD 2530 Superior LLC in January 2021 to acquire a majority stake in the property with GBX serving as a minority owner. Then, K&D requested a maximum $5 million tax credit from the Ohio Historic Preservation Tax Credit Program but was left out of the Round 27 awards announced last December and was not included in Round 28 announced June 22.
In an e-mail yesterday to NEOtrans, K&D Group CEO Doug Price III said his firm is "No longer involved with this project."
According to public records, someone else is. On July 6, national titling firm Bock & Clark Corp. of Norman, OK, with an office in the Akron suburb of Fairlawn, requested a certificate of disclosure from the city of Cleveland's Building Department for the Artcraft Building property, according to the department's records. Certificates of disclosure are typically requested from the city to learn if the property has any defects such as any unresolved building code violations prior to a sale or other deed transfer. The city requires the disclosures for residential deed transactions but many title companies also prefer them for commercial transactions as part of their routine due diligence.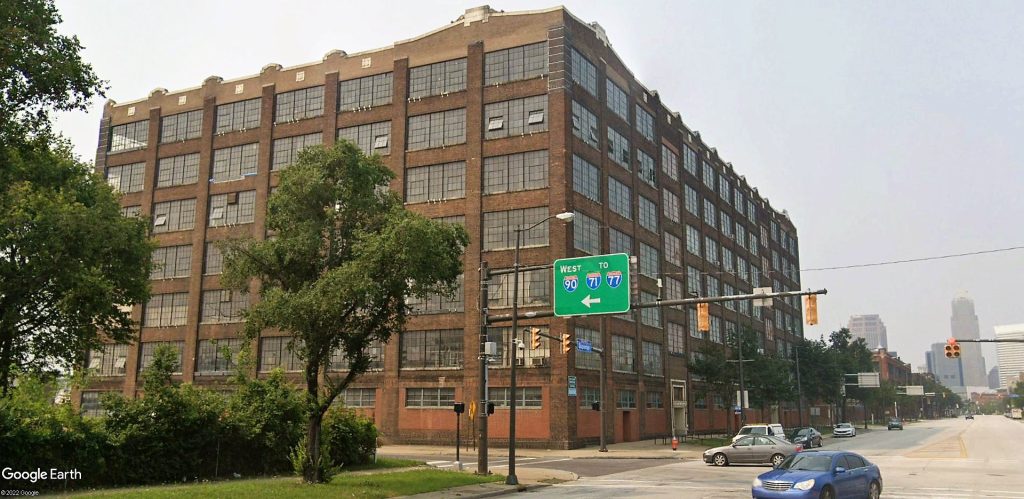 From atop Superior Avenue's bridge over the Inner Belt highway, the Artcraft Building looms large with downtown Cleveland's skyline in the background. Between them are buildings being acquired and renovated by CrossCountry Mortgage's chief executive officer. Some of the buildings will house CrossCountry's new headquarters by this fall (Google).
Unfortunately, the buyer's identity wasn't listed on any city records accessible via the Building Department's web portal. Bruce and Craig Madorsky acquired the Artcraft Building in 1998 but added Cleveland-based Global X, now GBX Group LLC, as an ownership partner in 2016. The Madorskys' property management firm The Roy Group has an office in the building and manages the Artcraft property that includes 1.5 acres of parking lots behind the building. According to public records, GBX appears to have taken over principal ownership of the property via a deed transfer filed with Cuyahoga County on May 31.
A real estate source familiar with the property suggested the buyer may be CrossCountry Mortgage or someone affiliated with the Brecksville-based company that's moving its headquarters and 600-plus employees into the former ex-Tap Packaging Solutions' (former Chilcote Co.) offices and plant, 2140-2160 Superior. "They have a lot of interest in what develops near their headquarters," the source said.
E-mails sent on July 8 to CrossCountry founder and CEO Ron Leonhardt Jr. and to GBX Vice President of Strategic Messaging Phil Winton were both opened immediately but not responded to prior to publication of this article. The e-mails asked them to confirm or refute information that CrossCountry or an affiliate may be involved in acquiring the Artcraft Building. Price also did not respond to a follow-up e-mail asking who the new buyer is.
On the south side of Superior, CrossCountry is renovating several 1910s-era buildings totaling 168,000 square feet for $46 million and relocating its headquarters to them this fall. But, to underscore the source's information, Leonhardt and BEK Developers of Beachwood are also starting work on a $15 million renovation of two neighboring historic buildings totaling 82,000 square feet at 2104 and 2110-2130 Superior into 43 apartments above at least two commercial spaces. This project, including the headquarters buildings already under renovation, was awarded an $8.5 million Transformational Mixed Use Development tax credit by the Ohio Tax Credit Authority in early March.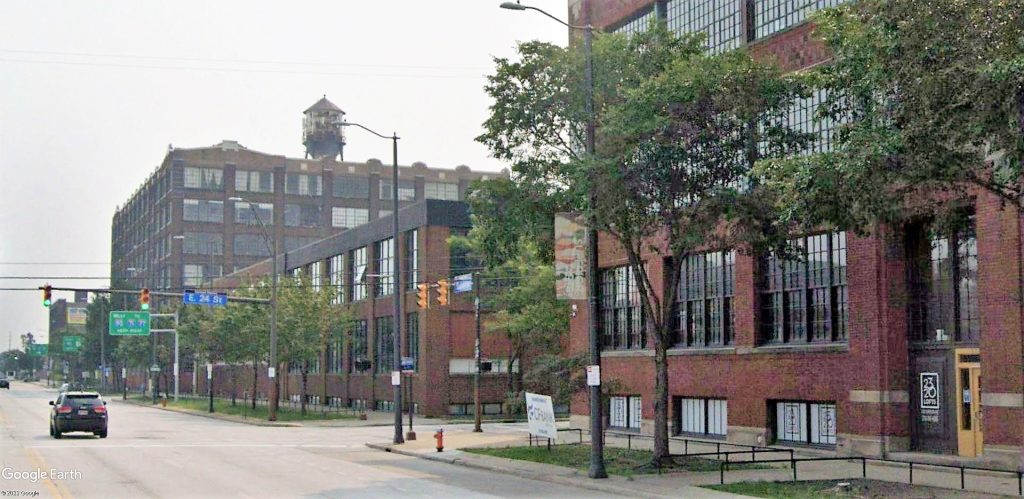 Once the largest garment district outside of New York City, Cleveland's Arts District is home to an eclectic mix of tenants including artists' live-work lofts, recording studios, churches and fitness centers. But the biggest business here will soon be CrossCountry Mortgage's new headquarters with more than 600 employees (Google).
Furthermore, through an affiliate, RJL 2230 SA LLC, Leonhardt and GBX last December acquired two historic warehouse/commercial buildings just east of CrossCountry's new HQ — 2212 and 2230 Superior, county records show. Those faded buildings total 83,000 square feet. Both are managed by the Roy Group and have as their tenants several recording studios, Paragon Data Systems and CrossFit CLE. Between them and CrossCountry's new HQ, a GBX joint venture acquired in May 2021 another warehouse/commercial building at 2202 Superior. Its tenants are Resurrection Church On The Rock, JMA Promotions/CW Embroidery and Phillips Brush.
Other buildings that were recently renovated in the Superior Arts District are owned and were redeveloped by David Perkowski and Bobby George. It was Perkowski's late-1990s renovation of the Tower Press Building at 1900 Superior that kicked off the wave of investment in the Superior Arts District. Perkowski also owns and has renovated the Bloch Building at 2310 Superior plus the attached 2320 Lofts, both of which are commercial buildings.
George joined in the investment parade in the 2010s, acquiring 2400 Superior which contains commercial and live-work lofts. Later, he acquired 2125 Superior which was renovated last year with 57 residential units and has a partnership with Airriva Apartments for short-term rentals. Also on site is the Green Goat Cafe. He reportedly has two other properties in mind for renovation, per recent news coverage. George lives in the Superior Arts District, according to GBX. George could not be located for comment.
The Superior Arts District is part of the Campus District which has its own community development corporation. Mark Lammon, executive director of Campus District Inc., did not respond to texts and e-mails from NEOtrans seeking more information about the Artcraft Building.
In the mid-2010s, GBX had shown interest in moving its headquarters to the Artcraft Building but decided to acquire and substantially renovate 2101 Superior, once the offices and production site for Daffy Dan's T-shirt company. Known formally as the Empire Improvement Building, it and other buildings along this stretch of Superior, including the Artcraft Building, housed numerous textile manufacturers and made it the second-largest garment district outside of New York City for much of the 20th century.
The Artcraft Building is big, old and, worse, out of date. It fills the entire block along Superior between East 25th and 26th streets. The latter doubles at the eastbound entrance ramp to the Inner Belt highway. The brick behemoth is 103 years old and looks every bit of it from the inside out. It is not a polished ambassador for Cleveland to those passing through town on Interstate 90.
Inside, winter winds from Lake Erie whistle through Artcraft's single-pane windows and the summer heat is sometimes unbearable on the south side of the building where window-mounted air conditioning units fight El Sol. The building was built for textile manufacturing and gained the Artcraft Cloak Co. as a tenant in 1925 before the company dissolved in 1928. Despite its brief tenancy, the building retains that firm's name nearly a century later. It also retains other historic features, including steam heating, a fire-sprinkler system fed by the rooftop water tower, plus an elevator operator to give its tenants a lift. The building's tenants include commercial lofts, offices and art studios.
END