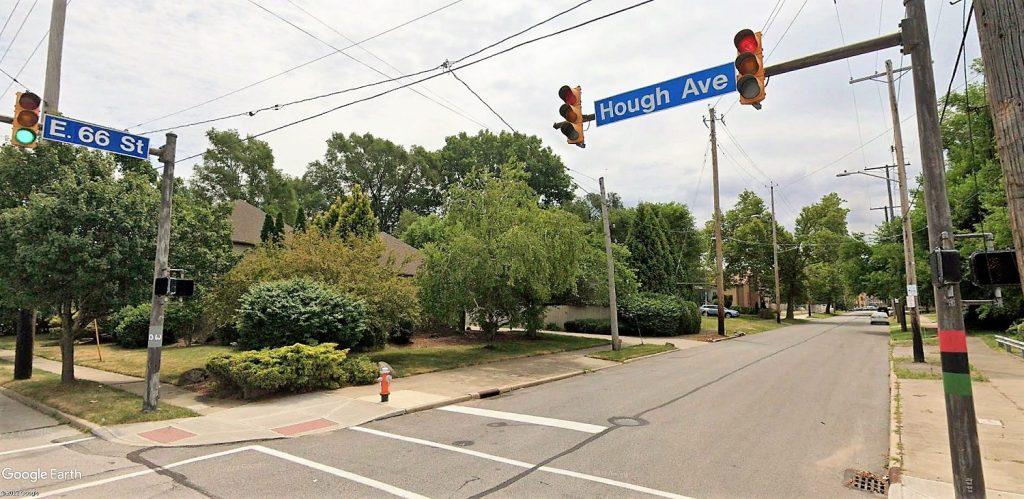 Looking south on East 66th Street from Hough Avenue in July 2022, this important north-south street is more peaceful now than it has been in 150 years. That was before the neighborhood became densely populated with the city's economic growth and became over-populated as a result of the Great Depression, the Great Migration, block-busting and red-lining in the postwar years that sent Hough into a downward spiral. Now, new investments are turning this neighborhood into a more attractive place again (Google). CLICK IMAGES TO ENLARGE THEM
Project to support Hough's, MidTown's growth
In 2012, backers of and participants in a study of improving the East 66th Street corridor in Cleveland's Hough and MidTown neighborhoods probably couldn't imagine how much development would be happening over the next decade along this long-neglected corridor. Many of those same stakeholders are now seeking a major investment in this north-south street to support its further development over the coming decade.
To that end, local, state and federal officials along with business and community development leaders joined together to submit a $10.7 million federal grant request to help pay for a $15.7 million project to rebuild one mile of East 66th from Euclid Avenue north to Superior Avenue. Mayor Justin Bibb was joined by Congresswoman Shontel Brown (D-11), Ward 7 Councilwoman Stephanie Howse, Northeast Ohio Coordinating Agency (NOACA) Executive Director and CEO Grace Gallucci, plus many others to celebrate making the application. They also took a walking tour starting at the Baseball Heritage Museum/League Park at the corner of East 66th and Linwood Avenue.
Joining them were representatives of MidTown Cleveland, the Cleveland Foundation, Greater Cleveland Partnership and others. The application of $15,732,046 is being made to the U.S. Department of Transportation's Rebuilding American Infrastructure with Sustainability and Equity (RAISE) program. And in the world of government acronyms, another is being used to describe the project, called DREAM 66. In this case, DREAM means Delivering Resilient Equitable Accessible Mobility.
"This funding would help end decades of disinvestment in Hough and MidTown, two of Cleveland's most underserved neighborhoods, and capitalize on the momentum to rebuild and revitalize the region," Bibb said in a written statement.
If successful, the funding would boost development within the corridor, which is already attracting investments with a new branch of the Cleveland Public Library and the Cleveland Foundation's new headquarters under construction. Recently built was the renovated League Park and baseball museum, Fatima Family Center and the Chateau Hough Winery. Planned are the MidTown Innovation Center, Allen Estates, Signet Real Estate Group's mixed-use development and several parks. Many other developments are popping up nearby.
Each will be connected by a multimodal roadway featuring a new multi-purpose trail, six-foot wide sidewalks, pedestrian crossings at several intersections, new trees and plantings, bicycle and scooter parking, benches and trashcans along the one-mile corridor. Residents participated in an extensive community engagement to identify and recommend these upgrades during a plan funded by NOACA's Transportation for Livable Communities Initiative.
Several existing, underway and planned developments are seen in this aerial of the East 66th Street and Lexington Avenue intersection. At right is League Park where major league baseball teams including the Cleveland Spiders, Indians and Buckeyes played. At left is Cleveland Public Library's new Hough branch. Between them is Signet Real Estate Group's proposed mixed retail, residential and active sports development (City Architecture).
"Multimodal investments along East 66th Street will also bring connections to the adjacent St. Clair-Superior neighborhood," said Gallucci. "This collaboration between community residents, the business community, and local and regional partners has the potential to become a bustling connector in our region to produce more equitable avenues for access to jobs, education and healthcare opportunities."
The city of Cleveland is committing $3.5 million to DREAM 66 while NOACA is offering $1.5 million to round-out the non-federal share. Typically, the U.S. Department of Transportation likes to see at least 20 percent of a project's funding come from non-federal sources, depending on an individual program's grant-making laws and rules.
DREAM 66 is the first project since the City of Cleveland passed new Complete and Green Streets legislation to comply with the updated ordinance. In addition to new investments and development underway, the proposed improvements complement existing residential housing, community service organizations, churches and the historic League Park.
END