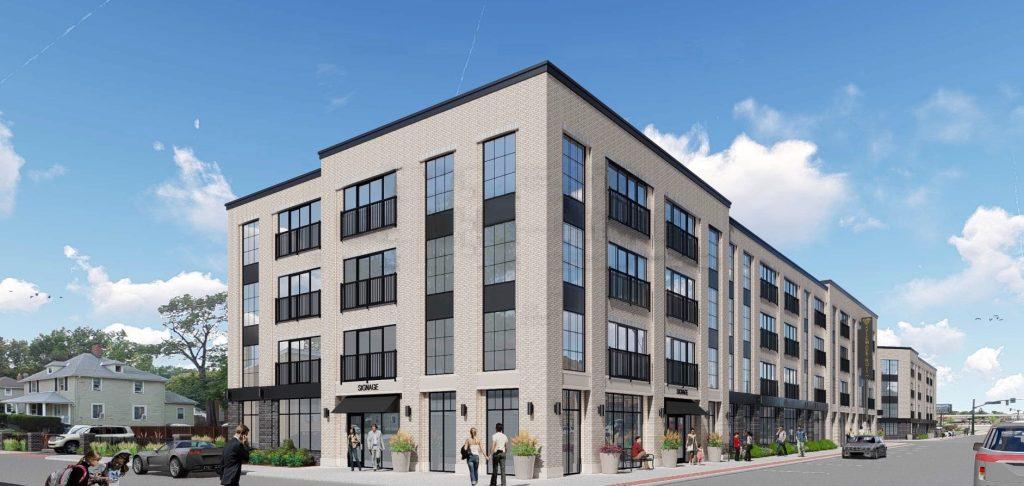 Solove's The View On Detroit East development in Lakewood is on track to start demolition and site preparation by the end of the year. The $20 million mixed-use project will add to Detroit Avenue 120 apartments plus a ground-floor commercial space at this southwest corner of Detroit and Wyandotte avenues (Solove). CLICK IMAGES TO ENLARGE THEM
Site prep for The View On Detroit East to start by year's end
It's a case of good news/bad news regarding a Columbus-based real estate developer's plans for two developments in Lakewood. Both were slated to redevelop former car dealerships plus some adjoining properties with mostly residential uses. The investments by Solove Real Estate were sought in response to strong demand for housing in this walkable inner-ring suburb.
The View On Detroit East is the development on which Solove will continue to move forward, said Shawn Leininger, director of planning and development at the city of Lakewood. The mixed-use development project will be built on the south side of Detroit Avenue, just east of Bunts Road. The 2.2-acre site that's spread across two city blocks is currently occupied by buildings and parking lots built by Spitzer Chrysler-Plymouth which closed in 2010 following the global financial crisis. The land was leased for five years by Wingstar Transportation LLC that provided trucking and logistics services. Another building, Educators Music, 13701 Detroit Ave., closed in 2018 in anticipation of this development.
Proposed are 120 apartments in a pair of four-story buildings. The west building is proposed to have 55 apartments and the east building 65 units. The east building will have ground-floor uses other than residential. One will be a fitness center for residents only. The other will be a leasable commercial space measuring about 1,500 square feet at the corner of Detroit and Wyandotte avenues. Behind the two buildings will be about 140 surface parking spaces. Total cost of the development is estimated at about $20 million. Construction should take about one year.
"Solove is moving forward with the Spitzer site," Leininger said. "Permits are in and are currently being reviewed. I will defer to Solove on construction/demolition start, however we understand it will be this year."
Two e-mails seeking more information that were sent by NEOtrans to Alex Solove, development manager for this project, were opened but not answered prior to publication of this article. Solove founder Jerome Solove calls most of his residential developments "The View On…" whatever street the project is located.
Earlier this year, an affiliate of Solove acquired all of the properties necessary to move forward with the development. JSDI VODE LLC (aka, Jerome Solove Development Inc. — View On Detroit East), spent $2,292,833 to acquire the land and buildings, according to Cuyahoga County property records. On those properties are four buildings that will be demolished and any pollutants remediated. Two were built in 1949 for the car dealership and total 21,677 square feet. The other two, totaling 7,735 square feet, were owned by a partnership with Stavash Family LLC which in turn owned the 1960-built Educators Music and a 1909-built house behind it.
The project was delayed by the pandemic which cost Solove its financing for both projects, according to a source who spoke off the record. It was able to find new financing for The View On Detroit East but not for its other proposed project — The View On Detroit West. It was proposed to be built on a 2.7-acre site comprised mostly of the closed Steve Barry Buick car dealership as well as the former Bobby O's bar property.
That project would have been even larger than its eastern counterpart and cost more too — about $23 million. A couple of four-story buildings on either side of Detroit would have a total of 160 apartments above 3,500 square feet of ground-floor commercial space plus additional tenant amenity spaces. Approximately 165 parking spaces were also proposed. The project's Web site remains active as of this writing.
"Solove is no longer moving forward with the Barry site and the development agreement with the city has terminated as a result," Leininger said. "We are working with the Barry family to help attract a new developer to the site."
Both developments had their properties rezoned to accommodate them. They also had 30-year tax-increment financing (TIF) districts. The View On Detroit will retain its TIF district and agreement which will use the new tax revenues created by this development over the next 30 years to help retire debt to afford its construction. School tax revenues will be unaffected by the TIF.
NEOtrans broke the story about Solove's development in 2018. Solove's son spent a year looking to buy or rent a home in Lakewood. Although he eventually found a home, the lack of supply, intense competition for housing and real estate prices rising 22 percent — more than any city in Cuyahoga County — encouraged Solove to invest here. Other factors include Lakewood's aging housing stock; only East Cleveland's housing stock is older in the county. Milennials and Baby Boomers, the two largest generations in U.S. history, are seeking housing in walkable settings — something that the streetcar suburb of Lakewood offers in abundance.
END