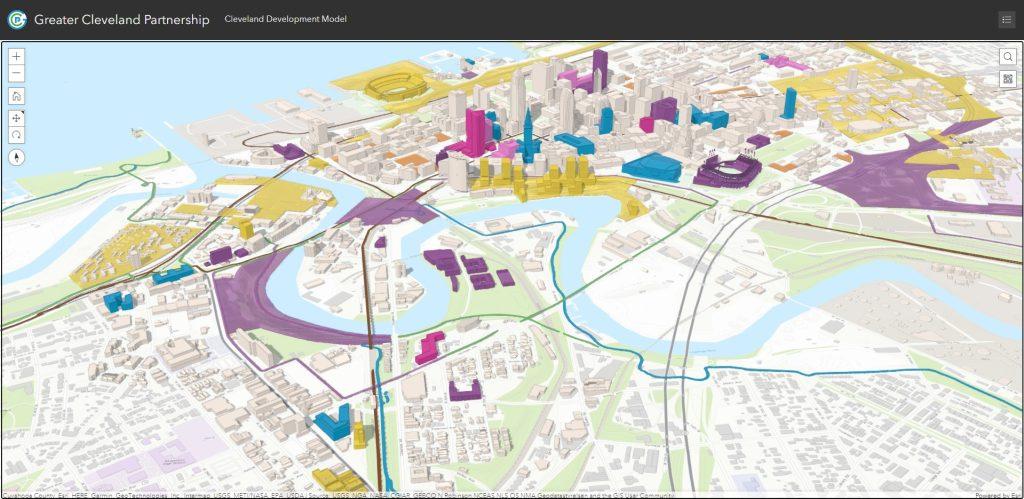 A screenshot from the Greater Cleveland Partnership's new Web-based interactive tool that debuted today to aid in an investor's site selection process. It is intended to clear up confusion due to the many recent, under way and planned development projects in an near downtown Cleveland (GCP). CLICK IMAGES TO ENLARGE THEM.
Tool to aid Cleveland urban core development
A new Web-based development tool went live today to give prospective real estate investors more information on where and what is going on around sites in which they may be interested in buying and developing. The tool, developed by the Greater Cleveland Partnership and City Architecture of Cleveland, is available to the public free of charge and without any registration required.
The mapping tool shows three-dimensional buildings in and near downtown that were built or renovated in the last five years, those that are currently under construction or renovation, and projects in advanced planning or are in early conceptual planning/study. It also shows parking lots that are available for development based on input from property owners.
"We believe a unified visual model, to see relationships and proximity with links to further information, will stimulate complementary development and investment," said Baiju R. Shah, president and CEO of the Greater Cleveland Partnership, the region's chamber of commerce. "This supports and does not replace existing commercial real estate databases, which have more detailed information, and it includes both buildings and infrastructure."
Also shown on the 3D mapping tool are parks and recreational areas, highways, the Greater Cleveland Regional Transit Authority's rapid transit lines and existing all-purpose trails. Those are shown to also provide context for planners, developers and investors on where to design, construct or renovate buildings that are well-connected to transportation, amenities and other buildings that are in the works.
In Cleveland's urban core, there are a lot of development projects in the works. Many of them are shown on the Greater Cleveland Partnership's new Web-based mapping tool. But there are many more, including those east of downtown in MidTown and University Circle, Ohio's fourth-largest job hub. Downtown Cleveland is the state's largest with downtowns in Columbus and Cincinnati ranked second and third. The presence of so many development projects in a small area can be hard to keep track of, especially for out-of-town investors, and is a big reason why the interactive tool was developed.
"We started with the expanded downtown area given the number and scale of recent, current and planned projects," Shah said. "Our intent is to expand it next through the Health-Tech Corridor, University Circle and adjacent areas given similar activity in those areas."
A few developments worthy of note that are shown on the click-and-drag mapping tool is Sherwin-Williams' new global headquarters, Bedrock's multi-building riverfront conceptual plan next to Tower City Center, the Haslam Sports Group's lakefront plan and Harbor Bay Real Estate Advisors' phase 2 of its INTRO project. A large developable property, currently used as a parking lot, that's not shown on the Web tool is Stark Enterprises' former nuCLEus project site which was rumored to be sold to Bedrock.
But Bedrock has its hands full with its Hudson's-site development in Detroit that's nearly $500 million over budget and its large Cleveland riverfront development. That development is rumored to start with three towers — an office building anchored by space for Rocket Mortgage, an apartment tower and a condo tower. Over the coming months, the mapping tool updates will be interesting to follow.
END