An updated elevation view shared exclusively by NEOtrans shows the west side of West 25th Street showing the proposed senior apartments, at left, and new Metrohealth police station at right. This image provides greater relevance to current plans compared to the outdated images shared last week, which were the only views available at that time (CPC). CLICK IMAGES TO ENLARGE THEM.
Development plans scaled back from earlier concepts
ARTICLE UPDATED OCT. 4, 2022
Conceptual plans made publicly available this week for the next phase of development near the MetroHealth medical center along West 25th Street show a slightly scaled-back design compared to previously released massings by the MetroHealth System and shared by NEOtrans last week. Specifically, a proposed new headquarters for the hospital's police department will be built next to rather than on the first floor of a new 60-unit senior apartment building at the northwest corner of West 25th and Trowbridge Avenue in Cleveland's Clark-Fulton neighborhood. A future apartment building at the southwest corner may be considered at a later date.
Those plans, plus the proposed demolition of seven structures on West 25th and West 30th streets north of Trowbridge, were to be reviewed by the City Planning Commission's Design Review Committee on Oct. 7 but were postponed to a later date. The committee is primarily considering the demolitions at this time, but the plans were released publicly because the committee needs to see with what the applicant proposes to replace the demolished structures. The updated plans were e-mailed to NEOtrans today by City Planning Commission Director Joyce Huang.
"The project will consist of a two-story building, a surface parking lot and associated site development," according to the police station project narrative written by RDL Architects but supplied by the city which notes that the station will measure 13,345 square feet. "The main building entrance is provided along the West 25th frontage. A secondary entrance for staff will be located on the south side of the building, adjacent to the rear parking lot."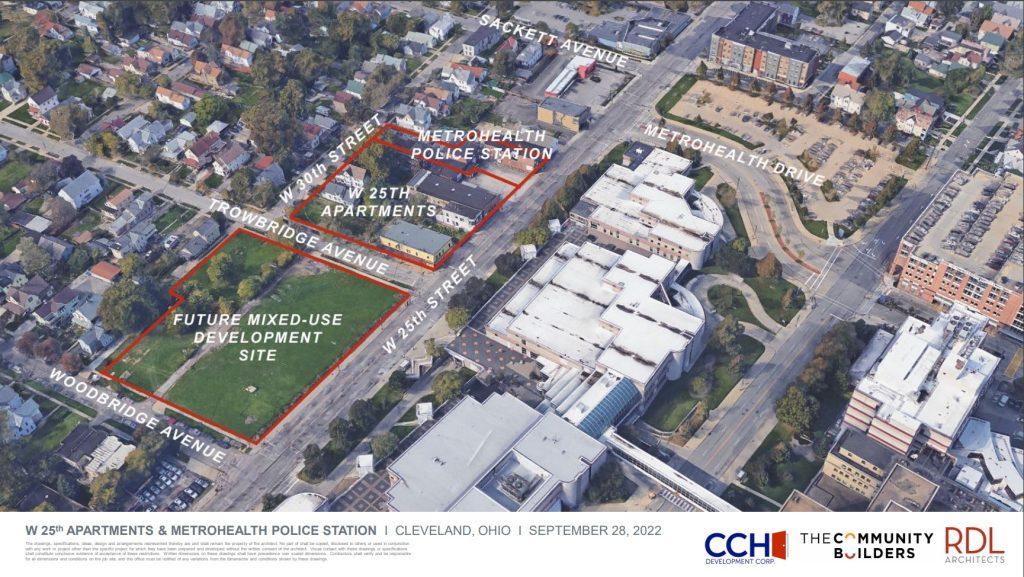 An aerial view of the next phases of MetroHealth development along West 25th Street. This view doesn't show the most recent phase of West 25th development, the Via Sana apartments, which opened this year on a former parking lot along MetroHealth Drive seen at the top-right of this image. Also, all of the hospital structures across West 25th from the new developments are to be razed for a new Central Green park (CPC).
The western portion of the site will include an 11-space parking lot, accessed from West 30th, primarily for police vehicles, according to the development team which includes The Community Builders of Boston. The western side of the building will have garage parking for three police vehicles and one "sally port garage" — a secure entryway into the police station through which access is controlled by a series of doors.
MetroHealth has about 60-65 police officers, security guards and police dispatchers with overlapping shifts. Overflow parking will be located in MetroHealth parking structures within 500 feet of the proposed site. New concrete sidewalks and an accessible entry to the rear of the building will be provided. Stormwater runoff will be held using an underground detention system.
The 64,218-square-foot apartment building is proposed to be a four-story structure with 53 one-bedroom units and seven two-bedroom suites plus a community room, fitness room and other supportive common areas, along with a 5,058-square-foot senior services center on the ground floor. The parking lot for the apartment building is proposed to have 54 spaces. Both the police station and apartment building parking lots are to be accessed by vehicles from West 30th, plans show.
"The senior services center will be a flexible space for multiple uses," according to the project narrative shared by the city. "One use will include classrooms for CSU [Cleveland State University] training classes. Additional uses will be determined as the MetroHealth team works to further define the program."
Last week, neither the hospital system's media relations spokesman Mike Tobin, formerly a reporter at the Plain Dealer, or the Shaker Heights-based project architect RDL Architects Inc. responded to NEOtrans' requests for supplying the updated conceptual plans for their West 25th development. An RDL spokesperson said last week that the plans were being reviewed by the city preliminarily for feedback and thus couldn't be shared publicly yet. However, that included reviews by the Near West Design Review Committee last Wednesday. Once they were delivered to the committee, the plans became a matter of public record.
Those plans show seven structures will have to be demolished for the police station and senior apartments building. They include two houses and an apartment building on West 30th Street and four commercial buildings on West 25th. Two of the four commercial buildings have apartments over storefronts. Another is a 12-unit apartment building at 3369 W. 30th dating from the 1890s. Its original architectural façade was substantially changed by renovations over the years. It, like the other buildings, are owned by affiliates of MetroHealth and are the subject of frequent complaints by neighbors that require constant attention by MetroHealth police.
"The officers and detectives stated they are frequently called for break-ins and squatting in these structures," the project narrative reads.
Meanwhile the others to be demolished are single-use commercial structures, including the Lincoln Building, 3374 W. 25th. The Lincoln was approved by the city for demolition in 2014 for parking at a new office for Suburban Press Inc. But MetroHealth, including through two of its nonprofit affiliates CCH Development Corp. and FRE Holdings LLC, began acquiring these properties a year later for the makeover of its campus.
MetroHealth also has wanted to develop a 1.7-acre vacant lot it acquired, according to county records, in 2018 for $1.34 million from Mang Hung and Man Wa Wong. In past conceptual plans, a five-story, 130-unit apartment building over 36,000 square feet of retail space was proposed. The hospital system said it wanted a market-rate apartment building, marketed to medical staff and the public, and to bring in retailers offering neighborhood conveniences such as a grocery store, restaurants, childcare and more.
Those goals, at this early stage, appear to be scaled back as well. Now, preliminary plans show a four-story building offering 88 to 100 apartments and about 17,000 square feet of ground-floor retail space. The plans are part of MetroHealth's $1 billion campus transformation plan which also is leading to the demolition of two churches, a house and hospital structures between West 25th and Scranton Road for the provision of a large park, called the Central Green.
Additionally, West 25th could have a bus rapid transit corridor called 25Connects built along it, with work starting possibly as early as 2025. The $40+ million transit improvement project would have enhanced bus stop waiting environments, streetscaping, and new developments along the route built with higher density and mixed uses next to the sidewalks. Improved traffic signals and reduced number of stops are intended to decrease transit trip times by 10-20 percent from Detroit Avenue south to the Cleveland Metroparks Zoo.
END
Our latest Greater Cleveland development news