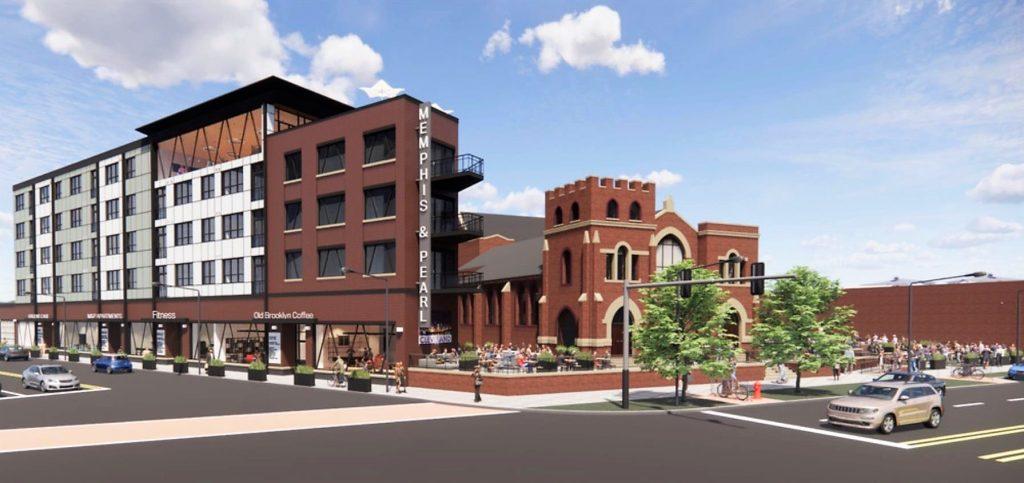 A conceptual rendering of a proposed mixed-use development at the northwest corner of Pearl Road and Memphis Avenue in the business district of Cleveland's Old Brooklyn. It features a market-rate apartments over ground-floor commercial spaces, at left, a renovated St. Luke Church and a community spaces along Pearl, at right (Desmone). CLICK IMAGES TO ENLARGE THEM
Plan could energize Pearl-Memphis corner
Article updated Dec. 22, 2022
Plans for redeveloping the northwest corner of Pearl Road and Memphis Avenue in the heart of Cleveland's Old Brooklyn neighborhood were set in motion yesterday when a Pittsburgh-based architecture and development firm and its conceptual plan were selected by the Old Brooklyn Community Development Corp. (OBCDC). Desmone, OBCDC and other neighborhood stakeholders pledged to work together in the first quarter of 2023 to turn the proposal into an active project.
The OBCDC board reviewed two proposals from development groups after receiving input from over 275 community members through an online survey and a recent in-person community meeting. An earlier proposal from Cleveland-based NRP Group was turned down as it would have resulted in the demolition of the 119-year-old St. Luke United Church of Christ, 4216 Pearl, and the Greenline commercial structures, 3426-34 Memphis, to build only 45-50 apartments over a 3,000-square-foot ground-floor commercial space.
Desmone competed against a plan by Cumberland Development, Sandvick Architects and Jera Construction, all from Cleveland, that would have preserved and repurposed all structures. Those historic buildings would have been renovated using a variety of tax credits and private equity to offer 32 apartments and 8,000 square feet of commercial space, according to their proposal. The financing plans for both proposals were not shared at the community meeting, however.
The Desmone proposal, while razing the Greenline buildings and St. Luke's 1925-built school, would preserve and repurpose the abandoned St. Luke church sanctuary as a commercial structure. Although plans are still in the conceptual stage, the Greenline buildings would be replaced by a five-story building with 74 market-rate apartments over several storefronts. Either proposal would not threaten the adjacent Pearl Road United Methodist Church (PRUMC) but might repurpose a portion of it with apartments and share some of its parking lot. The PRUMC congregation has been in existence for 208 years and has been at that site since the 1840s, albeit in different structures.
"We were so pleased to have two strong plans submitted for consideration," OBCDC Executive Director Lucas Reeve said in a written statement. "We also are especially pleased that so many neighbors gave their feedback about those proposals and what they want to see happen in Old Brooklyn's main street district."
OBCDC officials said Desmone's proposed plan resonated with the community and aligned well with the goals outlined by the community development corporation. Many people who attended a recent community meeting about the project said they supported the plan. One of those was Cleveland City Councilman Kris Harsh, whose Ward 13 includes the Old Brooklyn neighborhood.
"Very cool proposal," Harsh said on Twitter. "I look forward to seeing this through in 2023!"
The proposed number of apartments breaks down as 23 studios, 42 one-bedroom units, and nine two-bedroom suites measuring roughly 500-1,000 square feet with monthly rents ranging from $1.98 to $2.06 per square foot, according to Desmone's proposal. There could also be about 3,600 square feet of apartment amenity space, 6,500 to 9,600 square feet of retail/restaurant space and 6,500 to 9,600 square feet of community space. The latter could involve a neighborhood health care clinic.
So far, the plan is silent on the number of parking spaces, but there are at least 50 parking spaces behind PRUMC. And when OBCDC acquired the St. Luke property from the Cuyahoga County Land Reutilization Corp. last February, it also took title to a skinny, 0.262-acre parcel on 3425 Broadview Rd. — a parcel big enough to accommodate a 35- to 40-space parking lot. There is a Web site with more information and updates on the Memphis-Pearl development.
"This proposed plan fits well with the requirements we outlined earlier this year for multi-family housing as well as commercial opportunities," said OBCDC Board President David Margolius. "In fact, it goes well beyond the minimum expectations of 25 to 50 apartment units and 3,000 to 5,000 square feet of commercial space. That's one of the reasons we opted for the Desmone proposal."
St. Luke has been vacant since 2014 due to a declining congregation. The congregation lost its tax-exempt status and forced it to donate the property in 2020 to the Cuyahoga County Land Reutilization Corp. The buildings' utilities were shut off, allowing mother nature to decay the structures faster. OBCDC said that more than $1 million was needed just to structurally stabilize the church and school with millions more needed to update their accessibility and heating, cooling and electrical systems.
"Our hope is the development of the Memphis and Pearl will be a catalyst that ignites a rebirth for the business corridor," Desmone said in its proposal to OBCDC. "Our thoughtful design concepts pay homage to what the community continues to cherish while also providing them their wants and needs. We believe that this project will attract younger demographics to the neighborhood while also connecting the residents who are itching for an 'at home' brewery and local health services."
The developer noted that Old Brooklyn's Memphis-Pearl intersection is situated in a traditional, pedestrian-oriented business district with most buildings up on the sidewalks. Its plan is designed to help that intersection regain its role as a "cornerstone" of the surrounding community and to help revive historic buildings in the South Brooklyn Commercial District which is listed on the National Register of Historic Places.
"Our team prides ourselves on preserving iconic architecture; we welcome the challenge and want to bring life back to St. Luke's," the Desmone proposal continued. "The building needs to offer desirable Class A apartments to bring both businesses and residential tenants into the neighborhood. By offering retail space on the ground floor, Memphis and Pearl will serve the commercial and residential tenants in the building as well as the greater community. It is time to bring the energy back to St. Luke's and make it a thriving gathering space once again."
Earlier this year, Desmone opened an office in the Hingetown section of Cleveland's Ohio City neighborhood due to the growing number of projects it's working on in Northeast Ohio. Its largest project is The Apartments At Bolivar which is due to start construction in downtown Cleveland in early 2023. It also is working on redevelopment projects in Warren and Youngstown. The company said its new Cleveland office will help it expand its business in Ohio.
END
Our latest Greater Cleveland development news