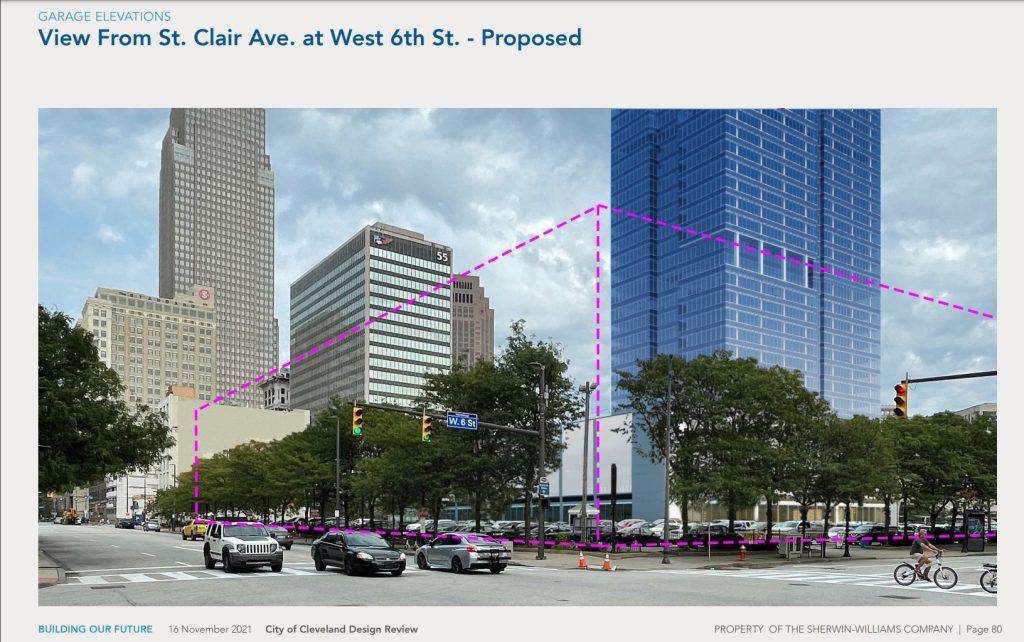 A purple outline of a building or buildings on the strategic development site of the North Block of Sherwin-Williams' headquarters campus suggests what is possible. This view is from the corner of West 6th Street and St. Clair Avenue in downtown Cleveland's Warehouse District. Renderings of SHW's complex headquarters tower and parking garage are in the background (Property of Sherwin-Williams Company). CLICK IMAGES TO ENLARGE THEM.
North Block, Phase 2 tower on table
When Sherwin-Williams (SHW) finalized a deal last month with Florida-based Benderson Realty Development Co. to buy a big stake in its new global headquarters, the conversations reportedly began with different intentions. According to sources who spoke on the condition of anonymity, those intentions were both more modest and more grand, depending on how one looks it, and could play out further over the coming year.
Those intentions began with a pursuit of a "strategic development" of SHW's North Block of its new downtown Cleveland HQ campus, the sources said. It resulted, for now, in Benderson acquiring a 90-percent, $210 million stake in SHW's HQ and leasing it back to SHW for 30-80 years. But the strategic development site — the property surrounding the HQ's 942-space, six-level parking garage now under construction — could be a grand pursuit on its own. Sources said the conversations led by SHW Vice President of Corporate Real Estate Timothy Muckley may bear some fruit for the North Block in 2023 and in the South Block in the following year.
The strategic development site is a 1.62-acre parcel along the east side of West 6th Street north of Frankfort Avenue and the south side of St. Clair Avenue east of West 6th. It has been proposed by SHW as a property the coatings company could develop with offices for its own uses, or sell/lease to a private developer seeking to build anything from housing, offices, hotels, retail or a combination thereof. NEOtrans reached out to SHW Vice President of Global Corporate Communications Julie Young for comment regarding next phases of HQ development. While she and her staff opened e-mails from NEOtrans, they were not responded to prior to publication of this article.
Sources said SHW began more than a year ago to solicit interest in that site along with the adjacent parking garage. But the conversations soon turned from selling or leasing the strategic development site and the parking garage, to selling and leasing back the parking garage plus the rest of the headquarters' structures. SHW's original interest in selling the parking garage was, in part, because it would allow the paint company to justify charging its employees to park there.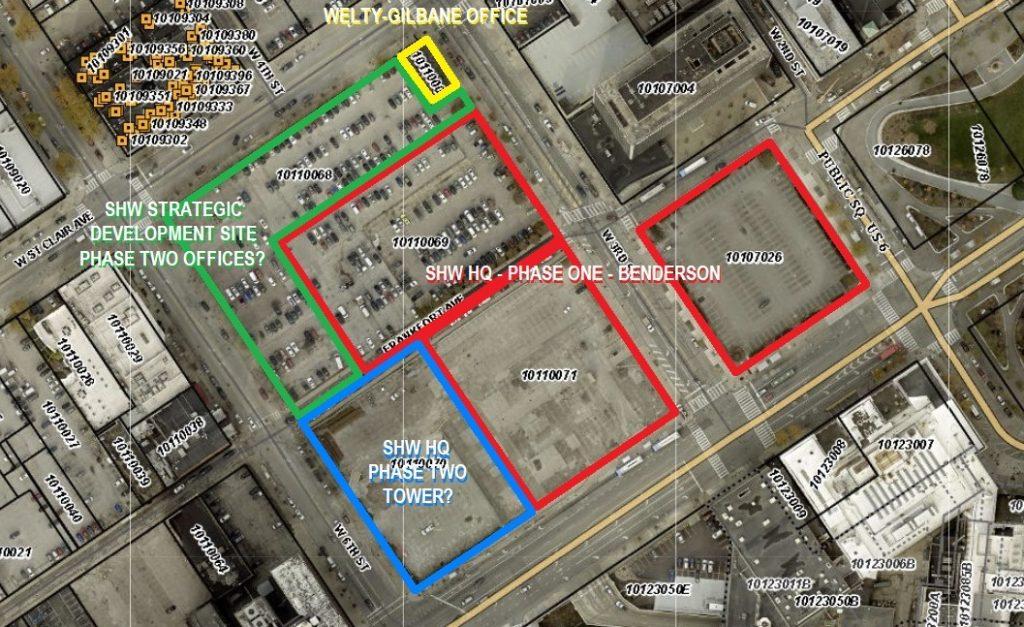 This property map of the Sherwin-Williams headquarters site shows the phase-one parcels that SHW has sold to Benderson Realty Development Co. and what remains to be developed. Sources said SHW is seeking to develop the strategic development site in the North Block and has the financial liquidity to pursue it following the HQ sale to Benderson (MyPlace.CuyahogaCounty.us).
"Sherwin-Williams began looking for a partner to purchase the parking garage, and SHW could avoid (the) pressure of having to provide free parking for employees," one of the sources said.
The owner of the parking garage could also generate income from people parking in the garage at night that would visit or live in future buildings constructed on the strategic development parcel. With a footprint of roughly 70,000 square feet, a building or a series of buildings only five stories tall filling out this parcel could amount to 350,000 square feet. It could be a structure large enough to qualify for the state of Ohio's new Transformational Mixed-Use Development tax credits.
The strategic development parcel along with another measuring 1.3 acres for a future phase two of SHW's HQ in the South Block were created Nov. 9, 2022, just prior to SHW selling the 90-percent stake in its 36-story, 1,070,144-square-foot HQ tower; a three-story, 51,747-square-foot pavilion on Public Square; and its parking garage, Cuyahoga County records show.
"The term of the lease has or will commence on Dec. 19, 2022 (the effective date)," according to a copy of the lease recorded with the Cuyahoga County Fiscal Officer. "The term shall be for a primary term from the effective date through March 31, 2025 and a period of thirty (30) years thereafter. Lessee has the option to extend the term of the lease for ten (10) additional periods of five (5) years each."
SHW couldn't sell a 100-percent stake in the property to Benderson because SHW has a 20-year ground lease with the Cleveland-Cuyahoga County Port Authority so that it could offer sales tax exemption on construction materials purchased for the new HQ, said Rhonda Winslow, the port's vice president of development finance. The port authority also provided $50 million in taxable lease revenue bonds to SHW for its HQ project.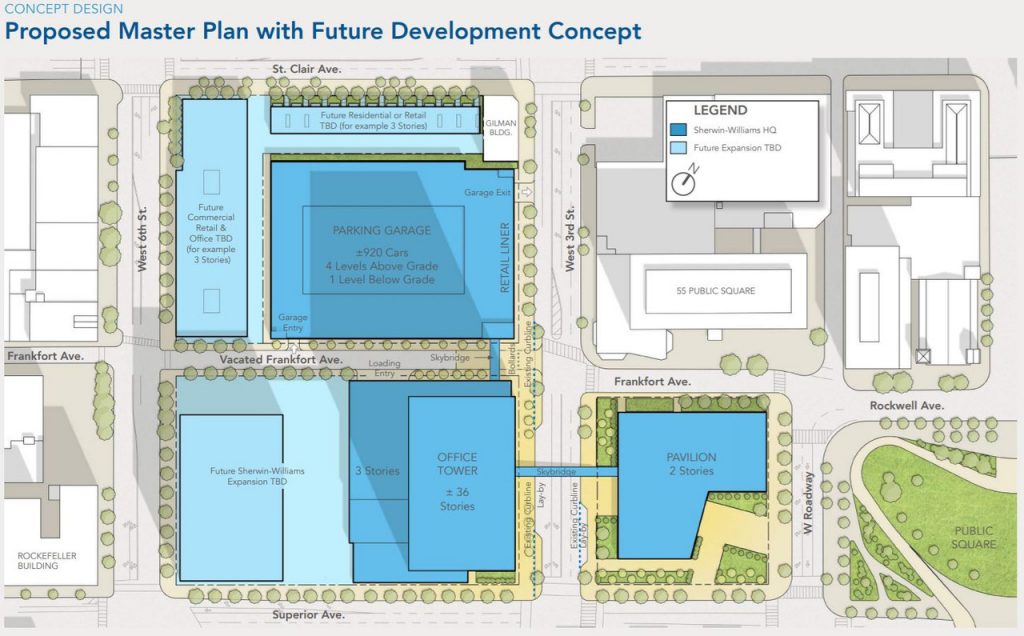 Site plan of Sherwin-Williams' headquarters campus in downtown Cleveland, including phase-two components shown in light-blue. In the North Block at upper-left, SHW reportedly refers to this area as the strategic development site. In the South Block at lower left, SHW refers to the expansion site as its phase two HQ tower (Property of Sherwin-Williams Co.).
"Sherwin ground leased the land to us," Winslow said. "We had to enter the chain of title via a ground lease in order to offer the sales tax incentive. So in the ground lease Sherwin owns a fee interest in the site and ground leases it to us."
The strategic development site will not include the Gilman Building, 1350 W. 3rd St., at least not for now. The five-story, modernist-clad Victorian-era building was acquired more than a year ago by Welty-Gilbane Joint Venture — builders of the SHW HQ complex — as a construction office during the multi-year project. Sources said Welty-Gilbane will probably sell the Gilman Building after the first phase of the SHW HQ project is completed in early 2025.
The project is slightly behind schedule and over budget due to inflation and supply constraints. While a detailed breakdown of the cost overruns wasn't available, SHW said the total project cost of the HQ and its new research center in suburban Brecksville has risen from $600 million to about $750 million. Sources said SHW pursued the sale-leaseback arrangement with Benderson because of the need for increasing financial liquidity for additional projects.
The $210 million influx could help SHW develop strategic development parcel or even the phase two HQ tower for SHW suppliers/contractors and additional SHW corporate staff, they said. But while we may start hearing some news later this year about SHW's strategic development parcel in the North Block, it may be at least another year until SHW decides to pursue the phase two HQ tower in the South Block in the near future.
The reasons why we may not hear anything publicly for another year about the phase two HQ tower were spelled out in a NEOtrans article in 2021 and apparently remain valid today:
SHW's Muckley told the City Planning Commission in 2021 that SHW wants companies with whom it does business to locate new offices in the HQ's second phase which could include sites in the North or South blocks;
SHW suppliers/contractors who expressed interest in locating or expanding Cleveland offices reportedly said they wouldn't commit until the first phase's opening was a year away;
Relocating additional SHW and Valspar office employees to downtown Cleveland is a sensitive matter and may not be discussed publicly until after it happens;
Any phase two development would likely be proposed to support suppliers/contractors and "future expansion."
SHW could, in the short-term, develop the strategic development site with offices for suppliers/contractors and more SHW corporate staff. In 2021, when SHW outlined potential uses for that site for the City Planning Commission, it was labeled on conceptual planning documents as "Future Commercial Retail & Office TBD" — To Be Determined.
Given the large footprint of that site, it could easily accommodate enough office space for more than 1,700 workers in buildings five stories tall. At just three stories tall, buildings filling this site could accommodate more than 1,000 workers. A phase two HQ tower, at the scale which SHW presented it last year, could be about 20-25 stories tall and offer at least 300,000 square feet of office space. That could house another 1,500 workers at 200 square feet per employee.
It should be noted that corporate and economic conditions will, of course, affect any decisions on whether SHW will pursue the phase two HQ tower and if SHW or any developer will respond in constructing anything on the strategic development site. But there is now information that there are active efforts underway to find a developer for the strategic development and resources in hand to pursue it or the phase two HQ tower.
END
Our latest Greater Cleveland development news