This tree-covered, otherwise unused half-acre piece of land on East 9th Street was sold recently by the Gateway Economic Development Corp. to an affiliate of the Cleveland Guardians for future development. At left is Eagle Avenue which runs between Progressive Field's scoreboard, at far left, and the Gateway East Garage which could also sell to the Guardians by the end of 2023. In the center is the AT&T Building (Google). CLICK IMAGES TO ENLARGE THEM
Team exercises option on one of two properties
An affiliate of the Cleveland Guardians baseball team has exercised one of two property acquisition options that were offered when the team extended its lease on Jan. 1 to play at Progressive Field for at least another 15 years. The property acquired is a half-acre parcel next to the ballpark and located at the southwest corner of East 9th Street and Bolivar Road.
NEOtrans has reported in recent months that this and other properties near Progressive Field and the Rocket Mortgage FieldHouse where the Cleveland Cavaliers play basketball are the subject of activities pointing to significant, future real estate developments. Indeed, many sports teams are increasingly getting directly involved in so-called "ballpark village" real estate developments around their stadiums and arenas.
"I can confirm we've exercised the option to acquire this parcel of land, but we don't have any immediate development plans," said Curtis Danburg, vice president of communications and community impact at the Guardians.
The Guardians' lease extension with the Gateway Economic Development Corporation of Greater Cleveland, which owns Progressive Field and Rocket Mortgage FieldHouse, included two options that would expire Dec. 31, 2023. One was to buy the undeveloped half-acre parcel on East 9th, between Bolivar and Eagle Avenue for $2 million. Per terms of the deal, Gateway conveyed its entire share of the property's sale proceeds into a Ballpark Improvement Fund.
Title to this property transferred April 13 for the agreed-upon price to the Bolivar/E9 Development Company, LLC, according to county property records. Filings with the Ohio Secretary of State show the purchaser was incorporated March 31 by Joseph Znidarsic, vice president and general counsel at the Guardians.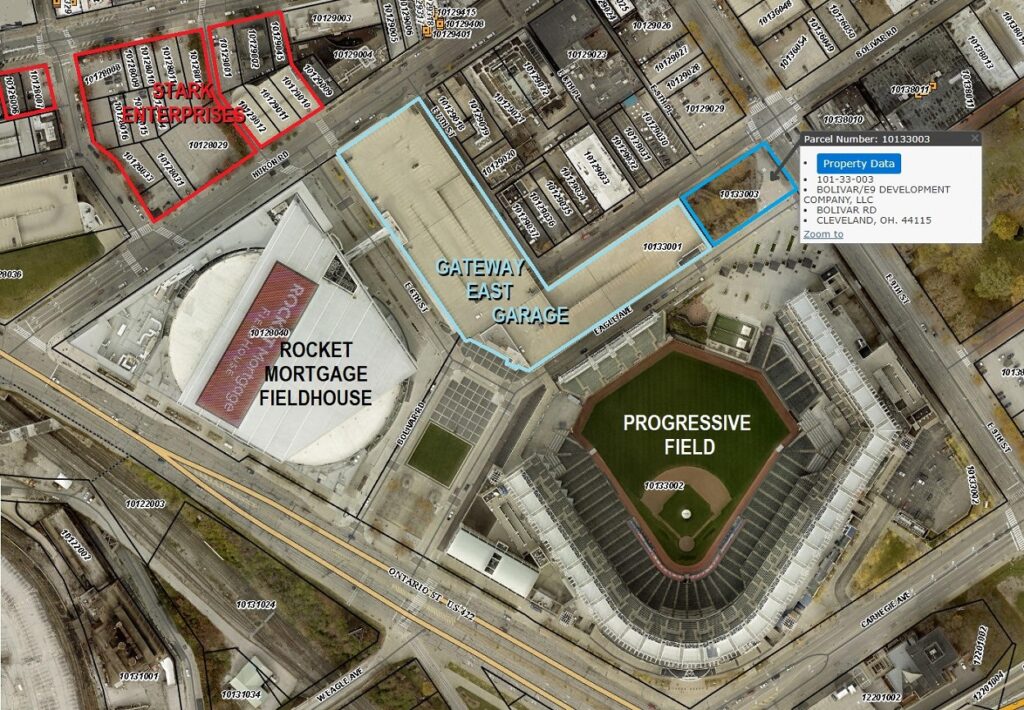 Bolivar/E9 Development, an affiliate of the Cleveland Guardians, recently acquired the half-acre parcel at the upper-right of this overhead view of the Gateway sports and entertainment complex. The Guardians have yet to exercise an option to acquire the Gateway East Garage next to it. Other relevant properties nearby are also shown (MyPlaceCuyahoga).
Znidarsic is also a principal at the 91-year-old law firm Thrasher, Dinsmore & Dolan which has offices in Chardon and Cleveland. Its Cleveland office relocated in January from downtown to a west-side property redeveloped by the Krueger Group. The Dolan listed as a partner of the law firm is Matthew Dolan, son of the Guardians' owner Larry Dolan and a politician. Matt Dolan ran an unsuccessful bid for U.S. Senate from Ohio, coming in third in the Republican primary May 3.
The other two-year option in the lease extension was for the Guardians to buy the 1,650-space Gateway East Garage, 650 Huron Rd., and its 3.3 acres of land for $25 million. In the event the team purchases the Gateway East Garage, the sale proceeds will be used to fund the city's annual $2 million commitment towards the Public's Ballpark Contributions and shall assign future naming rights sale proceeds to the team.
"(There are) no pending actions to exercise the option on the parking garage," Danburg said in his e-mail to NEOtrans. "We have a two-year window to act on it."
A source familiar with Gateway-area real estate development said the Guardians are focused on the $435 million worth of renovations to Progressive Field right now, rather than on development around the ballpark. Ballpark renovations are due to start after the 2022 baseball season and will continue for several years. But Dolan reportedly isn't the one interested in developing real estate around the ballpark anyway.
According to published reports, East Coast billionaires David Blitzer and Josh Harris are near to acquiring for about $400 million a 35 percent ownership stake in the Guardians that would also put them on a path to acquire a majority stake from Dolan in 2026.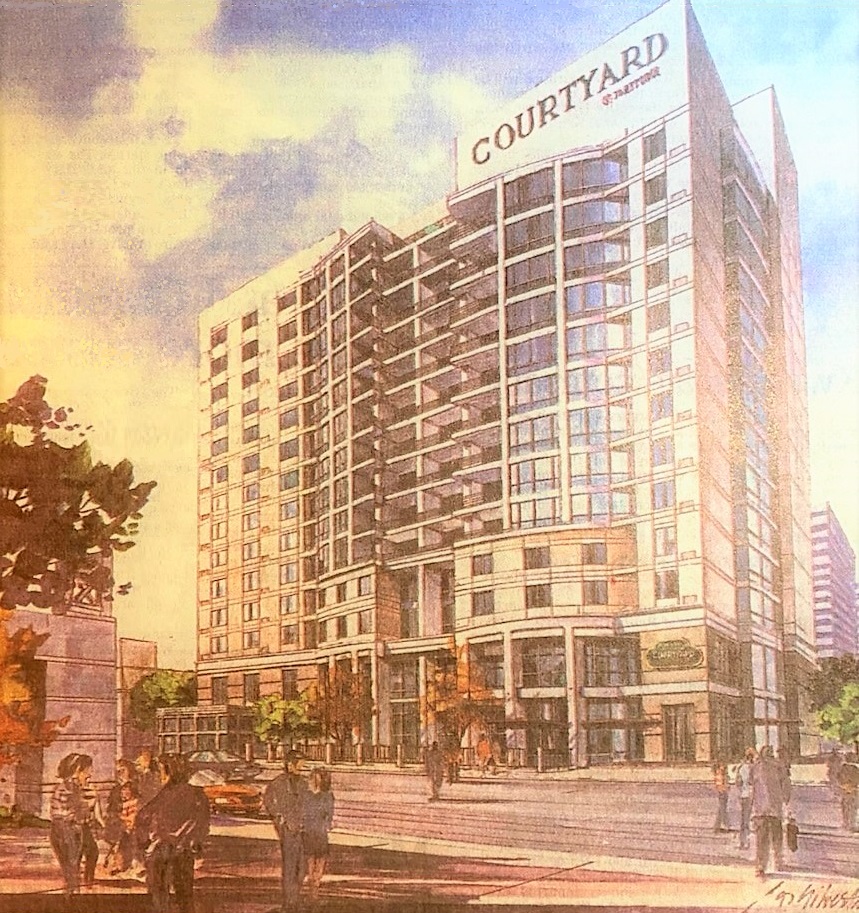 This 14-story, 252-room Courtyard by Marriott hotel was to start construction in 1998 at East 9th Street, Bolivar Road and Eagle Avenue by the Jacobs Group whose CEO Richard Jacobs owned the Cleveland Indians. But then-Mayor Michael White blocked the project because it would erase an "elegant green space." The land has remained unused ever since. More than two decades later, the land was finally sold for development purposes. This would have been the south side of the hotel (Jacobs Group).
Blitzer and Harris are partners in Harris-Blitzer Sports & Entertainment (HBSE) which has developed real estate around the venues for teams they own — the Philadelphia 76ers basketball, the New Jersey Devils hockey plus their minor league teams, the Delaware Blue Coats basketball and the Binghamton Devils hockey. Also, Major League Baseball is encouraging team owners to create ballpark villages around stadiums to diversify revenue sources and provide value-capture financing for new or renovated stadiums.
As NEOtrans has recently reported, multiple sources close to HBSE and to Bedrock Real Estate, founded by Cavaliers owner Dan Gilbert, say the two groups are coordinating their efforts to plan mixed-use developments near the stadiums that activate on a year-round-basis more economic benefits from the two sport facilities.
In addition to the Bolivar/E9 and Gateway East Garage properties, another site reportedly in play as part of the ballpark village vision is Stark Enterprises' former nuCLEus development plot. The 24-parcel, 2.85-acre site between Prospect Avenue and Huron Road east of East 4th Street reportedly is under a purchase agreement according to sources.
Backing it up are public records of multiple certificates of disclosure that are typically requested from the city during the due diligence of a pending title transfer. Publicly denying any potential sale is Ezra Stark, who recently succeeded his father Robert Stark as CEO of Stark Enterprises. He called the rumors "completely false."
One source said Bedrock is acquiring the Stark property but Bedrock's public relations firm in Cleveland declined to comment. Bedrock appears to be gearing up for major developments in downtown Cleveland, including between Tower City Center and the Cuyahoga River. The nuCLEus development stalled when its anchor office tenant, the law firm Benesch, opted to move its headquarters from 200 Public Square to Key Tower.
Based on recent, nearby, comparable property sales, the sale price of the ex-nuCLEus site is likely in the $20 million to $40 million range. A buyer would have to have deep pockets and want to deliver a large development of its own to achieve a return on its large investment.
A source said the buyer is planning a development larger than the nuCLEus development but didn't clarify which one. There were several variations of the nuCLEus project, the last being a single, 23-story building with 340,000 square feet of offices atop 1,300 parking spaces and 80,000 square feet of ground-floor retail and restaurants.
Last week, a representative of Lee & Associates real estate brokerage sent a message via LinkedIn to Ezra Stark regarding his promotion at Stark Enterprises. "Congrats Ezra ! Can't wait to see all of the big things you're working on," the associate said. When asked by NEOtrans to elaborate, the associate did not respond. NEOtrans isn't identifying the associate by name because it's not important. What is relevant is that he was aware of Stark's big projects and that he works at Lee & Associates.
The brokerage's identity is potentially important because Lee & Associates' Vice President Matthew T. Byrne on Jan. 5 filed documents with the Ohio Secretary of State to incorporate Bedrock Real Estate Group LLC in Ohio. Byrne, 63, of Columbus is a native Clevelander according to Lee & Associates' Instagram account.
His LinkedIn page says he worked at Bedrock Development Group since 1992, going back to the company's earliest years when Gilbert founded Bedrock. Byrne also works as an owner's representative on development projects which may explain his role in this new LLC. He didn't respond to outreach from NEOtrans seeking comment.
END