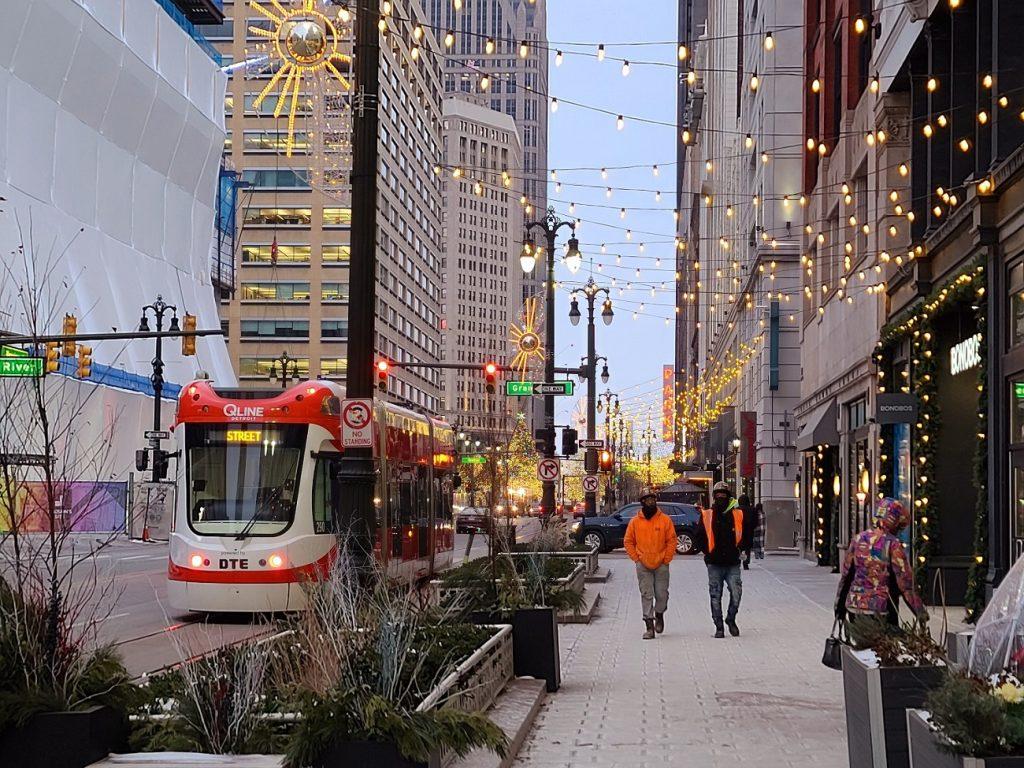 It's almost impossible to take a picture in Downtown Detroit and not include a property that belongs to or is connected with Dan Gilbert's Rock Ventures LLC. Start with the Qline streetcar running along 3 miles of Woodward Avenue which was partially funded and managed by Rock Ventures. Then, at far left, Bedrock is building the $1.4 billion Hudson's Site development. Just beyond it are three high-rises owned by Bedrock — One Campus Martius, First National Building and Ally Detroit Center. Along the sidewalk at right are many more Bedrock-owned buildings with retailers given free or below-market rent. Cleveland is next, Bedrock officials say (KJP). CLICK IMAGES TO ENLARGE THEM.
Will Cleveland see Bedrock's $7B Detroit investment?
Billionaire Dan Gilbert can ride up and down Woodward Avenue in downtown Detroit and admire his work like no one else can. He can point at buildings like a kid checking out baseball cards in a collector's showcase and say "got it, need it, got it, got it…"
Perhaps he and his real estate company Bedrock might have the opportunity to do that soon in downtown Cleveland, too. And while Euclid Avenue is our main street like Woodward is Detroit's, most of Gilbert's acquisitions in Cleveland are along Prospect Avenue and Huron Road. There are some other differences as well, which may offer the opportunity for seeing some more construction workers and cranes in downtown Cleveland. Thankfully, Gilbert can count his properties and his blessings as he is almost fully recovered from a 2019 stroke.
In downtown Detroit, there were a lot of vacant skyscrapers for Gilbert to buy at bargain prices, to be sure. Some, like the 38-story Art Deco David Stott Building was purchased by Bedrock in 2015 for a mere $14.9 million, after which the company invested more than $66 million to renovate it into apartments. It would be difficult to build such a tall, ornate skyscraper from scratch for five times that much. But not all projects came cheaply. The renovation costs for some buildings equaled the price of construction of new skyscrapers. Book Tower, another vacant 38-story skyscraper in downtown Detroit, was bought by Bedrock in the same year but for twice as much — $30 million. The renovation costs for Book were steep — $313 million.
Throughout Detroit's urban core, Gilbert's companies organized under the Rock Ventures LLC holding company have acquired 100 properties and invested $7 billion in acquiring, renovating and constructing structures. Most were renovation projects. A few were just parking lots for future developments including the elusive, $830 million Monroe Blocks. A few more involved new construction. None is proving to be more costly than Bedrock's $1.4 billion Hudson's Site development on Woodward, offering a mix of apartments, offices, hotel, retail and parking, topping out at 49 stories and 686 feet. Ground was broken for the project in 2017 and it may not be finished this year.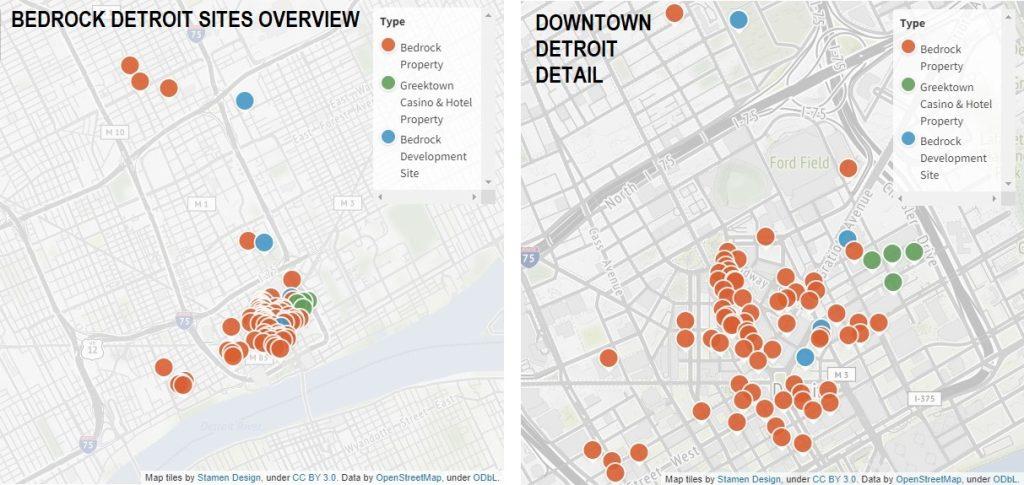 Bedrock and other Rock Ventures' properties in central Detroit are depicted on these maps. At left is an overview of Detroit's urban core, from New Center south to downtown. At right is a close-up of downtown Detroit to show how many properties Bedrock et al have (BusinessInsider.com).
In the past year, Bedrock has laid some grand plans for Cleveland and made some equally grand purchases but in a different way. And real estate insiders hear more is coming. But the biggest difference between Bedrock's efforts in Detroit versus Cleveland is that Bedrock made more acquisitions of existing buildings for renovation in Detroit than it has so far in Cleveland.
In downtown Cleveland, Bedrock has acquired 23 acres of parking lots, including an acre of structures in the Gateway District Bedrock will likely demolish for new development. It also has a purchase agreement to acquire Sherwin-Williams' (SHW) Breen Technology Center — an 8.5-acre riverfront property of which only 10 percent is covered by buildings. And that building is due to be demolished when SHW's new research center opens in Brecksville in two years. So let's count the entire 8.5-acre site as developable.
That roster of acquisitions doesn't include The May, a former department store Bedrock renovated into apartments over retail or the neighboring Ontario Building, totaling 2.5 acres. Nor does it include 7.8 acres of land mostly below elevated streets — the ground level of the Tower City Center. That ground level was the former track and passenger platform level of Cleveland Union Terminal — the city's main railroad station until 1977 — in which Forest City Enterprises inserted a multi-level parking garage for Tower City prior to its opening in 1990.
Above that ground level of Tower City are multiple additional levels of structures and ownerships, some of which are controlled by companies under the Rock Ventures umbrella like The Avenue shopping center, the Ritz Carlton Cleveland Hotel and, by purchase agreement, Sherwin-Williams' 900,000-square-foot Landmark Building, its headquarters since 1930 which it will vacate by early 2025. Other properties above Rock Ohio Caesars Cleveland's ground-level ownership in Tower City yet not part of Rock Ventures' family of companies are Post Office Plaza, owned by K&D Group, and the Skylight Office Tower, owned by an affiliate of the Hertz Investment Group.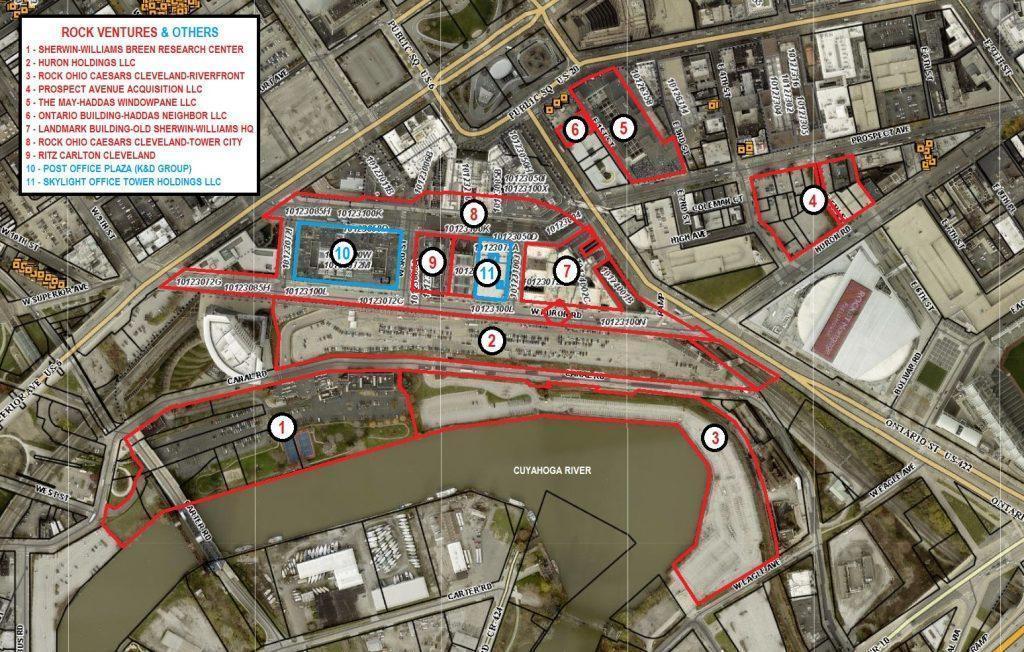 In downtown Cleveland, Rock Ventures-owned properties cover large areas but have fewer buildings on them to produce revenues as compared to downtown Detroit. For Rock to generate some significant revenues, its real estate arm Bedrock is going to have build some big, new buildings in downtown Cleveland. And that's the plan (myplace.cuyahogacounty.us).
Thus, in total, Rock Ventures owns more than 31 acres of developable land in downtown Cleveland, not including about 7 acres of structured and ground-level parking below Tower City that is underutilized and will become moreso after SHW's headquarters moves into its new skyscraper with its 942-space parking deck west of Public Square. That's a very different inventory of properties than what Rock Ventures has in Detroit.
In Detroit, Gilbert's Rock Ventures acquired mostly vacant buildings which were repurposed. In Cleveland, notably along its Tower City riverfront, it has mostly underutilized land for which Rock Ventures' real estate development firm Bedrock has demonstrated in attractive renderings, including those by Sir David Adjaye, it intends to develop with more than 3.5 million square feet of mixed uses in multiple new buildings, including a few skyscrapers.
The price tag to realize this riverfront vision is $3.5 billion. The office and first residential buildings are proposed to rise next to Tower City Center's struggling shopping center, The Avenue. The 300,000-square-foot Avenue is proposed to have the middle level of the shopping center removed. A riverfront hotel is planned across Ontario Street from the Rocket Mortgage Fieldhouse arena, using Bedrock affiliate Huron Holdings LLC's development air rights above the Greater Cleveland Regional Transit Authority's rapid transit tracks.
Sources familiar with Bedrock's plan say the Detroit-based company and its locally based Bedrock Cleveland intends is pursue those things — and more — over the coming decades. Throughout much of last year, after NEOtrans first learned of Bedrock's interest in acquiring Stark Enterprises' former nuCLEus site, the speculation was that Bedrock was more interested in developing the Tower City riverfront. But interest alone doesn't produce outcomes.
The time and effort necessary to develop the riverfront is going to take more of each when compared to the ex-nuCLEus site. Along the riverfront, the water's edge needs a new bulkhead capable of supporting buildings behind it. Old rail beds and retaining walls of the Baltimore & Ohio Railroad and the Cleveland Union Terminals Co. need to be removed. Canal Road and some of the oldest sewer lines in the city are in this area and need to removed or replaced. Similarly, Huron Road may be narrowed or eliminated as a through route for vehicles. All of this work is going to take a lot of time and money, including public money which is highly competitive and requires lots of documentation.
From all indications, including some going back more than a year, Bedrock wants to move faster with new downtown development than the riverfront site will allow. One of the drivers is the Cleveland office of Detroit-based Quicken Loans' Rocket Mortgage affiliate — also under the Rock Ventures umbrella. As America's biggest mortgage firm, Rocket Mortgage's local offices are located in the Higbee Building, 100 Public Square, that a Rock Ventures company no longer owns. Vici Companies acquired it in 2020. Gilbert prefers to have one of his companies paying rent to another one of his companies whenever possible.
Gilbert's mortgage business was growing rapidly until 2022 when rising interest rates cut into its biggest business — refinancings. Through buyouts, Gilbert has managed to avoid layoffs. Yet it continues to hire and add more jobs in Cleveland, in part because Rocket Mortgage won a $975,000 Job Creation Incentive Program grant in 2021 from the city of Cleveland to double its number of jobs here from 700 to more than 1,400. That means increasing its leased space at Higbee's from about 150,000 to nearly 300,000 square feet which could max out the available office space in that building.
Rocket Mortgage's office lease at the Higbee building is set to expire Dec. 31, 2026. That leaves it with just under four years to find or construct up to 300,000 square feet of office space in a Rock Ventures'-owned property. And while the mortgage firm had its employees working remotely during the peak of the pandemic, it began a hybrid work environment in June 2021, working out of the office 2-3 days per week. There are claims by employees that Rocket Mortgage ultimately wants to abolish all remote work, at least in cities where it has offices.
Where will Rocket Mortgage's Cleveland offices end up? Real estate insiders say the offices will be part of new buildings constructed on the former nuCLEus property. An office building may include additional space to accommodate some tenants that are part of Greater Cleveland's "flight to quality" that is causing older office buildings to empty and convert to residential or other non-office uses. And, since last year, there continue to be rumors that Rock Ventures wants its Shinola Hotel brand to open in Cleveland as part of a residential tower that could add 200-300 market-rate apartments. If true, Bedrock's purchase of the ex–nuCLEus site for $26.5 million, according to county records, would be justified by such a large-scale project.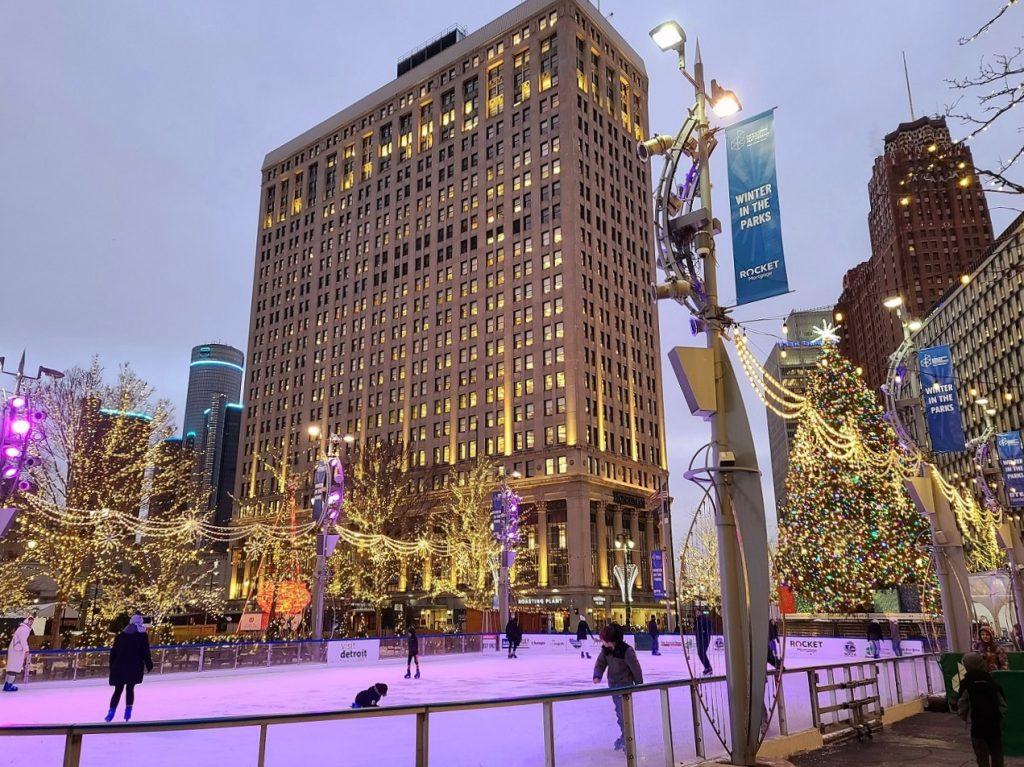 Campus Martius in downtown Detroit is surrounded by Bedrock-owned properties including the First National Building just beyond the ice rink (sponsored in part by Rocket Ventures' Rocket Mortgage) and The Qube office building at far-right. Cleveland also has many properties under the Rocket Ventures umbrella but most don't have any buildings on them (KJP).
There is an anomaly in Bedrock's purchase of the former nuCLEus site that should be noted. County records show one parcel in the 21-parcel, 3.1-acre site was not transferred to Bedrock's affiliate Prospect Avenue Acquisition LLC from Gateway Huron LLC, a joint venture of Stark and Reuven Dessler's J-Dek Investments Ltd. of Solon. It is on the other side of East 4th Street from the main part of the old nuCLEus site. A 0.1-acre parking lot at 320 Prospect Ave. continues to be shown as owned by Gateway Huron. The neighboring vacant and condemned Herold Building, 310 Prospect, wasn't bought buy Bedrock either. It continues to be owned outright by Stark.
Certificates of disclosure were requested last fall for both properties by The Planning & Zoning Resource Co. of Oklahoma City, OK, a property due diligence firm hired by Bedrock to research the histories of properties it was buying from Stark. It is not known if Bedrock still has any interest in buying those parcels. NEOtrans has sent multiple e-mails without reply to Stark Enterprises CEO Ezra Stark and to Bedrock's public relations firm Falls & Co., requesting more information as to why those two parcels were excluded from the sale.
Even if those properties were included, Bedrock and other Rock Ventures companies have a lot more investing and construction to do in Cleveland to equal what they've done in Gilbert's hometown of Detroit. But there are other investments Gilbert has made in Cleveland it lacks in Detroit. Rock Ventures owns local pro sport franchises in the Cleveland Cavaliers basketball and Cleveland Monsters hockey teams. But while Bedrock subsidizes rent for retailers in buildings it owns in Detroit, it just started offering such a program for its properties here in Cleveland, namely at Tower City which continues to struggle to regain foot traffic.
So while most of Rock Ventures' Detroit properties have buildings on them whereas most of their properties in Cleveland do not, sources say they have every intention of changing that with significant new construction. If buildings are constructed on all of those parking lots and developable properties Gilbert owns in the Forest City, he may soon count them like he can in the Motor City.
END