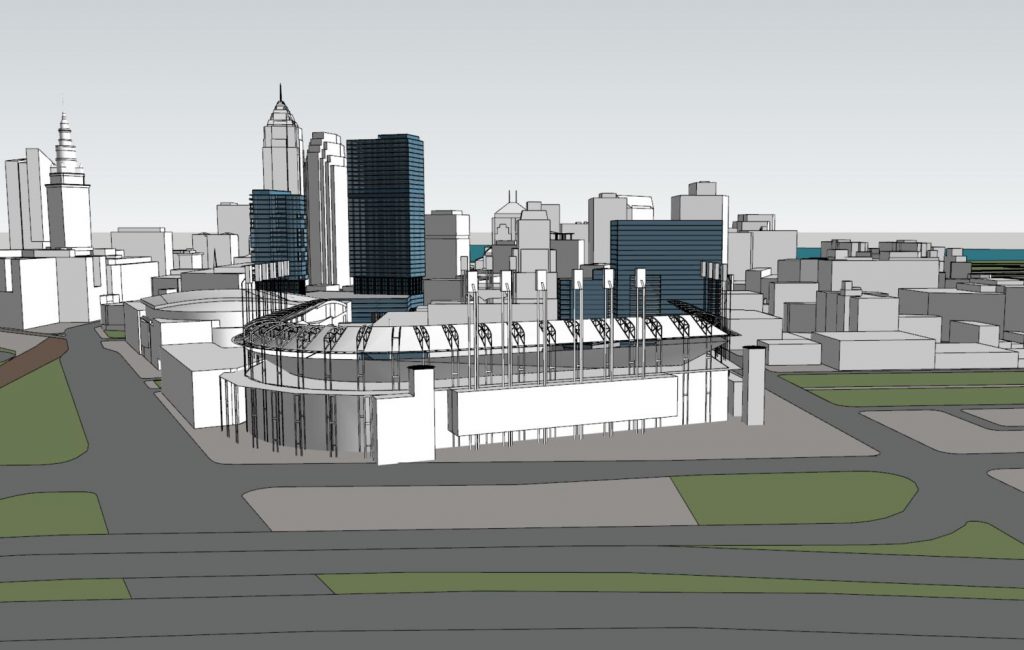 This unofficial massing requested by NEOtrans shows the scale of a potential Gateway District megaproject. The Bedrock Real Estate portion alone (portrayed here by the two grayish-blue towers at left) was described by sources as being larger than what was proposed for nuCLEus. That doesn't include the Harris-Blitzer Sports & Entertainment portion which could feature an apartment tower, seen beyond the right field wall of Progressive Field (foreground). This view looks north from Interstate 90 with Ontario Street at left and East 9th Street at right (Ian McDaniel). CLICK IMAGES TO ENLARGE THEM
Bedrock component alone may be bigger than Stark's plan
Although the now-dead nuCLEus plan enticed us with its promise of a large-scale project for seven years, there are growing indications that a potential megaproject in downtown Cleveland's Gateway District could be even larger. And hopefully it won't tease Clevelanders for as long only to reach an unsatisfactory conclusion.
Ten days ago, NEOtrans broke the story about two heavyweights — Dan Gilbert's Bedrock Real Estate and Harris-Blitzer Sports & Entertainment (HBSE) — working together on a planned megadevelopment set between the Gateway sports complexes and downtown Cleveland's central business district.
The basic components of the megaproject are that Bedrock would build offices, residential, a boutique hotel, entertainment, retail, restaurants and a ton of structured parking on 2.85 acres north of Huron Road. For its part, HBSE would build south of Huron a ballpark village, year-round fanzone and apartments.
The scale of the project has since become clearer thanks to sources close to Bedrock and HBSE. Those sources are saying that Rocket Mortgage's Cleveland offices and the headquarters of law firm Benesch, Friedlander, Coplan & Aronoff LLP are solid bets to locate in this future office building that could soar to as tall as 30 stories (actually higher with parking levels included) and as much as 550 feet above the sidewalk. If so, it would be the fifth-tallest tower downtown.
Previously, NEOtrans reported that Benesch's inclusion in Bedrock's Gateway development might be a longshot. We also reported that Benesch may be expanding beyond its 120,000 square feet of offices at 200 Public Square to take a couple of floors and about 45,000 square feet at Key Tower. But even that's not optimal since Benesch reportedly wanted 180,000 square feet in the nuCLEus development where it was to be the anchor tenant with naming rights to the office building.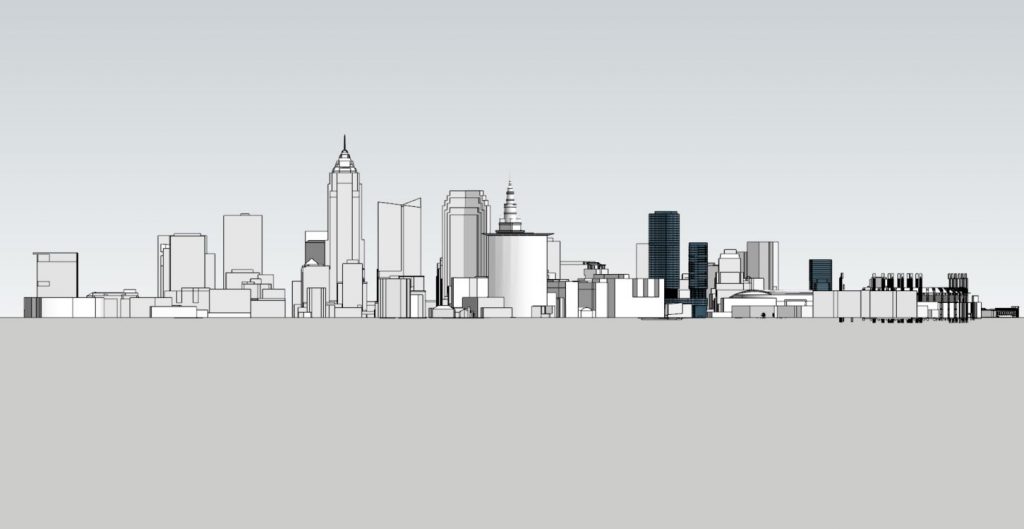 Another unofficial massing as viewed from the west side of the city, the scale of a Gateway megaproject is evident. The three dark towers that could comprise the vertical portion of the megaproject add to the height of the south side of downtown Cleveland. These images include a completed Sherwin-Williams HQ tower and City Club Apartments, both under construction (Ian McDaniel).
But what NEOtrans didn't explore was the reason why Benesch went looking for office space alternatives to nuCLEus, a joint venture of Stark Enterprises and J-Dek Investments Ltd. One source said that, after seven years of Stark trying to find the magic formula to build nuCLEus, Benesch got tired of waiting. Stark said nuCLEus was shovel-ready in the days before the pandemic shut down much of the nation's economy. Stark did the prudent thing and put nuCLEus on the back burner, some said.
Not everyone agreed. Rumors have since swirled that Stark, led by its founder, President and Chief Executive Officer Robert Stark and his son, Chief Operating Officer Ezra Stark, played hardball in negotiations and pushed away tenants. Another, darker rumor is that Benesch reportedly wanted to handle most, if not all of Stark's legal and leasing matters to which Stark refused. Afterwards, Benesch allegedly walked away from nuCLEus.
Ezra Stark called the rumors "completely false." He also has denied that Stark is in the process of selling its Gateway properties to Bedrock or even that Stark is actively marketing their sale. He also said certificates of disclosure that his firm requested last month via its law firm Thompson Hine LLP had nothing to do with a pending sale. The certificates were requested for some of the Gateway properties which Bedrock will buy, sources said.
Typically, certificates of disclosure are requested for properties subject to a sale and transfer to a new owner. A certificate will disclose if there are any unresolved building or zoning code violations for that property. The city of Cleveland requires certificates to be part of all residential property transactions. But some lenders and title companies also request them for commercial property transfers as part of their due diligence into the history and zoning of a property.
In the past week, several more certificates of disclosures were secured for Stark's Gateway properties, city records show. With those secured, certificates were gathered for all properties owned by the Stark/J-Dek joint venture Gateway Huron LLC and having structures on them. There are 24 parcels in the Gateway District owned by Gateway Huron LLC.
Benesch's Chief Marketing Officer Jeanne​ Hammerstrom declined to comment on the rumors of why it is no longer part of nuCLEus or to confirm or deny the accuracy of reports that Benesch might expand to Key Tower, be a tenant at Bedrock's Gateway development, or if it is handling Gateway property sale and financing negotiations between Bedrock and Stark. She also declined to discuss Benesch's lease situation at 200 Public Square after its current lease is due to expire this summer.
Lora Brand, vice president at Cleveland-based Falls & Co. which handles local media relations for Bedrock, was also asked about the accuracy of reports that Bedrock would acquire Stark Enterprises' Gateway District properties for a significant development.
"If Bedrock has any news on any developments to share, we will let you know," she said.
Additionally, NEOtrans reached out to Keith Brandt, managing director of the Cleveland office for commercial real estate brokerage CBRE, to confirm or deny the accuracy of information that CBRE was hired by Bedrock to handle leasing for its Cleveland development. An e-mail sent to Brandt at midday yesterday was immediately opened but not responded to prior to publication of this article.
What sources are telling NEOtrans off the record is that an office building of at least 500,000 square feet is likely. The size could possibly be as large as 600,000 square feet. The reason is that Bedrock would prefer to move a sister company — the fast-growing Quicken Loans/Rocket Mortgage — out of the Higbee Building, 100 Public Square, that it no longer owns. Vici Companies acquired it in 2020. Billionaire Dan Gilbert would prefer to have one of his companies paying rent to another one of his companies whenever possible.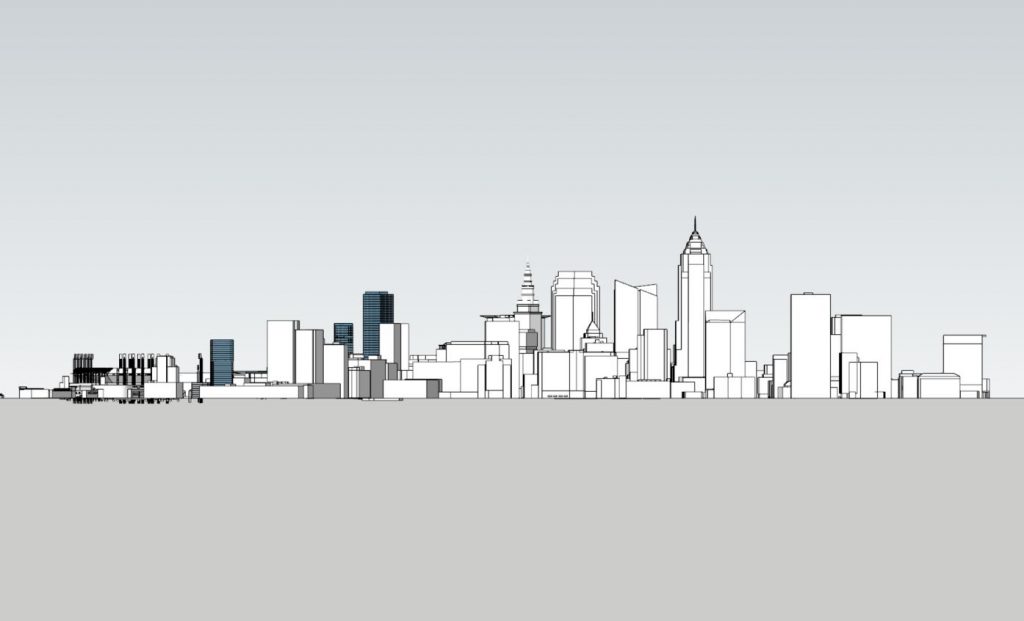 View of downtown from the east side with unofficial massings of the Gateway megaproject seen at left. In these images, the tallest building would be the office tower, shown here at about 550 feet tall and 38 stories tall, including eight levels of parking. The second-tallest building is suggested to be a Bedrock residential/hotel tower, shown here at 388 feet and 33 stories. The shortest of the Gateway buildings could be an HBSE apartment building reaching about 300 feet high, or 26 stories (Ian McDaniel).
Detroit-based Quicken Loans/Rocket Mortgage relocated its 400 Cleveland employees in 2016 from the former main post office at Tower City Center to 81,000 square feet of space in the 90-year-old Higbee Building. Since then, Quicken Loans/Rocket Mortgage added another 300 jobs in Cleveland. That brought its footprint in the building up to about 150,000 square feet. The lease is due to expire Dec. 31, 2026.
The lender is more than doubling its Cleveland employment by adding another 700-1,000 jobs, thanks to a $975,000 Job Creation Incentive Program grant. The added jobs and office space needs doubling to as much as 300,000 square feet could exceed the remaining available space in the Higbee Building, estimated most recently by Jones Lang LaSalle at the end of 2020 at 130,000 square feet.
If sources are correct that Quicken Loans/Rocket Mortgage and Benesch will relocate to a new office building to be built by Bedrock, it would have to offer upwards of 500,000 square feet and probably more to accommodate future growth or additional tenants. At 600,000 square feet, a new Bedrock office building would meet Quicken Loans/Rocket Mortgage's growth needs and those of Benesch, which also wants room to grow in a trophy class office space and display its name atop the building.
Based on typical floorplates of 20,000 to 25,000 square feet and average floor heights of about 15 feet, an office tower that's 20-30 stories tall and 300-450 feet high is a reasonable expectation. If built atop a seven- to eight-level pedestal of parking and retail/restaurants, that adds another 80 to 100 feet to the office tower's height, raising its roof to anywhere from 380 to 550 feet above the street. It could end up being anywhere from the fifth- to 13th-tallest building in Cleveland, edged out by the 616-foot-tall Sherwin-Williams headquarters, now under construction.
Bedrock would also add a high-rise residential building with a Shinola Hotel, sources said. The size of this building is even more difficult to predict, but a tower with at least 250 apartments and possibly a floor or two of condos is possible. Stark said three years ago there was a market for a 250-unit residential tower in nuCLEus, and the downtown residential market is even hotter now.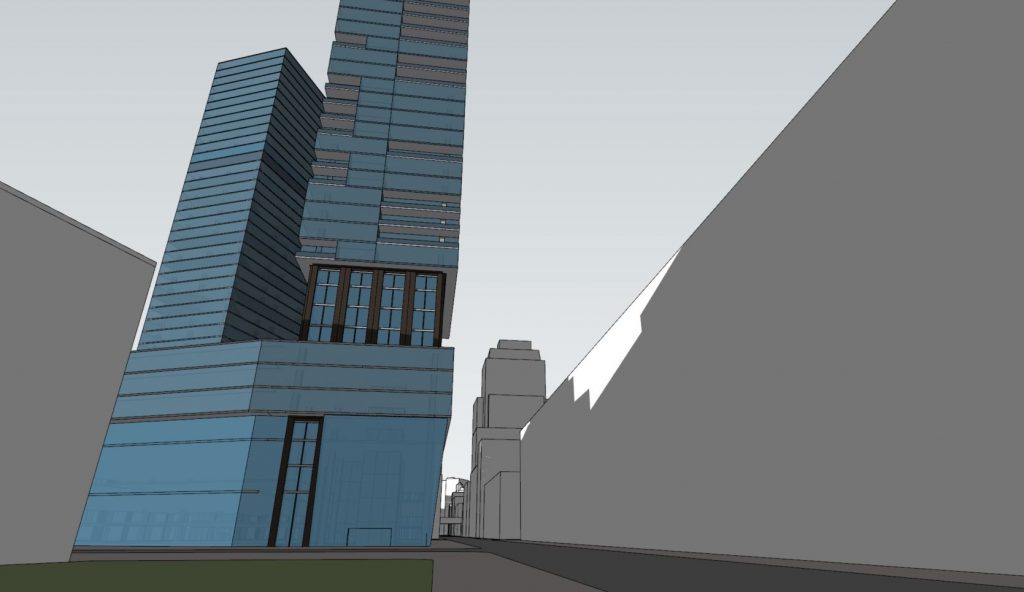 In this unofficial massing, the Bedrock portion is shown up close, looking east on Huron Road with Rocket Mortgage FieldHouse at right. The closest tower atop the retail/restaurant/parking pedestal would be the residential/hotel building. To the left and behind it, fronting Prospect Avenue, the office tower is portrayed (Ian McDaniel).
Conservatively, a 250-unit residential tower with a 100-room Shinola Hotel is speculated here, bringing its size to about 500,000 square feet. With floorplates averaging nearly 20,000 square feet, the residential/hotel tower could measure about 25 stories or roughly 288 feet tall. If built atop a seven- to eight-level pedestal of parking and retail/restaurants, it would add another 80 to 100 feet to the residential/hotel tower's height and top it out at 388 feet high.
Sources said Bedrock's project would be larger than nuCLEus although they didn't clarify which version. There were three variations. The first nuCLEus design was the most aggressive, marked by a 54-story, 647-foot-tall tower. It was proposed to have 500 residences, 100 hotel rooms, 200,000 square feet of offices and 140,000 square feet of retail, plus 1,600 structured parking spaces.
The second version of nuCLEus would have had two 24-story towers, one with 400,000 square feet of offices and the other with 250 apartments atop 1,300 parking spaces and 80,000 square feet of retail and restaurants. The final version Stark attempted was a single, 23-story building with 340,000 square feet of offices over the same-sized pedestal of parking, retail and restaurants.
The Bedrock portion of the project is rumored to be larger, as measured in square feet, than the second and third versions of nuCLEus and possibly larger than the first. Some of that also depends on how many structured parking spaces are offered by Bedrock. But it would have to be a significant number of spaces to make up for those lost by the HBSE portion of the project which promises to take down at least part of the 1,650-space Gateway East Garage, 650 Huron Rd.
In its place would rise a year-round ballpark village featuring interactive sports, fitness, games, food, drinks and entertainment including live performances, event center, fan zone, arcades, shops, baseball museum/hall of fame and possibly a high-rise residential building. In the next two years, per their new ballpark lease with the Gateway Economic Development Corp. of Greater Cleveland, the Cleveland Guardians may acquire the Gateway East Garage and its 3.3 acres of land from the city for $25 million.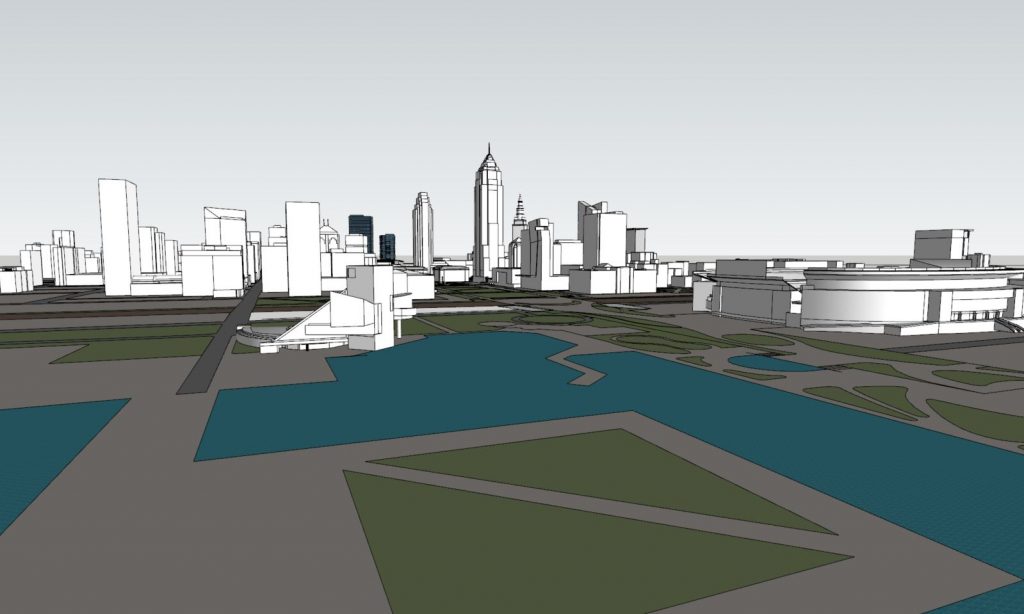 In this unofficial massing, a potential Gateway megaproject doesn't look as impressive from North Coast Harbor as it would be hidden behind downtown Cleveland's central business district. Yet any towers built in the Gateway District would certainly fill in gaps in the skyline from just about any angle (Ian McDaniel).
That would likely occur after billionaires David Blitzer and Josh Harris (aka Harris-Blitzer Sports & Entertainment) are on board as minority owners of the Guardians. So would having the major league club acquire the half-acre Gateway Development Parcel at the southwest corner of East 9th Street and Bolivar Road for $2 million from the Gateway Economic Development Corp. The new minority owners are on a path to become the Guardians' majority owners in 2026, sources said.
The sources are also familiar with the HBSE portion of a Gateway megaproject. They said HSBE is drawing its inspiration for Cleveland from the St. Louis Ballpark Village. The only difference is that Blitzer and Harris apparently want to build larger given that downtown Cleveland has a greater residential population and more prospects for residential growth than St. Louis, the sources said.
HBSE invests in large-scale real estate developments next to the facilities where their teams play, including in Philadelphia (76ers basketball team) and Newark (New Jersey Devils hockey team). Lara Toscani-Weems, vice president of corporate communications at HBSE, did not respond to an e-mail seeking comment prior to publication of this article.
In St. Louis, more than just the ballpark village's fanzone stands beyond the outfield wall of Busch Stadium. It's also where a 29-story, 334-foot-tall, 540,000-square-foot, 297-apartment tower called One Cardinal Way was built by the Cordish Cos. of Baltimore. Apartment rents start at $1,500 per month, comparable to those in downtown Cleveland where occupancy exceeds 90 percent. Look for HBSE to want its own high-rise apartment tower beyond the outfield wall of Progressive Field, at the corner of East 9th and Bolivar.
Combine the Bedrock and HBSE visions for the north and south sides of Huron Road and it might easily overshadow the erstwhile nuCLEus development, as sources said. And most importantly, the depths of the pockets of their benefactors would more easily bring their projects to light. While Stark Enterprises has delivered some impressive developments like Crocker Park in Westlake and The Beacon apartment tower in downtown Cleveland, this is the second time a downtown megaproject has eluded them. The previous one was Stark's "Pesht" vision for the Warehouse District in the 2000s.
It will likely take the wherewithal of a billionaire — or three — to make a downtown Cleveland megaproject move forward.
END