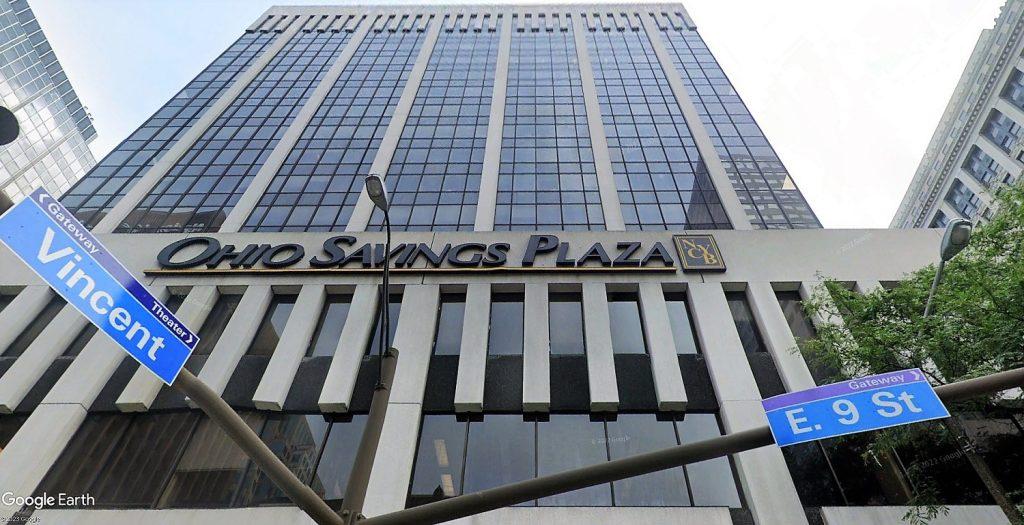 While not one of East 9th Street's tallest office towers, Ohio Savings Plaza's three-story podium makes it one of its most unique. That podium could figure strongly into how a buyer and development team for the property might redevelop it or its sister building facing Perk Park with residential (Google). CLICK IMAGES TO ENLARGE THEM.
Ohio Savings Plaza may see partial conversion
Downtown Cleveland's next office-to-residential conversion project appears to be in the works. But this one might not be a total changeover to a new use. Ohio Savings Plaza, with more than a half-million square feet divided among two buildings has something big going for it — it's half-filled with office tenants. Or, half-empty if you're a pessimist.
According to two sources, there are two potential buyers vying for the chance to acquire the property from New York Community Bancorp. (NYCB). The sale offering consists of an 18-story building at 1801 E. 9th St. and a nine-story building at 1111 Chester Ave. Those two buildings are separated by an 1,100-space parking garage owned by another party and not part of the deal. Both buyers reportedly foresee converting the buildings to residential, partially or entirely.
That's the extent of what is known. But more information about the buyers and their intentions falls into the category of "probable" based on research by NEOtrans and information from real estate industry sources. First, it is probable that the two interested buyers are from outside Greater Cleveland. NEOtrans reached out to some of the usual suspects when it comes to buying, renovating and sometimes converting existing commercial buildings into new uses.
K&D Group CEO Doug Price III said it's not them. TurnDev Managing Partner Jon Pinney said it wasn't their group either and he doesn't know who it is. Ditto for local due diligence firms who work with other developers in the region. None of them say they know who the two bidders are. And if there's a local investor or developer seeking to buy properties for redevelopment, they would know who it is.
Another piece of information that falls into the "probable" category is that the two buildings may not be entirely converted to residential. Colliers, the real estate brokerage that's handling the transaction for seller NYCB, notes that the two buildings are 50 percent leased. In this era of remote and hybrid working, that doesn't necessarily mean 50 percent occupied by human beings or even their desks anymore. But it does mean someone is paying the rent for that space — at least for the time being. Colliers says there are 25 tenants divided among the two buildings in some way. They average of about 10,000 square feet per tenant.
"Built in 1968/1970 and renovated in 1996, these properties consist of a 333,592-square-foot office building over 18 stories and another 9-story, 166,760-square-foot office building," according to Colliers' summary of the sale offering written by Colliers broker Christian Rahe. "Both have ground floor retail. The properties are approximately 50 percent occupied to long-standing tenants that include Ohio Savings Bank, FedEx/Kinko's, Pearne & Gordon, LLP, and Gries Financial, amongst others. This tenancy offers strong income, staggered lease expirations and options to extend."
"Christian Rahe runs the assignment and reports directly to NYCB Corporate," wrote Brian Hurtuk, managing director of Colliers' Cleveland-Akron office, when asked by NEOtrans for more information via e-mail. "I'm sure you can appreciate the process and hierarchy."
Rahe, who works out of Colliers' Cincinnati office, didn't respond prior to publication of this article to an e-mail from NEOtrans seeking more information about the sale. There is no asking price and no sale price is known. In a transaction overseen by the Federal Deposit Insurance Corp., NYCB acquired the property in 2011 from Ohio Savings Bank for $13.1 million, public records show.
Across Walnut Avenue, the 21-story former East Ohio Gas Co. headquarters built in 1959 was converted by K&D Group into The Residences At 1717 a decade ago. To the south, The Millennia Companies continues to try to get renovations underway for The Centennial, converting offices to residential in a 1.3-million-square-foot building. Ohio Savings Plaza is at the south end of the federally designated Erieview Historic District, an area bounded by Lakeside and Chester avenues plus East 9th and East 12th Streets, making office-to-residential conversion projects like 45 Erieview, now called the Ellipse, eligible for historic tax credits.
Two real estate insiders who spoke off the record to NEOtrans both said converting Ohio Savings Plaza to residential makes sense. But they cautioned that only a partial conversion would be advisable. To them, they said that it would make sense to them to consolidate the remaining office tenants into one building while converting the other to residential. But the question is, which one?
The nine-story building overlooks Perk Park and, with Reserve Square, The Seasons at Perk Park and The Luckman, they would effectively surround the park with residential buildings on all but one side, like a smaller version of Philadelphia's Rittenhouse Square. At 166,760 square feet, with the roughly 16,250-square-foot ground floor used for restaurants/retail, lobby, leasing office, packages room and other tenant amenities, a residential conversion might yield about 150 apartments unless a large number of micro-units were involved. That would put the office tenants into about 255,000 square feet of the 333,592-square-foot building facing East 9th, potentially leaving a large chunk vacant.
But the 18-story building on East 9th has a three-story podium that measures approximately 107,000 square feet. With existing office and retail tenants divided among the podium and the nine-story building, they would nearly fill them. That would leave a small ground-floor space on East 9th for residential tenant amenities and the 15-story tower above the podium for at least 225 apartments. Moreover, the roof of the podium could avail about 20,000 square feet of space for an outdoor amenity deck for both office and residential tenants.
"Cleveland is among the top cities in the country for office-to-residential conversion, having converted nearly 5 million square feet of unused office space into more than 5,000 residential units," the Colliers property summary adds. "Several office buildings on the (East) 9th Street corridor have already been (sic) successful conversions to residential use. The location is in close proximity to multiple corporate headquarters, the professional sports district and within walking distance to many of the city's best dining and retail destinations. With two built-out restaurant spaces, additional retail opportunities, excellent parking and a prime central location, the buildings would be terrific candidates for mixed-use development."
END