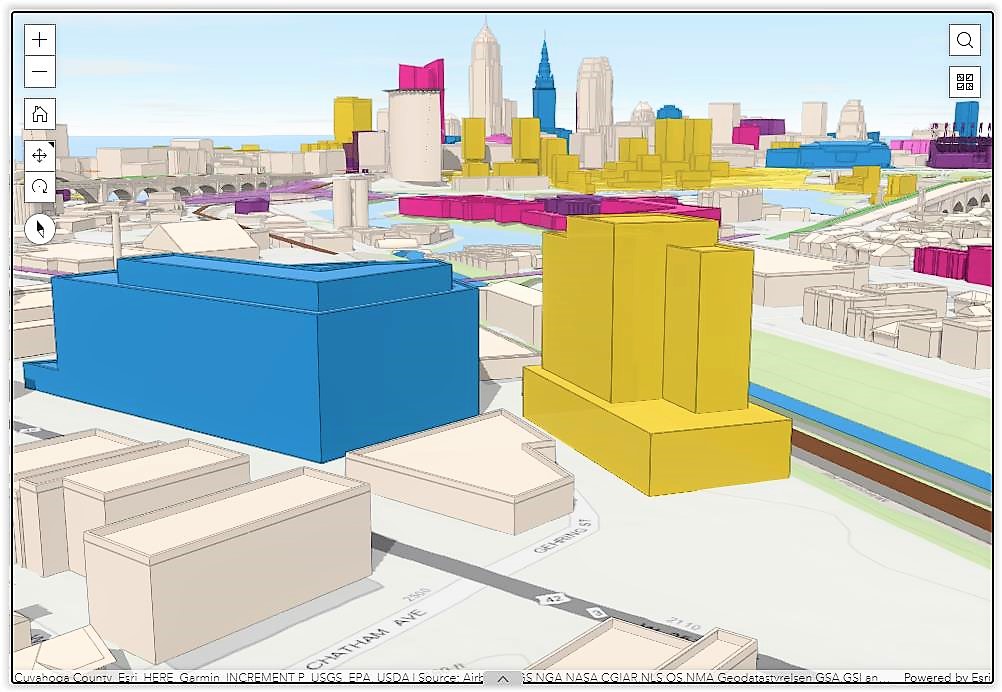 With the first phase of Intro (at left in a simplified blue massing) in Ohio City being a phenomenal success, its developers are eager to construct phase two (at right in yellow). But trying to get the project far enough along before the city of Cleveland's tax abatement policies change at the end of the year are proving to be difficult due to the shortage of staffing in departments that administer approvals for construction projects (GCP). CLICK IMAGES TO ENLARGE THEM
Time running out on tax abatement availability
At the start of 2024, the city of Cleveland's new tax abatement policy will go into effect. While the policy will remain basically unchanged for much of the city, it will become less supportive of developments in neighborhoods where construction has been most active — University Circle, Ohio City, Tremont and parts of downtown. So, in those areas, developers are trying to expedite the delivery of projects before the 15-year property tax abatement on new developments declines from 100 percent to 85 percent. But there's something standing in the way of that acceleration: a lack of city staff to get projects approved in time.
For a development project to become eligible for the city's coveted tax abatement, it must be "entitled" by the city to proceed. Land entitlement is the legal process by which a developer or landowner gains all necessary approvals for a real estate development plan. According to Michael Bowen, a partner with the Cleveland law firm Calfee, Halter & Griswold LLP's government relations and legislation practice group, a building permit is not required to secure a tax abatement agreement with the city. Often that entitlement comes from the City Planning Commission when it gives final approval to a development plan.
"The abatement ends at the end of this year but if your project is in the pipeline, it's my understanding that you can work with the city on your abatement," Bowen said.
But developers may not be able to get the entitlements in time because the city does not have enough staffing to review building plans and applications to determine if they meet building and zoning codes and if variances are needed. Nor does the city have enough staffing to review and approve applications for selling landbank properties. Nor does the city have enough staffing to review and approve various financial incentives, including for the property tax abatements. It's an issue that's raising its head at a time when City Council is debating the city's proposed 2023 $1.9 billion budget.
Those staffing shortfalls are putting some projects, many of which were submitted in a flurry of applications in the past year, on the fast track and others at risk of derailment if they cannot get entitled before the end of the year. Dan Whalen, vice president of design and development at Chicago-based Harbor Bay Real Estate Advisors and president of hospitality of Harbor Bay Hospitality, expressed concern about the fate of future phases of his company's INTRO development in Ohio City.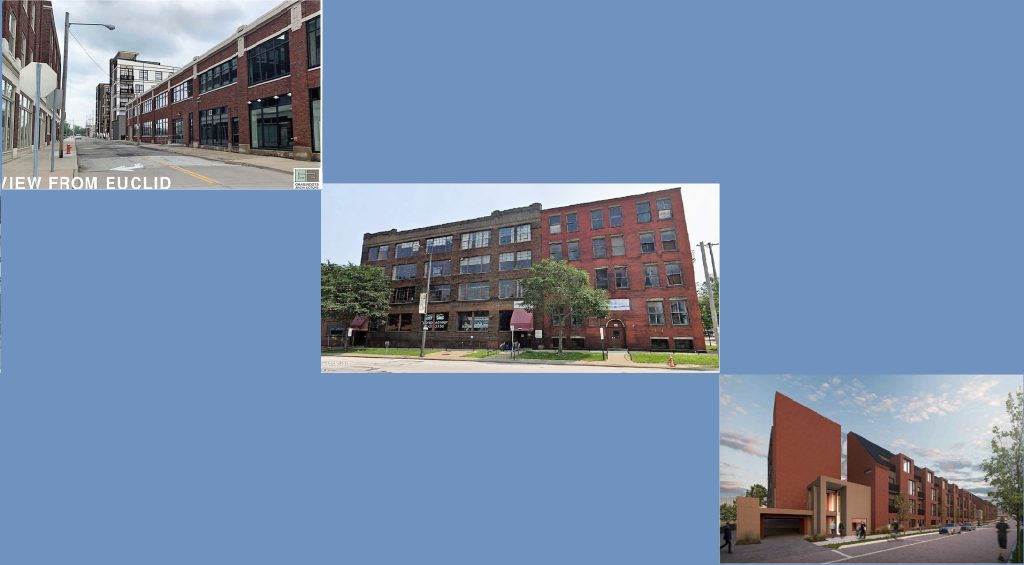 Last year, three significant development projects were submitted in one day to the city's Building Department for a zoning review — from upper left, The 70 apartments on East 70th Street in Midtown, the Superior Mixed-Use Development downtown in the 2100 block of Superior Avenue, and the West 73rd Street Apartments on its namesake street in the Detroit-Shoreway neighborhood. They were part of a sudden rush of applications to get entitled before the city's tax abatement policy expired (Grassroots, Google, Horton Harper).
INTRO's first phase of development, a 512,000-square-foot mixed-use building that is the largest mass-timber project in the country, is by nearly all definitions a phenomenal success. A new development is typically considered a success if it leases out within two years. INTRO's 297 apartments reached 95 percent occupancy before the building's official grand opening in August 2022, and it did so at the top-of-the-market rents of roughly $3 per square foot. Seeing the pace of leasing activity months before, Harbor Bay began advancing plans for phase two — a high-rise residential building next door, perhaps 15 stories tall, with a third phase comprised of offices and/or other commercial uses to follow.
When contacted recently to inquire about the status of INTRO phase two, the Willoughby South High School and Case Western Reserve University quarterback, expressed his concern. Whalen, an outspoken supporter of Justin Bibb during his 2021 campaign for mayor, pointed to City Hall as the reason why he couldn't answer more positively.
"(We're) waiting on some activity within City Hall to determine if we are investing more in Cleveland or not," Whalen said in a text message. He did not respond when asked to elaborate.
Bowen echoed that some developers are facing a slower approval process at City Hall in the past year as Bibb seeks to remove or merely move staff around to other departments to change the culture from his predecessor, the Frank Jackson administration. He said he's been working with development company clients to get their projects the attention they want from City Hall staff. Bowen declined to identify those clients.
"There's fewer people in some departments," he said. "There's a culture issue he's trying to fix down there. I know they're down four people in Land Bank alone."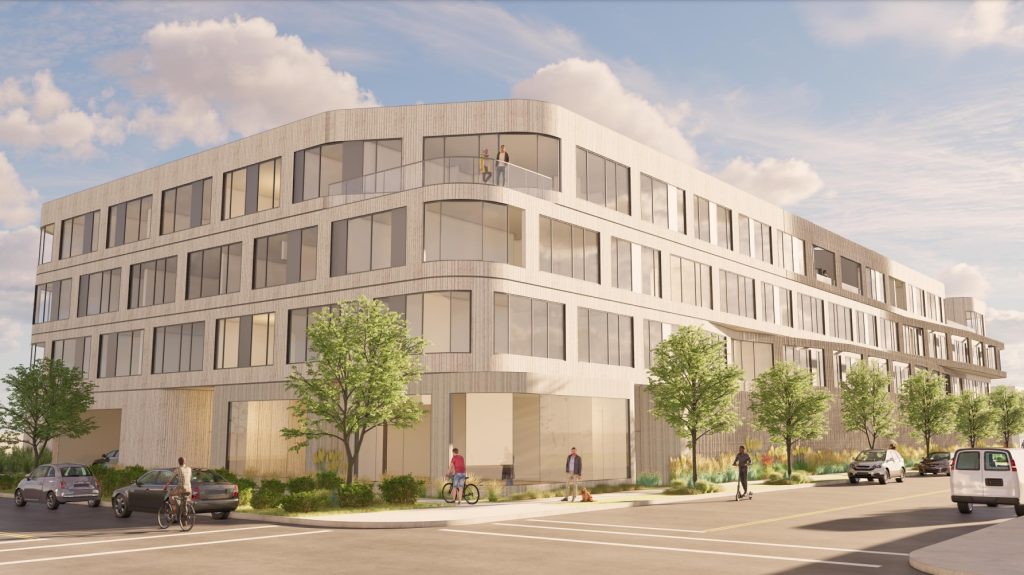 Construction is underway on the Driftwood Apartments at West 11th Street and Fairfield Avenue in Tremont. There are other apartment projects proposed for Tremont that are trying to get entitled before the current tax abatement policy for that hot neighborhood expires at year's end but a lack of City Hall staffing is slowing down reviews of project applications (EAO).
The Land Bank, formally called the Land Reutilization Program, is in the city's Community Development Department. It isn't the only department lacking staff in what's called the Integrated Development Cluster — four departments that play different roles in administering development projects. A summary of current staffing levels and the number of open positions in each of those departments affecting real estate developments was provided to NEOtrans by the mayor's office. The staffing levels are listed below:
Building & Housing staff as of Dec. 2022 = 129; Budgeted for 2023 = 151
Economic Development staff as of Dec. 2022 = 13; Budgeted for 2023 = 20
Community Development staff as of Dec. 2022 = 6; Budgeted for 2023 = 10
City Planning staff as of Dec. 2022 = 26; Budgeted for 2023 = 29
"The city of Cleveland is committed to working with developers to ensure that projects which are ready to move forward can proceed through city processes at a commercially reasonable pace," said Mayor Bibb's Press Secretary Marie Zickefoose. "Recruiting talented individuals to fill openings in the Integrated Development Cluster — Building and Housing, Economic Development, Community Development, and Planning — has been a top priority for Mayor Bibb, and this year's budget maintains an adequate level of staffing to meet the demands of the development community."
At the same time, Zickefoose said the Bibb Administration has been working to streamline and modernize review and approval processes as part of its broader efforts to modernize City Hall. That includes new technology and new procedures to simplify and expedite the development process. But that may not be implemented in time to get all projects in the pipeline entitled before the grace period on the old tax abatement policy expires on Dec. 31, 2023.
Projects like the Medley Apartments at East 105th Street and Cedar Avenue have received equity interest from around the country because it was eligible for a 100 percent property tax abatement on the building. And market-rate apartment building over a Meijer grocery store is being built on tax-exempt, Cleveland Clinic-owned land. Tax abatement, which doesn't apply to land, will be continued largely unchanged in the Fairfax neighborhood where this project is located (Fairmount).
Privately, a number of developers with whom NEOtrans spoke and who had supported Bibb's campaign for mayor expressed disappointment with the current staffing levels and the new tax abatement policy. Rather than decrease the percentage of abatement for developments in hot neighborhoods, some of the developers wondered why the incentive wasn't increased for neighborhoods seeing less development activity.
"They should've increased the abatement for some of the more impoverished neighborhoods rather than reduce the abatement in places where it's working," said one developer who requested anonymity. "Just because you're taking away tax abatement from a hot neighborhood doesn't mean it's going to push investment into other neighborhoods where there wasn't investment happening. Maybe increase the number of years (of abatement in less active neighborhoods) from 15 to 20? That would've improved the investment calculus and provided more long-term stability in neighborhoods that desperately need it."
Under the city policy, market-rate apartment buildings, regardless of where they're built in the city, would still be eligible for up to 100 percent abatement if some units are designated as affordable. If a developer doesn't include any affordable units, they must pay $20,000 for each forgone unit into a city trust fund. The city will then use that trust fund to support affordable housing programs. Also, abatements were capped at between $350,000 and $450,000 of a home's value, varying on the neighborhood. So any additional home value above those amounts would not receive tax abatement but the value below it would.
Multiple developers have told NEOtrans over the years that they already have difficulty attracting investor interest for new construction in Cleveland given that its average rents are below the national average. The tax abatement was a difference-maker for many investors to fork over equity for Cleveland projects. Any reduction in public incentives will make attracting equity to Cleveland much more difficult, they said.
END