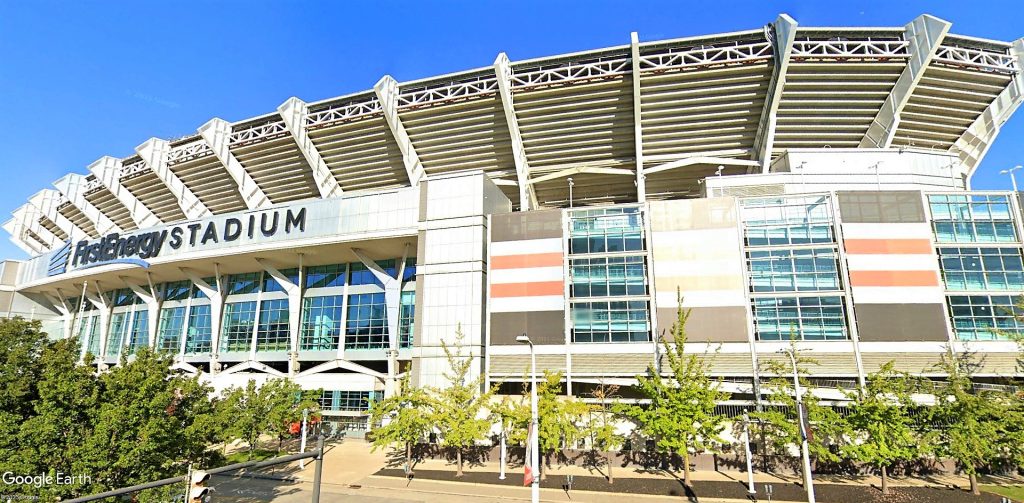 FirstEnergy Stadium in downtown Cleveland appears to be nearing the end of the line. The Cleveland Browns' lease with the city expires in 2028 and the Browns' owners, the Haslam Sports Group, have determined that it is not feasible to renovate the 24-year-old stadium to meet their needs in the future (Google). CLICK IMAGES TO ENLARGE THEM
Browns, city deny claims; say focus remains on FirstEnergy Stadium
According to several sources, the Cleveland Browns and its majority owner, the Haslam Sports Group, want to move faster than City Hall on what happens before the team's lease at FirstEnergy Stadium expires at the end of 2028. That reportedly includes a new football/multi-purpose stadium and supportive development in downtown Cleveland.
However, determining a process in partnership with the city for moving forward, including buying city-owned land for that new stadium, has yet to be resolved thus far. The Browns, Jimmy and Dee Haslam and their company Haslam Sports Group want to move forward now on the new stadium, the sources said. Mayor Justin Bibb's and his administration reportedly want input from the community first.
The Haslam's stadium consultant, HKS Architects (which also designed the Minneapolis Vikings' $1 billion, enclosed US Bank Stadium built in 2016) completed its feasibility study of renovating FirstEnergy Stadium earlier this month. The study has not been publicly released but reportedly is informational, providing structural assessments of the facility and options for improving it. People familiar with FirstEnergy Stadium said it was quickly and poorly built and may not be affordably retrofitted with upgrades like a wider concourses or a roof, be it retractable or fixed.
The Haslams have a favored site for a new stadium near the lakefront immediately east of downtown, according to Browns and City Hall sources who spoke to NEOtrans on the condition of anonymity. While it's not yet clear what are the exact outlines of that site, it reportedly is in the vicinity of Lakeside Avenue, roughly between East 13th and East 17th streets. It is one of two known site options that NEOtrans reported last June.
"There have been high-level conversations about (stadium) locations but zero negotiating to date," said a City Hall source who wished to remain anonymous.
"There has been a series of meetings over the past eight to 12 months between the Haslams and Mayor Bibb and his team to try to come together toward a solution for the lakefront," a team source said. "The mayor wants that to be a community-driven process but the Haslams have their plan and are ready to go."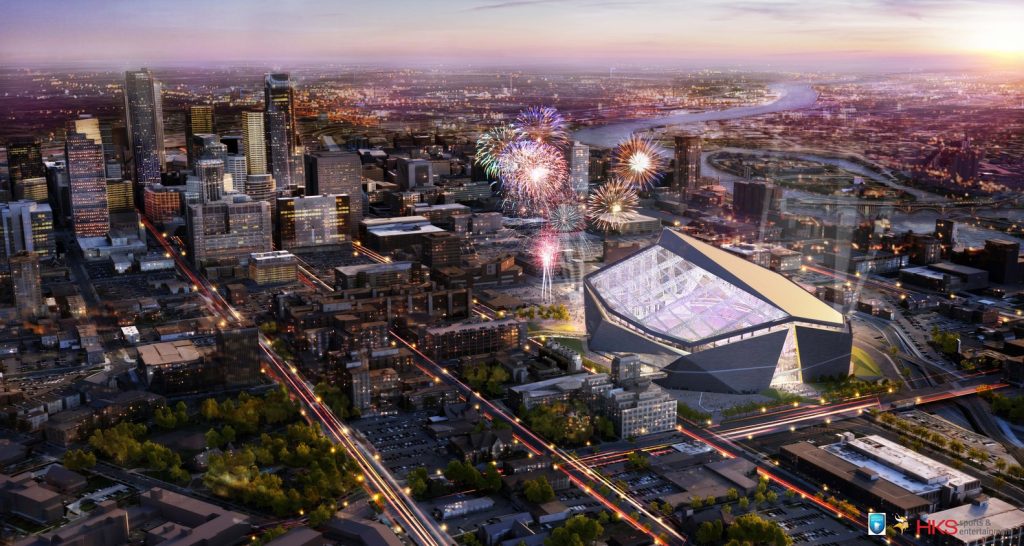 A rendering of US Bank Stadium in Minneapolis, showing how well integrated it is with its downtown surroundings, allowing it to energize surrounding businesses and vice-versa with a variety of events and activities, not just football games (HKS).
The source also said the Haslams asked the Bibb Administration to sell city-owned land to them but the mayor turned them down. For those who may be worried that a 1995-style divorce between the Browns and city officials is imminent, causing the team to leave the city as it did in 1995, the source noted that "the lines of communication are still open." Even if those lines of communication should close, the source added "the mayor is not the only branch of government," referring to City Council.
"I haven't talked to anyone about the Browns' stadium or anything political," Council President Blaine Griffin told NEOtrans.
Burke Lakefront Airport also reportedly has been part of the conversations as it one of the four interconnected lakefront planning activities the city is involved in — the future of FirstEnergy Stadium, construction of a new land bridge over the railroad tracks, possible downgrading of the Shoreway into a boulevard, and the economic impacts if Burke Lakefront Airport was retained or closed and repurposed. That doesn't mean that Burke is a proposed new stadium site. It does mean that any renovations or redevelopment of the existing 20-acre FirstEnergy Stadium site, plus any development on the 50 acres surrounding it, are in the flight path of Burke.
Additionally, the height of any structures constructed there, such as adding an externally supported retractable roof to the stadium, would have to meet Federal Aviation Administration (FAA) regulations. And if Burke airport should close someday, it would allow taller buildings to be built at or next to the current stadium site, thereby increasing revenues that could help finance a new stadium. But getting a designated FAA Reliever Airport like Burke to close would take a long time to win FAA approval, assuming it could be done.
A third source familiar with the conversations between the Haslams and the Bibb Administration said the Haslams have not revealed a desire to move from FirstEnergy Stadium. That source said that if the city wants to develop the entire 70-acre lakefront site surrounding and including where FirstEnergy Stadium now stands, then it would be up to the city and not the Haslams to build a new stadium facility for the team.
Peter John-Baptiste, senior vice president of communications for the Browns and Haslam Sports Group, denied that the Haslams have considered anything other than renovating FirstEnergy Stadium at this time and called all of the sources' information "simply false."
"All of our work over the past year has been focused on the renovation of FirstEnergy Stadium," John-Baptiste said in a telephone interview. "All of our conversations with the mayor have been supportive and geared toward exploring a path that is beneficial to the city, community and the region."
"Financing for professional sports stadiums are complicated and generally require partnerships and collaboration between privately owned sports teams and state and local government," Mayor Bibb's Press Secretary Marie Zickefoose said in a written statement to NEOtrans. "The Bibb administration is committed to working with the Haslam Sports Group in good faith to ensure that the Cleveland Browns continue to play home games in the City of Cleveland. At no point, have the Browns threatened to leave the city nor have proposals been shared between the parties."
As it stands, the city-owned stadium is used only about 10-12 times per year; a retractable or fixed roof would allow it to be used more often. The stadium, hurriedly built in 1999 for $283 million, also lacks the amenities of modern stadiums, including more year-round restaurants, meeting/event rooms, plus interactive activities and programs for fans.
The stadium's concourses are also cramped, especially on the south or downtown side. That's the direction from where most stadium visitors are coming. That space will be further constrained by a planned conversion of the Shoreway highway into a boulevard to construct a land bridge over busy railroad tracks to improve pedestrian linkages between downtown and the Lake Erie waterfront.
Both the Shoreway's conversion and the land bridge are seen by the Haslams and others as essential to help redevelop that area with more housing, shops and restaurants. Yet those accessibility features also physically constrain the ability to renovate and improve the stadium. Indeed, if the stadium was no longer there, this 50-acre prime development site on the freshwater Great Lake would grow by another 20 acres.
Last June, NEOtrans followed up its reporting about a new stadium and described two potential, optional sites for it. One site was on the current site of the Main Post Office, 2400 Orange Ave., which sets on 36 acres. Next to it is nearly 48 acres of vacant land owned by the Ohio Department of Transportation. That site was apparently rejected by the Haslams because it was too disconnected from downtown eateries, bars, hotels and available development opportunities from which the Browns' owners could capture revenues from the increased value of properties via city-enacted Tax Increment Financing to help finance the construction of the new stadium. Other than that, there apparently has been little discussion of stadium funding but it is probable that funding from the Haslams, the National Football League, an extension of the countywide "sin tax" that's set to expire in 2034, and possibly state funding will be considered.
The allegedly favored site immediately northeast of downtown is comprised of dozens of smaller parcels, many of them hosting parking lots and small-scale buildings. Most belong to fewer than a half-dozen property owners including the city of Cleveland. The city owns 4 acres of land, divided among two parcels — 1701-1735 Lakeside and 1825 Lakeside.
One of the largest buildings in that area is the 207,404-square-foot Cleveland FBI Field Office, 1501 Lakeside, owned by an affiliate of the Kassouf Co. A real estate source said the FBI is planning to move its headquarters when its lease runs out at the end of 2024. Another source said WKYC-TV Inc. rebuffed the Haslams' offer to buy and demolish their 77,000-square-foot studios, 1333 Lakeside. Yet Newmark Vice Chairman Terry Coyne, speaking for his father John Coyne who owns 32 parcels, used mostly as parking lots, bounded by Lakeside and St. Clair avenues, and East 13th-East 17th street, said his family has not been contacted by the Haslams or anyone on their behalf.
Sources familiar with the Haslams' stadium visions said the Browns' ownership favors this general area because it is much more connected to downtown by foot. Immediately north of it is the Municipal Parking Lot with thousands of parking spaces. Both potential stadium sites are accessible by highway and transit.
After Buffalo's new $1.4 billion stadium is due to open in 2026 next to the existing one in Orchard Park, NY, Cleveland's 24-year-old stadium will be the 10th oldest stadium in the 32-team NFL. Cleveland's FirstEnergy Stadium was renovated in 2014 for $120 million, or $150 million today. Chicago's Soldier Field and Green Bay's Lambeau Field are older but were significantly renovated in 2003 for $1.1 billion and $511 million, respectively, in today's dollars.
The Bears are making moves to replace 99-year-old Soldier Field. The team announced Feb. 15 that it paid $197.2 million for 326 acres in suburban Arlington Heights for a massive $5 billion new development and entertainment district that will likely include a new, enclosed, multi-purpose stadium. The Bears are farther along in their stadium process than the Browns. But, like the Browns, that doesn't mean they're going to publicly acknowledge that a new stadium and development district are a done deal.
"There is still a tremendous amount of due diligence work to be done to determine if constructing an enclosed state-of-the-art stadium and multi-purpose entertainment district is feasible," the Bears said in a statement.
END