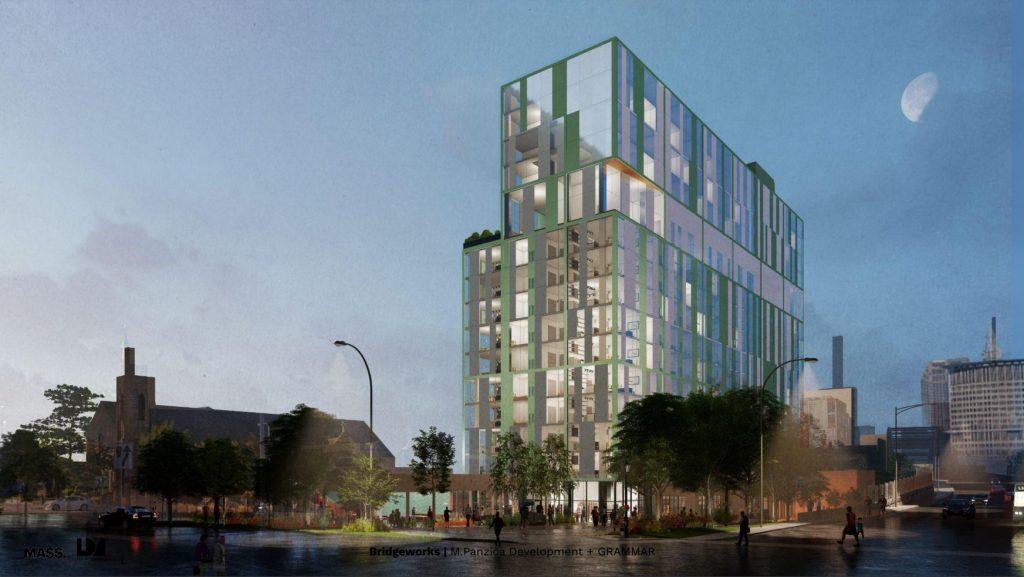 Developers of Bridgeworks, a 15-story mixed-use building planned at the west end of the Detroit-Superior Bridge, are near to closing the project's financing gap. That would allow demolition and construction of the $104 million development to begin as early as this spring (Mass/LDA). CLICK IMAGES TO ENLARGE THEM
Loan still has to be OK'd by county council
ARTICLE UPDATED MARCH 14, 2023
On March 28, Cuyahoga County Council is expected to vote on a proposed $2 million loan that could finally close a persistent funding gap on the planned $103.7 million Bridgeworks development. The investment would allow site demolition and construction to start as early as this spring, putting a 15-story building at the west end of the Detroit-Superior Bridge in the booming Hingetown section of Cleveland's Ohio City neighborhood.
The final piece of the difficult-to-assemble, multi-layered financing package is an economic development loan proposed by the staff of Cuyahoga County Executive Chris Ronayne. The loan was recommended for approval by the Cuyahoga County Community Improvement Corporation (CCCIC) for the 289,429-square-foot redevelopment of the vacated County Engineers property at 2429 Superior Viaduct. The project is expected to create 58 new jobs with a payroll of approximately $2,171,520 annually, according to the county.
The county vacated the 2-acre property and its four buildings over 10 years ending in 2019 before selling it later that year to Bridgeworks LLC, a partnership of M. Panzica Development LLC and GRAMMAR Properties LLC. The same partners had previously collaborated on Church+State, comprised of six- and 11-story apartment buildings over ground-floor retail at 1436 Church Ave. Bridgeworks is a larger, more complicated project that would create 140 mixed-income apartments, a 132-room hotel, 21,905 square feet of retail including a 120-seat restaurant and bar, a 12,800-square-foot office space, and a 246-space parking garage.
In addition to repurposing a vacant, former county-owned property, Cuyahoga County officials supported awarding a Place-Based/Mixed-Use Loan to the project because it will devote half of the 140 apartments for workforce affordable housing, while the remaining units will be market-rate. The goal is to ensure that the fast-growing Hingetown section remains affordable to many who are seeking housing despite the challenge of rising rents. In January, Cleveland had the nation's second-fastest rising apartment rents, according to a report by the real estate services firm Redfin.
"The county is excited to assist with a project that can help accelerate the growth of the Hingetown district in the Ohio City neighborhood," said County Executive Chris Ronayne in a written statement. "This project will not just bring apartments, a hotel, and office space, but will also create public space and amenities directly across the street from Irishtown Bend Park. It will make a critical connection between the Ohio City neighborhood and the West Bank of the Flats, and will turn an underutilized property into a valuable community asset. This is exactly what community and economic development are all about."
Another piece to fill the financing gap is being finalized. Cleveland City Council is expected to approve for Bridgeworks a 30-year tax increment financing (TIF) agreement for non-school taxes. The TIF diverts the increase in future property taxes based on the proposed improvements for up to 30 years though it does not exempt the developer from payment in lieu of taxes (PILOTS) to ensure the Cleveland Metropolitan School District receives what it would have otherwise received if not for the TIF.
In exchange, the city requests the developers to reach various city goals or other objectives in construction of the building for Minority Business Enterprise/Female Business Enterprise/Cleveland Area Small Business participation, Fannie Lewis Cleveland Residential Employment participation, a Workforce Development Agreement for all new jobs and a Community Benefits Agreement.
"I'm really excited about the project!" Ward 3 Councilman Kerry McCormack wrote in a text to NEOtrans. "Taking a surface parking lot and turning it into a mixed-use project will reshape that corner and create a more walkable and vibrant section of the neighborhood. This project also very much complements the goals of building housing and commerce on our transit lines, which promotes public transportation and multimodal use. Also of note is its proximity to Irishtown Bend and other trails and parks."
The newly elected Ronayne is also an advocate of creating more public spaces and multimodal links. In January, shortly after being sworn in as county executive, he urged the repurposing of the old streetcar subway deck of the Detroit-Superior Bridge. He dubbed the project as the "Low-Line Park" — a derivation of New York City's High Line Park — which could include a promenade, bike lanes, pop-up shops and public art.
Bridgeworks came up short twice since 2021 in seeking assistance from the state's Transformational Mixed-Use Development (TMUD) tax credit program to close financing gaps in large, complicated development projects. However, it won a $223,500 Ohio Brownfield Remediation Program grant from the Ohio Department of Development in April 2022 to help fund costs of cleaning up and demolishing the former Cuyahoga County Engineer buildings.
"Previous site assessments identified asbestos in the (former county) garage and adjacent test lab structure," according to a project summary from the Ohio Department of Development. "Brownfield Remediation Funds will help with abatement and demolition to prepare the site for redevelopment."
Bridgeworks development team leader Michael Panzica did not respond to several texts and a voicemail from NEOtrans seeking more information and comment on the loan recommendation.
END