Less city assistance may deter construction
New data from a leading North American real estate services firm shows that Greater Cleveland had the smallest number of new apartment units under construction in the USA in the fourth quarter of 2022. That snapshot of construction activity in America's multi-family rental market shows that, not only is Greater Cleveland lagging way behind the nation's largest metropolitan areas in adding new apartments, it's also lagging behind many of its peer metros. The report comes as the City of Cleveland considers reducing its financial incentives for new developments.
Data released this week by Institutional Property Advisors (IPA), a division of the real estate brokerage and research firm Marcus & Millichap, was focused on a different aspect of the status of apartment construction. Instead, IPA intended to show that apartment construction was concentrated in a small number of metro areas. In fact, just 10 U.S. metro areas accounted for 42 percent of the total number of apartments that were under construction in the last three months of 2022. Yet, those 10 metros accounted for 35 percent of the nation's housing stock. However, it is not clear how many metro areas were in IPA's data set. In past studies, IPA often included the 34 most-populous metro areas.
IPA notes that new starts of apartment construction have been at near-record levels in recent years, exceeding 400,000 units of new starts per year in 2022 and 2021. That rivals record construction levels of the early 1970s. But while we in Greater Cleveland marvel at the pace of construction in some Cleveland neighborhoods, the region is still far below the 5 percent national average growth rate of adding new apartment units per year to a given metro area's inventory.
Inventory growth rates in the markets with the most apartment units on the way exceed the national average in all but two of the top 10 metro areas, IPA data shows. Given New York's huge existing stock, the expansion pace there is comparatively tame at 2.4 percent and Houston's 4.9 percent near-term growth is technically a hair below the U.S. norm.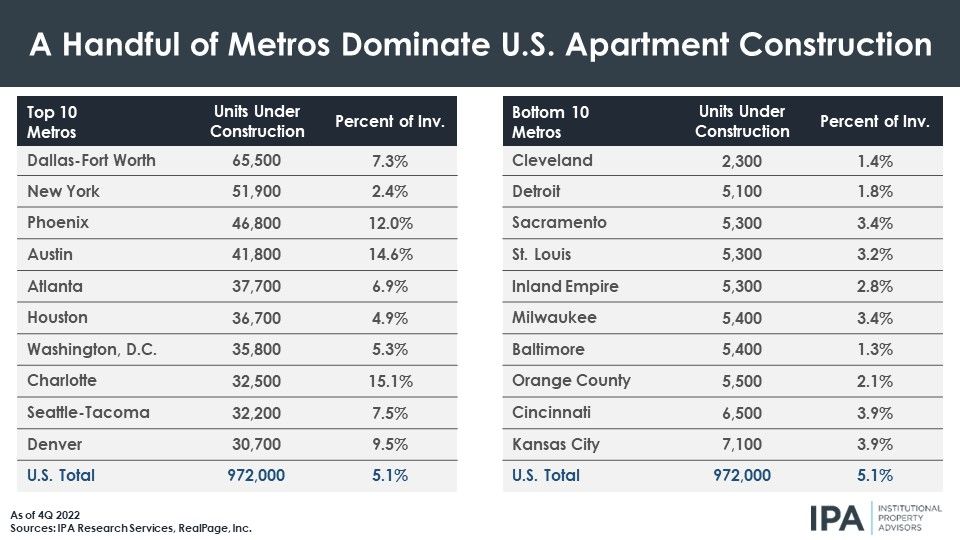 A snapshot of how many apartment units were under construction in the fourth quarter (October-November-December) of 2022 in major metro areas around the USA (IPA).
Metro areas with the most aggressive inventory growth rates are Charlotte, Austin and Phoenix, with each achieving levels of 12 to 15 percent. Areas adding the fewest apartments over the next couple of years generally are the slow-growth economies of the Midwest or barrier-to-entry markets in California. Ironically, given the rising rents and stable occupancies among Greater Cleveland's apartment inventory, as well as how quickly new apartment buildings are leasing out, the data shows that Greater Cleveland's population could be growing faster if more apartments were constructed.
Yet Greater Cleveland is in the process of adding fewer than half as many units as peer cities like Detroit, St. Louis, Milwaukee, Baltimore and Cincinnati, according to IPA. With the rise of remote work and Cleveland's affordable, below-national-average rents, this appears to be a missed opportunity to grow the city's and the metro area's population. Note the top-four metro areas from which people are relocating to Greater Cleveland. From the top, they are Los Angeles, CA, Washington, DC, San Francisco, CA, and New York, NY — all metro areas with the highest costs of living.
Also, nearly one-third of all renter inquiries into Cleveland apartment listings are coming from outside the metro area. That's true on the for-sale side too, as realtors are finding that about 30 percent of primary-residence home sales are to out-of-town buyers. Some new luxury buildings like The Lumen tower in downtown Cleveland are reporting that half of their tenants are coming from outside Greater Cleveland. Charlie Gagliano, first vice president of investments at Marcus & Millichap's Cleveland office, said those factors should help boost more apartment construction in Greater Cleveland.
"While growth markets such as Dallas, Phoenix and Charlotte have been feeling more of the effects in vacancy and slowing of rent growth, markets like Cleveland have remained far more stable," Gagliano said. "While we are even below a healthy level of new construction, pent-up rental demand and lack of inventory gives Cleveland and the Midwest a growing level of interest from coastal investors."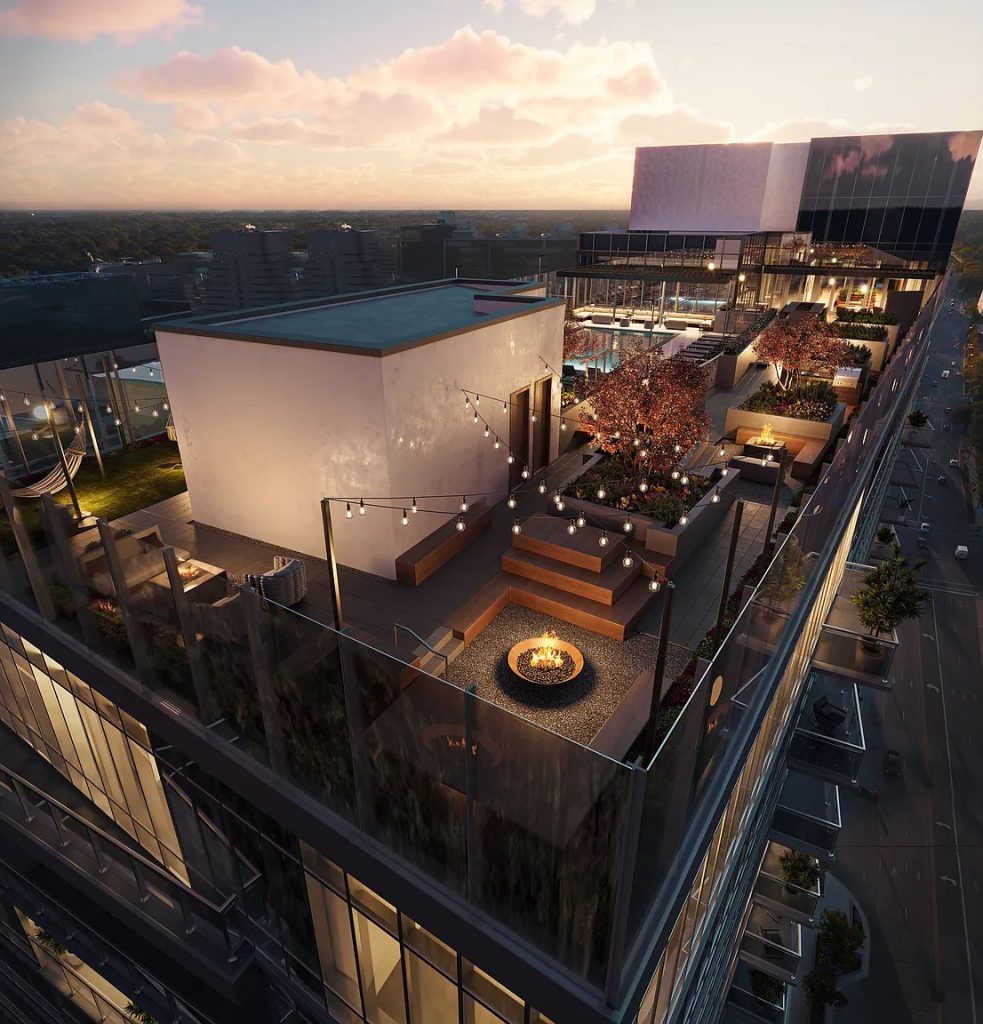 Leasing is underway for the 24-story Artisan apartments, the newest and tallest building in University Circle. Other recently built luxury apartment buildings in the fast-growing district have leased out quickly despite top-of-the-market rents. Its leasing will determine how soon similarly scaled and priced buildings will follow (Zillow).
What appears to be a housing shortage in Greater Cleveland is on a collision course with a proposed pullback in financial incentives by the city of Cleveland for new development projects. Mayor Justin Bibb's administration is planning to end a loan program that has attracted private investments in vacant buildings and possibly shorten tax-increment financing agreements, or TIFs, from their current 30-year timelines.
And at the end of the year, property tax abatements in four hot neighborhoods — downtown, Ohio City, Tremont and University Circle — are to be reduced. Critics say curtailing those incentives isn't going to push private investment in housing and employment to more needy neighborhoods. Instead, it's going to deflect it to the suburbs, said Nathan Kelly, president and managing director of CRESCO Real Estate's Greater Cleveland office.
"The incentive pullback timing is terrible," Kelly said. "Cleveland and other cities' downtowns have to recalibrate the reason to work downtown and collect income tax from more than residents. Combined with companies' flight to quality, cities need to speed investment to address this risk. The suburbs see it and are competing for occupiers. For most employers, the decision is between downtown and the burbs, not downtown versus other Cleveland neighborhoods."
But Gagliano countered that Greater Cleveland's stable rents, steady employment growth and low costs of living are reasons enough to attract investment for residential new construction, whether it's in the city of Cleveland or elsewhere in the region.
"I think the fundamentals of Northeast Ohio as a whole and our modest level of new construction provide the most support for new construction," he said.
END