Hotel, housing, restaurants planned
The new owner of the old Westinghouse plant next to the West Shoreway in Cleveland says their development team has made great progress on a plan to revive the vacant factory. But while he's not ready to reveal any specifics yet, NEOtrans has learned the project will feature a luxury hotel, housing, restaurants and possibly other uses.
Last October, NEOtrans was first to report on the sale transfer of the 303,000-square-foot complex of buildings set on 3.62 acres of land at 1200 W. 58th St. to Westinghouse-Breakwater Properties LLC, an affiliate of Trebilco LLC. Trebilco is managed by Michael Trebilcock, Jr. whose father founded Cleveland-based MCPc, a fast-growing information technology company that helps businesses manage security risks and logistical challenges. Trebilcock Jr. is also managing director of development at MCPc and led the redevelopment of an historic factory in the Flats into The Foundry non-profit rowing facility.
Although the development team, which includes project architect AECOM and construction manager Krill Co., hasn't made any public announcements about the project, the word from several real estate sources is that they are very busy and making a great deal of progress. Trebilcock confirmed that in a recent exchange via LinkedIn.
"We're making excellent progress but no details are public at this time," Trebilcock said. "(I'm) happy to provide complete and accurate information once we are ready." When he was asked about the timing of a public announcement regarding the project's details, he responded only with "Soon."
According to sources familiar with the project, it was described as "a super upscale Ritz Carlton-level of fully serviced and amenitized luxury housing development." Another source said that a prominent local chef and restaurateur is in talks with the development team to run the hospitality and concierge services. The restaurateur was identified but NEOtrans is leaving out the name because the source said the person hasn't been hired yet and neither the restaurateur or Trebilcock would confirm it.
In July 2021, when NEOtrans first learned about this Westinghouse plant redevelopment, it was reported that the project would be an $85 million redevelopment featuring a boutique hotel, apartments, shops and parking. A Shinola-brand hotel was identified, but given Bedrock Real Estate's close relationship with the Detroit-based hotelier and Bedrock's increasing interest in developing between Tower City Center and the Cuyahoga River, it is questionable whether Shinola would remain in the Westinghouse development.
The sources said last year the boutique hotel would be the dominant use for the Westinghouse site's eight-story building with residential as a secondary use. The 107-year-old Westinghouse tower is 122 feet tall, measures 112,000 square feet and offers views Lake Erie, Edgewater Park and downtown Cleveland. The lower-level parts of the complex are proposed to have unidentified restaurants, shops and parking. They measure 191,000 square feet and date to 1882. Those structures are 1-3 stores tall, some with high, truss-supported ceilings and unconventional floor plans that are difficult to redevelop.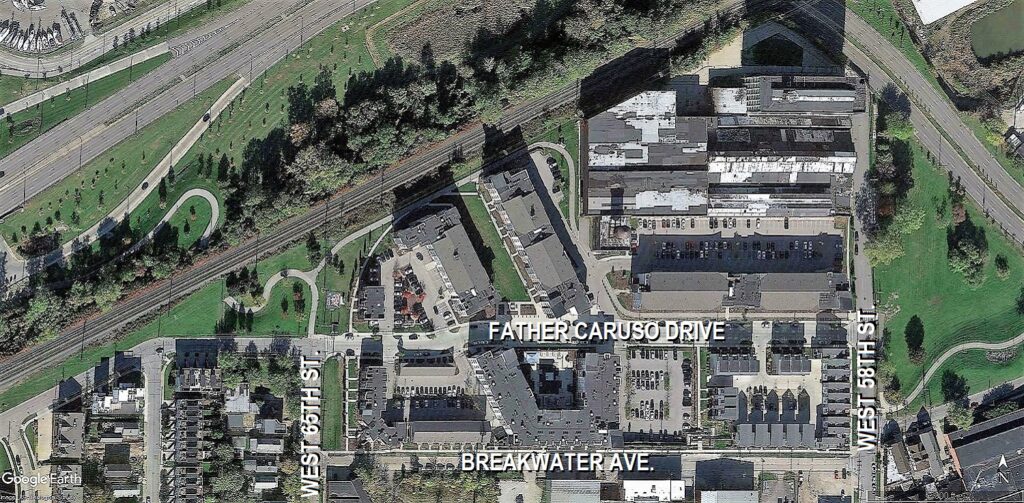 A current, overhead view of the remaining portion of the former Westinghouse plant at top-right as well as the surrounding Edison at Gordon Square apartments. The apartment complex and Father Caruso Drive were built on land that had belonged to Westinghouse and contained the rest of its plant. That part of the plant was demolished about 2015 (Google).
Indeed, some demolitions may occur according to a $2.6 million grant awarded in April by the Ohio Department of Development to Westinghouse-Breakwater Properties for "the abatement of hazardous materials and demolition of hazardous sites," a written statement from Gov. Mike DeWine's office said. "The site, most recently home to Paramount Stamping and Welding, is expected to be redeveloped into a mixed-use development space."
As part of the new Ohio Brownfield Remediation Program, the Ohio Department of Development provided more than $60 million for 78 projects, including approximately $54.8 million for 37 clean-up projects and $5.5 million for 41 assessment projects. These projects will impact communities in 35 counties across the state, the governor's press statement said.
Much of the former Westinghouse property was sold off by the prior owner Paramount-Breakwater Properties LLC, an affiliate of the Peter and Nancy Kole Charitable Remainder Trust. The Kole family of Westlake had owned the property since 1986 but operated Paramount Stamping, Welding & Wireforming Co. out of the factory since 1981. Westinghouse Lighting Division ceased operations at the 13-acre plant in 1979, according to the Encyclopedia of Cleveland History.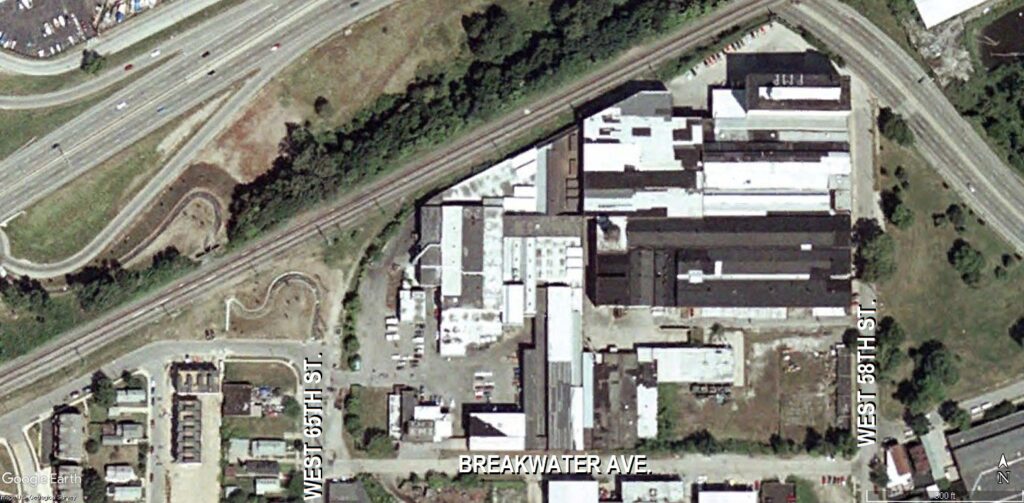 Twenty years ago, the former Westinghouse plant was actively used by Paramount Stamping, Welding & Wireforming for its factory and had up to 300 workers at its peak of production. Much of the factory was replaced by the Edison apartments which have about 450 residents. The remaining portion of the factory will be repurposed with hundreds of residents, hotel guests and hospitality workers (Google).
The largest piece of former Westinghouse land — 8.2 acres — was sold off by the Kole family in 2015 for the development of the Edison at Gordon Square apartments. It included almost everything north of Breakwater Avenue. Where two-thirds of the old factory once stood, a seven-building complex with more than 300 apartments was built in 2017 by Cleveland-based NRP Group. Also, Father Caruso Drive was extended to West 58th from West 65th Street, through the middle of the old Westinghouse plant.
Although it is not a high-rise, the ex-Westinghouse tower stands tall on a bluff along the West Shoreway. But it may not be the only building of comparable height for much longer. In Feburary, NEOtrans revealed plans by Property Advisors Group of Beachwood for a seven-story apartment building plus townhomes at 8400 Lake Ave. Then in April we reported, so far exclusively, about Tremont-based J Roc Development LLC's emerging plans for a 10-story apartment tower next to its existing property The Shoreway.
This follows Carnegie Management and Development Corp. in August 2020 acquiring 4.75 acres at 5501 Cass Ave. near the ex-Westinghouse site. It is occupied by HKM Direct Market Communications and could be redeveloped. But the site's maximum allowable height is only 35 feet, per the city's building code. Sources also say Lowe Chemical, 8300 Baker Ave., is looking for a new facility elsewhere to get out of the way of growing residential development along the lakefront near Edgewater Park.
END