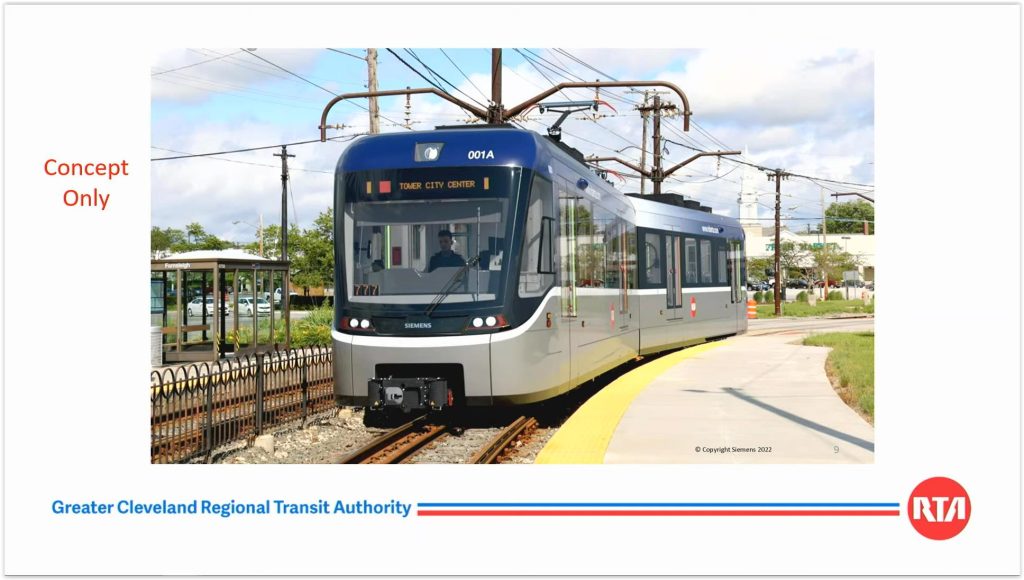 Introducing the Greater Cleveland Regional Transit Authority's new trains that will operate on all rail lines and replacing one of the oldest rail car fleets in the nation. The new trains, to be built by Siemens Mobility of Sacramento, CA, will increase service reliability for passengers and reduce operating costs for the transit agency (GCRTA). CLICK IMAGE TO ENLARGE THEM.
First half of order to replace Red Line trains
For the first time in four decades, Greater Cleveland is about to get a new Rapid. While NEOtrans revealed in January what type of new rail car Greater Clevelanders will be riding for the next two to three decades, that news was made official today by the Greater Cleveland Regional Transit Authority (GCRTA). Much more detail about the new rapid transit trains also was provided.
At today's GCRTA Board of Trustees Committee of the Whole meeting, transit agency board members expressed excitement and unanimous support for the proposed new trains, as recommended by GCRTA General Manager and CEO India Birdsong Terry's staff. A formal vote by the board is expected later this month or in May. The new trains will be Siemens rail cars that could be plying the Red Line between Hopkins International Airport, downtown and Windermere as early as 2026, followed by the Green/Blue lines linking Shaker Heights and downtown's waterfront several years thereafter.
However, the timeline depends on GCRTA's rail fleet surviving longer than expected. GCRTA's heavy-rail vehicles have traveled the Red Line since the mid-1980s and have just two years of remaining service life remaining, according to a rail car study by transportation engineering firm Hatch LTK of Philadelphia. GCRTA's 42-year-old light-rail vehicles on the Blue/Green lines have about seven years of service left, Hatch LTK says.
Despite GCRTA's Herculean efforts to maintain its trains, which are some of the oldest in the nation, in-service failures have increased, customer service has degraded, service reliability has suffered, maintenance costs have significantly increased and ridership has plummeted, a decline exacerbated by remote work. Boardings at GCRTA's busiest station, Tower City Center, have dropped more than 80 percent since before the pandemic and are recovering slowly.
GCRTA officials say the new trains, costing nearly $400 million or $5.16 million each plus other design, training and facility costs, are needed to reinvigorate a 33-mile rail system asset for Greater Cleveland that would cost up $4 billion to construct if it were built today. The new trains are intended to help restore reliability and ridership and help spur more transit oriented development (TOD) around rail stations. Such development could support Cleveland Mayor Justin Bibb's 15-Minute City vision in which all basic living needs — work, school, groceries, banking, health care, etc. — are within a 15-minute walk, bike or transit ride from home, transit officials said.
Transit agency staff recommended to the committee awarding a $164 million contract to Siemens Mobility to design, build and deliver for service on the Red Line up to 24 high-floor light-rail vehicles including in that contract $40 million for design, spare parts, tooling and training with an option for an additional 36 additional LRVs for the Blue/Green lines within seven year of contract signature.
While GCRTA expects the next option to be delivered several years before the seven-year clock runs out, it wants the extra time in case there are any delays. The rail car is based on an existing train design — the S200 which operates in San Francisco, CA and Calgary, Canada. But GCRTA's will require about 15 months of design and engineering to operate on Cleveland's rail system.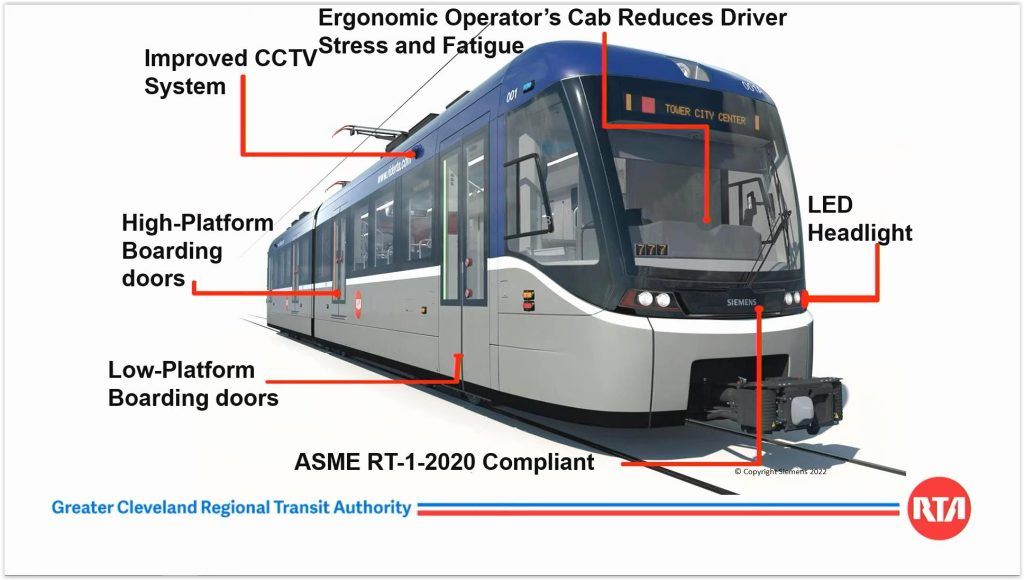 This view shows some of the external features of the trains. Other features not indicated here include an ice-cutter on the pantograph which collects electricity to power the train from the overhead wire. The pantograph will also be heated as will the windshields, a train leveling system to adjust the floor height to platform heights, and improved climate controls for the passengers and for the operator's cab (GCRTA).
GCRTA has 69 rail cars remaining in its train fleet that peaked at 108 rail cars in the 1980s. Many rail cars were used for parts to keep the rest of the fleet running. Others were scrapped as unrecoverable. According to a rail car project summary on the GCRTA Web site, replacing all of those with 60 trains including a reserve of six trains could cost up to $393 million — a substantial increase from the transit authority's earlier estimate of $300 million.
To accommodate the new trains, the staff recommendation includes $19 million in infrastructure upgrades to the East 55th Central Rail and Brookpark maintenance facilities, train servicing equipment for those facilities, and modifications to all 52 stations since the new, off-the-shelf trains are skinnier than the Red Line cars., according to a rail car project summary on the GCRTA Web site.
The new trains will have high floors that will be level with the Red Line's high platforms and steps to descend to the Green/Blue lines' low platforms. Federal regulations limit the horizontal and vertical gaps between train doorways and station platforms to no more than four and two inches, respectively. Because the Red Line platforms have to be modified, the replacement of the Red Line cars will happen all at once after the first 24 rail cars are delivered to GCRTA and have 1,000 miles of testing as well as train operator training, said Mike Schipper, deputy general manager of engineering and project management.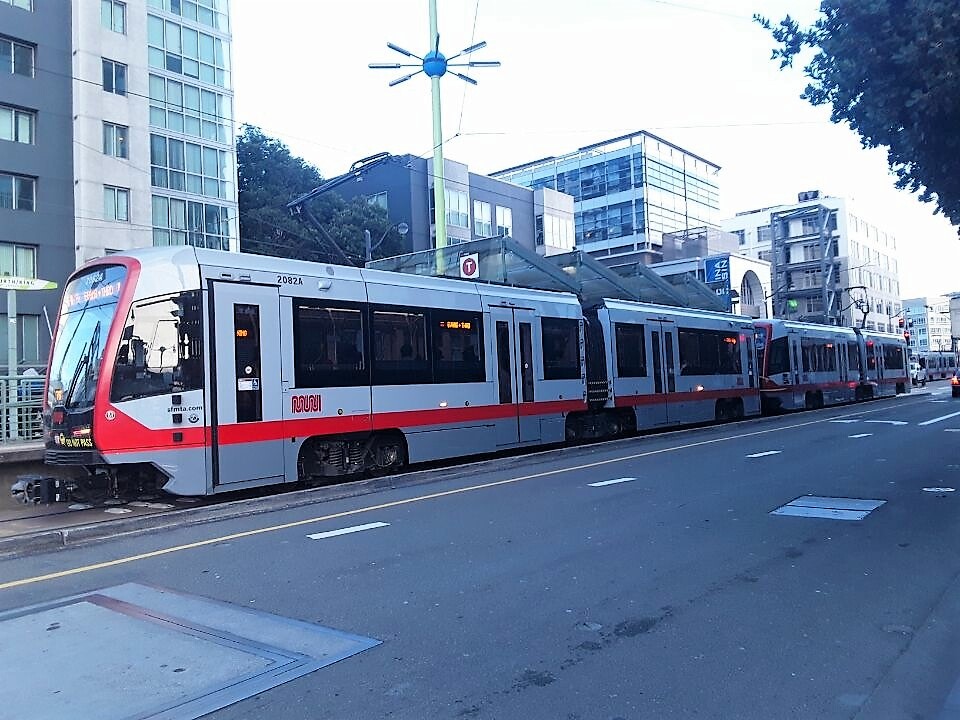 A pair of Siemens S200 rail cars pause at the 4th and King streets station in San Francisco. The light-rail trains can serve stations with high platforms on Cleveland's Red Line and the low platforms of the Blue/Green lines, although station platforms will have to be modified to take advantage of the operating cost savings of off-the-shelf, standardized trains (Mark Schwinn). CLICK IMAGES TO ENLARGE THEM.
Thus, the 18 Red Line stations will have to be modified with modular platform add-ons whose installations may incur service disruptions like the electrical system repairs that have shut down the Red Line East for all of April. Stations on the Green/Blue lines will have handicap ramps, called "ADA mini highs," added or modified. These improvements are anticipated to be constructed by local contractors, GCRTA officials said. They also said the supply chain for manufacturing the new rail cars will include a number of Ohio-based companies.
GCRTA had considered continuing the costly and inefficient practice of maintaining two different types of trains for such a small rail system, which is comprised of legacy rail services of the Cleveland Transit System and the Shaker Heights Rapid Transit that merged under GCRTA in 1975. But continuing with two small, different fleets of trains, one that serves the Red Line's high-level platforms and another type serving the Blue/Green Lines' low-level platforms, limited the number of manufacturers who could respond to GCRTA's request for proposals.
In addition to providing operating cost savings, a standardized rail fleet also offers the opportunity for GCRTA to run trains from Shaker Heights through downtown to Hopkins Airport or from Windermere to the Waterfront without a change of trains at downtown's main station, Tower City Center. GCRTA staff said there is an opportunity to increase the number of rail service routes up to 100 percent by having a standardized rail car.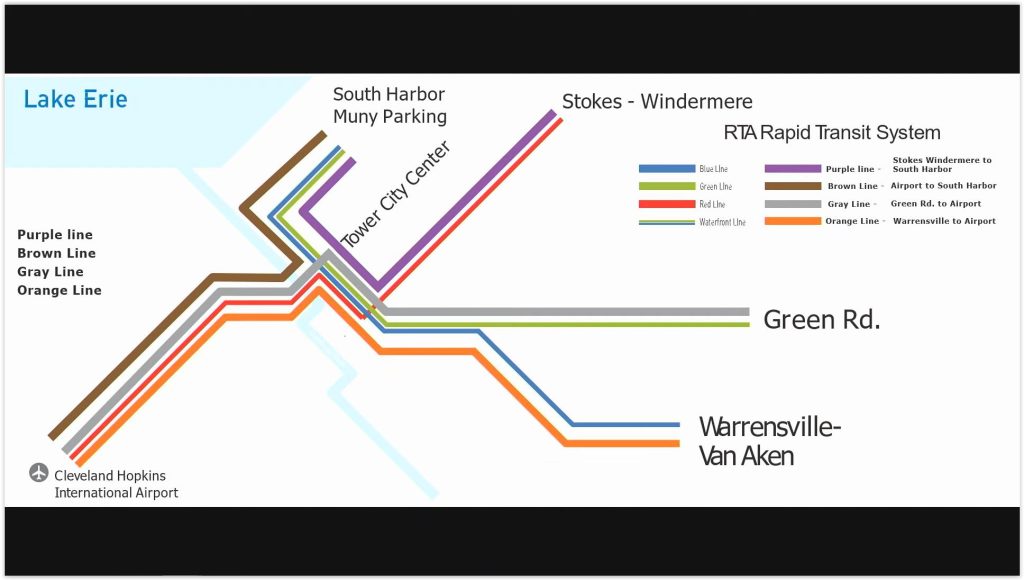 Potential rail routing options listed at upper right — Purple, Brown, Gray, Orange — are shown here as options that GCRTA could offer with the new standardized rail car that the transit authority will acquire. These options could be in addition to or in lieu of the rail services already being offered (GCRTA).
So far, GCRTA has in hand $224.4 million in financial awards and commitments to fund its rail car replacement program. Those funds came from from the Northeast Ohio Areawide Coordinating Agency, Ohio Department of Transportation, Federal Transit Administration (FTA) Formula Funding to urban centers based on metro area population and transit system characteristics, FTA Community Project Funding, and U.S. Department of Transportation BUILD grants, as well as GCRTA's self-funded Rolling Stock Replacement Fund.
"We are aggressively seeking additional funding from federal, state, and local sources to fully fund the program," said GCRTA Public Information Officer Robert Fleig.
The new trains will have a top speed of about 55 mph which is slower than the Red Line's current 60 mph speed but faster than the Blue/Green Lines' 45 mph maximum. It accelerates as fast as Blue/Green Line trains did when they were new, but not as quickly as the Red Line's. The Siemens train has a seating capacity of 52 which is less than the Red Line trains' 80 seats and the Blue/Green Lines trains' original 84 seats, since reduced to handle wheelchairs and bicycles. While the S200 in San Francisco and Calgary have longitudinal seating along the walls, Cleveland's trains will have side-by-side seating as they do now. There will also be room for two wheelchairs and four bicycles on each rail car. Two to three rail cars can be coupled together to provide more passenger capacity per train.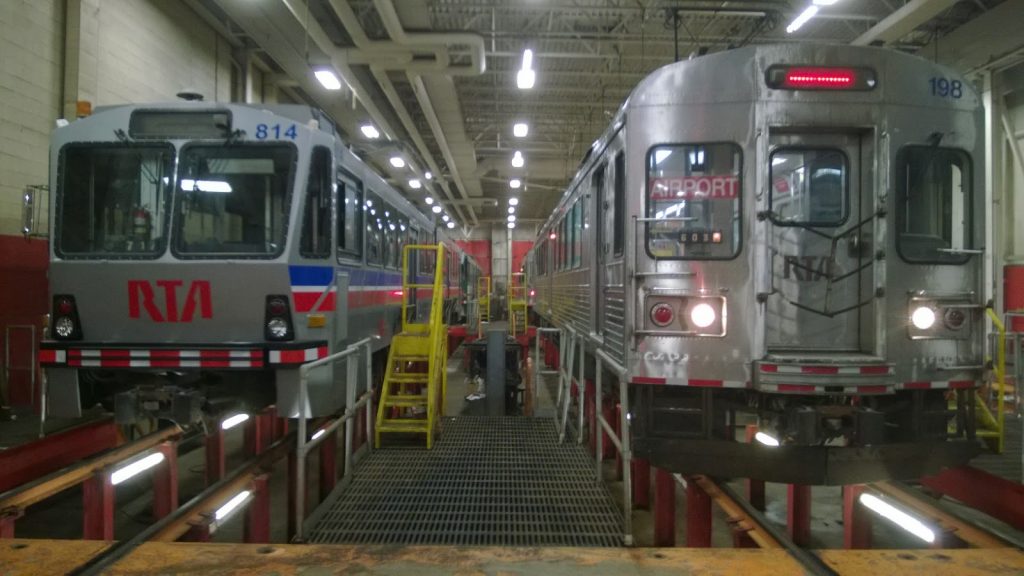 The two types of rail cars that the Greater Cleveland Regional Transit Authority have been using for four decades is about to come to an end. Light-rail vehicles built by Breda in 1979-81 for the Blue/Green lines are at left and the heavy-rail vehicles built by Tokyu in 1984-85 for the Red Line are at right, seen in 2015 at GCRTA's Central Rail Facility at East 55th Street. A new era in which a single type of rail car that will operate on all lines is about to begin (KJP).
Over the last 10 years, GCRTA's rail car maintenance costs have grown by 148 percent as the rail cars have aged beyond their useful life. From a performance standpoint, the new rail cars should decrease our maintenance costs to pre-2010 levels, saving GCRTA $80,000 per car per year in maintenance costs, and allowing for GCRTA to have enough vehicles available to make servicing pull-outs every day. The new rail cars will increase the miles between service interruptions from every 10,000 miles currently to over 80,000 miles.
Board member Valarie McCall urged the creation of a permanent rail car replacement fund at the transit authority so that the next replacement two to three decades from now will have a pot of funding already in place. That way the authority doesn't have to frantically scrape together funds in a matter of a few years before the trains break down from old age. She also urged rail system expansion that a standardized rail car fleet could exploit, such as converting the HealthLine bus rapid transit to a light-rail line between GCRTA's existing rail lines through downtown and booming University Circle. The new Opportunity Corridor Boulevard has suffered from traffic jams since the day it opened in October 2021.
In separate action at today's committee meetings, GCRTA named Railworks Track Services LLC to make slightly more than $1 million worth of repairs to Waterfront Line station platforms, pedestrian crossings and tracks which have deteriorated during the Waterfront Line's nearly three-year suspension of service. Completion of that work is scheduled to coincide with the Aug. 14 conclusion of a $6 million project to rebuild the Waterfront Line's decaying track bridge over Front Street and the Norfolk Southern railroad. The goal is to get the line, which is an extension of the Blue/Green lines from Shaker Heights, back up and running again in time for the first home games of the Cleveland Browns football season.
END