Cleveland enclave has bones for rebirth
"That neighborhood has good bones" is often said about an inner-city community as its leaders look for foundations in the area on which to build its comeback. Unfortunately, it is not always true the bones are good or if they even exist. But for Cleveland's Buckeye neighborhood, located on the city's southeast side, it has a number of features in it or nearby that can be considered good bones on which muscles can be enhanced to regain lost strength.
Whether it is called Buckeye-Woodhill or Buckeye-Shaker, the neighborhood indeed has a number of strong assets. That was among the first things Buckeye's community development corporation Burten Bell Carr Development Inc. (BBC) said in its Buckeye Neighborhood Plan that was approved by the City Planning Commission's Design Review Committee Aug. 5.
Among Buckeye's bones are Shaker Square whose commercial center was jointly purchased last week by BBC and Cleveland Neighborhood Progress, with cleanup of the property to start within 30 days, as NEOtrans recently reported. There's the Larchmere District which offers an eclectic mix of shops, art galleries, restaurants and higher-end housing. Another is the Moreland Theater, 11820 Buckeye Rd., which BBC also recently acquired to be an anchor for its vision of the planned Buckeye Arts Innovation and Technology District.
Connecting Buckeye to Greater Cleveland is infrastructure like the century-old Greater Cleveland Regional Transit Authority's light-rail Blue and Green lines that have seen nearly $50 million worth of station and track improvements in the last decade. And, most recently, the ribbon was cut for the $331 million Opportunity Corridor Boulevard last fall, opening up acres of fallow land for new development and jobs.
But for Buckeye to revive, the keys to its success are restoring personal safety through fostering a sense of community. That includes creating a greater sense of place and pride, more amenities, more youth opportunities, traffic safety, and better housing. And not just any housing, but affordable, high-quality, locally owned and managed housing. That was a key finding from a survey that was conducted as the Buckeye Neighborhood Plan was just getting started more than a year ago.
"Community input is just as important as the design," said BBC Executive Director Joy Johnson. "We don't have a design unless we have a community voice to respond to."
To develop its plan, BBC hired mostly local firms including Seventh Hill for community outreach, DesignExplorr to oversee project branding and youth engagement and City Architecture for planning and urban design. The only non-local firm engaged was Philadelphia-based Urban Partners which developed a market analysis for the business development strategies in Buckeye's plan.
The plan was guided by a steering committee comprised of Lynda Bernays, coordinator of the Britton-127th Street Block Club, Brandon Chrostowski, founder of EDWINS Leadership & Restaurant Institute, Marka Fields, city assistant planning director, Bonita Henderson, site coordinator at Harvey Rice Wraparound School, Myichel Mallory of Promotion Solutionist, Michelle Walsh, strategic initiatives director at Providence House, Pastor Robert Williard of The Meeting Place Church, and Koya X from the Coalition of the Willing.
Goals included developing a comprehensive community plan for Buckeye neighborhood. The steering committee and consultants lead a series of innovative and creative community gatherings, with a virtual input option during the depths of the pandemic, to gather insight and feedback from residents and stakeholders.
Managers of the plan sought to embed in it existing redevelopments in the area, including new residential units on Larchmere and the Woodhill Estates development strategy. The group also sought to identify opportunities for new developments and determine recommendations for implementation of the plan.
At the Aug. 5 meeting in which the City Planning Commission approved the plan, Design Review Committee Chair Lillian Kuri commended the BBC's study process and asked Johnson what are some of the near-term projects that the BBC hopes to achieve that are within the scope of the overall Buckeye Neighborhood Plan.
One of the first Johnson said is to carry out the vision for the Buckeye Arts Innovation and Technology District centered around the Moreland Theater. BBC wants to turn the vacant, 1928-built vaudeville and movie theater into a center of Black arts to create a neighborhood destination for commerce. Much of the neighborhood plan was focused on creating places for people in the community to gather. Right across the street from the theater is the east campus for the family services center Providence House which is being renovated. BBC owns several other commercial structures in that immediate area as well.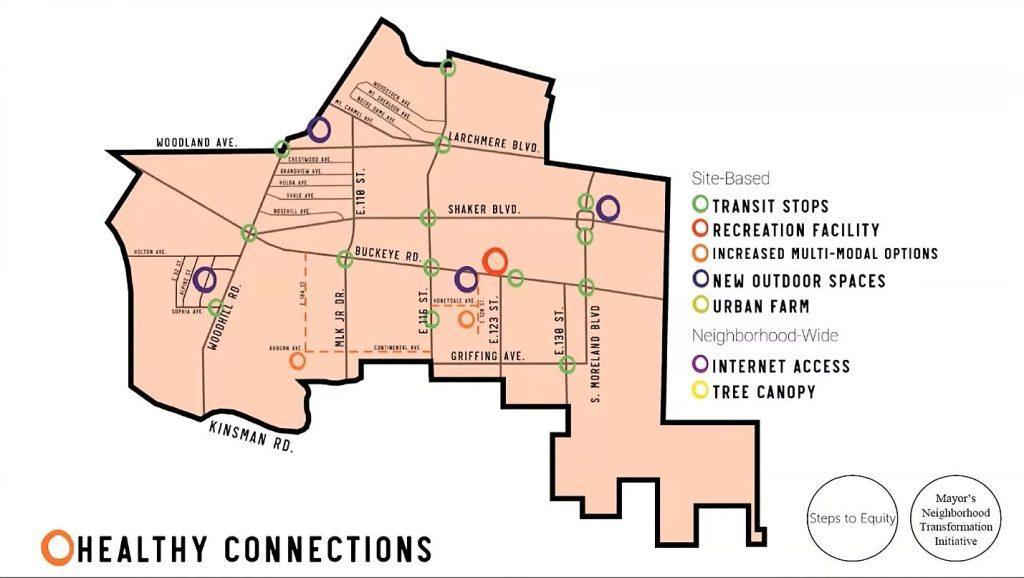 Access to opportunities through public transit and multi-modal paths, provision of amenities including parks, recreation and urban farms, as well as neighborhood-wide enhancements like greater Internet access and restoration of the tree canopy are intended to improve the Buckeye neighborhood's personal and economic health (BBC).
"The mayor's transformation initiative allowed us to buy these Buckeye Road properties," Johnson said. "We received $1.2 million for acquisition and stabilization. These properties need to be occupied by people from the community for the community."
Additionally, BBC is investing in housing in Buckeye as well. In a partnership with Fifth Third Bank, BBC will invest in housing to create more equitable outcomes in Black communities. Cleveland was one of nine cities nationwide to be included in Fifth Third Bank's initiative and Buckeye was selected as the Cleveland neighborhood where this program would be applied, Johnson said.
Initially, it meant a $2 million grant to BBC and Cleveland Neighborhood Progress to hire CHN Housing Partners to buy and rehabilitate numerous houses, mostly in the southern part of the Buckeye neighborhood. Fifth Third Bank then followed with an additional $18 million investment to acquire and renovated more homes to address critical issues of housing quality and affordability.
More than 60 percent of renters and 25 percent of homeowners are cost-burdened by their housing — meaning they spend more than 30 percent of their income on housing, according to study data generated early on in the planning work. Buckeye residents expressed concerns during the study that they feared gentrification would push them out of the neighborhood.
The study also showed they are burdened by having to commute farther to jobs. There were thousands more jobs in Buckeye at the start of the 21st century compared to now. It's a trend that has spread across the city. In 2002, 52 percent of Buckeye residents commuted to jobs outside of Cleveland. That number increased to more than 55 percent by the end of the last decade. However, more Buckeye residents are commuting to neighboring University Circle — 11.3 percent in 2018 compared to 5.7 percent in 2002. Those trends are likely continuing today, said Juleian Curtis Director of Public Engagement at City Architecture.
"It's a roughly 3-square-mile study area, comparable in size to Tremont," Curtis said. "However, (being) located on Cleveland's East Side (means) facing systematic challenges that present themselves in different ways than some of the West Side communities. Development and investment is building however in large part due to significant planning that's taking place."
END