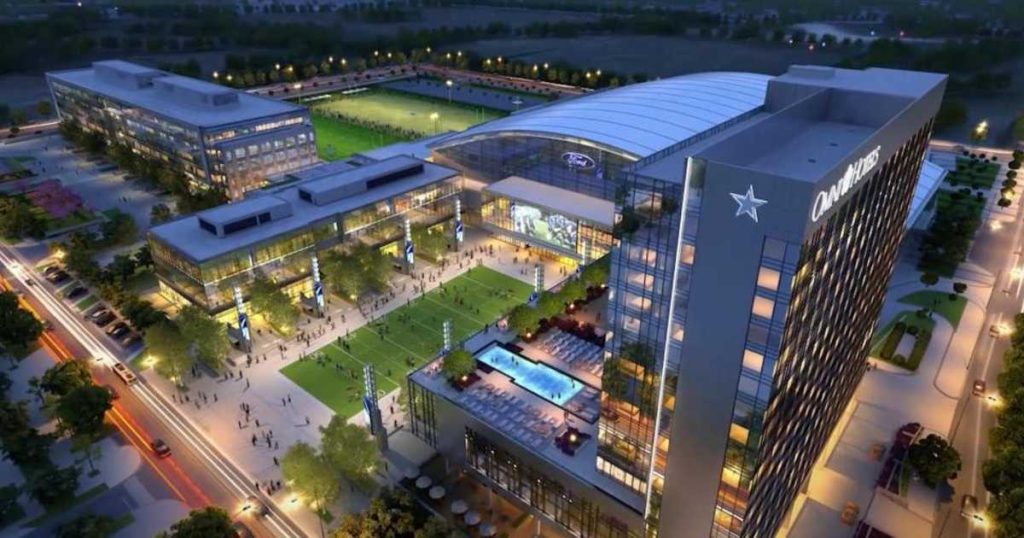 Dallas Cowboys owner Jerry Jones' Star District in the Dallas suburb of Frisco, TX is reportedly the inspiration for Dee and Jimmy Haslam's planned expansion of its Cleveland Browns/Haslam Sports Group headquarters and practice facility in Cleveland's suburb of Berea. While this is a rendering, it shows what has been substantially built in Frisco so far with much more planned (stardistrict.com). CLICK IMAGES TO ENLARGE THEM.
Browns may unite HQ/practice site with hotel, shops, restaurants
The owners of the Cleveland Browns are trying to keep up with the Jones'. And the Kroenkes, Spanos' and Wilfs, too. To do that means upgrading the Browns' football facilities. But that isn't limited to their downtown Cleveland stadium where the team plays games each Sunday in the Fall.
News has been reported for a couple of years by local media outlets that the Browns and their owners the Haslam Sports Group want to expand the pro football team's practice facilities, 76 Lou Groza Blvd., in the Cleveland suburb of Berea. But what hasn't been reported until now is the scale and scope of that expansion. According to sources close to the Browns and the Haslams who spoke to NEOtrans on the condition of anonymity, the expansion is may include a hotel, restaurants, shops, conference facilities, plus indoor and outdoor fields with thousands of seats for spectators.
The expanded site would not only be the year-round home of the Browns for its administrative offices, in-season practices, and off-season training programs and fitness. It may also host other athletic events such as youth football and other sports, a developmental league soccer team and more. And, hospitality industry tenants could capitalize on the presence of those activities as well as the proximity of Cleveland Hopkins International Airport. The site, now expanding past 30 acres, could even include residential, depending on how big the development site gets.
For the last several years, the Haslams, through several corporate affiliates, have been buying dozens of properties. The number of properties to be acquired was initially reported two years ago to be 19 parcels, comprised of 18 homes and one church on Second Avenue, Pearl and Beech streets. The houses and Mount Zion Baptist Church were demolished and a new church built at 200 Mt. Zion Way, off Emerson Avenue, at the Haslams' expense. All of acquired properties are adjacent to the Browns' and Haslam Sports Group's existing headquarters and Browns practice facilities called CrossCountry Mortgage Campus which sets on more than 18 acres of city-owned land.
But since then, the number of parcels acquired by Haslam affiliates has reached 30 properties, with the latest purchased on March 9. According to county property records, the Haslams paid Jamie L. Matropieri and Jason D. Burchfield $310,000 for their house at 519 Pearl St. next to the tiny city-owned R.B. Scott Park. The two men bought the property via survivorship deed from a trust for $119,000 in 2018, public records show.
It isn't publicly known if an adjacent 3-acre property comprised of four parcels and owned by an affiliate of car dealership owner Bob Serpentini will be part of the Haslams' development. In January, Serpentini transferred ownership of the former Chevy dealership to Front Street Realty LLC, a Serpentini affiliate. NEOtrans sent two e-mails to Jeanine Hein, Serpentini's general manager, but neither was opened. Another former car dealership on Front Street, the former Williams Ford, is located north of the railroad tracks and proposed to be redeveloped with 70 townhomes by Knez Homes and K. Hovnanian Homes.
Haslam affiliates that are acquiring property in Berea include Rental Acquisitions LLC, SAM Enterprises LLC and Sam Enterprises I LLC. When combined with the existing practice facility and adjacent city-owned lands acquired nearly 15 years ago for putting Front Street on a bridge over two sets of busy railroad tracks, the Haslams' Berea expansion project site covers approximately 30 acres. In fact, the Haslams' acquisitions have jumped across Front Street when it bought 2.2 acres of land near The Berea Depot Bar & Restaurant. And they may not be done acquiring more terra firma.
When asked to comment on the potential Haslam/Browns development, Berea Mayor Cyril Kleem told NEOtrans "Nothing has been presented by the Browns for review by Planning Commission or City Council."
An e-mail sent by NEOtrans to Browns and Haslam Sports Group Senior Vice President of Communications Peter John-Baptiste was opened but not responded to prior to publication of this article.
Sources say the Haslams are motivated by other National Football League teams and their billionaire owners which are combining their teams' headquarters and/or practice facilities with mixed-use real estate developments. Both Los Angeles football team owners — Rams' Stan Kroenke and Chargers' Dean Spanos — are pursuing mixed-use developments along with their team's offices and practice facilities.
Kroenke bought a dead shopping mall in Woodland Hills for $150 million to demolish and redevelop the 35-acre site with a Rams' headquarters, practice facility and supportive development. Ditto for the Chargers which is spending $270 million to build in El Segundo three outdoor practice fields, a 145,000-square-foot main building featuring offices, a hospitality club, eSports gaming and content studios, and a 3,100-square-foot media center. But the uniting of NFL team offices, practice facilities and mixed-use developments isn't being limited to the nation's second-largest media market.
Minnesota Vikings owner Zygmunt "Zygi" Wilf is developing the 200-acre Viking Lakes Development in the Minneapolis suburb of Eagan, MN. Built with a healthy lifestyle theme, it features multiple apartment buildings, co-working spaces, Omni Hotel, fresh food restaurants, shops and clinics, wellness spa, outdoor activities, and hiking-biking trails linking all venues.
But the football team facility and development site that reportedly impressed the Haslams the most was Dallas Cowboys' owner Jerry Jones' Star District in Frisco, TX, a northern suburb of Dallas. The 91-acre development site already has team offices and practice facilities, plus an Omni Hotel, more than two dozen restaurants, wellness center and spa, dance studio, team shop, sports memorabilia store, bank, Charles Schwab office, e-sports center, and retailers that will never be found in Greater Cleveland like a cowboy boots store and saddle shop.
The Haslams are no stranger to mixed-use development around a sports facility. Their Columbus Crew Major League Soccer team plays at Lower.com Field which is being surrounded by Astor Park, a mixed-use live-work-play district set on 33 acres just northwest of downtown Columbus. The site includes the Crew's 20,000-seat soccer stadium that was built in 2021 for $314 million.
But not every NFL team and owner has been successful at constructing a new team HQ/practice facility and surrounding real estate developments. The Carolina Panthers sought to develop one at a 245-acre site called Rock Hill Overlook next to Interstate 77, just across the state line from Charlotte, NC in South Carolina. Unable to deliver the project, the property is now for sale.
The Berea expansion project comes as the Haslams simultaneously work with the city of Cleveland on whether to renovate the existing FirstEnergy Stadium on downtown's lakefront or demolish it for development that can be enjoyed and produce revenues year-round. In that scenario, the Haslams would build a new all-purpose stadium with a retractable roof a little farther inland at the east of downtown and surround it with mixed-use development.
END