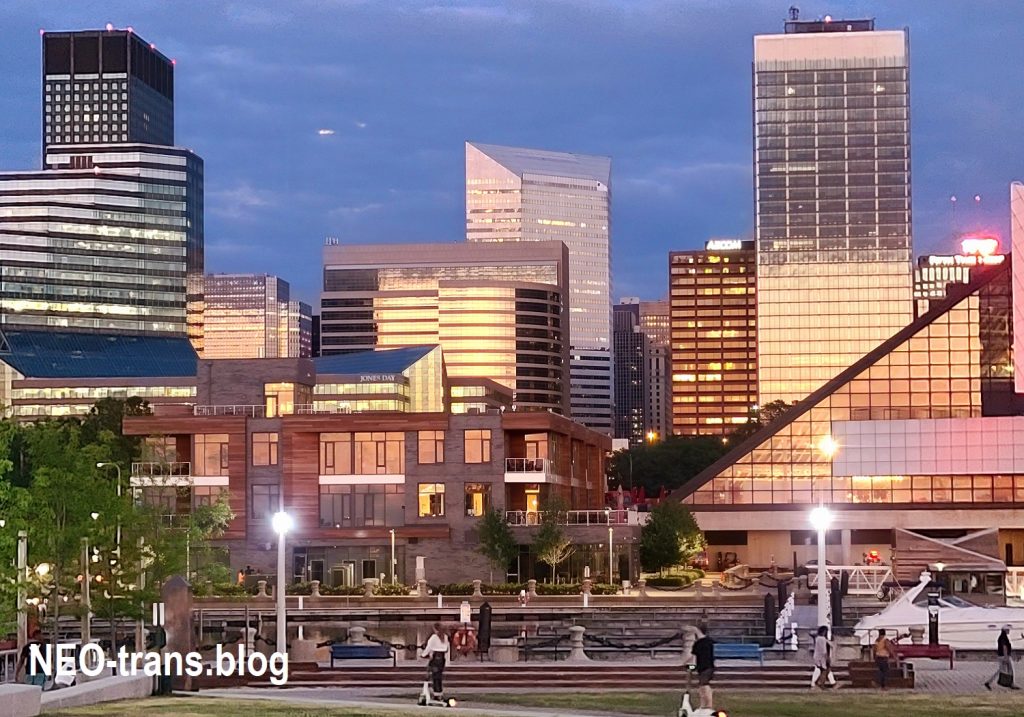 Downtown Cleveland's office market continues to struggle in the wake of the pandemic that caused employees to work remotely, often from home. Getting them back into the office may involve creating public incentives to offset employers' costs of adding more office amenities (KJP). CLICK IMAGES TO ENLARGE THEM.
New data affected by Sherwin-Williams' HQ
Newmark, one of the world's leading real estate services firms, issued its first quarter 2023 (23Q1) office market report for Greater Cleveland today and it continues to show a worsening situation in the region's office sector. While only one submarket within Greater Cleveland showed an increase in office occupancies, none are taking it on the chin more than the central business district (CBD), its retailers, restaurants and transportation providers. But that data may have been disproportionately affected by a major deal.
The Greater Cleveland office market saw its vacancy rate increase from 17.5 percent to 21.4 percent in the first three months of 2023 compared to the same period in 2022. Absorption — the amount of newly leased office space — reversed by 413,278 square feet in 23Q1. While that's a significant drop, it's less than the 684,282-square-foot of space given up by tenants in the fourth quarter of 2022. Unfortunately, it's a trend that's continuing with no end in sight. Of the last 12 quarters, only two quarters have seen positive absorption in Greater Cleveland, the Newmark report noted.
Greater Cleveland isn't alone. Nationwide, office vacancies are worsening as remote working increases and inflation-induced cost-saving measures supports remote or hybrid work. According to the most recent Newmark data, this is how the Cleveland office market compares to those in nearby cities in absorption as measured in square feet, office vacant rate among all classes and submarkets, and average office rent per square foot:
Greater Cleveland (23Q1): -413,278 SF, vacancy 21.4%, rent $18.82;
Greater Cincinnati (22Q4): +45,654 SF, vacancy 27.0% rent $20.39;
Greater Columbus (22Q4): -447,023 SF, vacancy 19.17%, rent $21.34
Greater Detroit (22Q4): -519,875 SF, vacancy 19.7%, rent $20.29;
Greater Pittsburgh (23Q1): -659,280 SF, vacancy 23.4%, rent $25.93.
Downtown Cleveland "led" the metropolitan area with 240,269 square feet of office space returned to the market, exceeding the East submarket's (e.g. University Circle, Solon, Mentor) 115,197 square feet of negative absorption. But downtown's 23.3 percent vacancy rate trailed the South submarket's (e.g. Independence, Richfield, Streetsboro) 25.6 percent vacancy. The only submarket that saw positive absorption was the West (e.g. Lakewood, Westlake, Lorain, Elyria), with a net 188,400 square feet of office space absorbed.
Despite the bad news, overall rents edged upward market-wide in Greater Cleveland. Downtown's total rents among all office classes also topped those in the region. It's $19.93 total rent eclipsed the East's $18.85. For all of Greater Cleveland, rents averaged $18.82, a small increase from $18.71 in 22Q4 and $18.69 in the first quarter of 2022.
But Newmark Cleveland office's Vice Chairman Terry Coyne says that rising rent figure, especially for downtown, is a bit of an anomaly. His experience in recent months is that rents are falling and that a huge, recent deal has tilted market data in the opposite direction. That deal is the sale and leaseback of Sherwin-Williams' new global headquarters.
Even though the under-construction skyscraper just west of Public Square is still nearly two years away from being completed, it's floor space and rent are already being figured into Newmark's office market data for downtown Cleveland and the region. So while office tenants walked away from 413,278 square feet after Dec. 31, 2022, another 1 million square feet of office space was added to the market at a lease price that was felt region-wide.
"Now that the (Sherwin-Williams) project is no longer slated to be owner-occupied due to a sale-leaseback deal to Benderson Development Co. for $210 million, or $210.00 per square feet, in the fourth quarter of 2022, it qualifies as trackable inventory," the Newmark Cleveland office market report noted.
Compare that to another recent, big deal which saw large law firm Benesch, Friedlander, Coplan & Aronoff LLP relocating to 164,000 square feet in Key Tower. That also may be affecting the overall market, Coyne suggested. While no lease details were available, Cleveland's tallest skyscraper typically commands rents of about $32 per square foot, according to real estate brokerage Jones Lang LaSalle.
Medical Mutual of Ohio is selling its historic downtown headquarters after moving its offices in January to this renovated former American Greetings office building in suburban Brooklyn. Suburban incentives were used by the company before accepting city of Cleveland incentives to update its downtown headquarters which will now likely be converted to residential (jljiinc.com).
But the question remains — is there any way to reverse the post-pandemic retreat from office spaces that have emptied downtown restaurants and retailers, and caused bus and train commuting to plummet 80 percent since 2019? In Coyne's experience in overseeing the active office and ground-floor retail leasing at downtown's AECOM Building, 1300 E. 9th St., he believes there is an answer — make people want to come to work at the office every day.
"The answer is simple — amenities, amenities, amenities," Coyne said. "Treat every floor of your office building like the first floor of a hotel. AECOM (Building) is evidence of that. There's an arms race of amenities that is happening right now. Office buildings without amenities are going to die."
In 23Q1, EY bucked that trend by leaving 150,000 square feet of space at the trophy-class Ernst & Young Tower at Flats East Bank, opting instead for a cheaper space that's also one-third smaller at North Point Tower. In attracting more office tenants, Coyne also noted the importance of Downtown Cleveland Alliance's (DCA) Ambassadors as well as its Clean And Safe program. DCA increased the pay for ambassadors to attract more hires and is also beefing up downtown sidewalk amenities and activities at public spaces.
"Office jobs are too important to downtown and a city's economy to ignore," said DCA President and CEO Michael Deemer in a recent NEOtrans interview. "We need to have more incentives to modernize buildings and promote more investment downtown."
One incentive that would cost the city of Cleveland relatively little is to speed up the building permit application process, Coyne suggested. Time is money, and the longer a permit application takes to get approved will be more greatly affected by rising prices of construction materials and workers' pay. NEOtrans recently reported that some real estate projects are at risk due to understaffing of city departments that deal with planning, construction and development.
END