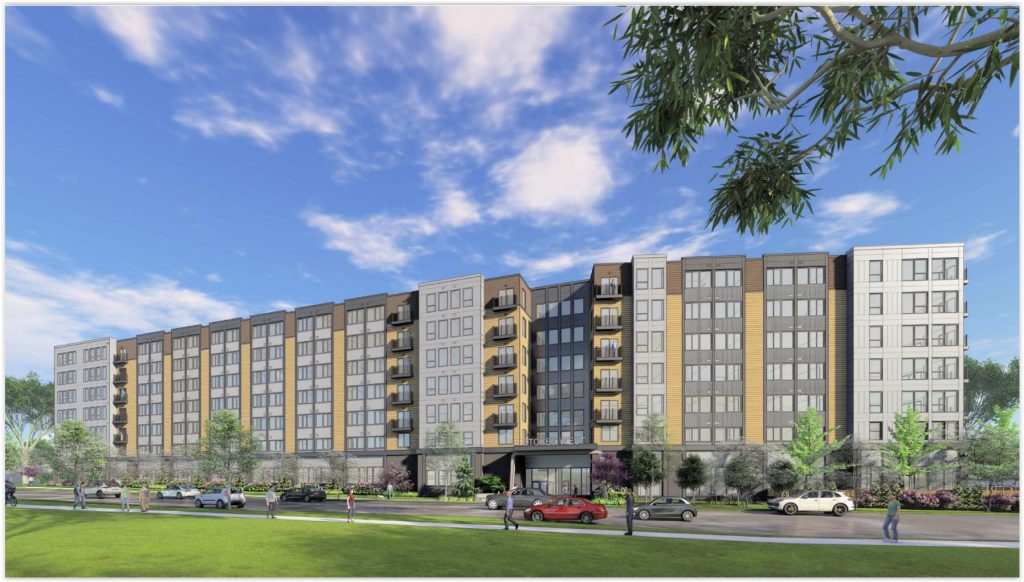 Stokes West's new design proposes the multi-family building to be a continuous seven stories from the north end, at right, to the south end along Stokes Boulevard in University Circle. Previously, an eight-story building was at right, a six-story building at left, and a two-story building connecting them. That also adds two more townhouses behind on Cedar Avenue (LDA). CLICK IMAGES TO ENLARGE THEM.
More affordable design overcomes rising costs
It seems every real estate developer is having similar problems — supply constraints, rising construction materials costs and rising interest rates. Only those projects that are charging top-of-the-market rents, have investors with low expectations for returns on investment, or received a ton of subsidies are getting built. So when Stokes West, which intends to offer apartment rents that are 13-21 percent lower than its peers in and near University Circle, got design approval by City Planning Commission last summer, it was already facing an uphill climb. That changed when the development team joined forces with Geis Construction Inc. and found a way to deliver the project more affordably.
Despite the significant redesign, the plans are up for their first review and final approval by the commission on Friday. If the commission supports the redesign at that meeting, developer Brent Zimmerman said his team could break ground for the 261-unit development in August. The development is proposed for a 2.2-acre site in the 2100 block of Stokes Boulevard. With financing in place for the $40 million project, Zimmerman said he had hoped to start construction late last year but rising costs and unnecessarily high projected operating expenses prevented that. What's making the difference to allow construction now?
"Building efficiency from a constructability and property management perspective," Zimmerman told NEOtrans. "Geis and our property management group (ACRE) were hired and helped make the footprint more efficient."
In other words, Stokes West's new design will not only be less costly to build but less costly to operate, manage and maintain, too. Some examples of the more efficient design include a wider footprint for the building with larger apartments among all styles — studios, one-bedrooms, one-bedroom lofts and two-bedroom suites. The new design also puts a smaller swimming pool at ground level and outside of the building structure. Previously, the pool was on the roof of a two-story building that linked an eight-story tower at the north end of the site and a six-story structure at the sound end. While that plan, which was also revised last summer, looked attractive it was also expensive to build and maintain.
Constructing a continuous seven-story structure throughout also should prove to be more cost-effective, rather than changing the height of the overall complex at three locations — not including the planned townhouses along Cedar Avenue. The designs of those townhouses were changed along with a plaza at the north end of the complex that will be the responsibility of the property owner — University Circle Inc. (UCI). NEOtrans broke the news about this development when Zimmerman and his Stokes West partners agreed to a land lease with UCI in September 2021.
"We added a couple additional townhouses as well, rounding out the pedestrian experience on Stokes," Zimmerman noted.
Project partners include Cleveland-based Brent Zimmerman Development, Geis of Streetsboro and Cleveland, and equity partner ACRE of Atlanta and New York City which also owns and manages 10,000 housing units nationwide. ACRE will manage the property but a representative of ACRE said it will not make Stokes West's units available to vacation rental company Airbnb. Other project partners include Cleveland companies Rust Belt Development, LDA Architects and civil engineer Donald Bohning & Associates.
Zimmerman said apartments will be marketed to students, medical workers, professors and even surgeons who need a place to sleep in between shifts. He said he envisions most new tenants will arrive with little more than a suitcase in their hands. The goal is to pre-model the apartments with basic furniture and and tenants will pay one low fee each month that includes their rent, utilities and internet.
Many of the tenants will not be arriving with cars and may not need cars to travel to work or school in and near University Circle, Zimmerman noted. That's why the development has far fewer parking spaces than apartments, although the townhomes have two garaged spaces per home. Because of the larger building footprint, the revised design will have even fewer parking spaces — 93 off-street spaces (10 with electric vehicle charging stations and plans for more) and 15 on-street spaces. Previously, the commission approved a plan with 100 off-street parking spaces and 45 on-street spaces. The bike storage room was increased in size from 407 square feet to 702, the new plans show.
Conrad Geis, president of Geis Development, told NEOtrans that Brandon Kline, vice president of design at Geis Companies, worked closely with the development team on producing a more efficient design to reduce the costs of construction and operation so that the project's affordability was not diminished. The final pro forma numbers were kept as is — with projected rents showing no change compared those in presentations publicized last year.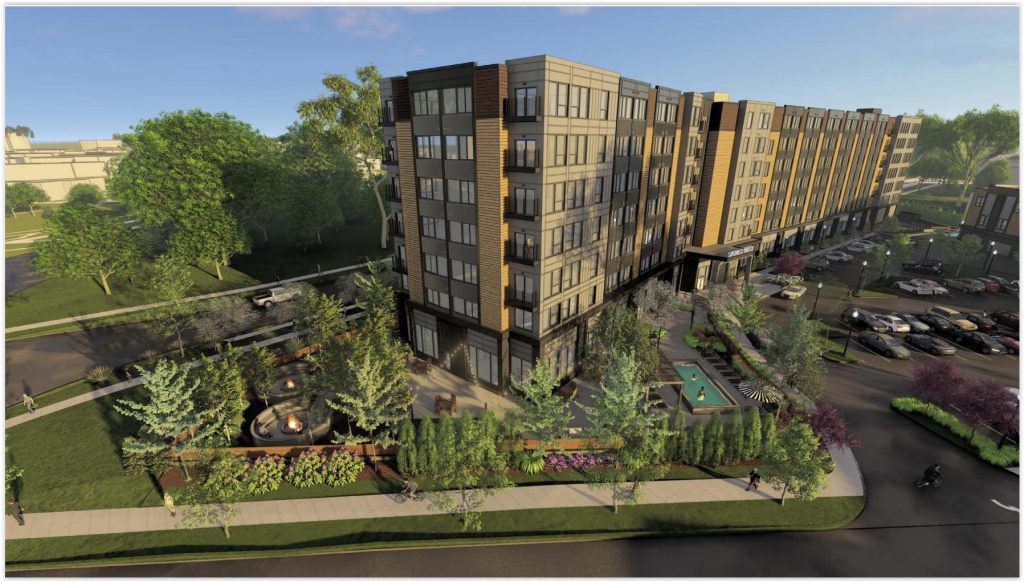 The north end of the Stokes West development is where the residents' amenity deck was moved, including a pool, fire pits, grilling area and seating. Previously, it was on the roof of a two story building that connected an eight-story tower to a six-story structure. Now, the entire building is seven stories tall (LDA).
The project will retain 12 dedicated low-income restricted units and will keep 66 percent of the apartments as furnished studios with rents that will be affordable at 80 percent of the area's median income. While a community room was scratched from the design, co-working spaces were retained but are much smaller. Previously, the design had 11,245 square feet of co-working space on two floors. Now it has just 1,990 square feet — all on the ground floor, plans show. A 1,510-square-foot games/lounge area was added next to an 8,900-square-foot outdoor, ground-level amenity deck, however.
"We're trying to bring more density and really activate that corner with workforce housing, with affordable housing as well as market-rate offerings in that area," said Ward 6 Councilman Blaine Griffin.
The site is currently used as a parking lot for employees of the Cleveland Clinic to the west and for staff and students at Case Western Reserve University to the east. A vacant, century-old, six-unit brick rowhouse structure along Cedar was demolished last year by the development team. They got city approval to raze the rowhouses after the development team showed the Stokes West development could not move forward with them retained. They said the cost of renovating each of the rowhouses was estimated at $374,199.28 per unit, resulting in rents that would be above the market rate.
END