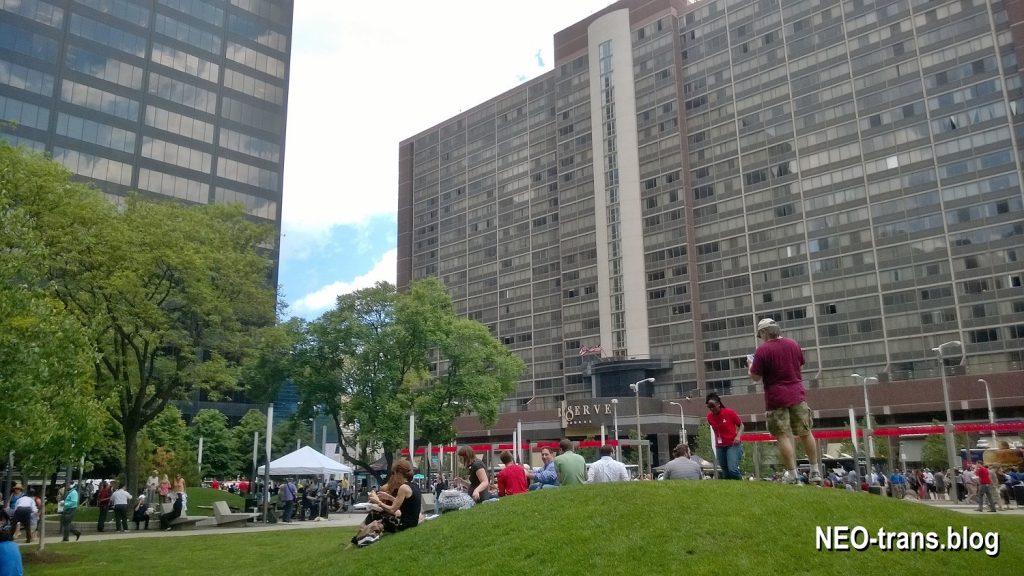 In 2015, Perk Park in downtown Cleveland was filled with people enjoying a break from work during lunch. Now, tens of thousands of former downtown office employees are working from home, straining restaurants and shops, some of which have closed. A strategy to boost downtown from being dependent on office workers was adopted (KJP). CLICK IMAGES TO ENLARGE THEM.
Leaders set Reimagining Downtown strategy
The City of Cleveland and Downtown Cleveland Alliance (DCA), in partnership with Cuyahoga County, Destination Cleveland and Greater Cleveland Partnership (GCP), today unveiled Reimagining Downtown Cleveland. Over the next one to five years, this series of short- and intermediate-term strategies will accelerate the evolution of Downtown Cleveland from a 9-to-5 central business district into a diverse, vibrant, and accessible mixed-use, 18-hour, 15-minute neighborhood.
"Now is the time to truly reimagine Downtown Cleveland for the future," said Cleveland Mayor Justin Bibb in a written statement. "This is a pivotal moment – together, we can capture the momentum we had before the pandemic, shaping downtown into a destination that offers memorable experiences for visitors and that draws more people downtown to live and work."
Downtown is the fastest-growing neighborhood in Cleveland, with a 32 percent population growth since 2010. In that time, more than $9 billion in investment has transformed it into a diverse and thriving community. This shared vision for the future builds on the momentum to position Downtown Cleveland as an engaging, welcoming city center that weaves districts and surrounding neighborhoods into a seamless urban fabric, attracts modern economic activity, and provides a world-class experience for people of all backgrounds.
"The most successful downtown districts serve many major functions – employment, residential, dining, entertainment, and retail," noted DCA president & CEO Michael Deemer. "Together, we are taking actionable steps in a relatively short period of time to drive economic revitalization and create a unique, inviting, and safe sense of place in downtown for residents, businesses, and visitors alike."
They and others at a press conference today at City Hall outlined their vision, Reimagining Downtown Cleveland, which will seek to expand some existing initiatives and add new strategies to advance outcomes in three key areas: Economy, Environment, and Experience.
Economy
"About 60 percent of downtown's workforce has returned to the office, foot traffic is tracking at nearly 80 percent of pre-pandemic levels, 20,000-plus people now call downtown home, our development pipeline is strong, and we had more small businesses open over the course of the pandemic than close," stated Deemer. "This trajectory is stronger than the national average. Now is the time to capitalize on that."
To further strengthen downtown's position as the region's economic engine, Reimagining Downtown Cleveland's short-term goals prioritize retail, business attraction, real estate, housing development, and mobility. A major part of this work is addressing long-standing challenges in downtown's storefront economy. DCA, in partnership with Destination Cleveland, has engaged Streetsense to help formulate a strategy that includes:
Identifying barriers to attracting retailers;
Determining future retail business capacity; and
Implementing a retail attraction strategic plan.
With retail and business attraction in focus, initiatives that address the dynamics of a changing workforce are also at the forefront. Specifically, they aim to modernize office environments and build an ecosystem of third places where employees, residents, and remote workers alike can gather, such as parks, coffee shops, community spaces, and other diverse commercial assets.
In addition, based on recommendations from the Greater Downtown Housing Demand Report commissioned by DCA and GCP, Reimagining Downtown Cleveland advocates for tools and policies that close housing development gaps, encourage housing at diverse price points, and streamline the permitting process for development.
To meet the demands that come with downtown's growing population, the vision also puts emphasis on an inclusive and connected multimodal network that makes it easier for people of all ages and abilities to get to and through the heart of the city. The City and DCA look to increase accessibility by foot, bike, scooter, wheelchair and mobility device, and transit. Targeted for the next two years are:
Starting construction of the Memorial Bridges Loop and Superior Avenue Midway;
Installing digital on-street parking meters; and
Developing a Public Square Connectivity and Public Realm Plan to enhance connectivity and
improve transit waiting environments around Public Square.
On the horizon for the next three to five years is a protected bike infrastructure, linking downtown districts and surrounding neighborhoods.
Environment
"We want to ensure that the people who live, work, and play in Downtown Cleveland feel safe and secure," said Mayor Bibb. "By working with community partners and law enforcement and investing in new safety measures, we're taking proactive steps to make sure that happens."
Reimagining Downtown Cleveland takes a collaborative approach to creating a clean, safe, and welcoming environment for employees, residents, and visitors, with integrated objectives that bolster safety and security. These include increased police and DCA Ambassador presence, better coordination with the county for social services, technology for infrastructure reporting, and improved lighting.
DCA and the Cleveland Police Department are working together to expand capacity for uniformed and unarmed co-deployment, ensuring police response is accompanied by the Crisis Intervention Team and followed up with case management or social services where appropriate. Transportation to area treatment facilities will be an option for those in need. DCA will also hire 20 new Ambassadors to provide extra support throughout the fall and winter months, in addition to the 80 already regularly staffed.
A digital infrastructure reporting system is currently in implementation for DCA Ambassadors to notify City Hall of infrastructure damage, such as broken sidewalk ramps, nonfunctional streetlights, empty tree grates, and more. Mini pet relief stations will also be placed throughout downtown, prioritizing areas of high residential concentration to reduce pet waste on sidewalks.
Additionally, Destination Cleveland, with support from the City, DCA, and other community and business partners, will install experiential lighting to illuminate parts of Downtown Cleveland. The project will help to create an increased perception of safety, connect key corridors, and encourage foot traffic and economic activity throughout the city's central core. The project will start on Public Square and extend to Euclid Avenue and Mall B in its first year. Lighting in additional downtown districts and into city neighborhoods is also being discussed.
Experience
Key to bringing the vision together is an activated downtown with ongoing programming, amenities, and easy, safe public access to the lakefront and riverfront. Building on an already robust calendar of events, Reimagining Downtown Cleveland also focuses on promoting local arts and culture to animate downtown's streets, parks, waterscapes, and public spaces through all four seasons. Over the next three to five years, the City, DCA, the County, and Destination Cleveland will work together on projects like:
Green space enhancements with more trees and plants;
Water features, seating, and opportunities for children to climb and play;
Funding and implementation of a public art program to brighten the downtown experience with
murals and other creative pieces; and
Installation of new wayfinding signage for easier and safer navigation.
Accelerating Vision for the Valley, Reimagining Downtown Cleveland aligns with and supports Bedrock's Cuyahoga Riverfront Master Plan and Tower City Center investments, the Flats East Bank Phase III, and Canal Basin Park. The city, the county, GCP, and DCA have sights set on completion of the North Coast Master Plan and preliminary engineering and design of the North Coast Connector in the next one to two years, with infrastructure improvements to support the ecological health of the Cuyahoga River to follow in the next three to five years.
"Reimagining Downtown Cleveland takes us from sidewalk to skyline and everything in between," emphasized Deemer. "It connects our urban core to our waterfronts to create a world-class neighborhood, destination, and business hub, improving overall quality of life for residents and workers while showcasing Cleveland's diversity and distinctiveness to visitors."
END