Mixed-use site also part of initiative
By the end of this year, Cleveland State University (CSU) officials and their project consultants said they hope to select a development team, financing plan and a proposal for a new multi-purpose, indoor arena on Payne Avenue just east of downtown Cleveland. The arena would serve the athletic and academic needs of CSU as well as the entertainment needs of Greater Cleveland. And depending on the responses from prospective teams, the winning proposal could also include details about developing a neighboring mixed-use district.
In a July 18 conference call with more than 50 representatives of prospective developers, financiers, architects and venue operators, CSU officials and their project consulting team outlined their expectations and timelines for moving forward on building a new arena. The call, which became publicly available online yesterday along with supporting documents, also noted that the interested parties could submit their interest in developing the new mixed-use district as a potential add-on to the arena project. CSU's primary consultant on the arena project is Brailsford & Dunlavey Inc. (B&D) of Washington DC. Additional consultants to CSU are McDonald Hopkins, PFM Financial Advisors LLC, Thompson Hine LLP and PNC Financial Services Group.
While CSU and and B&D are still developing the request for proposals, they have issued a request for qualifications for which responses are due Aug. 4 to whittle down the list of interested parties to less than 10 of the most qualified candidates. In early September, those candidates will then be sent a request for proposals to identify their development team, proposed financing and their concepts for building an approximately 5,000-seat indoor arena and possibly the mixed-use district featuring residential, retail, commercial, hotel or other uses. NEOtrans broke the story last month that CSU was moving forward with its arena project.
David Jewell, CSU's chief financial officer, senior vice president of business affairs and director of the university's nonprofit real estate arm Euclid Avenue Development Corp., said the arena consulting team is doing a lot of pre-development work that a developer would otherwise do including site analysis and market research. CSU's consultants will have saved the winning development team significant upfront costs and hopefully move the project forward, he said.
"A lot of the process has been borne by their expertise and knowledge and efforts," Jewell said of CSU's consultants in the online conference. "But also, talking to this group of individuals who are interested in this project, lets you know that the university is serious about this work, that we are engaged in it. We have spent a lot of time and effort and strategic thought to bring it to this point today."
The development site totals 10 acres of CSU land along the south side of Payne, from East 22nd Street to Interstate 90. The arena will be on Payne and overlook the highway, called the Inner Belt, with a multi-level parking garage immediately south of it on a 5-acre block. That site currently hosts the university's Plant Services, 1802 E. 25th St., its Plant Annex building and another structure that hosted the Cleveland Manufacturing Advocacy and Growth Network (MAGNET) until it relocated to Midtown last year. Both will be demolished. Two parking lots to the west, between East 22nd and 24th streets, also total 5 acres and is the proposed site of the mixed-use development.
Just south of those two parking lots is a potential example for the mixed-use district. The Langston, which CSU bought last year and which NEOtrans reported on the year before, was developed by Cleveland-based NewBrook Partners and Buckingham Properties LLC of Indianapolis on 7.6 acres of CSU-owned land. In 2011 CSU entered a 50-year ground lease with extension options with CSU Housing LLC, a Buckingham affiliate, for The Langston, according to county records. The nine-building, 370-apartment, 600-bed development has several ground-floor retail spaces along Chester Avenue facing the main campus of CSU.
"The exact mix of what would be included in that mixed use district is to be determined," said B&D Vice President Bill Mykins. "But it could include residential, commercial, other activities or uses. Residential doesn't necessarily have to mean student housing. So we're really looking to the market to help inform what are the best uses for that commercial district. The mixed-use district is included to help provide all the (financial) levers possible for our private partners."
He added that RFP respondents can submit proposals only for the arena but said CSU and B&D is encouraging development teams to offer proposals for the new arena plus the mixed-use district. That will also help CSU realize its $650-million-plus campus masterplan which the CSU Board of Trustees approved last year in which CSU said its 32-year-old, 13,610-seat arena, the Wolstein Center, was too large for its needs. Earlier this month, the board directed Euclid Avenue Development Corp. to issue the request for qualifications for the new arena and mixed-use district.
"The project site is right in the heart of the Campus district and Superior Arts Improvement District neighborhood," said Katie Lutton, project manager for B&D. "I just want to reiterate here a lot of the activity that's going on. It wouldn't just be this new arena project. We also have revitalization at Cross Country Mortgage's headquarters with new construction and significant foot traffic there every day, the police headquarters building which is currently being renovated in the historic Artcraft Building (and) some other improvements in the area that are going to come together to help activate this part of town."
"We have done some studies where there is need for some additional student housing," Jewell added. "It's a bit nuanced of what we've studied and what our plans are around student housing already in progress at Cleveland State."
RFQ respondents can include partnerships among developers. For the RFP in the next step, applicants will propose financing sources which will have implications for the ownership of the land and structures. Those could include the applicants proposing to buy or lease land from CSU and own the buildings. If the applicant proposes a land lease, which CSU said they would welcome, it would reduce the tax costs of the development to help realize CSU's campus masterplan. That includes a proposed major renovation of the Rhodes Tower, the planning for which is also underway.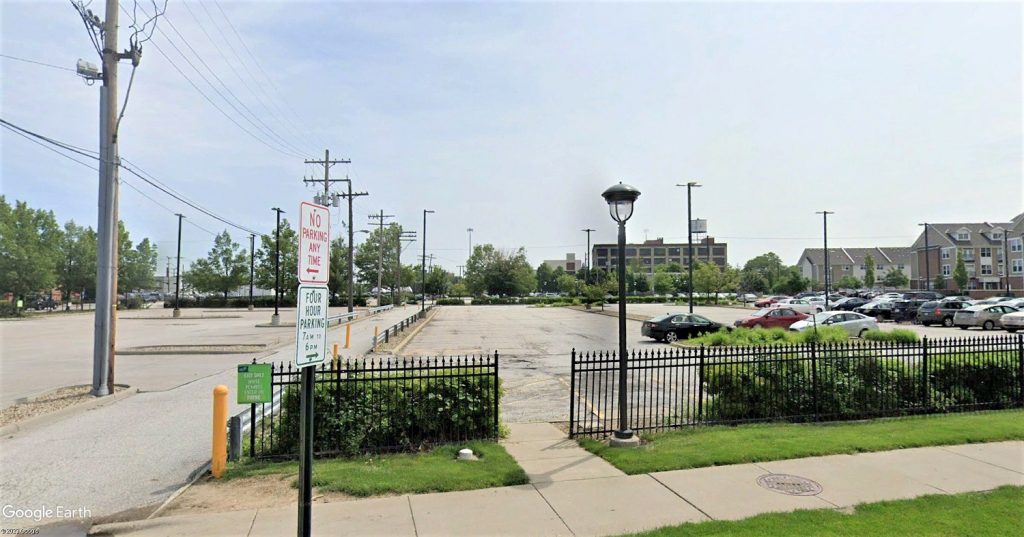 Looking east from East 22nd Street, the area CSU wants to see developed as a result of its masterplan and RFQ/RFP process includes 5 acres of parking lots in the foreground. Those lots are proposed to be replaced by a mixed-use district. Beyond them is CSU's plant services building that will be demolished for the new arena. At right is The Langston apartments and retailers on Chester Avenue (Google).
"All the options for the range of ownership structures are currently on the table," said B&D President Christopher Dunleavy, who noted that CSU is willing to lease the entire 10 acres but probably not with the full faith and credit of CSU behind it. "The intent here is to minimize the institution's financial commitment to the development and it is committing significant resources in the form of land assets, a prepared site, etcetera, and expects to be part of putting together a final financial solution. But it's not the idea of the institution to fully master lease all uses developed on this site from the developer."
Some of the companies represented by attendees of the conference were interesting. They included many sports/entertainment or college development firms from throughout the USA. Among them were the Cleveland Cavaliers and the Rock Entertainment Group, both under billionaire Dan Gilbert's Rock Ventures corporate umbrella.
Others on the call were Playhouse Square Foundation, Los Angeles-based Oak View Group, Oxford Development of Pittsburgh, Youngstown-based Tipping Point Development, Camden, NJ's The Michaels Organization, Edgemoor Development of Bethesda, MD, MCB Real Estate of Baltimore, Dallas-based Lincoln Properties, American Campus Communities of Austin, Buckingham Cos. of Indianapolis, plus local developers CHN Housing Partners, Geis Companies and Fairmount Properties.
END