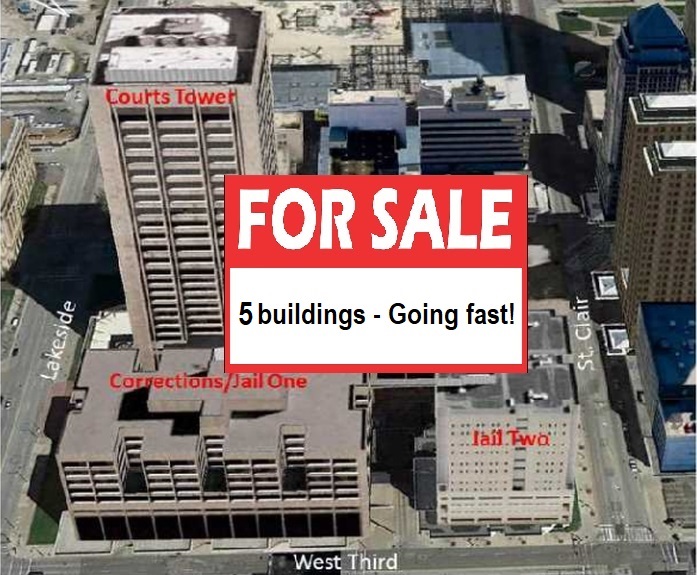 Cuyahoga County is offering for sale its 2-million-square-foot, 7-acre Justice Center complex in downtown Cleveland to the highest bidder and the county would continue to use and lease much of the complex for at least several more years until new, renovated and/or expanded facilities costing upwards of $1.2 billion can replace them (Cuyahoga County). CLICK IMAGES TO ENLARGE THEM.
New courthouse, old Courthouse Square offered, too
All five above-ground buildings in downtown's Justice Center complex, plus a below-ground parking garage, are being offered for sale by Cuyahoga County as a result of other efforts that could partially or completely vacate the entire 2-million-square-foot facility. The sale includes a three-year leaseback with four additional one-year renewal options so the county and city of Cleveland will have time to carry out those vacating efforts. No sale price was listed for the property but if you have to ask, you probably can't afford it anyway.
The request for proposals (RFP) was posted by global real estate brokerage CBRE which the county hired to assist it in what will likely be its largest real estate endeavor in its history, at least in terms of money if not square feet. The sale was prompted by the county pursuing a new consolidated jail facility in suburban Garfield Heights, a new or expanded courthouse facility downtown, plus the city developing a new Division of Police headquarters in the Artcraft Building, 2530 Superior Ave., at the east end of downtown. Another county-owned building, the 105-year-old Courthouse Square, 310 Lakeside Ave., is also offered for sale with the same leaseback options as the Justice Center.
Interested parties have until Oct. 5 to respond, after which the respondents' proposals will become a matter of public record. In addition to a 318,738-square-foot underground parking garage with 645 spaces, the 47-year-old Justice Center, bounded by Ontario Street, St. Clair Avenue, West 3rd Street and Lakeside Avenue, has these above-ground structures in the sale offering:
Courts Tower: 675,887 square feet, 25 stories tall
Galleria/Atrium: 124,230 square feet
Cleveland Police HQ: 279,457 square feet, eight stories
Jail I: 380,758 square feet, 10 stories
Jail II: 308,478 square feet, 11 stories (built 1995)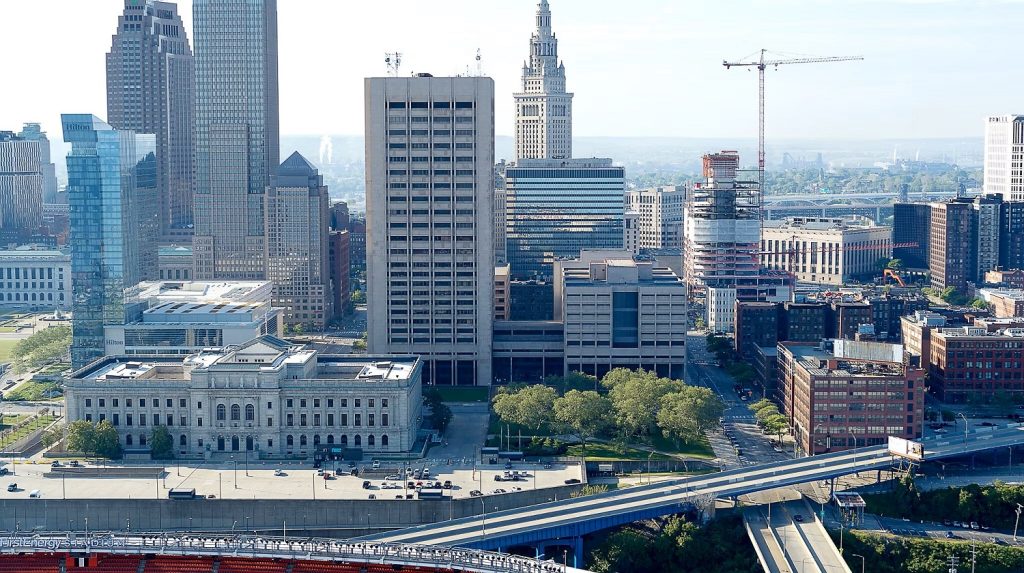 The Justice Center complex, in the middle of this image, as seen from the Lake Erie shoreline. It's signature building is the brutalist, 420-foot-tall courthouse tower. If its replacement is built as a single tower, it will likely be taller and add another skyscraper to downtown. Or, the existing tower could be renovated and expanded but would take more time and more money according to a Justice Center Steering Committee report (CBRE).
"This is a truly unique opportunity for an interested party to either develop the Consolidated County Courthouse, or redevelop the current location at the Justice Center complex in downtown Cleveland," said Andrew Coleman, CBRE's managing director in Cleveland, in a written statement. "Cuyahoga County is also presenting the opportunity to purchase and redevelop the Courthouse Square building. These historic locations are iconic to the city of Cleveland and both the county and our CBRE team are excited to see what proposals are given."
County Public Works officials have asked the County Council to extend an existing 0.25-percent sales tax for 40 years to finance a bond issue to pay for a new jail and courthouse. The combined price tag of those facilities is estimated to total $1.2 billion to $1.4 billion. County officials said they can keep the cost of the jail at $750 million if a decision to proceed is made soon. A new jail is the county's highest-priority big project due to inhumane conditions at the existing jail. But the range of costs is based on what the county expects from the responses to the courthouse RFP.
The sale and leaseback of these county-owned properties is only one part of the county's massive real estate initiative. Another is for qualified, interested parties to present their own existing facilities and/or development sites, or to propose development on the site of the current Justice Center complex downtown Cleveland. The renovated, expanded or newly built courthouse tower or campus would need to measure about 893,120 square feet of usable space including offices, courtrooms and specialty spaces.
The new building would consolidate offices from other buildings like Courthouse Square, provide safer facilities for case parties where highly emotional cases are heard, and expand space for the county's housing court, a function that didn't exist when the Justice Center was built in 1976. The new courthouse tower/campus could be sold or leased to the county with an option to buy, similar to the approach the county took with its administration building on East 9th Street nearly a decade ago.
The Justice Center has dominated the nearly 7-acre block of Lakeside Avenue, West 3rd Street, St. Clair Avenue and Ontario Street since the 1970s. But it's possible redevelopment and re-use is at hand, offering an historic opportunity to remake downtown Cleveland with more vibrant and diverse uses (CBRE).
There, the county paid $25 million up front to Geis Companies of Cleveland and Streetsboro which paid the rest of the $80 million construction cost for the eight-story administration building. The county is reimbursing Geis by making escalating, annual lease payments over 27 years, starting at $6 million. At the end of the lease, the county has an option to buy the building for $1. The county also sold to Geis the neighboring, former Ameritrust headquarters skyscraper and six adjacent buildings for $27 million. Having all of those activities under one developer helped Geis leverage more financing.
Kelly Woodard, director of communications for Cuyahoga County, said the county has no preference as to whether it would sell the existing Justice Center complex to the same bidder seeking to provide a new courthouse tower/campus. The exception might be if the bidder also seeks to renovate and expand or replace the existing courthouse tower at the current Justice Center site.
Even then, the current Justice Center site totals nearly 7 acres, offering the opportunity for a new or expanded courthouse tower owned by one entity to be on land sold to, cleared and redeveloped by another entity. The site is large enough that multiple uses — courthouse, office, residential, hotel, park — could be housed on the same block even if the existing courthouse is retained or repurposed.
But given the time it would take to clear and clean the existing Justice Center site of some or all existing buildings, a Justice Center Steering Committee said in 2019 a new courthouse tower/campus would be the fastest and least expensive option. It would allow the existing, aging courthouse tower to be completely gutted, possibly for a new use, something that could not be done to retain it for court functions unless the courthouse activities were moved twice, including finding more than 600,000 square feet of contiguous space available on an interim basis.
The current courthouse tower has 27,000-square-foot floorplates. If similarly sized floorplates are desired in the new courthouse, it could result in a 30-plus-story building. But a shorter courthouse would be less expensive, with real estate insiders expecting one or more proposals to be submitted in which the new courthouse is divided among two buildings, each about 15 stories tall. Parking space requirements were not published as part of the request for proposals.
Several county court operations will apparently not be part of a new or rebuilt courthouse. The Eighth District Court of Appeals and the Probate Court will likely remain in the 1912-built county courthouse on the north side of Lakeside at Ontario because judges and staff for those courts said they prefer to remain in the ornate, historic building. Despite the exclusion of those uses, the potential grand scale of the courthouse project was not lost on the county and CBRE.
"This is a generational development opportunity and partnership with Cuyahoga County," concluded the courthouse tower/campus description.
Of lesser scale is the sale and short-term leaseback of the 96,228-square-foot Courthouse Square. Located on the northwest corner of Lakeside and West 3rd, the dark-red brick, seven-story building is an ideal candidate for conversion to residential, a real estate insider said. It has an adjacent, 106-space parking lot and the building was registered as a national landmark in 1982, making it eligible for state and federal historic tax credits to aid in its renovation and repurposing. The county has owned the building and used it for overflow court offices since 2003.
END