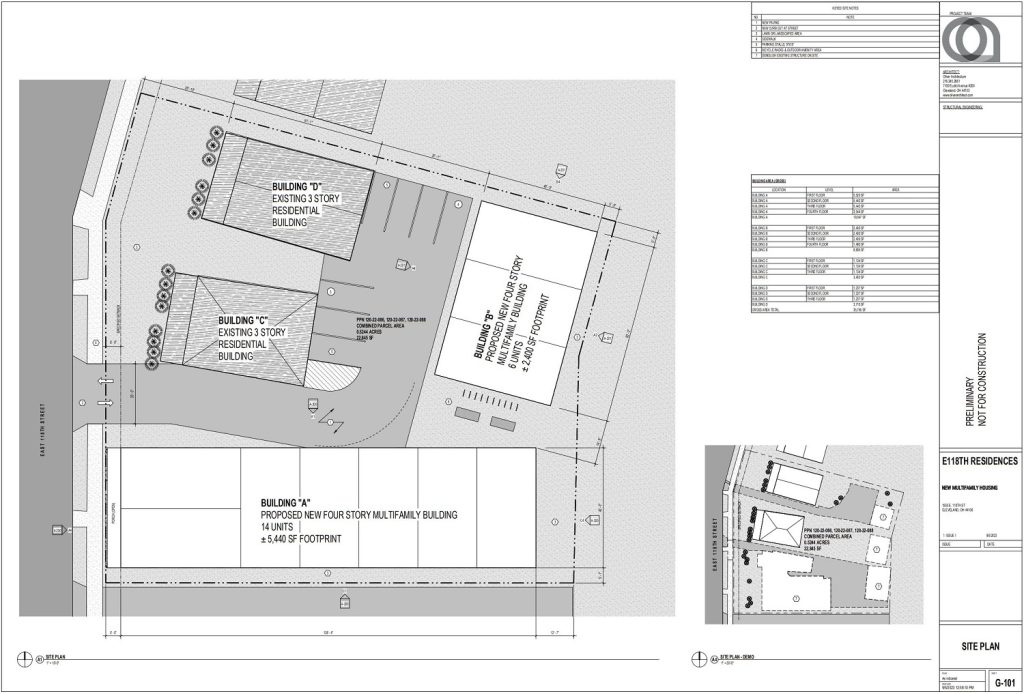 As shown in this early conceptual site plan, a Cleveland real estate partnership is considering two new buildings and renovations to two duplexes across East 118th Street from Case Western University University's Nobby's Ballpark in Cleveland's University Circle (Oliver). CLICK IMAGES TO ENLARGE THEM.
New, renovated apartments proposed next to CWRU
Although still very early on in the development process, a Greater Cleveland real estate partnership is considering building a 24-unit multi-family development in Cleveland's University Circle and has a target date of next August for breaking ground on it. The potential development site is across East 118th Street from Case Western Reserve University's Nobby Ballpark and next to the old East Cleveland Township Cemetery.
The development is planned by Jeff Shoykhet of Alpha Apartment Management, based in Little Italy, and partner Carmen Iammarino of Fifth Avenue Appraisals of Garfield Heights. It is proposed at this early stage as two new four-story buildings totaling 20 apartments plus two existing, 113-year-old duplexes to be renovated as part of the site's plans.
A seven-unit, 108-year-old apartment building at 1555 E. 118th is due to be demolished along with its garage and replaced by a 14-unit, 19,947-square-foot apartment building, according to plans submitted to the city this week. A six-unit, 8,695-square-foot apartment building is planned to be built behind the two duplexes. Garages for the duplexes are also slated to be razed but for the six-unit building.
Preliminary plans also show seven off-street parking spaces could be added for the new development but additional spaces may be added along the driveway, Shoykhet said. Additional on-street parking is available close by. For example, on-street parking is allowed all day on East 118th and overnight from 6 p.m. to 7 a.m. on Wade Park Avenue. An approximate development cost of $5 million was noted on the permit application.
The preliminary plans were submitted to the city for a zoning review. Shoykhet said they were submitted to gather input from Cleveland Building Department staff as to what changes to building design or requests for code variances might be needed in order to move the project forward through the city approvals process. It usually takes at least a few weeks to elicit a review and response from the city to such requests. Making that process simpler is that the development site is not located in an historic district. But it is located next to a growing university where the pace of new apartment construction has slowed lately.
"We're going to renovate the duplexes in front and we're trying to build two- and four-bedroom apartments next to and behind them," Shoykhet said. "It's still early on but our market may be a mix of students and professionals at a lower price point than other developments in the area to make it a little more affordable. Students are becoming more cost -conscious now. We're getting tenants in our older class B and C properties from Centric or La Collina looking for a little less amenities and more affordability. Some of the two-bedroom apartments nearby (on East 118th) go for $3,300 (per month) and we'd like to go lower than that."
He declined to disclose potential rents at this time and, due to a non-disclosure agreement, also could not reveal how much he paid for the three parcels he and Iammarino acquired from an affiliate of Matt Wymer of WXZ Development of Fairview Park in July for the new development. Shoykhet said the three parcels will be combined into a single property measuring about 0.4 acres.
The sale price of the transaction was not disclosed in Cuyahoga County property records. Those same records show the three properties were appraised by the county at a combined value of $573,900 for tax purposes. Shortly after the deed was transferred, 1555 E. 118 LLC secured a $975,000 loan from First Federal of Lakewood on those properties, public records show. Those numbers suggest the sale price was probably in that range. Shoykhet would not comment on it.
"Matt (Wymer) was going to build 10 luxury townhomes on that site but he said he has too much going on right now," Shoykhet said.
Although Bluewater Capital Partners built the neighboring University Place Townhomes, Wymer's WXZ Development developed the apartments and townhomes farther south on East 118th and around the corner on Euclid Avenue. Shoykhet and Iammarino also have developed housing in the area and are building more. In 2021, they built nine apartments in two new buildings on a parcel with a century-old duplex that was renovated at 2117-19 Murray Hill Rd. Last month, they got the certificate of occupancy for a new duplex the partnership developed for $350,000 at 2137 Murray Hill on the site of a fire-damaged house.
But the partnership's biggest project so far could get underway next month. In May, they acquired two houses at 2183-85 Cornell Rd. and the 0.35 acres on which the homes set. The houses will be demolished for a $3.1 million, 14-unit, 17,410-square-foot apartment building dubbed Cornell Road Residences. The city-approved building has 15 parking spaces but may not need them. He noted that only 70 percent of the parking spaces at the new, neighboring Baricelli Little Italy Apartments are used.
"We're trying to follow the spirit of the city's new (Transit Oriented Development) zoning code by offering bike parking and vouchers for scooters and bus passes. We're right on the Red Line (rail transit route) and you can walk to work, school, restaurants and shops," he said. "At East 118th Street, we'll also be offering an alternative transportation amenities package since not as many of our tenants are driving or have cars."
END