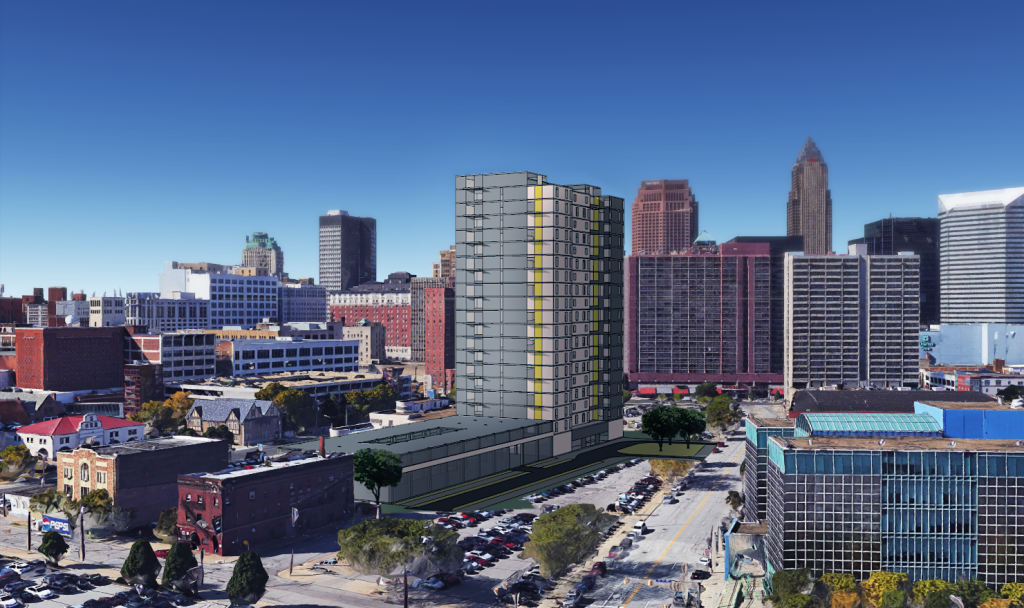 An unofficial massing for a possible tower being considered by two Connecticut-based developers for the Greyhound station site. This is a view of the proposed tower from the northeast side, looking southwest on Payne Avenue at the backside of the station site. This rendering was requested by NEOtrans for illustrative purposes only (Ian McDaniel). CLICK IMAGES TO ENLARGE THEM.
Twenty Lake, Glimcher plan development
Two Connecticut development firms have returned to their state's Western Reserve with the goal of redeveloping the landmark Greyhound bus station in downtown Cleveland. While their plans are still early on, a basic concept for the plan appears to be taking form and the developers are reaching out to City Hall and Playhouse Square Foundation officials to get their input on that vision that could include a repurposed station and an apartment tower.
That vision reportedly includes repurposing the bus station with a jazz bar, supper club and/or education space plus amenities for the proposed apartment building. Several sources who spoke to NEOtrans on the condition of anonymity said the apartment building would likely be a significant structure, possibly a tower with a parking structure next door for the tower and the repurposed station's new uses. Unidentified national retail chains also are being courted for the development site, sources said.
The Connecticut developers, Twenty Lake Holdings LLC of Stamford and Glimcher Capital Group of Westport, have joined forces to pursue what appears to be an historic preservation and adaptive reuse of the 75-year-old bus station which was added in 1999 to the National Register of Historic Places. The 36,580-square-foot station, located at 1465 Chester Ave., was designed in the Art Deco variant Streamline Moderne style of which Cleveland has few examples.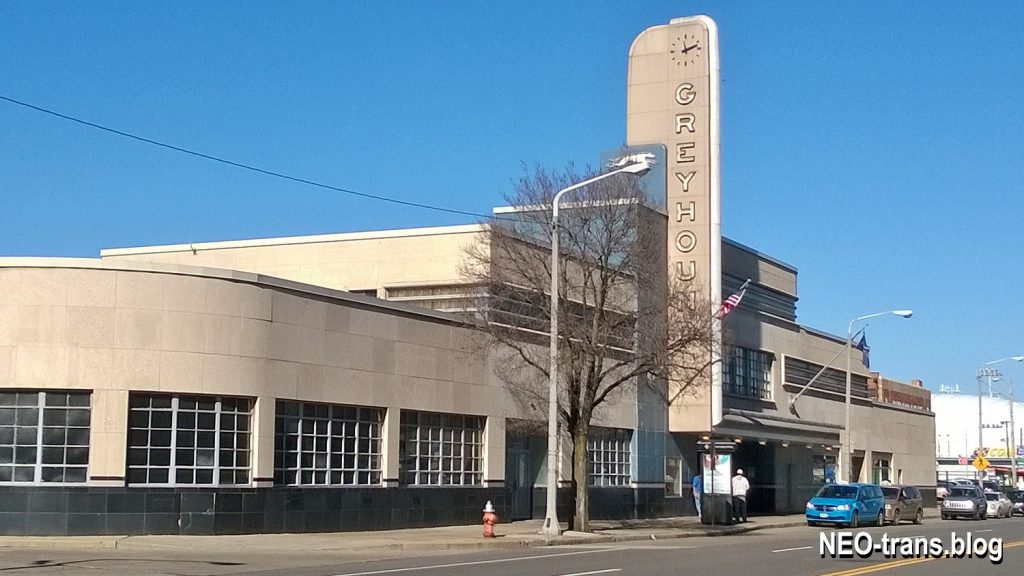 Cleveland's 75-year-old Greyhound bus station is a locally unique example of the Art Deco variant Streamline Moderne style. While it's possible that the bus passenger shelters around the back and sides of the station may be removed, the rest of the station would be left intact and renovated for new uses, possibly as an entertainment venue and/or as an amenity for a new residential tower (KJP).
Twenty Lake acquired the Greyhound station earlier this year along with 31 other Greyhound stations nationwide from United Kingdom-based FirstGroup PLC for $140 million. The Cleveland station and 2.25 acres of surrounding properties sold for $1.72 million to Twenty Lake affiliate GH Cleveland OH, LLC, Cuyahoga County records show. The sources said Glimcher was hired as a fee developer, which means its role is limited to developing a site and will have no ownership stake or interest in the real estate.
A Twenty Lake spokesman who asked not to be named said the bus company has a "flexible lease" that allows it to leave at any time. Alternative sites for a Greyhound stop are being considered but an earlier plan by Greyhound to relocate to the Triskett Rapid Transit Station on the city's West Side has received pushback from city of Cleveland and Cuyahoga County officials. They considered the site as not centrally located and lacking in traveler amenities like a comfortable waiting area, restrooms and food.
The Twenty Lake spokesman declined to comment on his company's plans saying it was too early on in the process but he acknowledged they are seeking community input. A city Landmarks Commission source who declined to be identified was aware of the plans and had met with developers about them. An e-mail sent by NEOtrans to Glimcher Capital Group seeking confirmation about its involvement and more information about the project was opened by them but not responded to prior to publication of this article.
Paul Shaia, vice president of Victory Properties Inc. which owns parking lots near the Greyhound station, said he was interested in being involved in the project after being contacted by Twenty Lake representatives in July but has not heard from them since. Victory Properties owns 1 acre of land divided among several parcels on Chester and Payne avenues. A half-acre parcel on Payne may be integral to the Greyhound redevelopment as it could be used to provide access to the site from both Payne and Walnut Avenue which currently dead-ends into Victory's land.
Cindi Szymanski, Playhouse Square Foundation's senior manager of brand marketing and communications, said it was appropriate to refer to a recent media report that the foundation welcomed seeing the Greyhound station redeveloped as an entertainment venue, such as a jazz club, supper club and/or education space. Playhouse Square Foundation has a small property next door at 1431 Chester on which a one-story building stood until the foundation razed it two years ago. In it, the Chester Avenue Deli and Dr. Spritz/Platinum Hands hair salon did business. The foundation reportedly has no plans to buy the station but it would like to see the area developed.
"We are exploring ways to make the north side of our campus more welcoming," Szymanski told NEOtrans.
In addition to repurposing the bus terminal, a residential building is proposed to be built next to the station, possibly immediately north of it with a parking structure added to serve residents as well as visitors to the station's new uses. The sources who have seen the preliminary plans said a residential tower was among the options being considered by the developers and that it would likely offer a mix of market-rate and affordable apartments.
While there have been rumors that a tower as big as the 34-story, 396-foot-tall Lumen is planned, others said it would not be so large given current high construction costs and a tight lending environment nationwide. The downtown residential market has proven resilient. Despite the pandemic and rents as high as $3.50 per square foot, the Lumen leased out in about 18 months. The site is zoned for general retail which also allows residential. The height district for the site permits a building as tall as 600 feet, according to the City Planning Commission's GIS web portal.
Redeveloping the Greyhound station and nearby properties would fill in a void of real estate investment activity in this part of downtown. While mid- and high-rise buildings tower to the west and south of the site, Cleveland State University is implementing its campus development masterplan to the east of the Greyhound station. To the north, the Superior Arts District is seeing continued redevelopment activity as well.
END