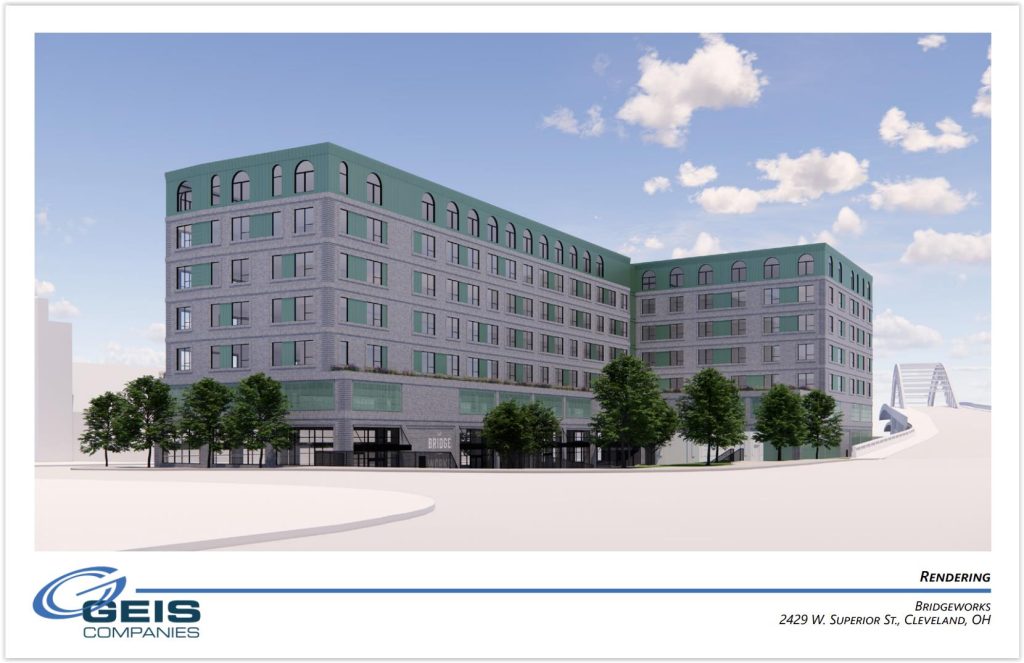 Gone is the 16-story high rise and separate parking garage design concept proposed for the Bridgeworks development at the west end of the Detroit-Superior Bridge in Cleveland's Ohio City neighborhood. It is replaced by a seven-story building that incorporates more apartments, the same number of hotel rooms as previously planned, and more parking spaces within a single seven-story building (GLSD). CLICK IMAGES TO ENLARGE THEM.
Ohio City project reshaped by lending market
In Cleveland's Ohio City neighborhood, and in the face of financial headwinds affecting projects nationwide, the long-planned Bridgeworks development underwent a major redesign that would cut costs and add more space by filling land, not the sky. Gone is a 16-story building and separate parking garage, replaced by a single, seven-story building that incorporates parking within a structure that fills out more of the 2.13-acre site at the west end of the Detroit-Superior Bridge. The revised plans will be reviewed by the city's design-review boards in the coming weeks. Financing from the city, Cuyahoga County and Cleveland-Cuyahoga County Port Authority was arranged last spring.
Developers M. Panizica Development and Grammar Properties, both of Cleveland, had to "value-engineer" the $108-million-plus, 289,429-square-foot development when project costs increased, especially with higher interest rates and the high cost of materials. After a construction lender reportedly pulled out, the developers, organized as a partnership called Bridgeworks LLC, were forced to reduce the construction cost of the project by reducing its 162-foot height to just 85 feet, or seven floors.
So instead of a costly concrete and steel superstructure set atop a thick concrete mat foundation, the concrete and steel will be limited to the first two floors with a lighter, cheaper wood-built structure above. A new, official cost estimate for the revised development was not provided but may fall in the $70 million to $80 million range based on other recent projects in Greater Cleveland that used the same approach of stick-built atop a concrete podium.
That would reduce the scale of the building, to rise at 2429 W. Superior Viaduct, by only 2,458 square feet, to 286,971 square feet while reducing construction costs by an even greater proportion. The only major reduction of space in the project came from eliminating 12,000 square feet of office space. The number of hotel rooms for a new-to-Cleveland Motto By Hilton remains unchanged at 132 keys. A restaurant with a view also stayed in the project. A 4,374-square-foot restaurant with a 2,553-square-foot kitchen will be on the seventh floor. There is also a 3,378-square-foot rooftop terrace and two seventh-floor tenant amenity areas; one measures 1,796 square feet and the other 1,523 square feet.
The number of proposed apartments grew from 140 apartments to 145 — four efficiencies, 98 one-bedrooms and 43 two-bedroom units. Roughly half of the apartments will be priced as more affordable "workforce" units. A separate 210-space parking garage will instead be incorporated into the building's first and second levels. By doing so and including seven on-street parking spaces along Superior Viaduct, the number of parking spaces grew to 220. Proposed plans show 81 parking spaces on the first level and 132 on the second level.
In addition to a hotel and resident lobby on the ground floor, 9,435 square feet of retail, a 1,121-square-foot coffee bar are proposed. Also featured is an 11,000-square-foot outdoor patio at the corner of West 25th Street and Detroit-Superior. The plans accommodate vehicular and pedestrian access to the Detroit-Superior Bridge's former streetcar subway deck, dubbed "The Under Bridge." That space has been used as a site to host Ingenuity Fest and other public gatherings celebrating arts and culture. County officials suggested it could be used as a protected pedestrian-bike route across the Cuyahoga Valley.
Those weren't the only changes. The development team also was changed. General contractor Turner Construction Co. with an office in Cleveland and project designer LDA architects, Inc., based in Cleveland, were both ousted in favor of Geis Companies. The Cleveland- and Streetsboro-based firm offers general contracting, design and property maintenance services. Geis recently took over design-build-management services for Stokes West in University Circle. It was another development project that was facing financing headwinds and had to be redesigned to reduce its construction and operating costs. Site preparation for that project is underway.
Michael Panzica, a leader of the Bridgeworks development team, did not respond to a text message late Friday afternoon seeking comment on the redesign. He said last April that his partnership had hoped to start demolition of the vacated former Cuyahoga County Engineers' laboratory and garage on the site in June with construction to start on the high rise soon thereafter. Cost of razing, clearing and cleaning the property are estimated at $320,000, according to an Aug. 4 demolition permit application. Of that, $223,500 is to be funded by a Ohio Brownfield Remediation Program in 2022 and which must be used in a timely manner or be returned to the Ohio Department of Development.
A source familiar with the project who spoke with NEOtrans anonymously said the development team could not make the financial numbers work with Bridgeworks designed as a high rise so they went with Geis and a new design instead to get the project moving forward. Another member of the development team said "The evolved design accounts for all easements" that exist on the site.
Developments locally and nationwide are facing a financial crunch when it comes to lending for new real estate projects. Large banks are focusing resources mostly on "reshoring" manufacturing projects, according to Andrew Coleman, managing director and market leader for real estate brokerage CBRE's Cleveland and Akron offices. Instead, smaller, more regional banks are backing residential and mixed-use real estate developments but cannot afford to support larger projects, he said.
Brent Sobczak. president of Columbus-based developer CASTO Communities, said his firm had to put on hold a large development in Columbus. His firm is developing the Downtown Lakewood project in west suburban Cleveland. That project is being broken up into smaller, less expensive phases to reduce individual loan requests to below $50 million. He said the national lending market is changing quickly and feared it could get worse before it gets better. But he felt the multi-family residential market remains strong in Greater Cleveland. So while developing projects is difficult, "they're not impossible," he said.
"This has been happening to a lot of deals," said a member of the Bridgeworks financing team who agreed to speak to NEOtrans on the condition of anonymity. "Construction interest rates are really high right now and I have seen a lot of deals without LIHTC (Low-Income Housing Tax Credits) having an issue either securing construction lending or having a construction lender pull out."
He said that happened with Bridgeworks. An entity that was involved in both the project's construction and permanent financing pulled out of the construction financing side, he said. So while the financing has been a challenge, he said he wouldn't consider what happened to Bridgeworks as a budget shortfall since the project's permanent debt is in place. The port authority in April authorized the issuance and sale of $80 million in taxable Lease Revenue Bonds plus $4.13 million of taxable Bond Fund Tax Increment Financing Bonds for Bridgeworks. Also in April, Cuyahoga County Council awarded Bridgeworks a $2 million Place-Based/Mixed-Use Economic Development Loan.
"We do have the permanent debt figured out," the source said. "We just cant execute without the construction financing in place. So the deal is still alive and we are working to re-secure the construction loan."
END