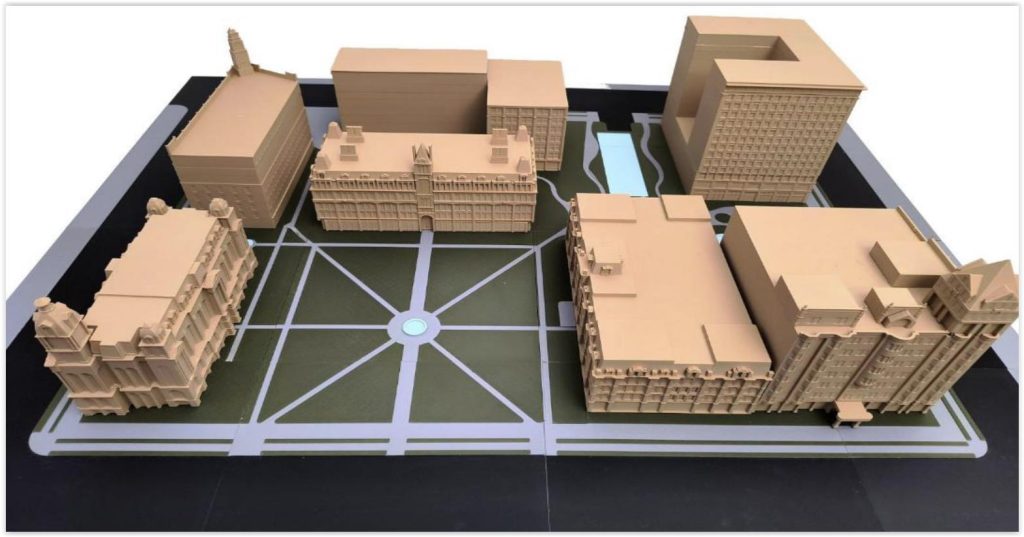 An intriguing proposal for the new Cuyahoga County Courthouse was submitted by DBL Development LLC, a partnership of local companies seeking to locate the court facilities in multiple structures that would replicate historic buildings from downtown Cleveland's past (DMD). CLICK IMAGES TO ENLARGE THEM.
Old Sherwin HQ, Centennial, new-build proposed
While the specific proposals for a new or renovated Cuyahoga County courthouse haven't been publicly released yet by the county, a list of who submitted the proposals was provided to NEOtrans as a result of a public records request. And the list of seven respondents provides some insight as to who has presented what for the county's nearly 900,000-square-foot courthouse facility that could cost $400 million to $700 million to build or renovate.
The seven respondents are: DBL Development LLC, DMD Development Group, HH Cleveland Huntington LP, Lincoln Property Company Commercial LLC (dba Lincoln Property Company), Sapphire Acquisitions LLC, Twenty-One Six Development LLC and U.S. Realty Advisors. Each of the respondents and some of their proposals are described in greater detail in this article.
NEOtrans broke the story last month that both the old Sherwin-Williams headquarters, called the Landmark Building, 101 W. Prospect Ave., and the former Huntington-Union Trust Bank Building, 925 Euclid Ave., were among those to be submitted. NEOtrans also reported that Bedrock Real Estate, which owns the Landmark Building under the name Sapphire Acquisitions LLC, also considered a new-build courthouse just east of the Carl B. Stokes Federal Courthouse tower on Huron Road.
Since then, however, NEOtrans has learned that Bedrock preferred to fill an existing large building rather than add another one and have to fill two. Bedrock had hoped to redevelop the Landmark Building with residential, according to sources who spoke on the condition of anonymity. Sherwin Williams intends to vacate the 93-year-old, 900,000-square-foot Landmark Building for its new, 36-story, 616-foot-tall office tower west of Public Square at the end of 2024.
By contrast, 925 Euclid, owned by an affiliate of the Millennia Companies, has put its planned mixed-use Centennial redevelopment on hold while it pursues the courthouse. The 99-year-old, 1.4-million-square-foot building, owned by Millennia affiliate HH Cleveland Huntington LP, is empty and has had some limited site preparation and interior demolition work already done. Its Centennial plan includes 600 apartments, 170 hotel rooms, plus retail, restaurants and a museum. Millennia had hoped to start renovations for Centennial by the end of this year but a tight lending market and financial constraints at Millennia have at least paused the project.
But having a sufficiently large, already vacant building available now does not necessarily give 925 Euclid an advantage. Given the courthouse project timeline, no court facilities are due to be relocated for at least a year anyway. While there is no deadline on when a decision would be made, planning and design work on a new or renovated courthouse would still take at least a year. The deadline for submitting proposals to the county was Oct. 26. The request for proposals (RFP) was issued in July with the assistance of real estate brokerage CBRE. Another part of the RFP is to sell and/or leaseback the 46-year-old Justice Center property as well as the nearby 105-year-old Courthouse Square, 310 Lakeside Ave.
"No timeline given yet," said Kelly Woodard, director of communications for Cuyahoga County, in an e-mail to NEOtrans today, regarding when proposals will be publicly released. "The proposals are now in the review phase."
DBL Development is reportedly interested in redeveloping only the 7-acre Justice Center site, sources said, once the jails are moved to Garfield Heights and the police headquarters goes to the ArtCraft Building. One of the options of the Courthouse RFP is to acquire only the Justice Center and not to preserve any of its uses including the 26-story courthouse tower. DBL's interest reportedly centers around introducing mixed uses that could include a follow-on project of expanding the convention center on to at least a portion of a cleared Justice Center site.
DBL's official contact person is Rico Pietro, a principal at real estate brokerage Cushman and Wakefield, according to an attendance sheet NEOtrans secured for a Courthouse Consolidation RFP briefing meeting held Aug. 7 at the Justice Center. An e-mail sent by NEOtrans to Pietro was opened but he otherwise did not respond prior to publication of this article. But sources said DBL also includes Ari Maron of Cleveland-based MRN Ltd. and Erik Loomis, president of Cleveland-based construction firm Loomis Companies.
Twenty-One Six Development is led by Beachwood-based TurnDev which is redeveloping the ArtCraft Building for the police headquarters and is actively pursuing other projects around town. Sources said their proposal is at least one of two that involves a new-construction courthouse facility. Their site involves properties between West 3rd and West 9th streets, north of the Shoreway and south of the railroad tracks, including a parking lot derisively known as "The Pit." Those properties are owned by the Kassouf and Coyne families. In an e-mail to NEOtrans, Jon Pinney, managing partners of TurnDev and law firm Korman Jackson & Krantz, confirmed the rumors but couldn't say much more.
"Per the RFP, I can't share any details other than what the county released," Pinney told NEOtrans.
DMD is Tony DiBenedetto of North Olmsted-based DiBenedetto Real Estate Group, historic preservation consultant Steve McQuillin of Westlake, and Walid Dardir, owner of Westlake-based Space Real Estate Inc. Their group also includes partners A.M. Higley Co., a well-known Cleveland construction manager, Cleveland-based investment firm Brown Gibbons Lang & Company, and excavating contractor Sitetech, Inc. based in Grafton, said McQuillin who shared their proposal with NEOtrans. Their plan is to demolish the existing Justice Center complex and repopulate it with replicas of famous, architecturally significant buildings from downtown's past.
"Cleveland's special history would be celebrated in a series of connected buildings whose facades would be faced with elevations from lost landmarks such as the 1874 Cuyahoga County Courthouse, the 1875 Cleveland City Hall, the 1883 Blackstone Building, 1890 Hickox Block, 1893 Cuyahoga Building, 1903 Columbia Building and 1910 Engineers Building. The famed 1884 Hollenden Hotel main block would be reconstructed once the courts tower is removed," DMD's proposal noted.
"We've had great feedback from whomever we've shown it (the proposal) to and had some favorable dialog with CBRE, plus Walid (Dardir) showed it to a county council member and they were enthusiastic," McQuillin said. "I know we may not meet all of the criteria for selection by CBRE, but we gave it our best effort, plus, for a project like ours, proposing the existing site, many of the requirements seem less relevant."
Nothing is publicly known about last two respondents' proposals. Lincoln Property Company Commercial LLC, doing business as Lincoln Property Company, is based in Dallas but its proposal was submitted by its regional headquarters in Chicago. Lincoln is one of the largest private real estate firms in the U.S. It has offices in 35 cities across the country and overseas but none in Ohio, according to its Web site.
U.S. Realty Advisors is another large real estate firm and based in New York City. It focuses on sale-leaseback and build-to-suit transactions in the U.S. It typically deals with large, single-tenant deals, suggesting a new-construction courthouse building which it would likely lease back to Cuyahoga County. That's similar to how Cuyahoga County funded its administration building on East 9th Street.
Rather than pay a huge sum of money up front, the county paid $25 million up front to Geis Companies of Cleveland and Streetsboro which paid the rest of the $80 million construction cost for the eight-story administration building. The county is reimbursing Geis by making escalating, annual lease payments over 27 years, starting at $6 million. At the end of the lease, the county has an option to buy the building for $1. The county also sold to Geis the neighboring, former Ameritrust headquarters skyscraper and six adjacent buildings for $27 million.
"This is a truly unique opportunity for an interested party to either develop the Consolidated County Courthouse, or redevelop the current location at the Justice Center complex in downtown Cleveland," said Andrew Coleman, CBRE's managing director in Cleveland, in a written statement. "Cuyahoga County is also presenting the opportunity to purchase and redevelop the Courthouse Square building. These historic locations are iconic to the city of Cleveland and both the county and our CBRE team are excited to see what proposals are given."
County Public Works officials have asked the County Council to extend an existing 0.25-percent sales tax for 40 years to finance a bond issue to pay for a new jail and courthouse. The combined price tag of those facilities is estimated to total $1.2 billion to $1.4 billion. County officials said they can keep the cost of the jail at $750 million if a decision to proceed is made soon. A new jail is the county's highest-priority big project due to inhumane conditions at the existing jail. But the range of costs is based on what the county expects from the responses to the courthouse RFP.
END