TurnDev plans 2nd big west-side project
Less than a year after acquiring the Premium Metals property, 5901-6001 Breakwater Ave., in Cleveland's Gordon Square neighborhood, Beachwood-based developer TurnDev has released conceptual plans for developing the site with a mix of multifamily apartments and townhomes. Tentatively called Breakwater Residences, its 193 housing units and a long, five-story building represent a significant project but not as large as what was previously proposed for the site by another developer. And it's less dense than what the city's zoning code allows.
It's also the second large multifamily development plan announced in a month for Cleveland's near-West Side by TurnDev. In late-September, TurnDev revealed it is planning to build 212 apartments on a nearly 2-acre site at 2828 Clinton Ave. in Ohio City's Hingetown section. That project, called 2828 Clinton and located at the former site of the Cleveland Vibrator Co., is moving through the City Planning Commission's design-review process.
Like Cleveland Vibrator, which relocated to Hinckley Industrial Parkway on the city's south side, Premium Metals and its 50-plus employees will also be on the move but it hasn't announced where, yet. Officials at the 33-year-old distribution company officials said they want to remain in the city. Plans show Premium Metals' 100,000-square-foot plant, which they are now leasing from TurnDev, will be demolished. Previously, TurnDev officials said they hoped to retain one of the brick structures facing the street. Instead, one of the building's facades will be designed like it.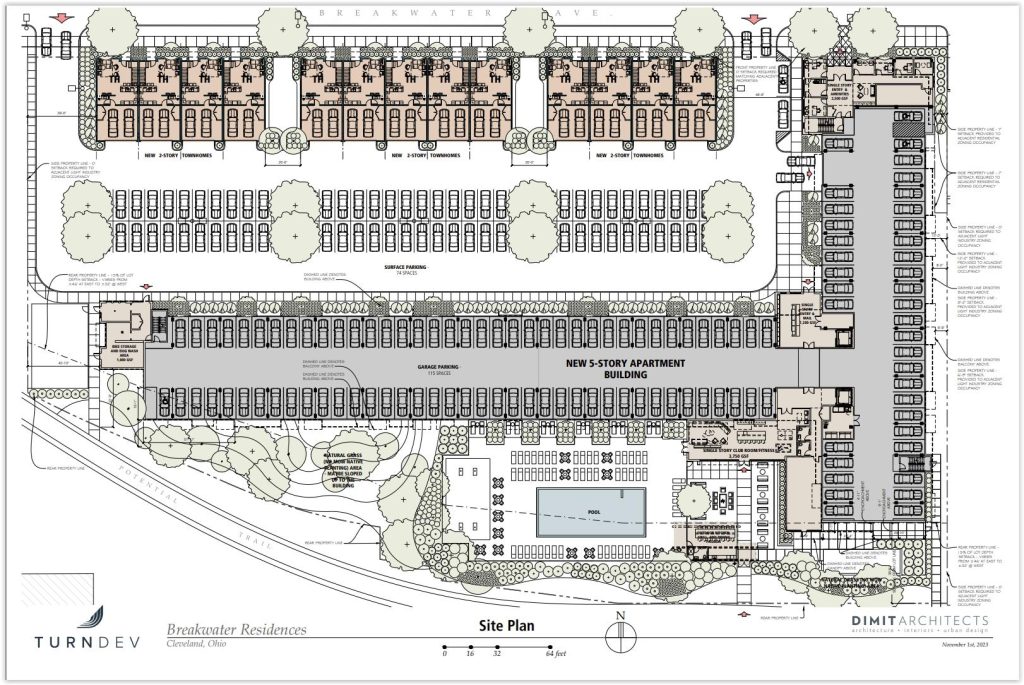 Site plan and ground-floor uses proposed for Breakwater Residences show the parking-heavy ground-floor in the apartment building and townhomes, not to mention the surface lot. The surrounding area is almost entirely residential although the Detroit Avenue commercial district with shops and restaurants is two blocks south of here (Dimit).
Other industrial sites in this neighborhood, located just south of Edgewater Park and Lake Erie, have been converted to housing, including the Edison at Gordon Square across Breakwater on a site that used to be part of the Westinghouse plant. Remaining portions of the Westinghouse plant are proposed to repurposed into a mixed-use residential, hotel and retail property with plans introduced to the city this week.
Breakwater Residences is about to start its design-review journey at this week's planning commission meeting. It is proposed to have 13 townhomes and 180 apartments, with a proposed mix of eight studios, 132 one-bed/one-bath units, and 40 two-bed/two-bath suites. For the apartments, 189 parking spaces are planned with 115 indoor stalls on the first-floor of the sideways T-shaped building and another 74 spaces outdoor spaces in a surface parking lot. Each of the townhomes are designed with two garage spaces on the ground floor, plans show.
The apartment building and townhomes are planned to measure 244,845 square feet. According to the project's designer, Dimit Architects of Lakewood, the zoning code allows the site's two parcels, totaling 3.4 acres, to accommodate buildings totaling 435,447 square feet. The apartment building with garage would measure 212,115 square feet. Each townhome with garage is proposed to measure 2,515 square feet, or 32,695 square feet total for all 13 townhomes.
In 2017, Cleveland-based NRP Group completed the 306-unit Edison at Gordon Square Apartments on the north side of Breakwater. It began looking for a follow-on project when the market-rate housing leased out in less than a year. So it proposed 318 apartments and a multi-level parking garage on the south side of Breakwater where TurnDev now plans to build. NRP chose to instead pursue The Peninsula, now under construction on Scranton Peninsula in the Flats. To help free up capital for that project, NRP earlier this year sold The Edison to Columbus-based Coastal Ridge — one of the largest apartment property owners in the country.
The Premium Metals site was bigger when NRP considered developing it with housing. But Krueger Group acquired a piece of it at the corner of Breakwater and West 58th Street for Breakwater Lofts, a four-story, 26-unit apartment building that opened last month. According to Bobby Krueger, owner and president of the Cleveland-based development firm, its market-rate apartment are quickly leasing. More than one-third of the units were leased before the building was completed.
Despite being only three years old, TurnDev is already making development waves thanks to being comprised of experienced real estate professionals. They include Nathan Wynveen, formerly of Hemingway Development, Jim Doyle of Bellwether Enterprises and Ned Huffman, Bellwether's founder, plus Cross Country Mortgage CEO Ron Leonhardt Jr. and Korman Jackson & Krantz Managing Partner Jon Pinney. NEOtrans is awaiting a reply to an e-mail sent to Pinney, who serves as TurnDev's spokesman, seeking comment on the development.
Despite strong demand, numerous multifamily developments in Cleveland and across the country are facing financial headwinds and having difficultly getting projects underway. Some projects are being put on hold, some are getting broken up into smaller, more affordable components, and others are being redesigned to incur lower construction and operating costs. But that hasn't stopped a parade of new projects from being proposed.
Perhaps TurnDev's most well-known development is its pending $90 million redevelopment of the ArtCraft Building, 2530 Superior Ave., into the city's new Division of Police headquarters. Renovation work on the 109-year-old building and construction of a four-level parking garage and storage building immediately south of the ArtCraft Building could start in 2024 and take about two years. TurnDev is also developing numerous other properties in the Superior Arts District just east of downtown.
END