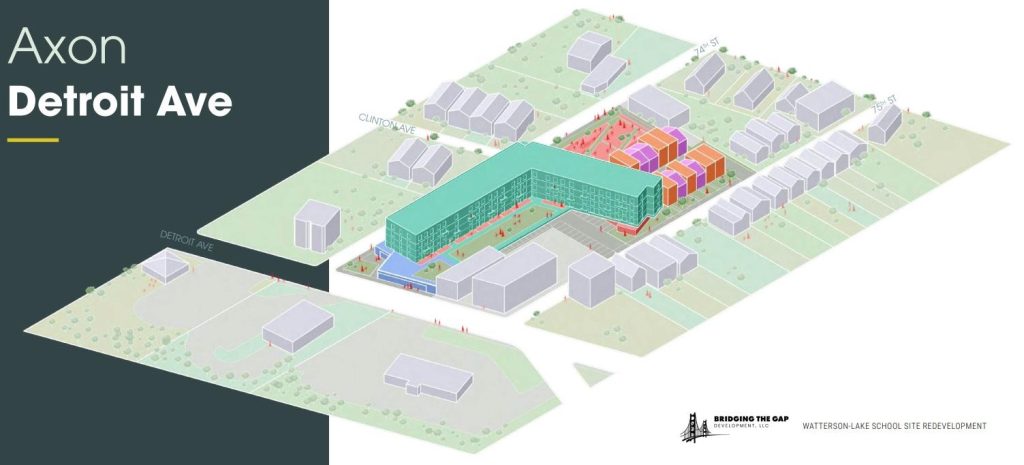 A simplified conceptual rendering of how a proposed mixed-use development could look on the former Watterson-Lake School site on Detroit Avenue between West 74th and 75th streets in the Detroit-Shoreway neighborhood. The graphics, called a massing were presented at a recent community meeting to gather input on how to refine the design. The term "axon" here refers a three-dimensional, axonometric view (Stantec). CLICK IMAGES TO ENLARGE THEM.
Affordable housing planned for Detroit-Shoreway
At a recent community input meeting, a basic concept was revealed for redeveloping the former Watterson-Lake School site on Detroit Avenue, between West 74th and 75th streets in Cleveland's Detroit-Shoreway neighborhood. The design concept, called a massing, suggested a mixed-use, mixed-income development offering 112 apartments in a five-story building set back from Detroit, 12 rental townhomes, retail and small business incubator spaces fronting Detroit, plus community and park spaces.
The development team's goal was to kick-start ideas on how to design the 2-acre site, still owned by the Cleveland Metropolitan School District, while meeting the city's goals that won the team the chance to develop it. The winning development team, as announced two months ago, is led by Bridging The Gap of Pittsburgh and includes Stantec Architecture of Cleveland plus Fass Real Estate Services of Shaker Heights. As a result of a city-led request for proposals, two applicants submitted proposals with the winning team chosen by a five-person committee representing different city departments. The development team said its goal is to have a project that's shovel-ready in about 15 months.
And if you missed the community meeting held Nov. 8 by Ward 15 Councilwoman Jenny Spencer at Father Morino Hall at Our Lady of Mt. Carmel Church, she and city planner Adam Davenport said there will be more opportunities to provide input. Plus, there's a project Web site that's part of the public involvement process to which Spencer directed $12,000 in Casino Revenue Funds to help sustain. She noted that this project can help address a serious shortage of quality, affordable housing in Cleveland.
"The city has a 10-year housing study that shows this massive deficit of affordable housing," Spencer said at the meeting. "I believe that we have a very healthy level of what's called market-rate development in our neighborhood. All the stuff that's north of Detroit, the new apartment buildings … these have rents of $3 per square foot. I think we have enough of that in our neighborhood. I don't think we need more buildings with those kinds of rents."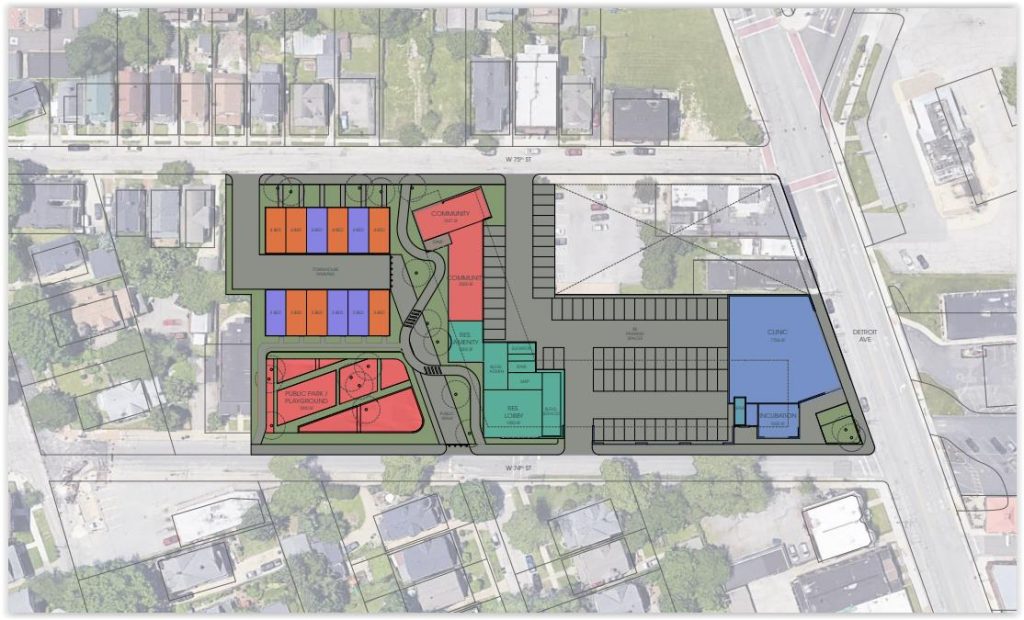 With Detroit Avenue to the north or right side of this ground-level site plan, the retail and incubator spaces (blue) proposed to front the property. Eighty enclosed parking spaces are planned with the apartment building's lobby and amenity spaces shown in green. Indoor and outdoor community spaces are shown in red on either side of a pedestrian street aligned as an extension of Clinton Avenue. Three- and four-bedroom townhomes are displayed in orange and purple (Stantec).
Instead, the Watterson-Lake redevelopment will be priced and marketed to residents whose incomes are within 30 to 80 percent of the area's median income (AMI). The AMI in Greater Cleveland is $31,650 for a one-person household or $36,200 for two people, said Derrick Tillman, chief executive officer of Bridging The Gap. He said the average income for the whole development including the townhomes will be about 60 percent AMI.
His company is seeking 4 percent Low Income Housing Tax Credits (LIHTC) that are non-competitive, which means if you apply for them, you will likely receive them. But there could also be some market-rate apartments as well as a limited number of units accepting some housing vouchers that could depend on a joint development agreement being reached with the Cuyahoga Metropolitan Housing Authority (CMHA). Tillman noted that, in a housing development financed by LIHTC, as many as one out of four apartments are eligible for housing vouchers unless a waiver is granted to include more housing units.
"Our mission is to simply bridge gaps of opportunity and also to bridge gaps in development," Tillman said. "When we say bridging gaps of opportunity, (we) really focus on creating opportunities for minorities, for women as well as the local residents in the community that we're serving. In bridging gaps in development, which is focused on bringing catalytic, transformative development projects like this to different communities, both communities that are thriving and communities that are also in transition."
Stantec architect Cassidy Rush said the five-story mixed-use building is proposed to have its first level allocated to 80 parking spaces, apartment amenities, retail and community support programs. A pedestrian-oriented extension of Clinton Avenue would be extended through the site with a dozen townhomes along it plus a public park and playground to the south of it along West 74th. The site was cleared of the historic 1906-built Watterson School building in 2015 and its adjacent, modern 1969-built Watterson-Lake successor, built on the site of the small Lake Elementary School, was demolished earlier this year.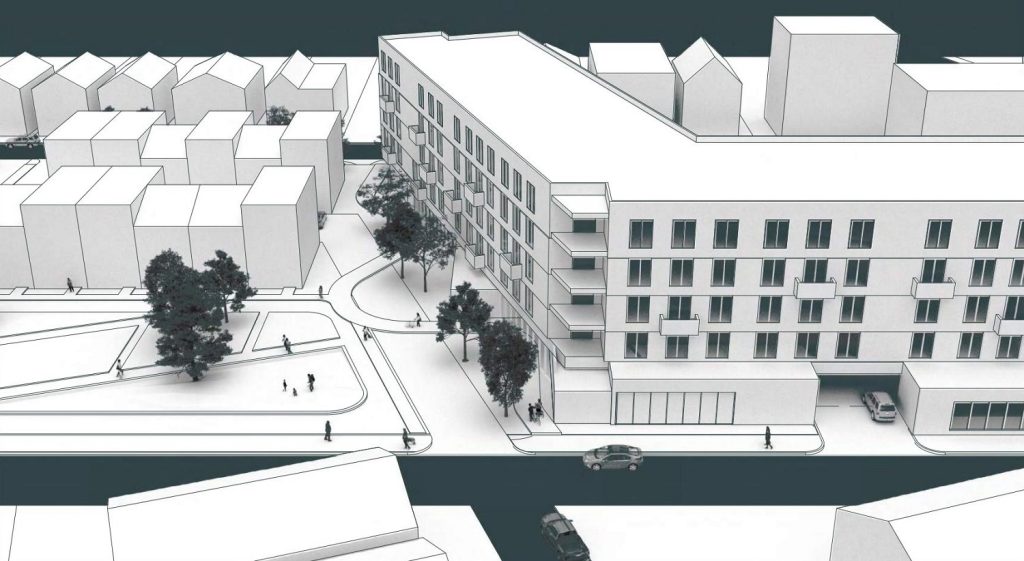 In looking westward at the development concept with West 74th Street, it shows how Clinton Avenue is proposed to be extended into the development site as a pedestrian-oriented street. A public park with a playground is shown at the left with 12 townhomes just beyond. An entrance to the 80-space parking garage below the apartment building is visible at right (Stantec).
Fronting Detroit would be an 8,000-square-foot retail space in a single-story building that has a notch in its footprint, similar to the notched footprint of the Watterson School that stood at this corner for 109 years. Within the notch would be a public greenspace and, on the West 74th side of the notch, a 1,000-square-foot incubation space for a small business could be offered. South of that, spaces offering community programming may be provided. That's where the development team would like more guidance on what to include and what kinds of retailers are desired.
"That's 8,000 square feet of retail tenant that is along Detroit Avenue which is in line with other retail businesses along that street," Rush said. "That's a one-story building so you're not going to see a huge mass dominating that street. As for the community space, we're open to what the community needs in those spaces whether it's meeting space or whether we need computers where people can sit and work at."
Residents at the community meeting inquired about a 112-unit apartment building having only 80 parking spaces. While some thought that was too few, others asked if the building would compensate for having a less than 1:1 parking-apartment ratio. In addition to providing bicycle parking, they asked if the property's managers would take advantage of the frequent bus service on Detroit Avenue with train stations at both ends of the neighborhood. Tillman confirmed the building will have bike parking and said he's looking at the potential for offering free or discounted transit passes to residents who don't use the building's parking spaces.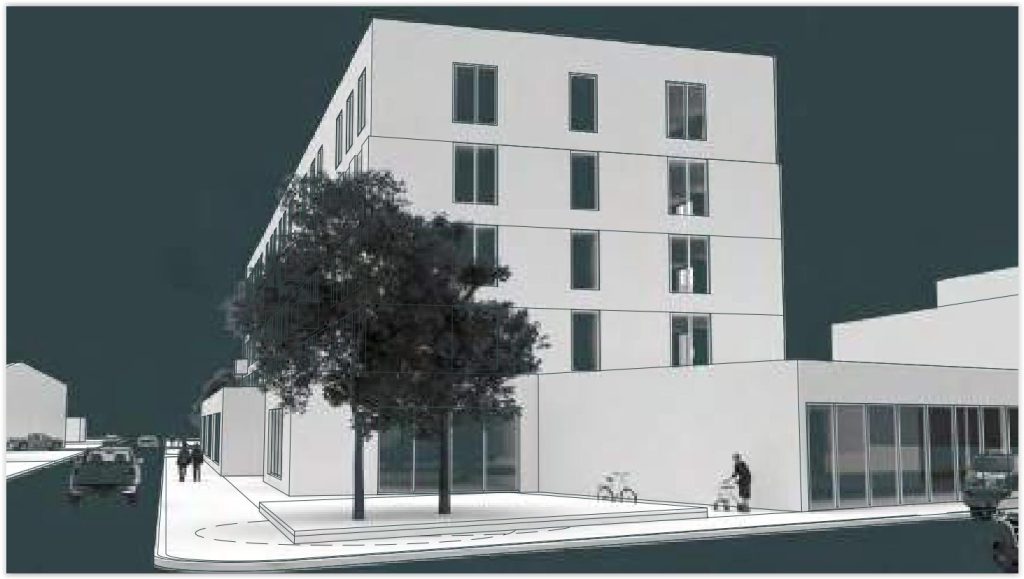 At the corner of Detroit Avenue and West 74th Street, the mixed-use building would be "notched" like the historic Watterson School that stood here until 2015. A single-level retail space is visible at right with a business incubator at left, below four stories of apartments (Stantec).
"This is certainly a transit oriented development (TOD)," he said. "As we recognize this location with other modes of transportation, that was something that was considered in addition to the fact that we really try to be responsive to the community's request as far as density and affordability. So in order to be able to make all of those work, it had to be some sort of trade off. But this is the perfect site to do that, being very transit oriented."
Under the city's new Transportation Demand Management program, buildings constructed along a commercial corridor like Detroit with frequent transit, parking requirements will be less, said Davenport. He added that if everything goes right, the new development could be completed in about three to four years. Other developments are planned in the neighborhood as well, including across Detroit at what's often called the Burger King site.
"What we found in Bridging the Gap's proposal was that they were the most creative and tried to meet as many elements in the request for proposal as possible," Davenport said. "So we were really excited about that. The city of Cleveland is committed to an open and transparent process. This is not the last meeting we're going to have about this site."
END