Geis/Landes, Lincoln, Oak View, Rock invited
Four finalists were invited by Cleveland State University (CSU) and its development arm Euclid Avenue Development Corp. (EADC) to submit proposals to build, at minimum, a new multi-purpose arena for the university. In addition, their proposals could also include a parking garage and mixed-use district of housing and shops that were proposed as part of its $650 million campus master plan unveiled last year. The arena, parking deck and mixed-use district were all proposed to rise along Payne Avenue, just west of Interstate 90 in downtown Cleveland.
In an e-mail to NEOtrans today, CSU's Executive Director of Communications Reena Arora-Sánchez said a competitive request for qualifications (RFQ) phase narrowed the number of interested firms for the request for proposals (RFP) phase. From that initial response, four firms were invited by EADC to submit a proposal for the project whose centerpiece would be an approximately 5,000-seat indoor arena:
Geis Companies and The Landes Group
Lincoln Property Company
Oak View Group
Rock Entertainment Group
"No firms are prioritized or favored," Arora-Sánchez said. "Each has been invited to submit a proposal in early December 2023, and developers with responsive proposals will be invited to an interview with EADC and CSU. Following those interviews, EADC and CSU will evaluate the proposals and present them to the CSU Board of Trustees to determine appropriate next steps. EADC and CSU are committed to a competitive process with a proactive and comprehensive contractor diversity and inclusion program."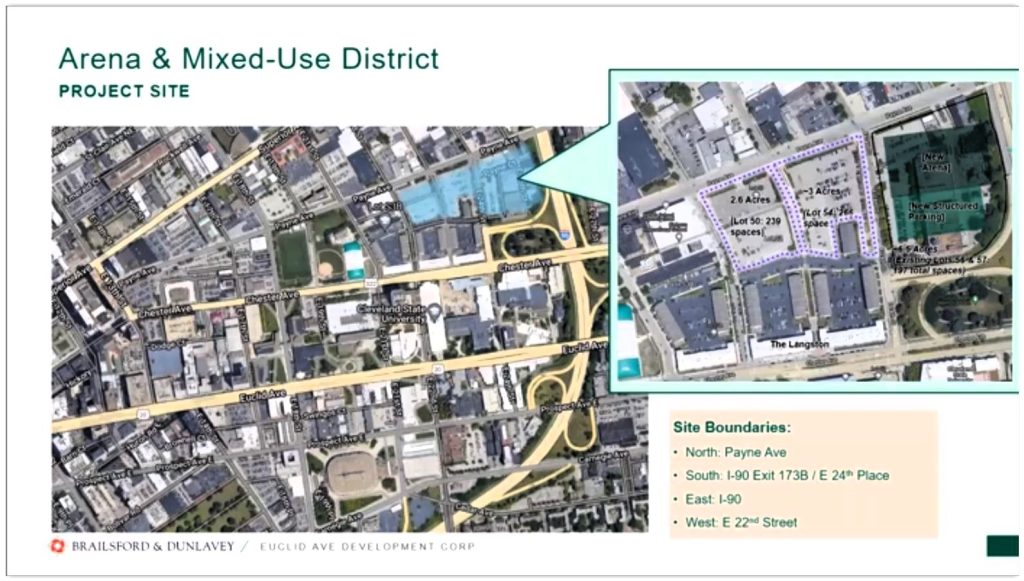 Two 5-acre areas can be included in the four firms' response to the university's request for proposals. But one use and one area must be included — the arena in the 5-acre area on the right, next to Interstate 90. That's where Cleveland State University's new arena and parking garage will be located. Respondents have the option of including the 5-acre area to the left which is a proposed mixed-use district (CSU).
Geis Companies of Cleveland and Streetsboro is the lone local applicant. It is a full-service real estate development group, from design, construction to property management. Its applicant partner is the Landes Group, based in Dallas, which specializes in debt and lease re-structures, sale-leaseback transactions and re-tenanting opportunities "that allow our investors to maximize their equity returns in real estate assets while maintaining long-term control," the company says in its LinkedIn profile.
Lincoln Property is another Dallas-based firm. it is one of the largest private real estate firms in the U.S., with offices in 35 cities across the country and overseas but none in Ohio, according to its Web site. Although Lincoln has been around for 58 years and is a large real estate firm, it has not been active, at least publicly, in the Cleveland market. But that changed several weeks ago when it threw its hat into the ring to compete for redeveloping Cuyahoga County's existing or new courthouse. Its courthouse proposal has not been publicly released. Now it is vying for a second public sector project in Cleveland.
Oak View is a relatively new company, formed in 2015 in Los Angeles to invest in, develop and manage sports and live entertainment industries. Their Web site says Oak View's mission is to be "a positive disruption to business" and considers the status quo to be its adversary. In addition to arenas, Oak View also has developed and/or managed convention facilities and civic centers.
The last name on the list is perhaps most well known to Clevelanders. Detroit-based Rock Entertainment is owned by Rock Ventures which is a Dan Gilbert-owned umbrella group for lots of companies. They include the Cleveland Cavaliers of the National Basketball Association, the NBA G League Cleveland Charge and the Cleveland Monsters of the American Hockey League. Rock Entertainment manages the Rocket Mortgage FieldHouse where the Cavs and Monsters play in downtown Cleveland, the Cleveland Clinic Courts where the Cavs practice in suburban Independence, and Legion Lair Lit, an esports center in Cleveland's Battery Park neighborhood.
"We will not know the full extent of the developers' proposals until they are submitted in December," Arora-Sánchez said. "However, the RFP clearly outlines that the scope must include an arena. The EADC is open to proposals that include a mixed-use development in addition to an arena, but if a developer submits a proposal that is just for a mixed-use project that does not include an arena, that proposal will not be considered."
CSU's potential development site totals 10 acres of land along the south side of Payne, from East 22nd Street to Interstate 90. The arena will be on Payne and overlook the highway, potentially with a multi-level parking garage immediately south of it on a 5-acre block. That site currently hosts the university's Plant Services, 1802 E. 25th St., its Plant Annex building and another structure that hosted the Cleveland Manufacturing Advocacy and Growth Network (MAGNET) until it relocated to Midtown last year. Both will be demolished. Two parking lots to the west, between East 22nd and 24th streets, also total 5 acres and is the proposed site of the mixed-use development.
"The exact mix of what would be included in that mixed-use district is to be determined," said Bill Mykins, vice president of Washington DC-based Brailsford & Dunlavey Inc., CSU's primary consultant on the arena project. "But it could include residential, commercial, other activities or uses. Residential doesn't necessarily have to mean student housing. So we're really looking to the market to help inform what are the best uses for that commercial district. The mixed-use district is included to help provide all the (financial) levers possible for our private partners."
In its campus master plan produced by Sasaki of Boston, CSU said its 32-year-old, 13,610-seat arena, the Wolstein Center, was too large for its needs. Instead, the Wolstein Center is proposed to be demolished and its 9.3-acre site redeveloped as the Partnership District. As proposed, the CSU Partnership District could be home to nearly 800,000 square feet of mixed-use development designed to drive economic development in the area and connect partners to the university.
END