According to several sources, a newly expanded Cleveland-Cliffs is actively looking for a new location for its headquarters. Similar to when NEOtrans was first to report 2 1/2 years ago of Sherwin-Williams (SHW) seeking a new HQ, Cliffs' search efforts are also in the early stages. Unlike Sherwin-Williams, Cliffs apparently hopes to move more quickly in its search.
NEOtrans reported in early October, 2020 that Cliffs could be looking for a new HQ after it acquired AK Steel and then Arcelor-Mittal USA. Those acquisitions, now completed, have greatly increased Cliffs' size and office employment headcount. Today, the firm has headquarters-scale offices in downtown Cleveland (Cliffs), downtown Chicago (former A-M USA), West Chester, OH (former AK) and a regional HQ in Hinckley, OH (former A-M USA). Something's gotta give.
The giving apparently isn't going to be done by Greater Cleveland. One reason why this HQ play is likely to be less dramatic and shorter in duration is because Cliffs isn't considering sites outside of Greater Cleveland. In fact, one source says Cliffs isn't even considering sites outside of downtown but another source contradicts that, saying Cleveland's suburbs are in play, too.
After NEOtrans' initial report in early October, 2020, we received leads to confirm our suspicions were true. They resulted in a follow-up article later that month which indicated staffing and space needs were being reviewed by Cliffs executives following their recent corporate acquisitions.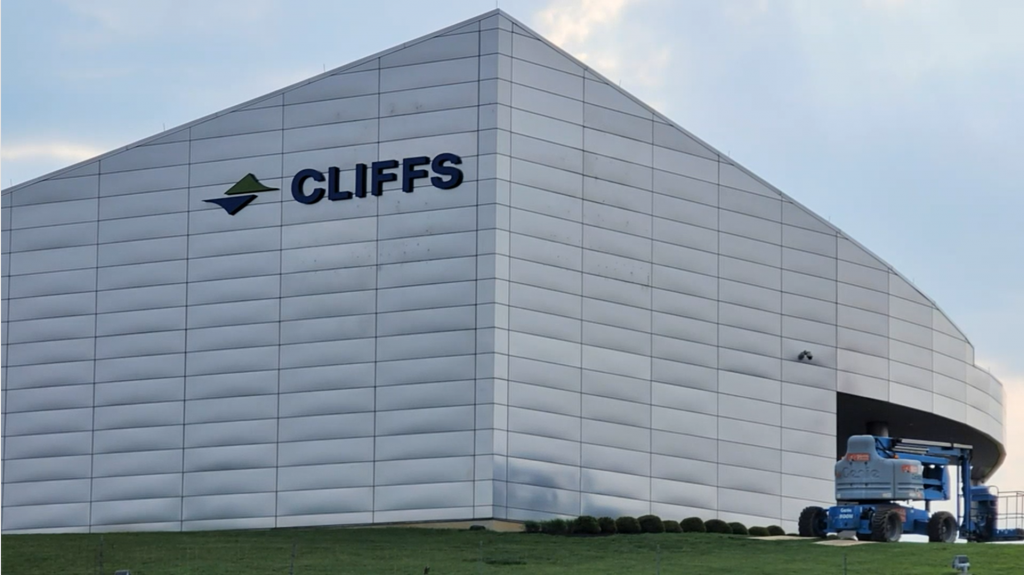 Cleveland-Cliffs' name is starting to appear on its newest acquisitions including this former AK Steel research facility in Middletown, Ohio. The changes haven't yet resulted in the relocation of office staffing for the simple reason that Cliffs' doesn't have the room for them in downtown Cleveland (Journal-News).
Patricia Persico, Cliffs' director of corporate communications, acknowledged receiving an e-mail from NEOtrans asking for confirmation and more information about the company's reported HQ search but she otherwise did not comment on it.
Cliffs made its recent steel manufacturing acquisitions to better position itself for upcoming opportunities that bode well for the company's growth. The leading opportunity is the increasing use of electric engines in vehicles. AK Steel was the only remaining U.S. manufacturer of electrical steels that form the cores of electric motors, transformers and generators.
Also, Cliffs bought its way into becoming the largest manufacturer of flat-rolled steel in the USA — steel that is used primarily in automotive markets. And in 2025, new government fuel economy standards will take effect, requiring the production of stronger, lighter steel in cars. That requires making steel from raw materials rather than from recycled steel — another area where Cliffs now has a significant market presence.
"This is going to lead to further multiple expansion, and the companies that acquired assets at the bottom of the cycle, specifically Cleveland-Cliffs, which almost unbelievably acquired AK Steel and ArcelorMittal's U.S. assets at almost the perfect time in 2020, before the ramp higher in steel prices, and U.S. Steel, are set to benefit the most," according to KCI Research Ltd. in a recent article in Seeking Alpha.
"We don't acquire to cut, we acquire to grow," said Cleveland-Cliffs CEO Lourenco Goncalves.
Those market and office space assessments were leading Cliffs to the realization that it could not stay at 200 Public Square, a 1.2-million-square-foot, 46-story tower. There, the firm occupies nearly 110,000 square feet of office space and might need to triple or even quadruple that space, including having provisions for future growth. At last report, there is only 207,000 square feet of office space available at 200 Public Square and it's scattered among 15 floors in 18 smaller pieces. The pandemic may have increased that amount, but not enough to cause Cliffs to want to stay.
It should be noted that Cliffs had more space in the former Sohio/BP America Tower until it downsized by half a decade ago. It then subleased the 31st and 32nd floors totaling 60,000 square feet to the Gottlieb Group, Northern Trust and AML RightSource. NEOtrans has learned that those firms will continue to occupy those spaces; Cliffs isn't taking them back.
NEOtrans is getting other leads about Cliffs' HQ efforts: namely that the process has turned from a space-needs assessment to a site search. And that site, wherever it is, reportedly will involve a significant new building, possibly shared with other firms that do business with Cliffs. That building may be nearly half the size of the 1-million-square-foot office tower SHW plans to start constructing this coming winter.
That's still a lot of office space and a ton of parking needs. No existing building-parking garage combo in downtown Cleveland or in the suburbs is big enough to accommodate it. Three downtown buildings that might aren't going to.
One is 55 Public Square that's going to be redeveloped mostly with housing. Ditto for 45 Erieview Plaza, an office building that's the subject of a purchase agreement and an innovative residential/co-working conversion. A third is the Landmark Office Towers — SHW's existing HQ that's already shedding office tenants in anticipation of its eventual redevelopment, likely to residential. The undeveloped plot at the corner of Ontario Street and Huron Road could be part of that residential conversion.
Another connection with SHW's HQ process is that Cliffs, through an unidentified broker, is reportedly looking at many of the same sites that the global coatings giant considered two years ago. There are some new ones too, since Cliffs' space needs aren't even half as large.
Here are some of the likely sites, presented alpabetically:
Bedrock Riverview – From here, Cliffs employees could watch their ships negotiate the twisty Cuyahoga River and the steel mills to which they are destined. But this is also a good location for pedestrian accessibility to restaurants, hotels and sports/entertainment. It's also easily accessible by car, bus or train, especially from the airport. Word is that Bedrock has something big planned here. But is Cliffs going to be a part of it?
East 9th-Bolivar – Although rumored to be a candidate for a residential tower, this high-profile site is reportedly open for any potential user to activate it, including a significant office user like Cliffs. The site is easily accessible and could loom large just beyond center field at Progressive Field.
East 9th-Lakefront – This is a new site that wasn't considered by SHW in its search two years ago. Haslam Sports Group is seeking an ambitious remake of the lakefront near First Energy Stadium including residential, offices, ground-floor retail/restaurants and public spaces. It is pursuing a similar sports spin-off effort in Columbus next to Crew Stadium. From this visible site, Cliffs employees can observe their ships ply the Great Lakes as they have done since the mid-1800s.
Flats East Bank – This site is as much a lakefront location as it is a riverside location. This would be inside the elevated Waterfront Line loop north of the Norfolk Southern (NS) tracks but south of the port's active facilities. The site is accessible by car via West 9th Street, by the Rapid or by foot via a possible pedestrian bridge over the NS tracks to the primary part of the Flats East Bank development, including its restaurants, hotel, offices, residential and parking.
nuCLEus – Since Stark Enterprises hasn't submitted final development plans for this elusive, mixed-use project, the conceptual vision calling for a single, 25-story office tower can be amended to add more office space to accommodate Cliffs' new HQ. But since Stark's anchor tenant, the law firm Benesch (also a 200 Public Square tenant), wants their name on the office building, a second building might have to be considered. Apparently Cliffs' wants their own name on their new home, too.
Warehouse District-Stark — Another Stark property, this time in the Warehouse District, may be a candidate for Cliffs' new HQ. With an address of 725 W. St. Clair Ave., the 2.33-acre parking crater at the southeast corner of West 9th Street was listed for sale until recently. County records show no transfers have been recorded, however. The site is large enough to allow for a large building to be constructed next to or above a parking garage with street-facing retail/restaurants.
Warehouse District-Rock — The buyers of the Rockefeller Building would like to develop the properties surrounding their historic office building which they intend to convert into mixed-use. The property fronting Superior Avenue, between The Rock and the Perry-Payne Building, could be an ideal candidate for a new office tower with a new parking deck behind it, along Frankfort Avenue.
Warehouse District-SHW — Wouldn't it be ironic if SHW's and Cliffs' HQs ended up next door to each other? That's a possibility considering that SHW intends to use only one-half of the land it purchased in the Superblock, bounded by Superior, St. Clair, West 3rd and West 6th. The rest of its 5.65-acre Superblock land will be made available to real estate developers. Side-by-side placement of the growing HQs for SHW and Cliffs would attract supportive businesses to the area including a high-end hotel, restaurants, coffee shops, stores and more housing.
Other downtown sites may be under consideration, too. But those are the locations most likely to be considered for a major, growing corporate end-user like Cleveland-Cliffs and possibly some of its business partners who may join it. It's an exciting time at this 174-year-old corporate citizen that appears to be getting its second wind.
END