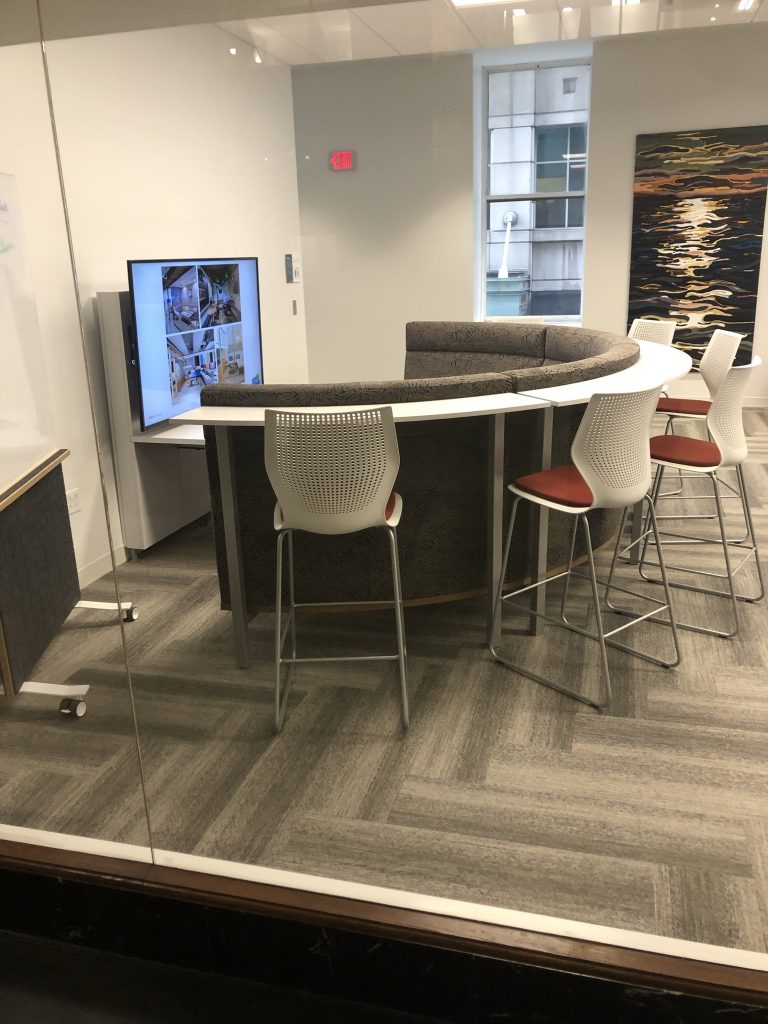 Bright, open and modern office spaces are what await Sherwin-Williams employees at their new headquarters tower west of Cleveland's Public Square. Features like this semi-circular video conference booth mix collaboration and tech-nology, a stark difference compared to SHW's antiquated, existing HQ (contributed photos).
CLICK IMAGES TO ENLARGE THEM
At last, we have more illustrations showing the preliminary designs of the new Sherwin-Williams (SHW) headquarters!
OK, they're photos of the proposed interiors rather than renderings of the exterior. But during employee tours of the interior mock-ups, HQ design team members confirmed the physical HQ descriptions NEOtrans has reported are accurate.
And considering that up to 3,500 Greater Clevelanders, plus many suppliers and customers will be seeing more of the HQ interiors than the exteriors, the design concepts are very important to attracting and retaining talent to SHW and Greater Cleveland.
So far, the early reviews from SHW employees who toured the new HQ mock-ups in the old SHW HQ indicate the design team is on the right track to shedding its stodgy, closed-office settings in its old building in the Tower City Center complex. SHW plans to invest at least $600 million in its new headquarters downtown and new research facility in suburban Brecksville. Sky-high materials costs may push that budget much higher.
"This (interior design) makes me want to stay at Sherwin-Williams and (it) shows me someone somewhere is noticing a culture change has to be made," said a 20-something-year-old employee who left a progressive company in a modern building to work for SHW. He preferred anonymity as he is not authorized to speak for the company. "Between this and the permanent only-in the-office three-days-a-week schedule, I'm sold."
"They (tour guides) said the new building will have floor-to-ceiling windows which I'm personally thrilled about," said another SHW employee who was among groups of about a half-dozen people taking guided tours every 30 minutes.
After employees tour the buildings, the HQ design team will send out surveys to employees at the HQ on Prospect Avenue. Also to taking tours of the mock-ups and the follow-on surveys will be employees relocating to the new HQ from the Breen Technology Center on Canal Road and the Warrensville Technology Center on Warrensville Center Road in Warrensville Heights.
SHW hired Pickard Chilton to be the lead architect for the HQ including the exteriors. Vocon Partners LLC was chosen to design the new HQ's interiors. HGA Architects and Engineers, LLC is the base building architect for the HQ.
According to HQ design team members who spoke to NEOtrans on the condition of anonymity, they will be working on the designing interiors for many more months. In fact, they expected to be refining the HQ's interior plans even after shovels hit the dirt for the new HQ west of Public Square in downtown Cleveland in late-2021.
The 3,500-employee capacity of the new building may not be reached for a few years, design team members said. That workforce figure depends on an 8 percent rate of corporate growth plus the relocations from Breen, Warrensville and its Chicago Metro District Office in suburban Schaumburg.
Some other interior design features of the new HQ:
Very modern, efficient and environmentally benign design of HQ is a goal;
Leadership in Energy and Environmental Design (LEED) certification of HQ to be sought from the U.S. Green Building Council;
High Efficiency Particulate Air (HEPA) filtration system to be provided;
Ultraviolet filter glass curtain wall windows;
The theme among floor uses are "Me and We" spaces;
10×12-foot offices, conference rooms and elevators/stairwell core will be near the center of each floor;
Workstations around the exteriors of each floor will be for individual contributors;
Every HQ employee will have a desk regardless of their work schedule;
Extra workstations will be provided for visiting employees from the new Brecksville research center, for field employees and workers from other sites;
There will be "huddle rooms" and "call rooms;"
A small café will be on each floor;
A larger gym for employees;
Furniture hasn't been decided but the winning vendor must use SHW coatings.
During the employee tours, the guides also described the new HQ's exterior design features. Many of those features were previously reported by NEOtrans.
During the tours, the guides confirmed the building will exceed 30 stories but wouldn't give an exact number as the height hasn't been finalized. NEOtrans has learned from design team sources that the number of floors will probably be near or reach 40.
In our most recent SHW HQ article, NEOtrans reported that the latest design of the HQ has an angled roofline that tops at or near 600 feet above the street. That would make the SHW HQ tower Cleveland's fourth-tallest.
Most of the HQ tower will have square floorplates, as NEOtrans has reported that this will be a boxy (aside from the roofline) tower instead of curved or angular. An outdoor terrace cut into the lower midsection of the building overlooking Public Square is proposed to break up the façade and offer an amenity space for employees and corporate events. Lighted SHW logos will be atop the tower.
The building fronting Public Square will be three stories tall and serve as the welcoming facility to SHW, complete with a Center of Excellence relocated from the old HQ to provide historical and corporate progress exhibits to new recruits and VIPs. Also, this welcoming facility will serve as SHW's training center with meeting facilities and a rooftop amenity space for employees.
The HQ tower will be connected by elevated walkways to the Center of Excellence/training center on Public Square (over West 3rd) and to the parking garage (over Frankfort Avenue). City Planning Commission staff reportedly pushed back on the walkways but SHW has been adamant about them.
A liner building along the West 3rd side of the parking garage will be built to comply with the city's building code. The liner must hide the parking deck along its entire street frontage with at least 70 percent of that building comprised of active uses such as retailers, restaurants and/or other spaces.
Since the 1970s, SHW has grown steadily. Back then, it shared the 1930-built, 900,000-square-foot Landmark Office Buildings on Prospect with the headquarters of Erie-Lackawanna Railroad, Republic Steel and Standard Oil of Ohio (Sohio). SHW bought the property in 1985 and now occupies about 90 percent of it.
Even before SHW acquired its rival Valspar in 2017, its Cleveland corporate offices had spilled over into the neighboring Skylight Office Tower as well as a flex office space on Hinckley Industrial Parkway in Cleveland.
Here are some additional photos of the mocked-up interiors:
The next thing many Greater Clevelanders hope to see from SHW and its HQ design team is exterior renderings of the new HQ. In order to start construction by the end of the year, a public release and city reviews of those plans will have to occur very soon.
END