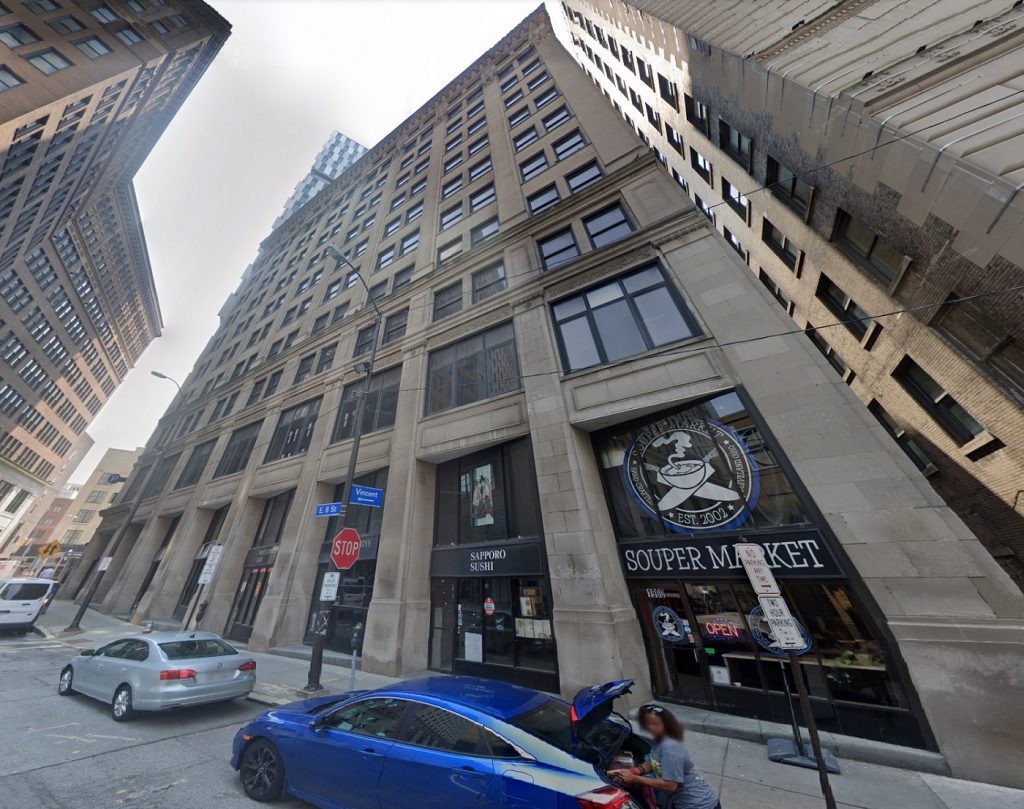 Tall but small can be contradictory, but not in the case of the Baker Building. The skinny building measuring just over 50,000 square feet will be reborn as The Fidelity Hotel with 71 rooms and suites restored to the building's original Gilded Age flair. Permits were issued last week for the start of the building's rebirth with more details to come soon. This view of the building was captured in July 2021 (Google). CLICK IMAGES TO ENLARGE THEM
Detailed plans to become public next month
The 11-story Baker Building, 1900-1940 East 6th St. in downtown Cleveland, has received a construction permit so crews can begin work to prepare for the next stage in the 102-year-old building's life — a mix of boutique hotel rooms and suites plus ground-floor retail/restaurants. To be called The Fidelity Hotel, the name refers back to the structure's original name and owner — the Fidelity Mortgage Building. A design-review case at the City Planning Commission for the project was opened today.
According to a source familiar with the project but who was not authorized to speak about it, the former Class C, 51,443-square-foot office building will be converted to 71 hotel rooms and suites with up to six ground-floor retail/restaurant spaces plus a lobby restored to its original, red-velveted, Gilded Age grandeur. One of the retail/restaurant spaces will be a speakeasy/sports bar decorated with historic flair. The building will be operated by a confidential boutique hotel flag, rumored to be a 21c Museum Hotel, an Accor brand.
The owner of the property is 1900 East 6th Street LLC, an affiliate of the Walton Enterprises of Wal-Mart fame. It acquired the building in January 2020 for $3.5 million, public records show. At the time of the sale, a real-estate insider told NEOtrans that Walton's typical play is to wait and hold a property, usually an older building or distressed property like the Baker Building, for 24 months prior to redevelopment. Also, Walton typically partners with Accor-brand hotels.
In recent months, all of the office and retail/restaurants were moved out of the Baker Building, including Dave's Cosmic Subs and Souper Market who moved in September to the Standard Building, 99 W. St. Clair Ave. Sapporo Sushi moved to Lakewood. Rather than relocate, the 100-year-old Moriarity's Pub closed its doors.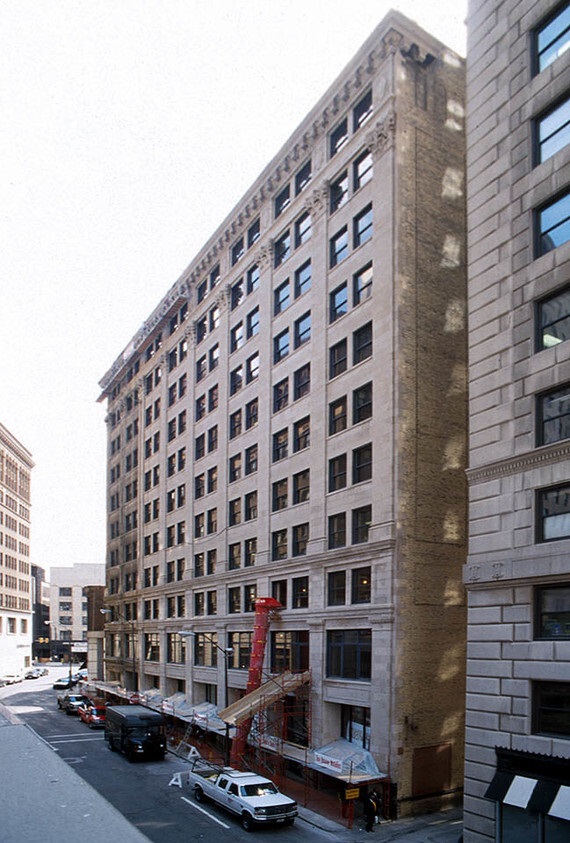 The Baker Building, originally called the Fidelity Mortgage Building, on East 6th Street at Vincent Avenue, is a natural for conversion to a boutique hotel. This view is from 2005 during one of its most recent renovations but before The Beacon apartment tower was built next to and behind it (LoopNet).
On Dec. 16, the city's Building & Housing Department approved a permit application submitted by Jason Walejeski of Chicago-based Hartshorne Plunkard Architecture (HPA). The permit, which hasn't yet been picked up by a city-registered general contractor, authorizes interior alterations of the building including the removal of non-structural elements per approved plans.
The architectural firm has designed renovation work for numerous historic hotels across the USA including the Chicago Athletic Association Hotel and the Soho House Chicago. HPA also designs new-construction projects. Locally, the firm designed the mixed-use Intro development in the Market District of Ohio City. Walejeski received but did not respond to an e-mail sent by NEOtrans asking for more details about the project.
The hotel rooms and suites will range in size from approximately 317 to 716 square feet and are consistent with the size of the building's previous office spaces. On Dec. 17, 2020, the Baker Building, built in 1919 as the Fidelity Mortgage Building, won $2 million in Ohio Historic Preservation Tax Credits. The building's prior owner J. Scott Scheel, who was doing business as Diamond Investment Group, won $1.7 million in historic tax credits in 2018.
A year ago, the estimated cost of the conversion project was $23,393,014, according to the Ohio Department of Development. But the source said additional design and budget refinements are being considered, especially as the cost of construction materials has risen significantly since last year. Historic tax credits must be used within five years of their awarding.
"Built and used as offices for nearly 100 years, the mostly vacant building will become a new boutique hotel in the heart of downtown Cleveland," according to a press release from the Ohio Department of Development. "This project is a reapplication for the building that was awarded credits a few rounds ago. Awarded as a hotel redevelopment project, the owners plan to increase their investment and will give up the previous award in exchange for this new, larger award."
The Baker Building, despite being 11 stories tall, is a skinny building. It has only 4,538 square feet on each of the upper nine floors — floors three through 11. Because historic tax credits are to be used, the interiors cannot be substantially changed, including the locations of doors. That limits the upper nine floors to seven hotel units per floor with eight units on the 5,341-square-foot second floor.
On the ground floor is 5,430 square feet of space, including a 712-square-foot building lobby with six retail/restaurant spaces along East 6th totaling 4,573 square feet. There is also a 5,262-square-foot basement which could be used for storage and hotel amenities, according to older floor plans for the building.
The office building with ground-floor retail was renovated in 1988, 2005 and 2012 with a new roof, modernized elevators, restored lobby, heating and cooling systems, plus a restored Greek classical sandstone façade. Located between Euclid and Superior avenues, the Baker Building is an easy walk to many restaurants, theaters, shopping, office buildings and transportation.
END