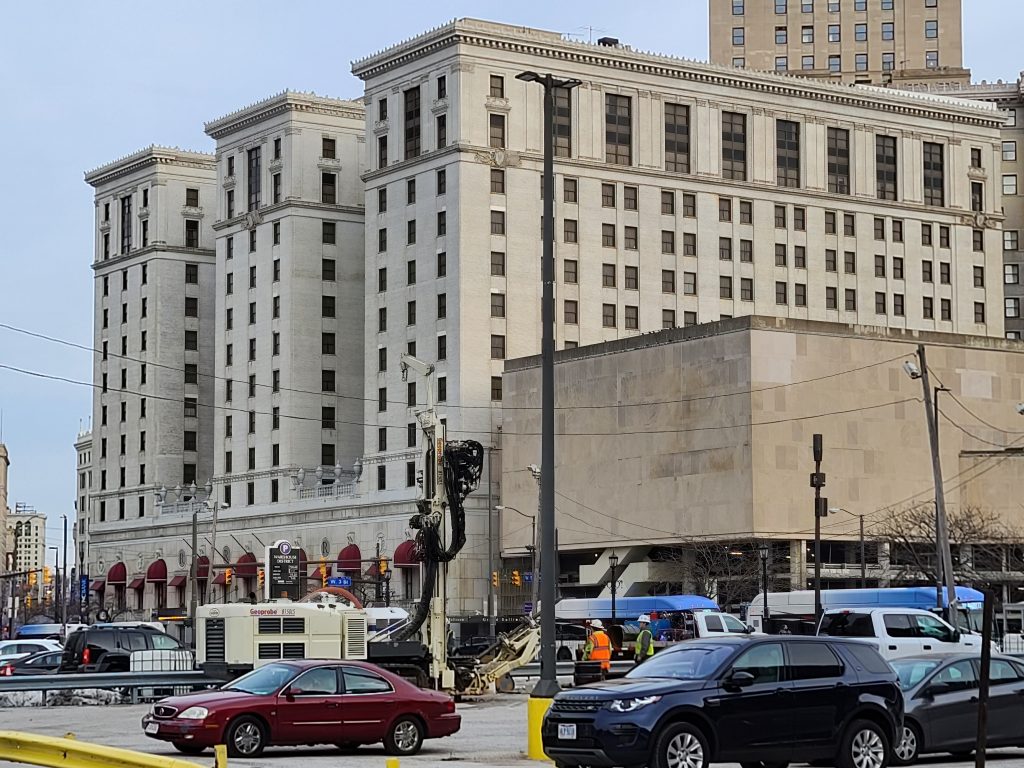 One of Cleveland's oldest hotels, built on the site of prior hotels and lodges going back more than 200 years, will be renovated from top to bottom over the next 14 months or so. The work will coincide with construction that's due to start this winter on the 1-million-square-foot Sherwin-Williams headquarters across Superior Avenue. Site preparations for the new HQ were underway when this photo was taken last winter (KJP).
CLICK IMAGES TO ENLARGE THEM
More details are coming to light on the renovation of downtown's Renaissance Cleveland Hotel. And that light is revealing a project much larger in scale and value than what had previously been reported. According to information from a source close to the project who was not authorized to speak about it, the 103-year-old hotel will be renovated from top to bottom for up to $80 million.
Renovation work is already under way on the 431,352-square-foot structure. Additional work will begin later this year and be completed in Fall 2022. The work will include floor-to-ceiling repairs and updates of all hotel rooms, public spaces, 60,000 square feet of ballrooms/meeting spaces, restaurants and retail spaces. There will also be exterior repairs and improvements made, the source said.
"It's a significant renovation," the source said, speaking off the record. "There's a lot of good stories with the Renaissance (Hotel) project. There's a lot of historic interest in it. Since it's on Public Square, it's on our city's front door and it ties in with a lot of other projects including Sherwin-Williams' (new headquarters) across the street. It took a lot of time to put it (the financing) all together."
The source also said the project will keep the same number of rooms — 491, including 50 suites. It will continue to be owned 50/50 by Skyline Investments of Toronto and an unidentified partner. Skylight, which bought the hotel in 2015, has a 20-year franchise agreement with Marriott and the hotel is managed by Aimbridge which manages over 300 hotels in the United States.
Initial reports in the media told of a project with a first phase valued at $20 million and focused only on the lower floors of the 12-story hotel. That was based on an application by Skylight Investments for a 25 percent Ohio Historic Preservation Tax Credit.
But that application was not granted in the latest round of awards June 30. Winners of the next round will be announced at the end of September. State tax credits are highly competitive; they have no post-construction review or pull-back provisions if historic preservation and design standards are not met.
Instead, Skylight is pursuing federal historic tax credits which are not competitive and have a 20 percent income tax credit for qualified expenditures. But they trigger a post-construction review and credits can be pulled back if the building's renovation doesn't meet National Park Service standards and if the structure is changed in any way within five years.
The hotel, at 24 Public Square, has multiple funding sources. In addition to private sector loans, Skyline will also be pursuing tax-increment financing (TIF) that will not touch property taxes for the Cleveland Municipal School District, the source said. Approval of the TIF from city council and the mayor will be required.
There has been lodging on this corner of Public Square for more than 200 years. In 1815, Phinney Mowrey opened Mowrey's Tavern, selling it five years later to Donald MacIntosh who renamed it as the Cleveland House and then the City Hotel. It was heavily damaged by fire in 1845 and replaced by the Dunham House.
That hotel was enlarged in 1852 and operated as the Forest City House for the next 64 years until it was demolished for the current structure. Built in 1918 as Hotel Cleveland, it was originally a 1,000-room hotel. It was the first structure in the Cleveland Union Terminal Group, a city-within-a-city uniting passenger railroad and rapid transit station facilities under one roof with offices, shops, hotel, department store and central post office.
The terminal group, including the hotel, was added to the National Register of Historic Places in 1976. In the 1980s and early 1990s, the former railroad station was converted into a mixed-use complex called Tower City Center.
Skylight had considered selling the hotel two years ago, but the pandemic and then Sherwin-Williams choosing its new HQ site across the street changed that. Skylight spokesman Ibrahim Adam did not respond to an e-mail seeking more information prior to publication of this article.
END