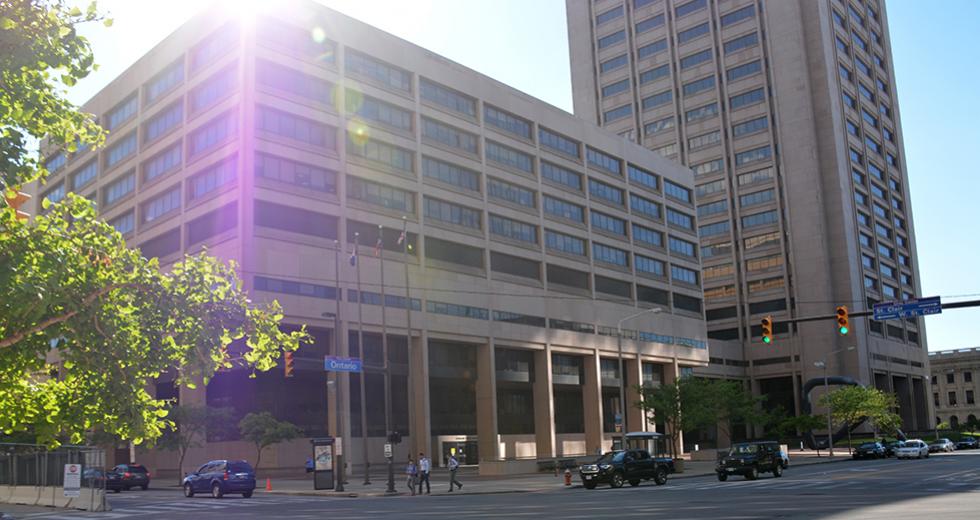 Since 1977, the the Cleveland Police Department headquarters has been located in this eight-story building at the northwest corner of Ontario Street and St. Clair Avenue downtown. It has been proposed for several new locations since 2017 and may be proposed for yet another pending the outcome of a new request for proposals issued by Mayor Justin Bibb's administration this week (Ideastream). CLICK IMAGES TO ENLARGE THEM.
Bibb Administration revisits Jackson Administration's plan
Officials at Cuyahoga County and now at City Hall are having difficulty deciding where to build their new venues for addressing crime. Three years ago, an effort began in earnest to find a new home for Cuyahoga County's new jail campus and a new courthouse tower. A steering committee set up to decide that course of action has failed to settle on a site for those facilities in that time. But the city's efforts to find a new home for its Cleveland Police Department (CPD) Headquarters has been going on for even longer and will continue for at least a few months more, following an announcement today by Mayor Justin Bibb's administration.
Five years ago, Mayor Frank Jackson's administration issued a request for proposals from eligible property owners interested in being named the new site for the CPD HQ. The city was interested in getting out of its outdated and poorly built HQ at 1300 Ontario St. downtown where it has been since 1977. The city sold its CPD HQ to the county in early 2017 for $9.25 million and is paying $1 per year in rent to stay there.
The city assumed it could easily relocate CPD's HQ to the 22-story 55 Public Square but found the building and its owner, Optima Ventures, didn't pass muster. The building didn't meet the CPD's security requirements and apparently neither did the owner who was forced by an FBI investigation into illicit financial dealings to sell the building to the K&D Group which is redeveloping the property into apartments and modern offices.
Next, as a result of its RFP process, the city chose to relocate to the former Plain Dealer Building, 1801 Superior Ave. while keeping some of the existing tenants. That $60 million deal was nixed at the last minute, before the city could close on the deal, by the U.S. Department of Homeland Security which reportedly had some concerns about a police HQ in a major city sharing a building with other tenants. So other sites were considered, including renovating and expanding the property at 2001 Payne Ave. that was the CPD HQ before it moved to the then-new Justice Center in 1977.
Three years ago, the Jackson Administration settled on a site on Opportunity Corridor Boulevard at East 75th Street to boost safety in the area and enhance the new boulevard's prospects for attracting more employers. In the final days of the Jackson Administration, staff hurriedly organized several groundbreaking ceremonies for new civic buildings that had been on the administration's to-do list for a long time. Among them were the new CPD HQ, a new site for the Mounted Police Unit, and a new Fire Station No. 26.
Only the latter project is seeing any tangible progress of starting construction, as building permits are now being processed for the new $10 million fire station at 9026 Kinsman. It will move operations from the existing station No. 26, a 123-year-old facility at Kinsman Ave. and East 79th St. — the city's oldest operating fire station. And it will consolidate operations from Fire Station No. 41 and its Emergency Medical Services (EMS) unit, relocating from 3090 E. 116th St. Like the other city safety department facilities, the new fire station had been in the works for many years.
Today, Bibb Administration staff announced that the city has issued a new RFP seeking proposals for a site for Cleveland's new police headquarters. In a press release, the city's Department of Public Safety said it intends to relocate its existing CPD HQ to a new, permanent location for administrative operations including separate storage space, garage and office facility.
"The purpose of this RFP is to ensure we find the best price, timing, location, and quality for the Cleveland Division of Police headquarters," said Cleveland's Chief of Integrated Development Jeff Epstein in the written statement. "We are doing our due diligence in order to make sure we have the best options on the table to meet the needs of our police department."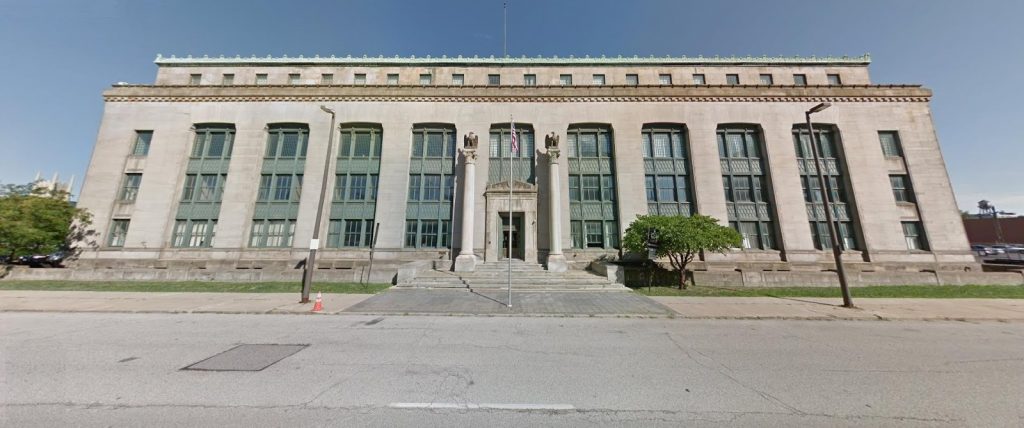 Cleveland's 1937-built Central Police Station at 2001 Payne Ave. continues to be owned by the city but is underutilized. It has 90,000 square feet of space and is surrounded by several acres of city-owned parking lots, next to the new headquarters of CrossCountry Mortgage which is moving downtown from Brecksville (Google).
The Bibb Administration's requirements include approximately 250,000 contiguous square feet of space that's laid out appropriately for office staff and law enforcement needs, including private offices, public spaces, cubical workspaces, interview rooms, classrooms, exercise room, conference rooms and locker rooms. The space must be in the City of Cleveland, within a 2.5-mile radius of Cleveland City Hall and close to freeway access with space for secure parking for 450 passenger cars. The Cleveland Division of Police must be the sole occupant of the facility.
City officials have not ruled out the Opportunity Corridor site. But they said that they began looking at alternative sites earlier this year due to the changing economy, real estate market, the rising cost of building materials, labor and supply chain considerations. The deadline for submitting site proposals for the new CPD HQ is at 12 noon, Monday, Nov. 14. The RFP is posted here.
The Opportunity Corridor location was proposed to be a new $107 million, 187,000 square-foot facility on 10.5 acres at 2750 E. 75th St. next to the Opportunity Corridor Boulevard. The four-story CPD HQ was to have offices for the police command, administrative and special investigative units plus a two-story training wing and fitness/wellness spaces for offices. Although the police HQ was recently staffed at about 700 employees, actual staffing is now far less.
END
Our latest Greater Cleveland development news