This high-profile property at Detroit and Lake avenues in Cleveland's Detroit-Shoreway neighborhood just sold to a Rochester, NY developer with deep pockets and an interest in developing the vacant site. And it's not the neighborhood's only property in play. There are multiple developments in the works within a few blocks of here (Google). CLICK IMAGES TO ENLARGE THEM
A vacant property at a high-profile intersection on Cleveland's West Side recently sold to a Rochester, NY developer with deep pockets. Although a decision hasn't apparently been made on what will be developed at the corner of Detroit and Lake avenues, multi-family housing is the preferred use. It's the latest of several potential developments within a few blocks of this site that could offer a mix of housing choices, retailers and jobs in a walkable, transit-friendly setting near Edgewater Park.
According to Cuyahoga County property records, 7500 Detroit Avenue LLC, an affiliate of Rochester-based LLD Enterprises, acquired four parcels of land totaling about 1.25 acres for $1.75 million from Salt Lake City, Utah-based BK Ohio LC on Sept. 14, 2021. LLD Enterprises is run by Managing Partner David Dworkin. Dworkin referred all communications to his local representative, Jonah Yulish, a senior associate at Matthews Real Estate.
"We have no direction at this time on what we intend to do with the property," Yulish said. "We're on 11 months of covered rent by the former user so it gives us some time to consider our options. The ideal play would be multi-family housing but we don't have a clear direction yet."
The former use was a Burger King fast-food restaurant that closed in January. County records also show 7500 Detroit Avenue LLC acquired a 20-year lease agreement with the Carrols Corp. that ends next year. The lease was acknowledged before a notary public on Sept. 14 by principals of the two firms. The lease assignment also shows Dworkin's firm agreed to buy the property last April.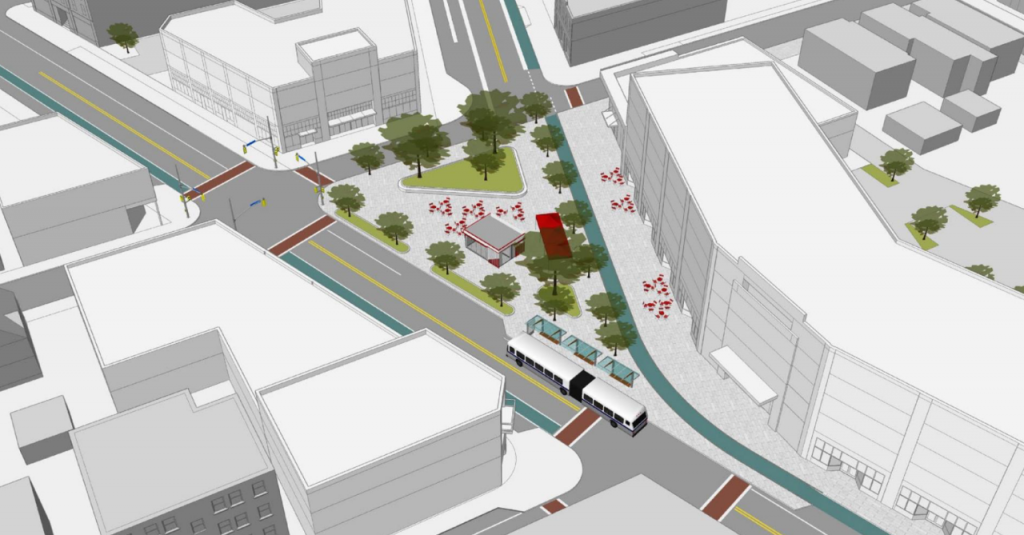 A multi-story, mixed-use development is shown on the right side of this conceptual rendering was drawn by city planners after public meetings were held on proposed zoning changes for this neighborhood two years ago. That proposed land use and others nearby along with a redesigned Detroit-Lake intersection were based on some of the public's input. The developer has yet propose anything for this site however (CPC).
The lease dates to 2002 when the property was owned by John Andruska; he signed the deal with restaurant owner Carrols Corp. Syracuse, NY-based Carrols owns and operates more than 1,000 Burger King and Popeyes restaurants nationwide and it continues to lease the property until November 2022.
Per the lease, Carrols had the right of first refusal to buy the property. Also, under the lease terms, the lessor cannot own, operate, assign or license within 5 miles of the site a fast food restaurant with "principal menu items of a ground beef sandwich or french fries" for a period of 40 years from the lease date. BK Ohio LC acquired the four parcels with the lease for just over $1 million in 2012, according to public records.
Although most of LLD Enterprises' properties are in upstate New York, the firm owns and develops properties nationwide, including retail, residential and offices. Dworkin and his wife Wendy are also co-owners of the Sacramento Kings (formerly the Rochester Royals) of the National Basketball Association and are co-owners of the Rochester, NY FC (formerly the Rhinos) of the United Soccer League, League One.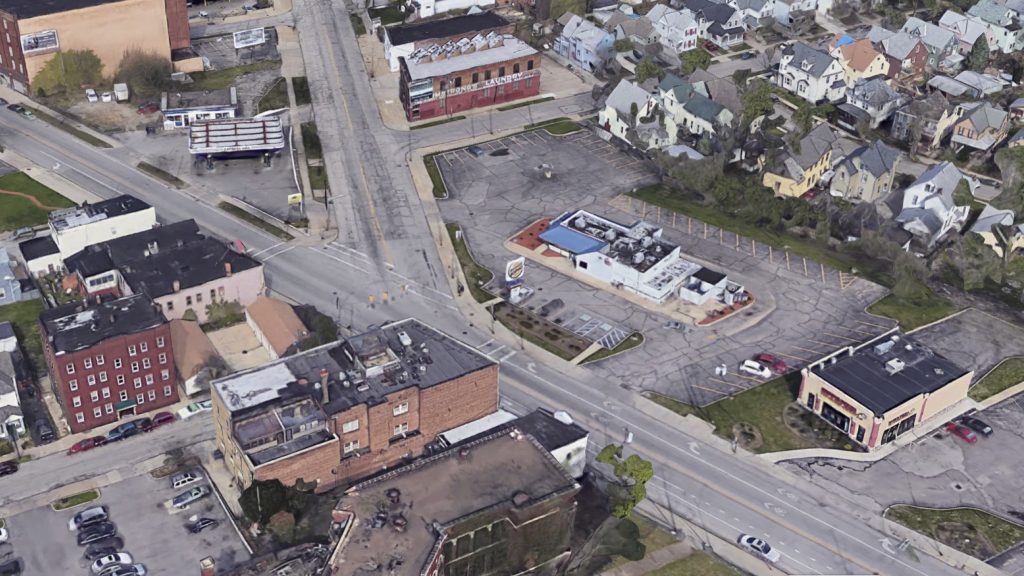 A view of the Detroit-Lake intersection from the early 2010s. Although it had lost significant density after the last streetcars traveled through here in the early 1950s, more density was lost since this photo was taken. Community development officials and the City Planning Commission hope to restore some of that lost density, mixed use and vitality (Google).
When it comes to multi-family housing, LLD Enterprises' Web site notes that its focus is on "mid-rise, high-rise, and garden style apartment buildings located in Western New York." The company was attracted to Cleveland initially due to Yulish's outreach efforts. It invested here because of the city's and the metro area's improving market and demographics.
Investor interest in this neighborhood picked up a couple of years ago. In 2019, public meetings were held to gather ideas on a form-based zoning code for a multi-block area in and near the Detroit-Lake intersection. The hearings were led by then-Councilman Matt Zone, the Detroit-Shoreway Community Development Organization, Cudell Improvement, Inc. and the City Planning Commission. The Detroit-Shoreway and Cudell organizations were combined earlier this year to the Northwest Neighborhoods Community Development Corporation.
Form-Based Zoning focuses on building form as it relates to streetscape and adjacent uses. Thus it encourages mixed use and relies on design concepts and patterns intended to preserve the assets and character of a community. By comparison, traditional or Euclidean Zoning focuses on the type of use allowed on the land.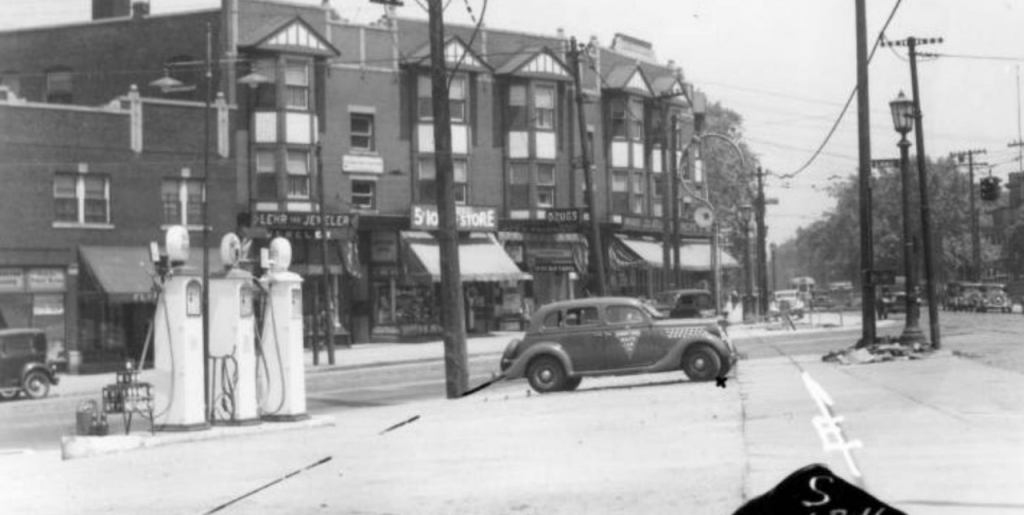 A multi-story building with apartments over retail stood on the same spot where the closed Burger King sits empty today. In this 1930s photo, the Detroit-Lake intersection was a vibrant area called Detroit Center and located at the junction of two busy streetcar lines. Now, it is a remaining gap of blight between the refurbished Gordon Square district to the east and the stable Edgewater neighborhood to the west (CPC).
The traditional approach to zoning meant the mixed-use buildings that once surrounded the Detroit-Lake intersection in the streetcar era could not legally be built today. The new approach to zoning would allow mixed use — such as apartments over retail and restaurants. That as well as a redesigned Lake Avenue between Detroit and Clifton Boulevard, now underway, has attracted investor interest.
The LLD Enterprises' acquisition is the first of what may be many property transfers in the coming years for this neighborhood. Just west of here, a 2.1-acre property at 8400 Lake and overlooking Edgewater Park is on the market. It is advertised as a potential "vertical multi-family or mixed-use project," according to its listing.
As early as next year, work may begin on replacing the 54-year-old Walz Branch of the Cleveland Public Library, 7910 Detroit, with a new, larger more accessible facility to be topped by 51 affordable senior apartments. The new four-story building with a glassy façade will also give the facility a greater street presence from Detroit Avenue, said library and Northwest Neighborhood officials.
END