Site offers a remote, almost bucolic setting
Seldom does a Cleveland development site offer such a remote, wooded lot and yet have so many urban amenities nearby. The features of that site, including it being next to a revived Clark Field, are why it is reportedly attracting a mid-size apartment building. Indeed, numerous mid-sized apartment buildings are being proposed for different parts of Cleveland's Tremont neighborhood.
The site is at the north end of West 11th Street where it dead-ends for vehicles but not for pedestrians and cyclists. While the street was cut off by the construction of Interstate 490 in the late-1960s, a pedestrian-bike bridge over the highway was constructed in its place. And in 2019, the Towpath Trail was extended north from Steelyard Commons to downtown Cleveland. Together, those accessways have put all of Tremont and Steelyard Commons within a 1-mile walk or bike ride of the development site now eyed by Tremont West Development Corp. and AES Management Corp.
That site is approximately 2.2 acres, comprised of a mix of properties owned by the city Land Bank, Tremont West, a private individual and Acres Holdings LLC, an affiliate of Cleveland-based AES Management Corp. AES acquired their lone, 0.21-acre parcel in July 2021 for $50,000. The firm is run by Vanessa Whiting and her son Tony Smith II. AES owns 12 Popeyes Chicken & Biscuits franchises.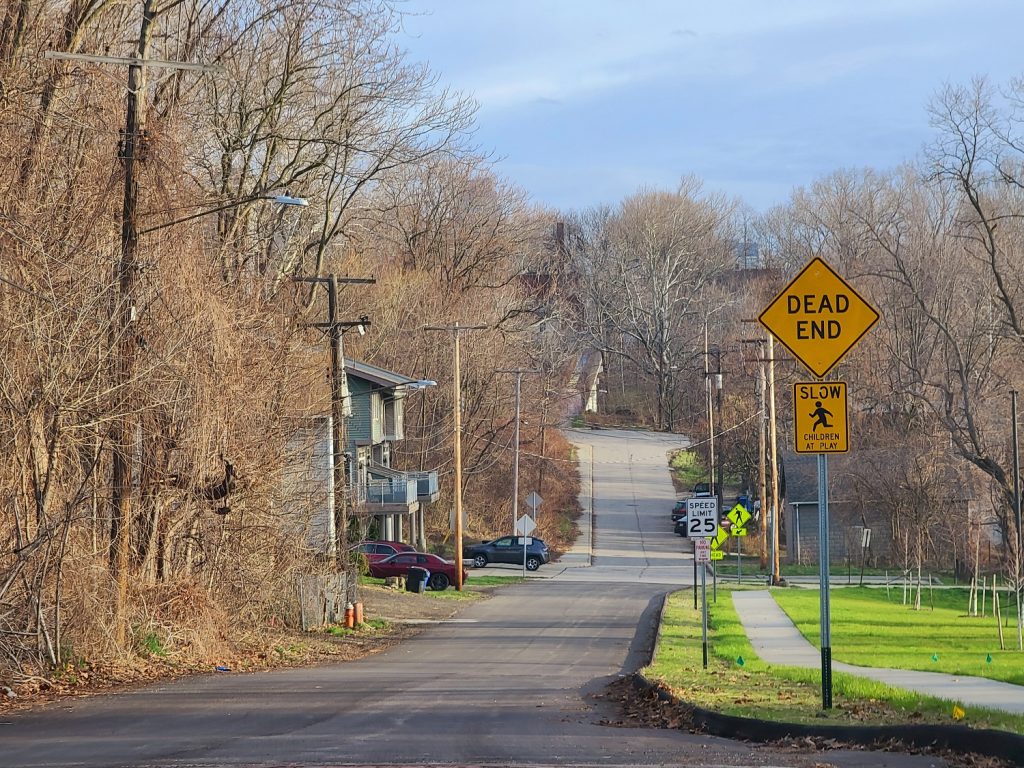 West 11th Street south of Interstate 90 may be unlike any other street in Tremont. It is along a remote, heavily wooded stretch of the Cuyahoga Valley. Part of Clark Field is seen at right, the decade-old West 11th townhomes at left and, to the right of the end of the street in the distance is where the new apartment complex is planned (KJP).
The family also invests in affordable housing developments in Cleveland, including the Chester75 apartments which is being developed by the Famicos Foundation at Chester Avenue and East 75th Street in Hough. Although groundbreaking has been delayed, Famicos representatives said they expect to start construction this year on the 57-unit apartment complex, set on the 0.84-acre site of a former church of the Cedar Congregation of Jehovah Witnesses.
According to real estate sources familiar with the project, but who were not authorized to speak publicly about it, the Tremont project will also be led by the community development corporation. The source also said it will reportedly be larger the Hough project. Although the number of apartments and other features regarding the project have not yet been finalized, it may be as large as some of the other apartment developments popping up in Tremont recently.
One of those is a 97-unit apartment building called Driftwood. Its developer, J Roc Development LLC, is seeking city approvals for that project on roughly one acre at the southwest corner of West 11th and Fairfield Avenue. The same developer recently built the $30 million, 130-unit Electric Gardens Apartments, 425 Literary Rd. Another project is the 142-unit Abbey Apartments and Townhomes in Duck Island where site preparation is about to get underway.
More apartment buildings are rising or planned along the Tremont section of West 25th Street. The 171-unit Treo apartments is under construction on 1.26 acres just north of Porco Lounge & Tiki Room. Just north of that, The Pearl and its 185 apartments are proposed at West 25th and Columbus Road. Yet another mid-sized apartment building, this one about 80-90 units, is planned nearby but the developer is not ready to discuss it publicly.
Apparently, Tremont West and AES Management were not ready to publicly discuss the West 11th apartments either. Cory Riordan, executive director of Tremont West, did not respond to an e-mail from NEOtrans seeking more information about the project. Calls to AES's offices were answered by a voicemail inbox that was full and could not accept more messages. However, the purchase of property by AES gave the project a hint of public visibility.
Speaking of visibility, many of the proposed West 11th apartments will presumably have views of the Cuyahoga Valley below. Those views will be of the adjacent 50-acre Clark Field that is about to be renovated for $2.5 million with new football, soccer and baseball/softball fields plus basketball and tennis courts.
Before that could happen, the US EPA spent $5.5 million cleaning up the area which had been a dump for heavy industries in the Flats going back to the 19th century. In 2013 and 2014, city officials found high concentrations of lead, arsenic and polycyclic aromatic hydrocarbons in the soil at Clark Field. Due to the contamination, the city stopped issuing permits for organized recreational activities in the park. US EPA removed concrete surfaces and above-ground structures, excavated and re-graded impacted areas, then installed two feet of clean soil as a protective barrier.
Next to Clark Field is industrial gas supplier Air Products & Chemical Inc., 2820 Quigley Rd., which wants to rehabilitate and expand its plant, said Ward 3 Councilman Kerry McCormack. But he and other city officials refused to sell to the company some of the city-owned park. Since Air Products can't expand outward, it seeks to expand upward. The city is changing its zoning map to raise the maximum allowable structural height for that parcel from a 3 height district, or up to 115 feet, to a 5 height district, or up to 250 feet.
Tremont's real estate boom has largely eluded West 11th south I-490. In 2011, Civic Builders and Progressive Urban Real Estate joined forces as West 11th Street Properties LLC to develop four townhouses on the west side street, near where the apartments would rise. The partnership owns 16 undeveloped properties on the same side of the street as the townhomes but no development activity has surrounded them in years.
END