This is one of two 42-unit apartment buildings that Geis Companies wants to build in Cleveland's Hough neighborhood. The building shown above is proposed to be built at 1830 E. 82nd St., just south of the parking lot for the Northeast Ohio Neighborhood Health Center that's on Hough Avenue (GLSD). CLICK IMAGES TO ENLARGE THEM
Geis to design, build, manage two more Hough buildings
With development activity increasing in Cleveland's Hough neighborhood, one of Greater Cleveland's largest real estate developers is doubling down on its bet that this community has a bright future. It's a sharp change in fortune for a neighborhood that investors and developers had avoided for decades.
That doubling is represented by two additional market-rate apartment buildings Geis Companies will design, build and manage to respond to the as-yet insatiable demand for quality housing within walking and biking distance of fast-growing Cleveland Clinic and University Circle.
Today, City Planning Commission's design-review process began for the pair of four-story, 42-unit apartment buildings. One building will be located at 1830 E. 82nd St. and the other at 1839 E. 90th St. Each is similar to the $8.8 million, 42-unit Lumos apartments, 1866 E. 93rd St. that Geis began building last August.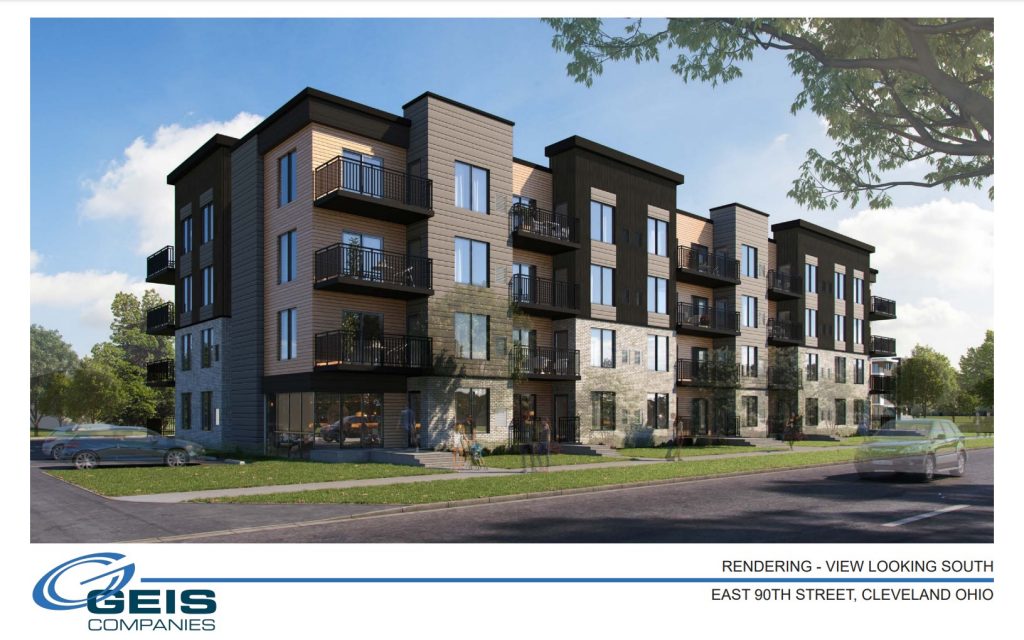 A building with the identical square footage, height plus number and type of apartments to that which Geis seeks to build on East 82nd is also proposed on East 90th Street, as shown here. Both buildings also offer balconies or patios for each apartment. However, the exterior design is different (GLSD).
And it is slightly larger than the four-story, 38-unit apartment component of the Park Lamont development at the southwest corner of Lamont Avenue and East 97th Street. Park Lamont also has a rental townhome component with 12 townhouses on the east side of East 97th, between Lamont and Woodward avenues, and another 27 townhomes along the north side of the east half of Woodward, continuing all the way to East 101st Street.
The design-review process for the East 82nd and East 90th developments began today with the Euclid Corridor Design-Review Committee. Members said they generally liked each buildings' use of balconies and patios as every apartment has a balcony or patio. But the committee also noted the design similarity between each building, despite the use of some exterior materials to differentiate them.
The citywide design-review committee will hear Geis' conceptual presentation tomorrow. Former Ward 7 Councilman Basheer Jones was supportive of these smaller-scale developments that add modern, workforce housing to Hough. It is not yet known if new Ward 7 Councilwoman Stephanie Howse is supportive. She did not respond to an e-mail requesting comment prior to publication of this article.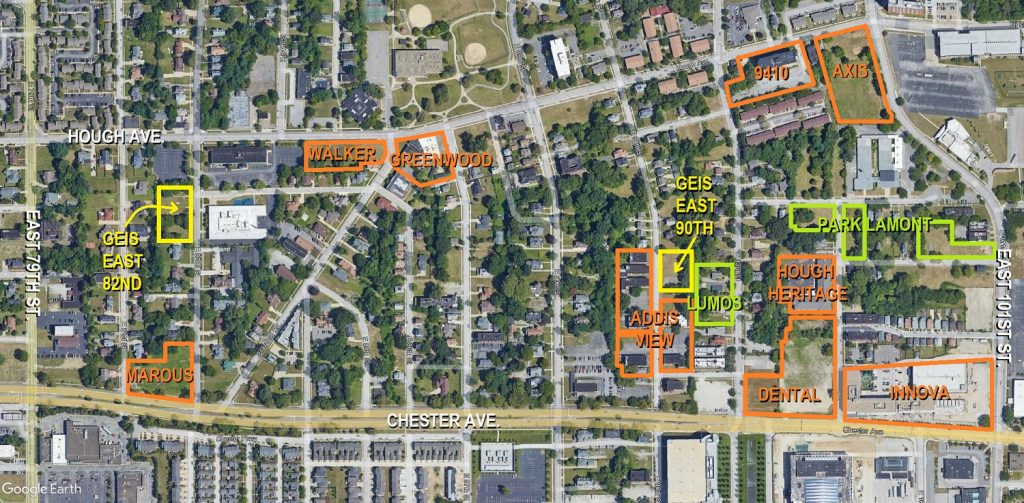 This map shows the location of Geis Companies' four existing/planned residential developments in Hough. Shown in yellow are the newly announced pair of 42-unit apartment buildings. In green are the two developments approved by the city; the Lumos which is under construction and Park Lamont which could see construction by spring. Other projects are shown in orange including recently built, underway or planned projects (Google/KJP).
Conrad Geis, director and managing partner at Geis Cos., said his firm was retained by ARPI Development LLC to be the developer on a programmatic basis on these latest two apartment buildings, as was the case previously with The Lumos apartments and Park Lamont. Cleveland-based ARPI Development LLC was co-founded by Richard Arnstine and Zach Pinkert.
Geis Cos., with Northeast Ohio offices in Streetsboro in suburban Portage County as well as in downtown Cleveland, is carrying out the design and construction of all four projects, as well as the management of each property once the construction work is completed. Conrad Geis said he was reluctant to publicly discuss the two latest projects further until he is 100 percent certain the project will move forward.
"It's bad PR for our company should something go south that is out of our control," Geis said. "With that being said, when it's all teed up, I'd be happy to discuss."
Financing for these developments is coming from Agostino Pintus, founder of Akron-based Realty Dynamics Equity Partners LLC, and Kenny Wolfe, president of Dallas-based Wolfe Investments LLC. Their Wolfe Pintus Chester LLC owns the property on which The Lumos is rising on East 93rd, public records show.
On East 82nd, a 39,584-square-foot building and a 42-space parking lot is proposed to be constructed on nearly 1-acre of land that was acquired earlier this month by an affiliate of ARPI Development LLC for $79,900, according to Cuyahoga County property records. Planned are 12 studio units, 23 one-bedroom apartments and seven two-bedroom suites. The site plan submitted to the Planning Commission refers to the proposed 42-unit apartment building as "Building A," inferring that a second building could be built nearby.
On East 90th, a building with the same exact gross square footage is planned. It will also have the same number of studios, one-bedroom apartments and two-bedroom suites as the one on East 82nd. In both buildings, studios will measure 576 square feet, one-bedroom units 718 square feet and two-bedroom apartments 1,002 square feet.
One difference with the East 90th development is that the land, currently owned by the City Land Bank, is a bit larger at just over 1 acre. That offers room for a bigger parking lot — 53 spaces will be provided. The building code requires at least 42 spaces for a building of this size. Existing zoning allows for both developments. And each will have stormwater retention basins located behind them.
Another similarity is that the East 90th site plan also refers to the proposed structure as "Building A." However, the allusion to the possibility of additional buildings here is not a surprise since presentations made last year by Geis representatives to the city about The Lumos showed later phases adding more than 100 apartments nearby. What is surprising is how fast the additional phases are being pursued, reflecting the strong housing market in Hough and other neighborhoods in and near University Circle.
Numerous residential, retail, civic and recreational developments are underway or planned by others in Hough, with many of them rising along Chester Avenue. More are farther north, such as the 9410 Hough Ave. development, or farther west, like the investment happening around League Park.
END