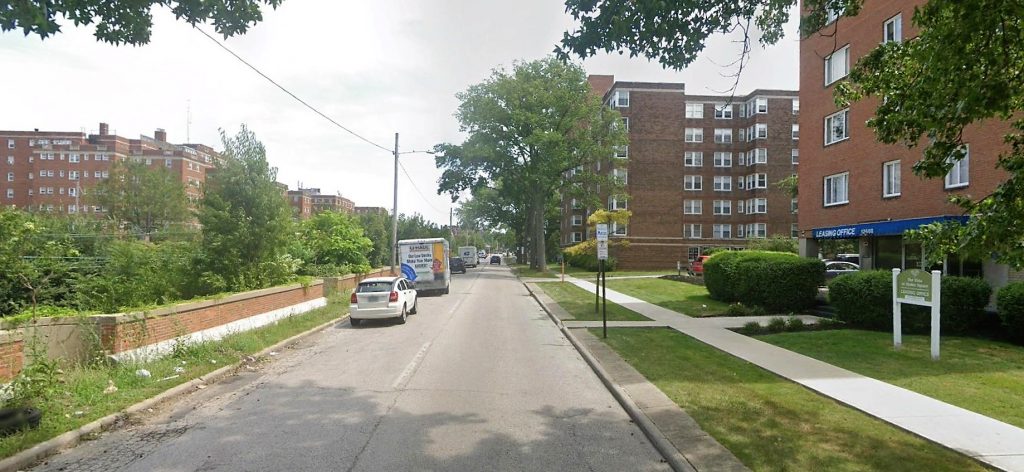 Two eight-story apartment complexes just west of Cleveland's Shaker Square and across Shaker Boulevard from each other were purchased last week by a Chicago-area investor that typically invests in its properties to add value to them. One property is The Vista At Shaker Square seen at far-right and the Shaker North Apartments seen in the distance at far-left. This August 2021 view is looking east along Shaker Boulevard toward Shaker Square (Google). CLICK IMAGES TO ENLARGE THEM
Chicago firm looks to reinvigorate faded buildings
Last week, a large, Chicago-area investment firm that reinvigorates multi-family properties acquired two aging, mid-rise apartment complexes on Shaker Boulevard just west of Cleveland's Shaker Square for $12.4 million, according to public records. The buyer, AMG Realty Group of Skokie, IL, typically looks for faded, undervalued properties so it can update them and improve their management to boost occupancy and then re-sell them.
That's what appears to be in the offing with this multi-family property deal that closed on or about Jan. 10. Based on its corporate philosophy, AMG will likely modernize the two buildings which are located in a neighborhood filled with old apartment buildings, many of them outdated and poorly maintained. A message sent to AMG through its online contact form wasn't responded to before publication of this article.
"AMG's investment strategy focuses on acquiring overlooked and undervalued multi-family assets, with the potential to add value via a repositioning of the property, including operationally, structurally or financially," the firm said on its Web site. "AMG seeks neglected assets that combine a strategic location and low cost basis. Once we acquire a property, we manage the property 'in house,' which results in a clear alignment of interest between ourselves, our investors and our residents."
One of the properties that AMG purchased is the 72-unit Vista At Shaker Square Apartments, 12500-12600 Shaker Blvd. It has two eight-story towers above a ground-level parking garage and lobbies. Set on the south side of Shaker, it was built in 1955 and appraised by the county at just over $2.5 million for tax purposes, Cuyahoga County records show.
Across the boulevard and Rapid transit rail line to downtown Cleveland is the other multi-family building AMG acquired — the 178-unit Shaker North Apartments, 12701 Shaker Blvd. Also eight stories tall, the 1949-built apartment building has a single, broad tower and a more classic design. Notable is its roof lined with a parapet featuring decorative balustrades. It also has a ground-floor garage but is largely hidden from view. The county appraised it last year at $3.33 million.
Investing in housing, be it via new construction or through renovation of older, existing buildings, is critical to offering a competitive housing product and to keep a neighborhood vibrant and safe, said Ward 6 Councilman and City Council President Blaine Griffin, who welcomed the sale.
"I am looking forward to working with the new owners and returning these premier buildings to their utmost potential," Griffin said in a written statement.
Both buildings were sold by affiliates of Raphael Kovi Kutner, principal of the New York City-based North York Capital Group. He confirmed the sale on his LinkedIn page where he thanked and congratulated his investors. He also thanked the real estate brokerage Colliers International for representing him and facilitating the transaction.
"With the supply-demand imbalance we are experiencing (in Greater Cleveland's housing market), coupled with the size and location of this asset, the team knew we were going to generate both local and out-of-state interest," said Anthony DeMarco, senior vice president at Colliers International. "As new ownership, they plan to hit the ground running by improving the occupancy while also restoring many of the spaces and amenities long overdue for modern renovations."
In a written statement, DeMarco also credited brokers Gary Cooper and Peter Grealis of The Cooper Multifamily Team at Colliers.
"Cleveland and Northeast Ohio continue to see significant in-bound capital from outside the market," Cooper said. "We are a highly sought-after market with attractive rental growth and operating fundamentals, as well as the perceived safety and stability of the Midwest."
AMG said it focuses on owning multi-family properties in the Midwest, especially in communities where "the area economy is expected to grow and there is not an excessive crime." It touts the 30-plus years of experience its senior management has in owning and investing in residential properties, especially apartment buildings with more than 50 units.
"We have collectively acquired, rehabbed, managed, owned and disposed of thousands of units throughout our careers," AMG says on its Web site.
The sale comes as the city of Cleveland considers paying $12 million to get the Shaker Square commercial district out of receivership from Wilmington Trust Bank and into the hands of two local nonprofits — Cleveland Neighborhood Progress and Burten Bell Carr Inc. so capital improvements can be made to the property. Some real estate interests said they welcome the city's action to stabilize the neighborhood and spur investment, including a planned replacement of the Van Aken Plaza with a 110-unit, modern apartment building.
Paran Management Co. is seeking to build that new apartment building for the same reason the new, 88-unit 121 Larchmere leased out in just six months — a lack of modern, market-rate apartments around Shaker Shaker-Larchmere District. But not all contemporary apartments with quality finishes need to come from new construction, as this latest sale and potential renovation of apartment buildings suggest.
END